Andretti BMW team dominates first day of Formula E testing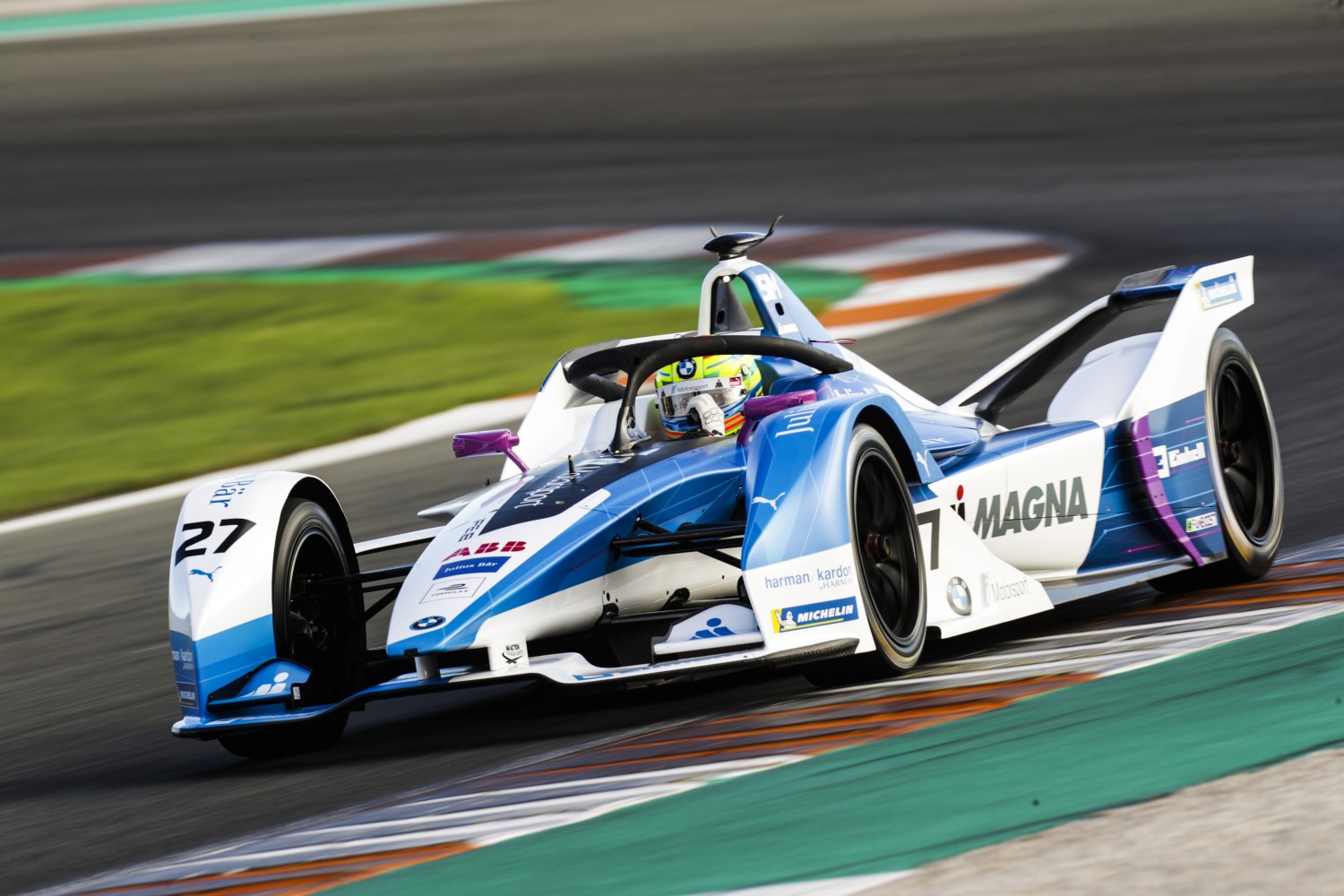 Alexander Sims
Alexander Sims set the fastest time in both sessions on the opening day of the ABB FIA Formula E Championship pre-season test at Valencia.
The BMW i Andretti Motorsport driver led both the morning and afternoon sessions, with his time of 1:17.553 in the latter standing out as the day's best effort.
Sims ran a tenth of a second quicker than DS Techeetah's Andre Lotterer, while his BMW teammate Antonio Felix da Costa set the third best time overall after finishing second in the morning.
Lucas di Grassi's afternoon attempt of 1:17.732 was good enough for fourth ahead of Audi Sport ABT Schaeffler team-mate Daniel Abit.
Recent Mahindra signing Jerome D'Ambrosio followed closely in sixth, while reigning champion Jean-Eric Vergne ended the day seventh.
The top twelve cars were separated by less than a second in the afternoon, while the top seven all fell within half a second of each other.
Both sessions were interrupted by red flag periods, with the morning run being halted after HWA Racelab's Gary Paffett glanced the temporary chicane situated on the main straight.
The afternoon session was then stopped briefly when Lotterer left the track, although he was able to return to the pits.
McLaren Formula 1 driver Stoffel Vandoorne only completed 13 laps, meanwhile, as HWA continued systems checks on its pair of new Venturi customer cars.
Ferrari junior Antonio Fuoco, who was scheduled to sample the No. 6 Dragon Penske EV-3, failed to complete a lap but will have another opportunity to drive on Friday afternoon.
Testing continues tomorrow with six hours of running available.
Morning times
| POS | DRIVER | TEAM | CAR | TIME | GAP | LAPS |
| --- | --- | --- | --- | --- | --- | --- |
| 1 | Alexander Sims | BMW Andretti | BMW | 1m17.567s | – | 33 |
| 2 | Antonio Felix da Costa | BMW Andretti | BMW | 1m17.734s | 0.167s | 36 |
| 3 | Lucas di Grassi | Audi | Audi | 1m17.739s | 0.172s | 38 |
| 4 | Jean-Eric Vergne | Techeetah | DS | 1m18.033s | 0.466s | 22 |
| 5 | Andre Lotterer | Techeetah | DS | 1m18.227s | 0.660s | 33 |
| 6 | Daniel Abt | Audi | Audi | 1m18.513s | 0.946s | 40 |
| 7 | Sam Bird | Virgin | Audi | 1m18.732s | 1.165s | 28 |
| 8 | Mitch Evans | Jaguar | Jaguar | 1m18.747s | 1.180s | 15 |
| 9 | Sebastien Buemi | Nissan | Nissan | 1m18.902s | 1.335s | 21 |
| 10 | Felipe Massa | Venturi | Venturi | 1m19.140s | 1.573s | 39 |
| 11 | Edoardo Mortara | Venturi | Venturi | 1m19.219s | 1.652s | 43 |
| 12 | Robin Frijns | Virgin | Audi | 1m19.275s | 1.708s | 27 |
| 13 | Tom Dillmann | NextEV | NIO | 1m19.300s | 1.733s | 21 |
| 14 | Jerome d'Ambrosio | Mahindra | Mahindra | 1m19.535s | 1.968s | 30 |
| 15 | Jose Maria Lopez | Dragon | Penske | 1m20.631s | 3.064s | 29 |
| 16 | Oliver Turvey | NextEV | NIO | 1m20.865s | 3.298s | 18 |
| 17 | Pascal Wehrlein | Mahindra | Mahindra | 1m20.915s | 3.348s | 8 |
| 18 | Stoffel Vandoorne | HWA | Venturi | 1m21.023s | 3.456s | 13 |
| 19 | Nelson Piquet Jr. | Jaguar | Jaguar | 1m21.629s | 4.062s | 42 |
| 20 | Gary Paffett | HWA | Venturi | 1m22.083s | 4.516s | 7 |
| 21 | Maximilian Gunther | Dragon | Penske | 1m32.242s | 14.675s | 3 |
Afternoon times
| POS | DRIVER | TEAM | CAR | TIME | GAP | LAPS |
| --- | --- | --- | --- | --- | --- | --- |
| 1 | Alexander Sims | BMW Andretti | BMW | 1m17.553s | – | 41 |
| 2 | Andre Lotterer | Techeetah | DS | 1m17.654s | 0.101s | 36 |
| 3 | Antonio Felix da Costa | BMW Andretti | BMW | 1m17.727s | 0.174s | 46 |
| 4 | Lucas di Grassi | Audi | Audi | 1m17.732s | 0.179s | 40 |
| 5 | Daniel Abt | Audi | Audi | 1m17.819s | 0.266s | 45 |
| 6 | Jerome d'Ambrosio | Mahindra | Mahindra | 1m17.987s | 0.434s | 30 |
| 7 | Jean-Eric Vergne | Techeetah | DS | 1m18.035s | 0.482s | 22 |
| 8 | Sebastien Buemi | Nissan | Nissan | 1m18.100s | 0.547s | 14 |
| 9 | Jose Maria Lopez | Dragon | Penske | 1m18.154s | 0.601s | 33 |
| 10 | Felipe Massa | Venturi | Venturi | 1m18.176s | 0.623s | 32 |
| 11 | Sam Bird | Virgin | Audi | 1m18.456s | 0.903s | 21 |
| 12 | Tom Dillmann | NextEV | NIO | 1m18.504s | 0.951s | 45 |
| 13 | Pascal Wehrlein | Mahindra | Mahindra | 1m18.606s | 1.053s | 27 |
| 14 | Robin Frijns | Virgin | Audi | 1m18.690s | 1.137s | 20 |
| 15 | Edoardo Mortara | Venturi | Venturi | 1m18.707s | 1.154s | 25 |
| 16 | Oliver Turvey | NextEV | NIO | 1m19.053s | 1.500s | 36 |
| 17 | Gary Paffett | HWA | Venturi | 1m19.144s | 1.591s | 48 |
| 18 | Sebastien Buemi | Nissan | Nissan | 1m21.883s | 4.330s | 16 |
| 19 | Mitch Evans | Jaguar | Jaguar | 1m22.711s | 5.158s | 57 |
| 20 | Nelson Piquet Jr. | Jaguar | Jaguar | 1m23.286s | 5.733s | 51 |