Porsche Hiring 1,200 People To Build Mission E/Taycan EV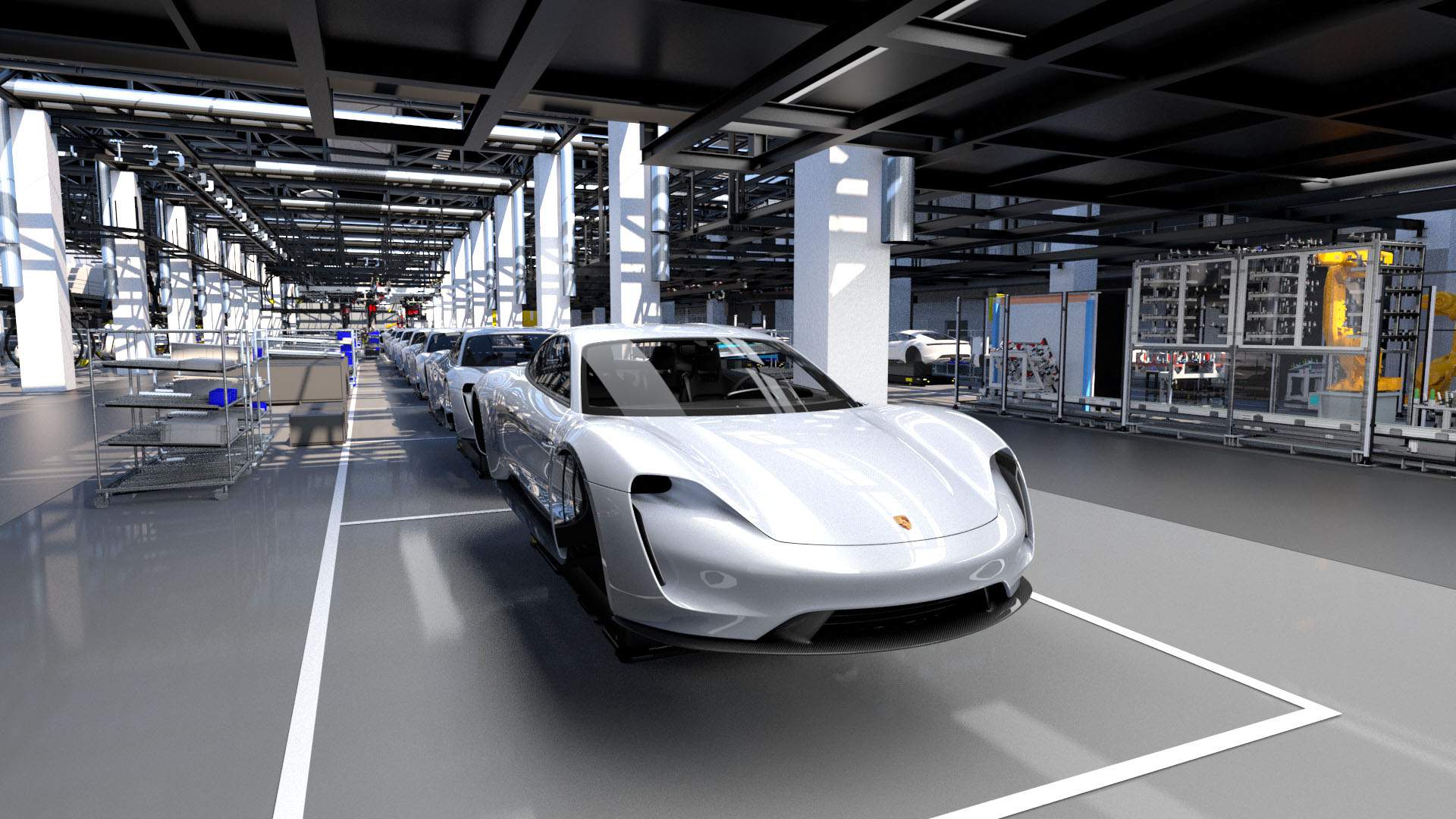 A half-mile-long conveyor system will bring painted Taycan bodies to the final production plant.e
Porsche has released new details about the production of the Mission E (now called Taycan) EV at its main plant in Zuffenhausen, Germany.
The company calls the new Taycan production and assembly facilities in Zuffenhausen a "factory within a factory," given their complexity.
With the production of the Taycan, the automaker says it is moving away from the traditional principle of an assembly line. More specifically, Porsche will become the first carmaker to use driverless transport systems in a continuous series production process.
It is called flexi-line production and will enable Porsche to combine the flexibility of versatile assembly with the advantages of the traditional principle of continuous production. Furthermore, it will also allow more work cycles using the same amount of space. In addition, the Taycan production process will be carbon neutral, something Porsche wants to achieve for all the vehicles it makes.
The Taycan will have a significant impact on Porsche's workforce too. Some 1,200 new jobs will be created in Zuffenhausen for the new electric car alone, making it "one of biggest creators of jobs in the history of Porsche."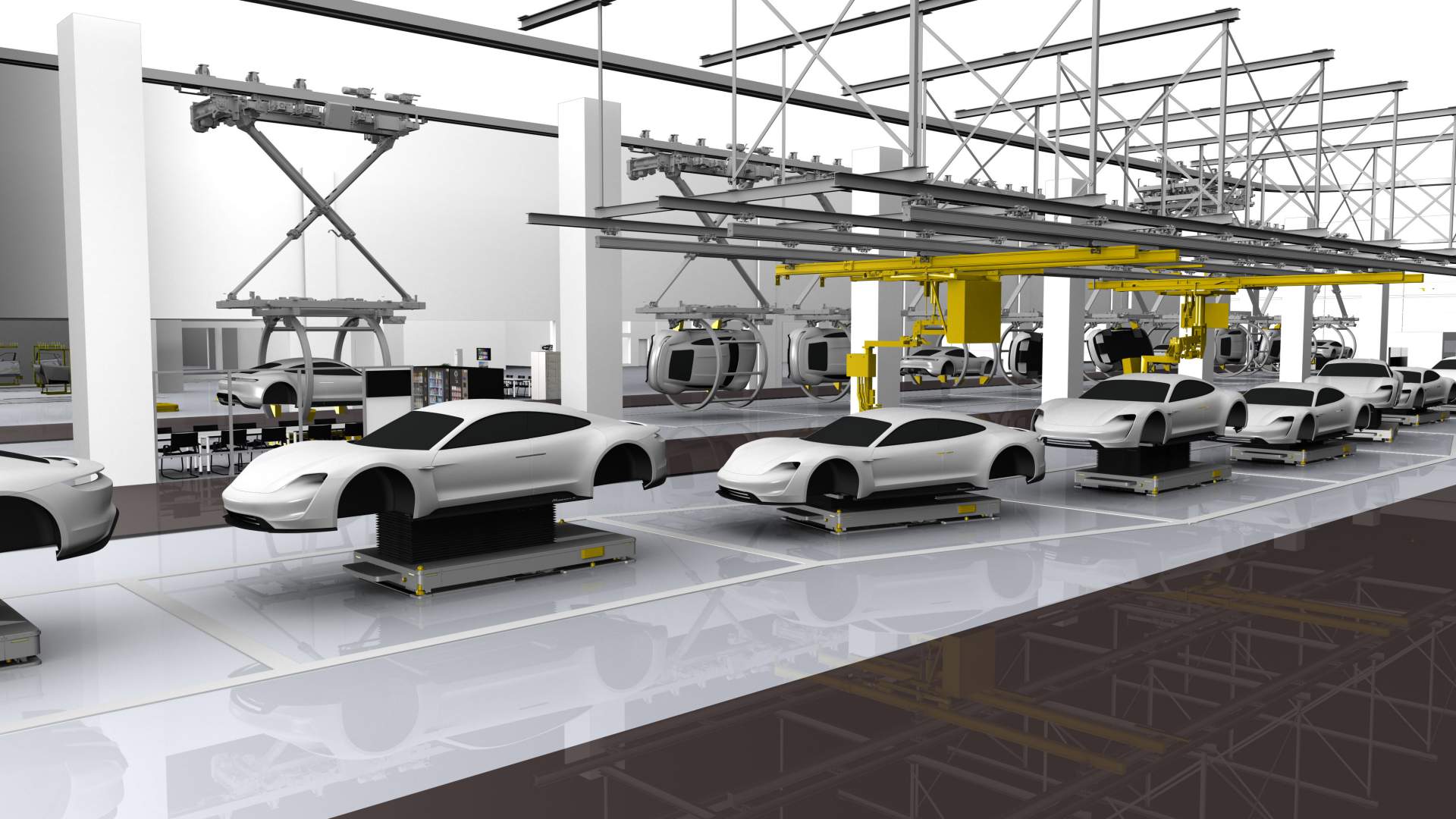 The new buildings include a body shop, paint shop and a more than half-mile conveyor system to transport painted Taycan shells to the final assembly line.
Porsche says it is investing €6 billion ($6.95 billion) in electric mobility and predicts that over 50 percent of its models delivered from 2025 will be electrified. Despite the significant investments, the company says the target profit margin of at least 15 percent remains unchanged.
As always, the company likes to remind us of the relationship between motorsport and series production. For example, the Taycan uses 800-volt technology, just like the Porsche 919 Hybrid. This allows the lithium-ion battery to offer 100 km (62 miles) of range after just four minutes or recharging.
Obviously, that requires powerful charging systems, something made possible by the Porsche Mobile Charger Connect with a capacity of up to 22kW. By the end of 2019, the company pledges to build 400 high-power charging stations across Europe. That is part of the joint venture Ionity which also includes BMW, Daimler, and Ford.
In the United States, the VW Group initiative Electrify America will see the installation of charging infrastructure at 300 motorway stations from 2019. In addition, Porsche is also planning to install more than 2,000 AC charging points at points of interest such as hotels in up to 20 markets before the Taycan's launch.
The final production version of the all-electric Porsche Taycan will debut in September 2019, with sales set to begin shortly after.
At launch Porsche is targeting production of 20,000 to 25,000 Taycans per year over the course of two shifts. However, if demand warrants it, company officials says there's plenty of flexibility ranging from extending shifts, Saturday production or adding a third shift. If any of that will be necessary remains to be seen.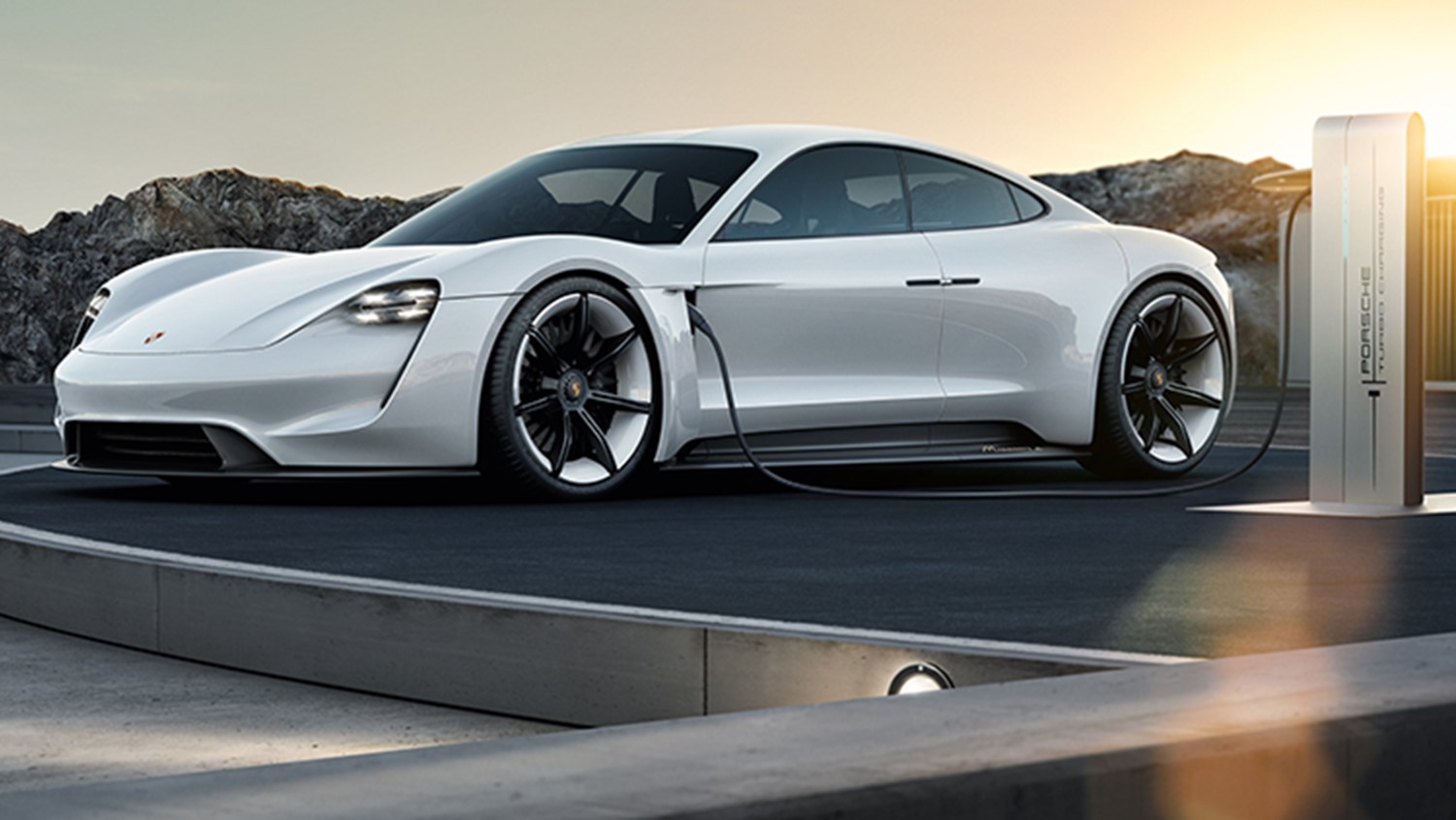 Porsche Taycan Prototype using 800V charger