Mazda Fastest in Practice 4 at Road Atlanta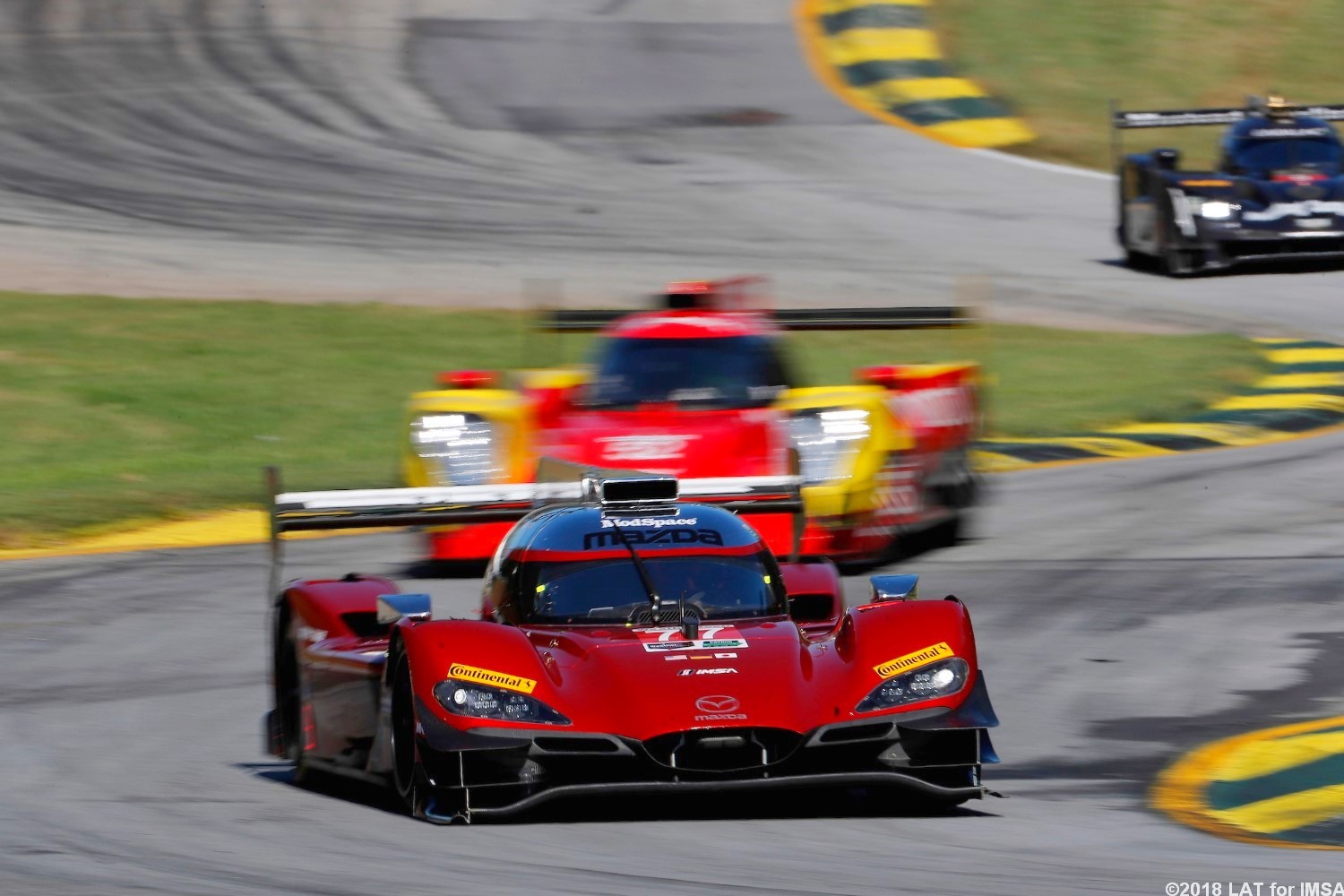 Oliver Jarvis
Oliver Jarvis turned the fastest lap for Mazda Team Joest in Practice 4 at Road Atlanta, the final practice session before qualifying for Petit Le Mans that takes place this afternoon.
Jarvis' best lap in the Mazda RT24-P of 1:10.786 was the fastest of the weekend so far and good enough to hold down the top position in the hotly contested session that saw the top four separated by a mere 0.071 seconds.
Filipe Albuquerque second-quickest time in the No.5 Action Express Racing Cadillac DPi-V.R, followed by Felipe Nasr in the sister AXR entry and Ricky Taylor in the No. 7 Acura Team Penske ARX-05.
Tommy Milner led a Corvette Racing sweep of the top two spots in GT Le Mans in the No. 4 Chevrolet Corvette C7.R just 0.018 seconds faster than Antonio Garcia in the No. 3 entry.
Practice 4 Results
| | | | | | | | |
| --- | --- | --- | --- | --- | --- | --- | --- |
| Pos | Pic | Nr. | Class | Drivers | Team | Car | Time |
| 1 | 1 | 77 | P | O. Jarvis/T. Nunez/L. Di Grassi | Mazda Team Joest | Mazda DPi | 1:10.786 |
| 2 | 2 | 5 | P | F. Albuquerque/T. Vautier C. Fittipaldi | Mustang Sampling Racing | Cadillac DPi | 1:10.801 |
| 3 | 3 | 31 | P | F. Nasr/E. Curran/G. Chaves | Whelen Engineering Racing | Cadillac DPi | 1:10.831 |
| 4 | 4 | 7 | P | H. Castroneves/R. Taylor/G. Rahal | Acura Team Penske | Acura DPi | 1:10.857 |
| 5 | 5 | 2 | P | S. Sharp/R. Dalziel/N. Nato | Tequila Patron ESM | Nissan DPi | 1:10.923 |
| 6 | 6 | 22 | P | J. van Overbeek/P. Derani T. Bernhard | Tequila Patron ESM | Nissan DPi | 1:10.959 |
| 7 | 7 | 55 | P | J. Bomarito/M. Franchitti/S. Pigot | Mazda Team Joest | Mazda DPi | 1:11.003 |
| 8 | 8 | 10 | P | R. Van Der Zande/J. Taylor R. Hunter-Reay | Konica Minolta Cadillac DPi-V.R | Cadillac DPi | 1:11.260 |
| 9 | 9 | 54 | P | J. Bennett/C. Braun/R. Dumas | CORE autosport | ORECA LMP2 | 1:11.506 |
| 10 | 10 | 85 | P | S. Trummer/R. Alon/D. DeFrancesco | JDC-Miller Motorsports | ORECA LMP2 | 1:11.620 |
| 11 | 11 | 52 | P | S. Saavedra/J. Gutierrez/W. Owen | AFS/PR1 Mathiasen Motorsports | ORECA LMP2 | 1:11.628 |
| 12 | 12 | 6 | P | D. Cameron/J. Montoya S. Pagenaud | Acura Team Penske | Acura DPi | 1:11.771 |
| 13 | 13 | 99 | P | C. Miller/S. Simpson/M. Goikhberg | JDC-Miller Motorsports | ORECA LMP2 | 1:11.921 |
| 14 | 14 | 38 | P | J. French/K. Masson/N. Boulle | Performance Tech Motorsports | ORECA LMP2 | 1:12.268 |
| 15 | 1 | 4 | GTLM | O. Gavin/T. Milner/M. Fassler | Corvette Racing | Chevrolet Corvette C7.R | 1:17.341 |
| 16 | 2 | 3 | GTLM | J. Magnussen/A. Garcia/M. Fassler | Corvette Racing | Chevrolet Corvette C7.R | 1:17.359 |
| 17 | 3 | 24 | GTLM | J. Krohn/J. Edwards/C. Mostert | BMW Team RLL | BMW M8 GTE | 1:17.386 |
| 18 | 4 | 67 | GTLM | R. Briscoe/R. Westbrook/S. Dixon | Ford Chip Ganassi Racing | Ford GT | 1:17.494 |
| 19 | 5 | 912 | GTLM | E. Bamber/L. Vanthoor/M. Jaminet | Porsche GT Team | Porsche 911 RSR | 1:17.575 |
| 20 | 6 | 66 | GTLM | J. Hand/D. Mueller/S. Bourdais | Ford Chip Ganassi Racing | Ford GT | 1:17.749 |
| 21 | 7 | 62 | GTLM | T. Vilander/A. Bertolini/M. Molina | Risi Competizione | Ferrari 488 GTE | 1:17.800 |
| 22 | 8 | 25 | GTLM | A. Sims/C. De Phillippi/B. Auberlen | BMW Team RLL | BMW M8 GTE | 1:17.911 |
| 23 | 9 | 911 | GTLM | P. Pilet/N. Tandy/F. Makowiecki | Porsche GT Team | Porsche 911 RSR | 1:17.929 |
| 24 | 1 | 29 | GTD | C. Mies/D. Morad/S. van der Linde | Montaplast by Land-Motorsport | Audi R8 LMS GT3 | 1:19.384 |
| 25 | 2 | 86 | GTD | K. Legge/A. Parente/T. Hindman | Meyer Shank Racing w/ Curb-Agajanian | Acura NSX GT3 | 1:19.737 |
| 26 | 3 | 15 | GTD | J. Hawksworth D. Heinemeier Hansson/S. Rayhall | 3GT Racing | Lexus RC F GT3 | 1:19.882 |
| 27 | 4 | 93 | GTD | J. Marks/L. Aschenbach M. Farnbacher | Meyer Shank Racing w/ Curb-Agajanian | Acura NSX GT3 | 1:19.897 |
| 28 | 5 | 44 | GTD | J. Potter/A. Lally/A. Davis | Magnus Racing | Audi R8 LMS GT3 | 1:20.141 |
| 29 | 6 | 63 | GTD | C. MacNeil/D. Serra/G. Jeannette | Scuderia Corsa | Ferrari 488 GT3 | 1:20.187 |
| 30 | 7 | 33 | GTD | B. Keating/J. Bleekemolen/L. Stolz | Mercedes-AMG Team Riley Motorsports | Mercedes-AMG GT3 | 1:20.235 |
| 31 | 8 | 48 | GTD | B. Sellers/M. Snow/C. Lewis | Paul Miller Racing | Lamborghini Huracan GT3 | 1:20.368 |
| 32 | 9 | 64 | GTD | T. Bell/M. Cressoni/F. Montecalvo | Scuderia Corsa | Ferrari 488 GT3 | 1:20.463 |