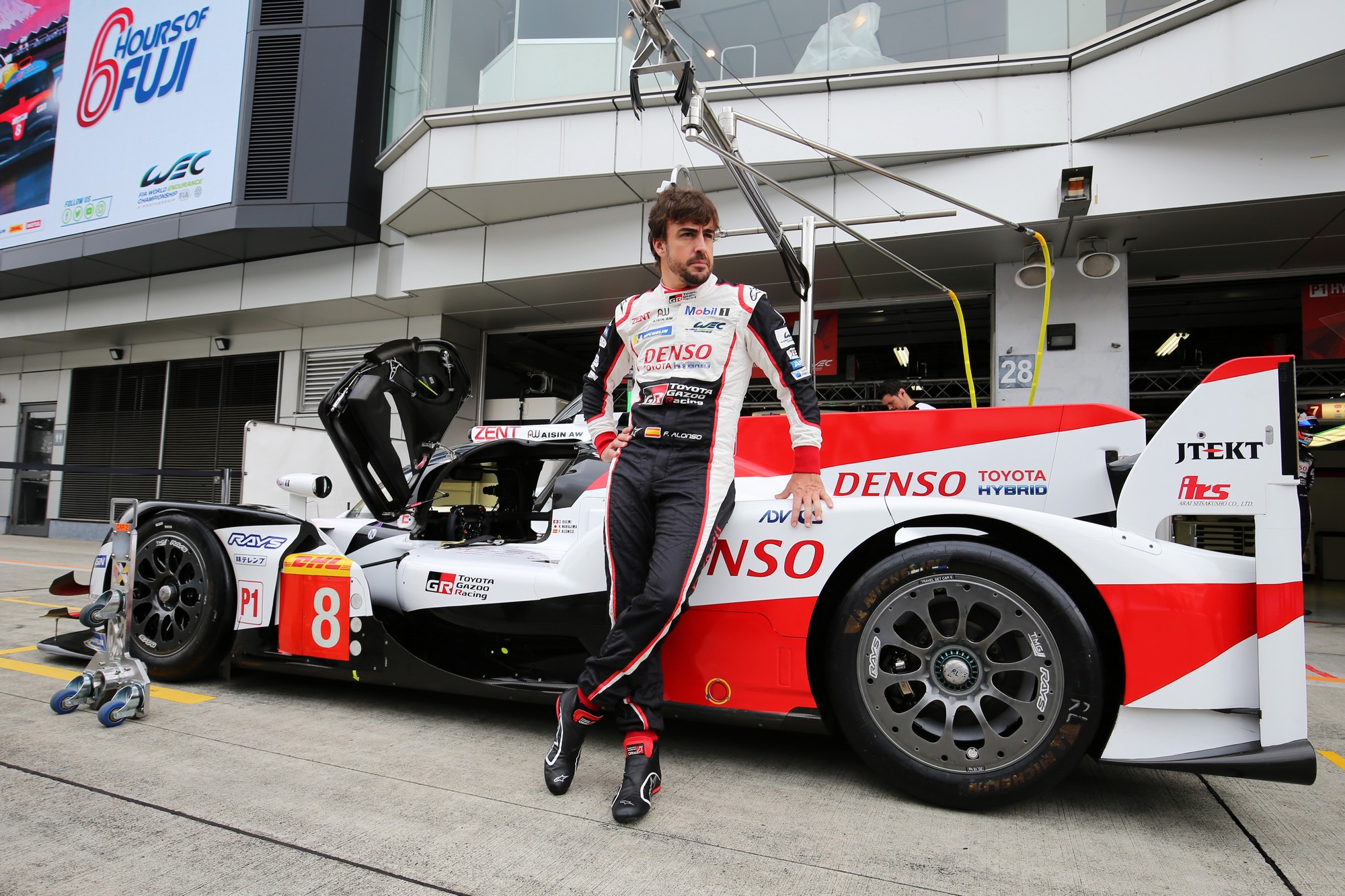 Fernando Alonso
Toyota's Fernando Alonso topped the times in the second free practice at Fuji for the 6-hour WEC round
The Spanish ace set a session best time of 1m23.973s in the No.8 Toyota TS 050 HYBRID to beat the sister No.7 Toyota by 1.095s
Rebellion Racing lead the chase of the Toyotas with Thomas Laurent setting best lap of 1m25.697s in No.3 R13-Gibson.
Jenson Button and his teammates Vitaly Petrov and Mikhail Aleshin place fourth in No.11 SMP run BR1-AER
Aston Martin headed LMGTE Pros with Nicki Thiim fastest at 1m37.659s in No.95 Aston Martin
Ford placed second with Harry Tincknell in No.67 Ford GT with a lap time of 1m37.821s
LMGTE Am saw 1-2 for Dempsey Proton Racing Porsche.
Toyota Quotes
Mike Conway (TS050 HYBRID #7): "The day went well; we went through our programme and tried out various changes. It's always tricky here to find the right set-up because the first two sectors are quite fast but the final sector is tight and twisty so it's hard to get the balance right all the way around. It's always the challenge here so we will keep plugging away to get it right for qualifying and the race."
Kamui Kobayashi (TS050 HYBRID #7): "We had some red flags in both sessions so we didn't have the full track time, which can happen sometimes. We were working hard to find a good balance of the car and we still have some work to do. We tried to do our best to find a good solution so we have a lot of data and now we will improve the car and push hard tomorrow."
Jose Maria Lopez (TS050 HYBRID #7): "I would have preferred to run a little more especially in the dry because I didn't experience this track in dry conditions last year. Overall it went pretty well and my fast lap was good despite some traffic. We are not 100% happy with the balance so we need to keep working. At the moment we are a little bit back from our sister car but we will work to close that gap."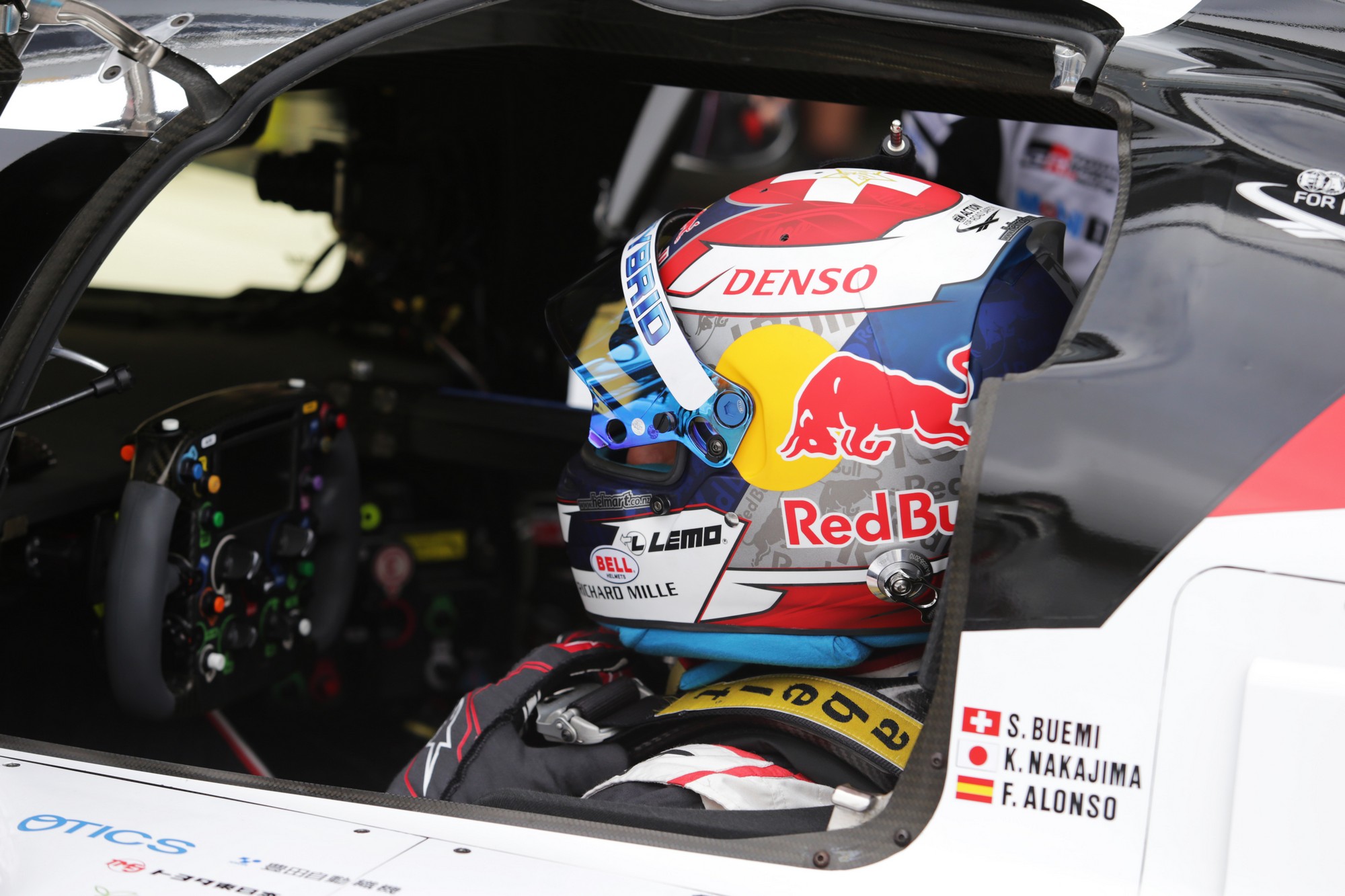 Buemi ready to practice
Sebastien Buemi (TS050 HYBRID #8): "It is always good to be back in the car after such a long time and it was a clean day from our side. We did quite a few laps and I'm happy with what I've seen; I hope we can build on this. It will be a close fight with car 7 so I am looking forward to qualifying and the race. Hopefully we will have some more dry running; that would be very good. "
Kazuki Nakajima (TS050 HYBRID #8): "I am happy to come back to Fuji again and this year it is particularly special after our Le Mans win. Everything went quite smoothly apart from the red flags so I am happy. Even though we had a shortened session, our car felt quite strong. We were working on different things and generally we had a good feeling with the car which is a positive sign for the race."
Fernando Alonso (TS050 HYBRID #8): "It went fine today. Obviously with the yellow and red flags we are a bit down on the number of laps we had wanted, especially for my first time in WEC at Fuji. It has been a positive day in terms of car balance. We did some small fine-tuning but the baseline was very good so I'm happy with the car and how things are going. So let's hope for another trouble-free day tomorrow. "
Practice 1 Times
| POS | CLASS | DRIVER | CAR | TIME | GAP | LAPS |
| --- | --- | --- | --- | --- | --- | --- |
| 1 | LMP1 | S.Buemi, K.Nakajima, F.Alonso | Toyota | 1m25.847s | – | 43 |
| 2 | LMP1 | M.Conway, K.Kobayashi, J.M.Lopez | Toyota | 1m26.381s | 0.534s | 44 |
| 3 | LMP1 | M.Aleshin, V.Petrov, J.Button | BR Engineering/AER | 1m26.890s | 1.043s | 23 |
| 4 | LMP1 | N.Jani, A.Lotterer, B.Senna | Rebellion/Gibson | 1m27.151s | 1.304s | 44 |
| 5 | LMP1 | S.Sarrazin, E.Orudzhev, M.Isaakyan | BR Engineering/AER | 1m27.635s | 1.788s | 36 |
| 6 | LMP1 | M.Beche, T.Laurent, G.Menezes | Rebellion/Gibson | 1m27.916s | 2.069s | 37 |
| 7 | LMP1 | J.Allen, B.Hanley | BR Engineering/Gibson | 1m29.088s | 3.241s | 40 |
| 8 | LMP1 | O.Webb, T.Dillmann, J.Rossiter | ENSO CLM/NISMO | 1m29.250s | 3.403s | 26 |
| 9 | LMP2 | F.Perrodo, M.Vaxiviere, J-E.Vergne | ORECA/Gibson | 1m30.360s | 4.513s | 45 |
| 10 | LMP2 | H-Pin Tung, G.Aubry, S.Richelmi | ORECA/Gibson | 1m31.605s | 5.758s | 39 |
| 11 | LMP2 | R.Gonzalez, P.Maldonado, A.Davidson | ORECA/Gibson | 1m31.705s | 5.858s | 45 |
| 12 | LMP2 | F.van Eerd, G.van der Garde, N.de Vries | Dallara/Gibson | 1m31.708s | 5.861s | 40 |
| 13 | LMP2 | N.Lapierre, A.Negrao, P.Thiriet | Alpine/Gibson | 1m31.926s | 6.079s | 44 |
| 14 | LMP2 | J.Jaafar, W.Tan, N.Jeffri | ORECA/Gibson | 1m31.965s | 6.118s | 42 |
| 15 | LMP2 | E.Creed, R.Ricci, K.Ihara | Ligier/Gibson | 1m34.342s | 8.495s | 38 |
| 16 | GTE Pro | S.Mucke, O.Pla | Ford | 1m38.555s | 12.708s | 33 |
| 17 | GTE Pro | R.Lietz, G.Bruni | Porsche | 1m38.819s | 12.972s | 42 |
| 18 | GTE Pro | M.Christensen, K.Estre | Porsche | 1m38.996s | 13.149s | 29 |
| 19 | GTE Pro | A.Priaulx, H.Tincknell | Ford | 1m39.387s | 13.540s | 33 |
| 20 | GTE Pro | A.P.Guidi, J.Calado | Ferrari | 1m39.420s | 13.573s | 31 |
| 21 | GTE Pro | M.Sorensen, N.Thiim | Aston Martin | 1m39.422s | 13.575s | 38 |
| 22 | GTE Pro | T.Blomqvist, A.F.da Costa | BMW | 1m39.626s | 13.779s | 36 |
| 23 | GTE Pro | D.Rigon, S.Bird | Ferrari | 1m39.660s | 13.813s | 38 |
| 24 | GTE Pro | M.Tomczyk, N.Catsburg | BMW | 1m39.715s | 13.868s | 30 |
| 25 | GTE Am | P.D.Lana, P.Lamy, M.Lauda | Aston Martin | 1m39.763s | 13.916s | 43 |
| 26 | GTE Am | C.Ried, J.Andlauer, M.Campbell | Porsche | 1m39.925s | 14.078s | 38 |
| 27 | GTE Pro | A.Lynn, M.Martin | Aston Martin | 1m40.125s | 14.278s | 44 |
| 28 | GTE Am | S.Yoluc, J.Adam, C.Eastwood | Aston Martin | 1m40.139s | 14.292s | 43 |
| 29 | GTE Am | S.Hoshino, G.Roda, M.Cairoli | Porsche | 1m40.232s | 14.385s | 39 |
| 30 | GTE Am | M.Wainwright, B.Barker, T.Preining | Porsche | 1m40.469s | 14.622s | 37 |
| 31 | GTE Am | Mok W.S., K.Sawa, M.Griffin | Ferrari | 1m40.694s | 14.847s | 39 |
| 32 | GTE Am | J.Bergmeister, P.Lindsey, E.Perfetti | Porsche | 1m40.787s | 14.940s | 8 |
| 33 | GTE Am | M.Ishikawa, O.Beretta, E.Cheever | Ferrari | 1m40.870s | 15.023s | 39 |
| 34 | GTE Am | T.Flohr, F.Castellacci, G.Fisichella | Ferrari | 1m40.980s | 15.133s | 42 |
Practice 2 Times
| POS | CLASS | DRIVER | CAR | TIME | GAP | LAPS |
| --- | --- | --- | --- | --- | --- | --- |
| 1 | LMP1 | S.Buemi, K.Nakajima, F.Alonso | Toyota | 1m23.973s | – | 30 |
| 2 | LMP1 | M.Conway, K.Kobayashi, J.M.Lopez | Toyota | 1m25.068s | 1.095s | 29 |
| 3 | LMP1 | M.Beche, T.Laurent, G.Menezes | Rebellion/Gibson | 1m25.697s | 1.724s | 22 |
| 4 | LMP1 | M.Aleshin, V.Petrov, J.Button | BR Engineering/AER | 1m25.801s | 1.828s | 27 |
| 5 | LMP1 | N.Jani, A.Lotterer, B.Senna | Rebellion/Gibson | 1m25.931s | 1.958s | 29 |
| 6 | LMP1 | S.Sarrazin, E.Orudzhev, M.Isaakyan | BR Engineering/AER | 1m27.664s | 3.691s | 27 |
| 7 | LMP1 | O.Webb, T.Dillmann, J.Rossiter | ENSO CLM/NISMO | 1m28.209s | 4.236s | 26 |
| 8 | LMP1 | J.Allen, B.Hanley | BR Engineering/Gibson | 1m28.914s | 4.941s | 16 |
| 9 | LMP2 | N.Lapierre, A.Negrao, P.Thiriet | Alpine/Gibson | 1m30.410s | 6.437s | 28 |
| 10 | LMP2 | H-Pin Tung, G.Aubry, S.Richelmi | ORECA/Gibson | 1m30.842s | 6.869s | 24 |
| 11 | LMP2 | J.Jaafar, W.Tan, N.Jeffri | ORECA/Gibson | 1m30.990s | 7.017s | 28 |
| 12 | LMP2 | F.Perrodo, M.Vaxiviere, J-E.Vergne | ORECA/Gibson | 1m31.040s | 7.067s | 29 |
| 13 | LMP2 | F.van Eerd, G.van der Garde, N.de Vries | Dallara/Gibson | 1m31.259s | 7.286s | 28 |
| 14 | LMP2 | R.Gonzalez, P.Maldonado, A.Davidson | ORECA/Gibson | 1m31.995s | 8.022s | 21 |
| 15 | LMP2 | E.Creed, R.Ricci, K.Ihara | Ligier/Gibson | 1m32.736s | 8.763s | 27 |
| 16 | GTE Pro | M.Sorensen, N.Thiim | Aston Martin | 1m37.659s | 13.686s | 21 |
| 17 | GTE Pro | A.Priaulx, H.Tincknell | Ford | 1m37.821s | 13.848s | 25 |
| 18 | GTE Pro | D.Rigon, S.Bird | Ferrari | 1m38.041s | 14.068s | 26 |
| 19 | GTE Pro | R.Lietz, G.Bruni | Porsche | 1m38.053s | 14.080s | 24 |
| 20 | GTE Pro | M.Christensen, K.Estre | Porsche | 1m38.081s | 14.108s | 26 |
| 21 | GTE Pro | S.Mucke, O.Pla | Ford | 1m38.179s | 14.206s | 28 |
| 22 | GTE Pro | A.P.Guidi, J.Calado | Ferrari | 1m38.248s | 14.275s | 26 |
| 23 | GTE Pro | M.Tomczyk, N.Catsburg | BMW | 1m38.388s | 14.415s | 27 |
| 24 | GTE Pro | A.Lynn, M.Martin | Aston Martin | 1m38.477s | 14.504s | 24 |
| 25 | GTE Pro | T.Blomqvist, A.F.da Costa | BMW | 1m38.504s | 14.531s | 28 |
| 26 | GTE Am | S.Hoshino, G.Roda, M.Cairoli | Porsche | 1m38.989s | 15.016s | 26 |
| 27 | GTE Am | C.Ried, J.Andlauer, M.Campbell | Porsche | 1m39.152s | 15.179s | 23 |
| 28 | GTE Am | Mok W.S., K.Sawa, M.Griffin | Ferrari | 1m39.295s | 15.322s | 23 |
| 29 | GTE Am | T.Flohr, F.Castellacci, G.Fisichella | Ferrari | 1m39.410s | 15.437s | 25 |
| 30 | GTE Am | M.Ishikawa, O.Beretta, E.Cheever | Ferrari | 1m39.559s | 15.586s | 24 |
| 31 | GTE Am | J.Bergmeister, P.Lindsey, E.Perfetti | Porsche | 1m39.712s | 15.739s | 27 |
| 32 | GTE Am | M.Wainwright, B.Barker, T.Preining | Porsche | 1m39.930s | 15.957s | 25 |
| 33 | GTE Am | S.Yoluc, J.Adam, C.Eastwood | Aston Martin | 1m40.181s | 16.208s | 26 |
| 34 | GTE Am | P.D.Lana, P.Lamy, M.Lauda | Aston Martin | 1m40.429s | 16.456s | 25 |