Paul Di Resta and Gary Paffett on final DTM race of season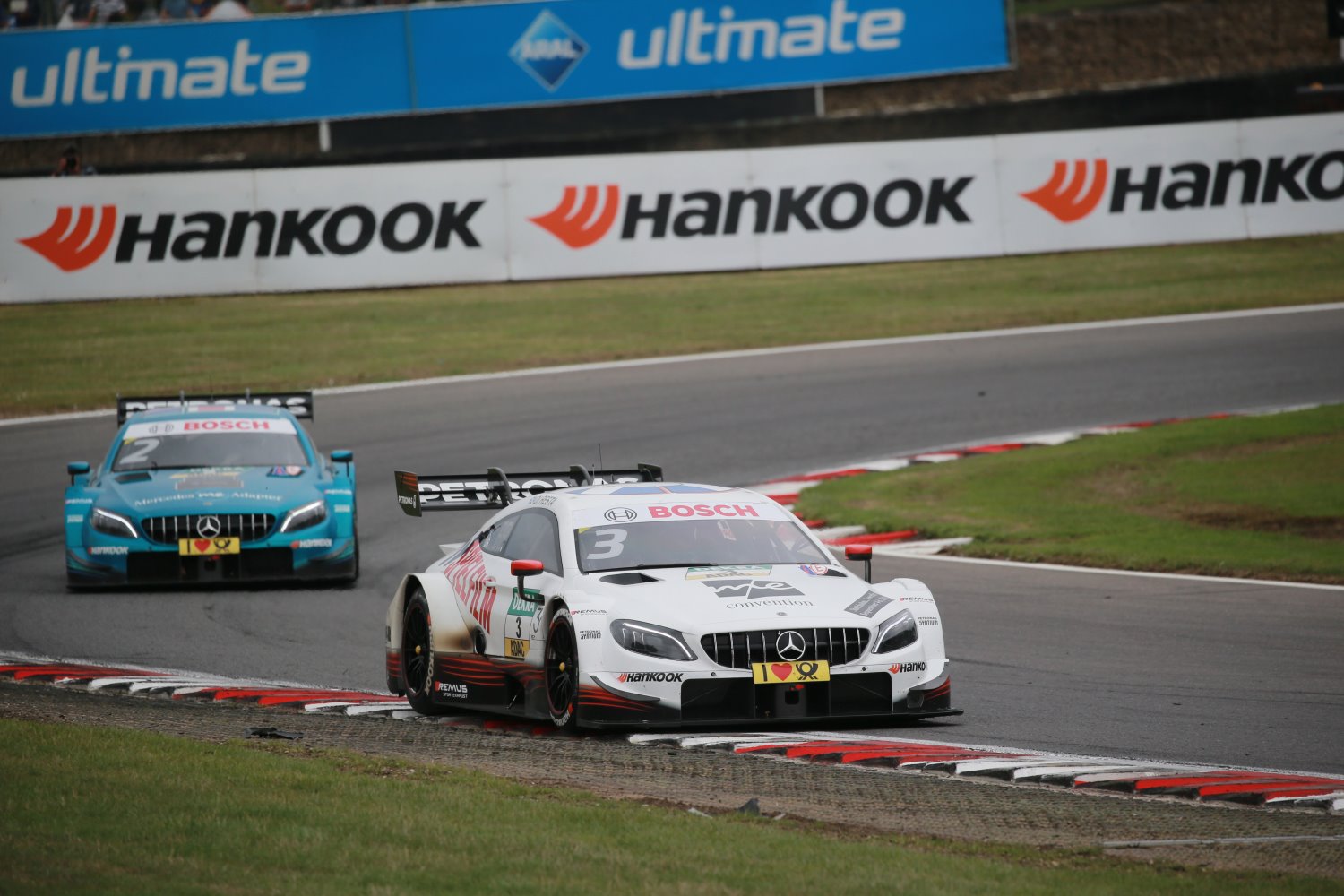 Paul di Resta – Brands Hatch
What are your expectations for the last race weekend at Hockenheim?
Paul Di Resta:
Our expectations are the same as for every race. Hopefully, we'll be going in with a very positive car. It's a big weekend obviously, given it's the championship battle and we're in the lead going into the finale. It would be nice to finish in that position. I think consistency is going to be the key factor. We have to make sure that we score points on both days. And of course, qualifying, especially the points for the Top 3, will play a crucial role. I think everybody needs to lift their game. We've had a very solid year so far, and we mustn't let complacency creep in, because we have to ensure that we achieve our number one goal of beating Rast. From there on, we can have a good battle to see who is crowned champion. Hopefully, a lot of fans will come to the track to see the season finale and the last two races for Mercedes live.
Gary Paffett: I expect a tough fight this weekend. It will not be easy, but we've had a really competitive car every weekend so far. So I think we can expect to be competitive, but it is going to be tough. Just because we are leading the championship doesn't mean it is going to be easy to be at the front. We have to work very hard and just continue in the same manner as we've approached the other nine weekends of the season.
How much of a threat does Rene Rast pose in the title fight?
Paul Di Resta: Considering what happened at Spielberg last time and how they handled the race, Rene is quite a threat. At the same time, we can hopefully put ourselves in a stronger position in qualifying and then concentrate on race setup, teamwork, pit stops and race starts so that we are 100 percent focused and make sure we get the job done. But I would expect Audi to be equally strong at Hockenheim.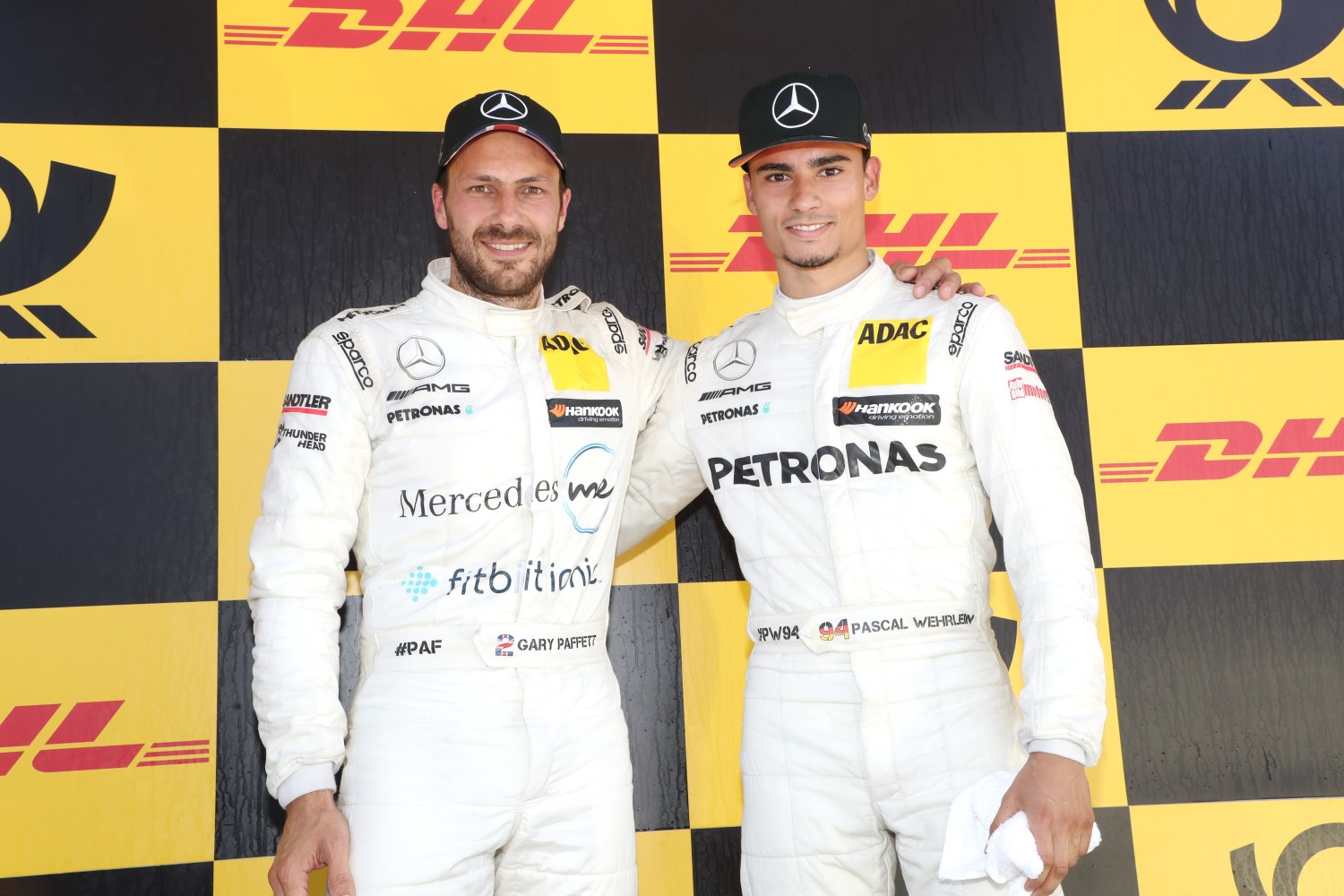 Paffett and Wehrlein on podium at Eurospeedway
Gary Paffett: Rene is indeed a threat. If you look at his pace since Zandvoort, he has been very strong, but on the other hand, he is still a fair amount of points behind us. He is 30 points back from Paul and 26 from me. If we had been offered this at the beginning of the season, we would certainly have taken it. I think, though, that his performance means he has a good chance of racing with us and giving us a good fight at the weekend. But I feel we are enough points ahead to be able to stay in front. We have to make sure we don't make any mistakes, but I am feeling confident that we can finish off the season with a Mercedes car winning the championship.
How does it feel knowing that you will be competing in your last DTM race for Mercedes on Sunday?
Paul Di Resta: Sunday is certainly going to be a sad occasion; after all, I've been part of the Mercedes family for so long, especially in the DTM. I started with them as a professional racing driver, and here I am today, 32 years old and still with the same team. I don't think I can say anything about it until it really is over. Given the position we are in, we can't afford to think that far ahead, because we need to ensure that we are focused on one thing only, and that's performance and getting the result we need to win the championship. It's been an incredible journey for the whole team over the last 30 years, and when we are all there on Sunday night, hopefully to celebrate, we will remember the good times.
Gary Paffett: It's a bit strange. Because of the championship fight we are engrossed in, I don't really have any time to think about the fact that it is the last race for Mercedes in the DTM, the last race for me with Mercedes, and the last race for me in the DTM for the foreseeable future as well. After all, I'll be switching to Formula E after the end of the season. It's a massive occasion, and honestly, I don't think we are going to feel it. It is going to take a while for it to sink in. Mercedes and the DTM have been my life. My whole professional racing career has been with Mercedes in the DTM. For that to come to an end is huge. I hope we can finish off with a cherry on top, having won the drivers' title for Mercedes. Sunday night will certainly be a strange feeling.