Lorenzo hurts himself further in Thailand crash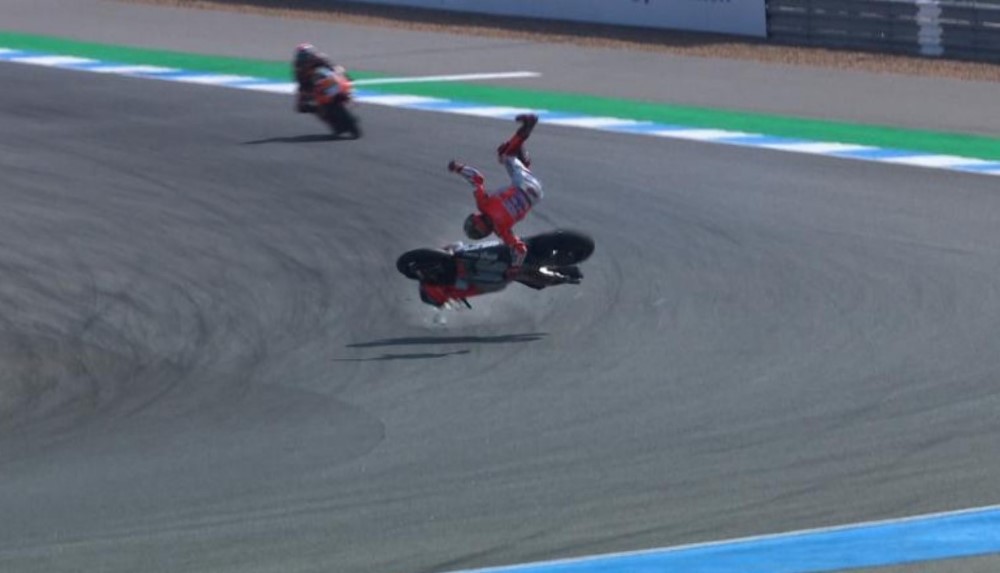 Jorge Lorenzo takes flight
Ducati MotoGP rider Jorge Lorenzo has been taken to hospital for precautionary checks after his crash in practice in Thailand.
Lorenzo, already nursing an injury from the accident at the start of the previous race at Aragon, suffered another high-side crash midway through second practice in Buriram.
The Spaniard arrived in Buriram after dislocating a toe and fracturing the second metatarsal on his right foot at Aragon.
The rear of his Desmosedici GP18 stepped out entering the sharp Turn 3 right-hander and the three-time champion was thrown into the air, while the bike violently rolled across the asphalt.
Lorenzo remained conscious after the crash but required a stretcher as he was taken to the medical center.
After an x-ray in hospital, it's confirmed the five-time World Champion suffered contusions to the wrist and right ankle. Heavy bruising but no fractures.
Ducati Sporting Director Paulo Ciabatti said: "I don't know (what happened). I heard the same. The Italian TV was replaying the sound of the onboard and it sounded like something strange has happened. As soon as the bike is back in the garage we'll download the data and find out what happened. For now I cannot say but I hope there's no further injury. It was a very nasty crash and we hope that it didn't further his injury."
Bradley Smith (Red Bull KTM Factory Racing), who was right behind Lorenzo's crash, thinks that something went wrong with the Ducati because GP bikes shouldn't react like that. The engine braking system doesn't allow it. Smith also says he didn't see anything on the track but did slow down when he saw it going wrong. He said the bike either locked up or there was something on the track.