Mercedes buries Ferrari in 2nd Japanese GP practice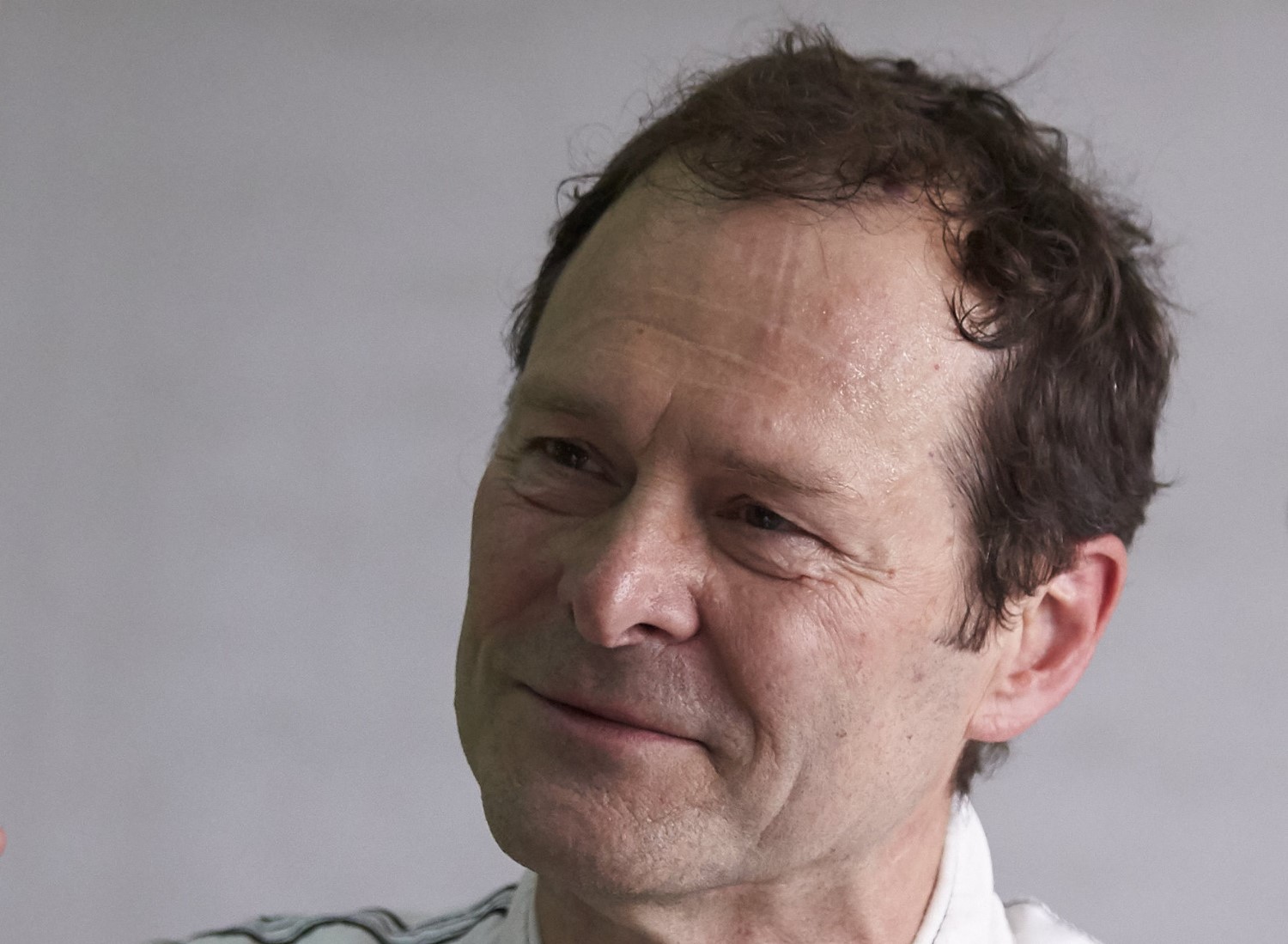 Aldo Costa designed cars cannot be beaten – we have been telling you this for years
Having topped the timesheet in practice 1, the Lewis Hamilton repeated those exploits in Free Practice 2 – and in some style. Shod with the supersoft rubber for the first time this weekend, he clocked an impressive 1m 28.217s, finishing four tenths ahead of Silver Arrows teammate Valtteri Bottas in second.
The Aldo Costa designed, and now improved, Mercedes are so fast here in Sochi that the other cars do not stand a chance. The championship battle is over. Lewis Hamilton and Mercedes are the 2018 World Champions.
Ferrari's Sebastian Vettel completed the top three behind the Mercedes duo, but the German -trailing Hamilton by 50 points coming into this event – couldn't get anywhere near his championship rival , finishing 0.833s behind the pacesetter, with Red Bull's Max Verstappen over a second off the pace in fourth.
"Yeah, they turned it (their engine) down a bit," said Toto Wolff. "We are actually losing a bit through the fast corners. So the lap time flatters us a little bit at the moment. We'll see how that looks in qualifying tomorrow.
"In the morning they were quicker through almost every corner but they had softer rubber. When we had both the same tire, we seem to be gaining a bit on the straight line.
"That makes me doubt whether they have really shown their full performance. Through the Esses they are a bit quicker, so it's neck-and-neck even though the lap times seems to show a larger gap."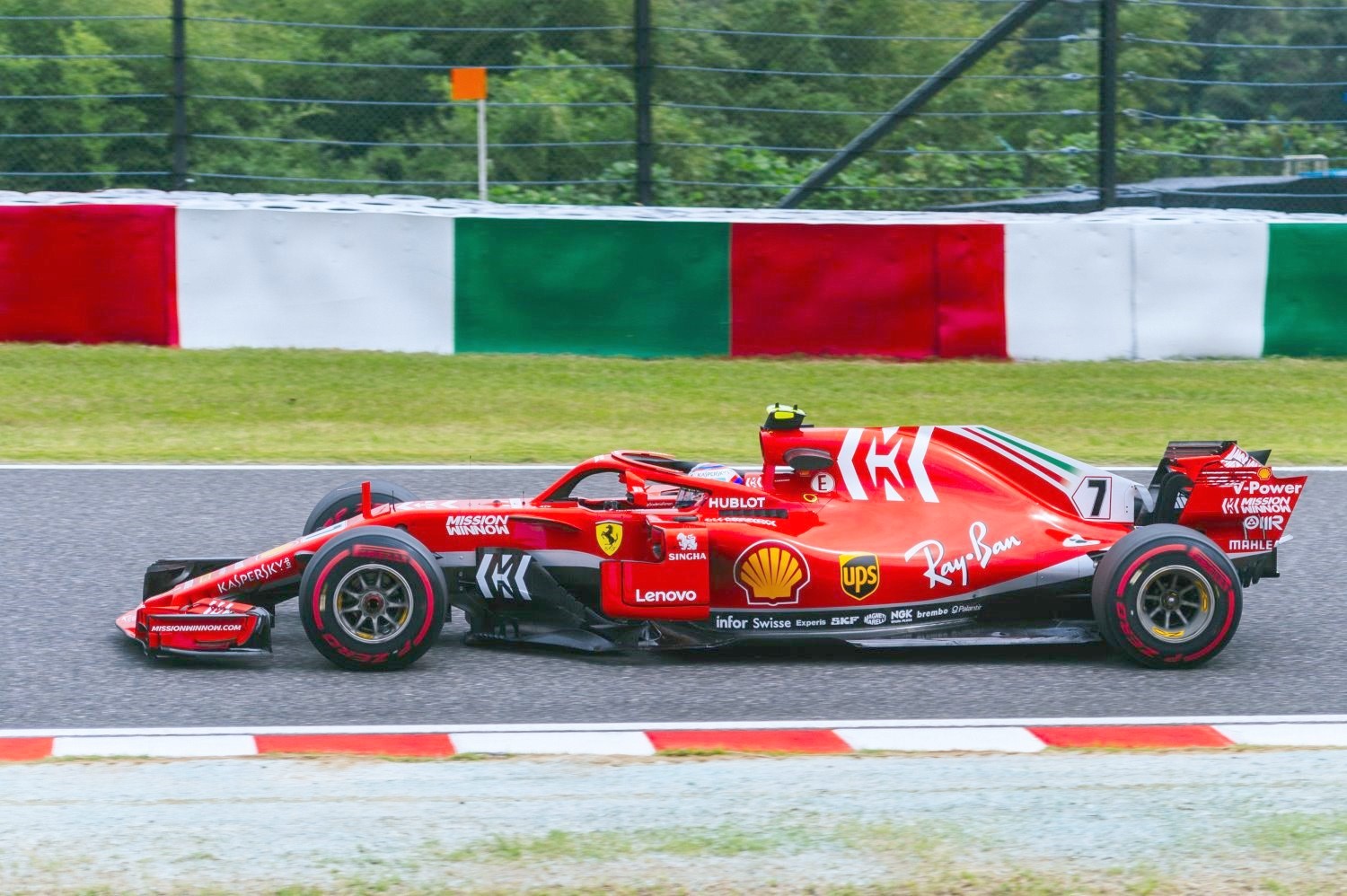 Kimi Raikkonen over 1.2-sec. back
What Wolff does not tell you is that Ferrari is wearing tires out at an alarming rate.
Kimi Raikkonen, a Japanese Grand Prix winner back in 2005 with McLaren, pipped Verstappen's teammate Daniel Ricciardo to fifth
In what proved to be a largely error-free session, Force India's Esteban Ocon was again the quickest car outside the usual top three teams, replicating his FP1 form by bringing his VJM11 home in P7 ahead of Haas's Romain Grosjean.
Sauber's Marcus Ericsson, who will be replaced by Raikkonen next season before taking up a reserve driver role with the Swiss team, went one better than his earlier performance by finishing ninth, with Toro Rosso's Brendon Hartley securing a morale-boosting 10th place.
For Hartley's team mate Pierre Gasly it was a frustrating session as he was confined to the garage for the majority of running with an apparent fuel pump issue. The Frenchman eventually managed to get 10 laps under his belt – though, as a consolation, he did clock the 13th fastest lap of the afternoon.
At the back of the grid were the two bottom feeder F1 teams – McLaren and Williams. Fernando Alonso again buried last place man and teammate Stoffel Vandoorne by 1-second. He buried Lando Norris, McLaren's future in FP1. How sad that a driver of Alonso's caliber has to leave the sport when he is still this good. We would have loved to see him at Red Bull where it is likely he would have buried Verstappen.
Quotes
Lewis Hamilton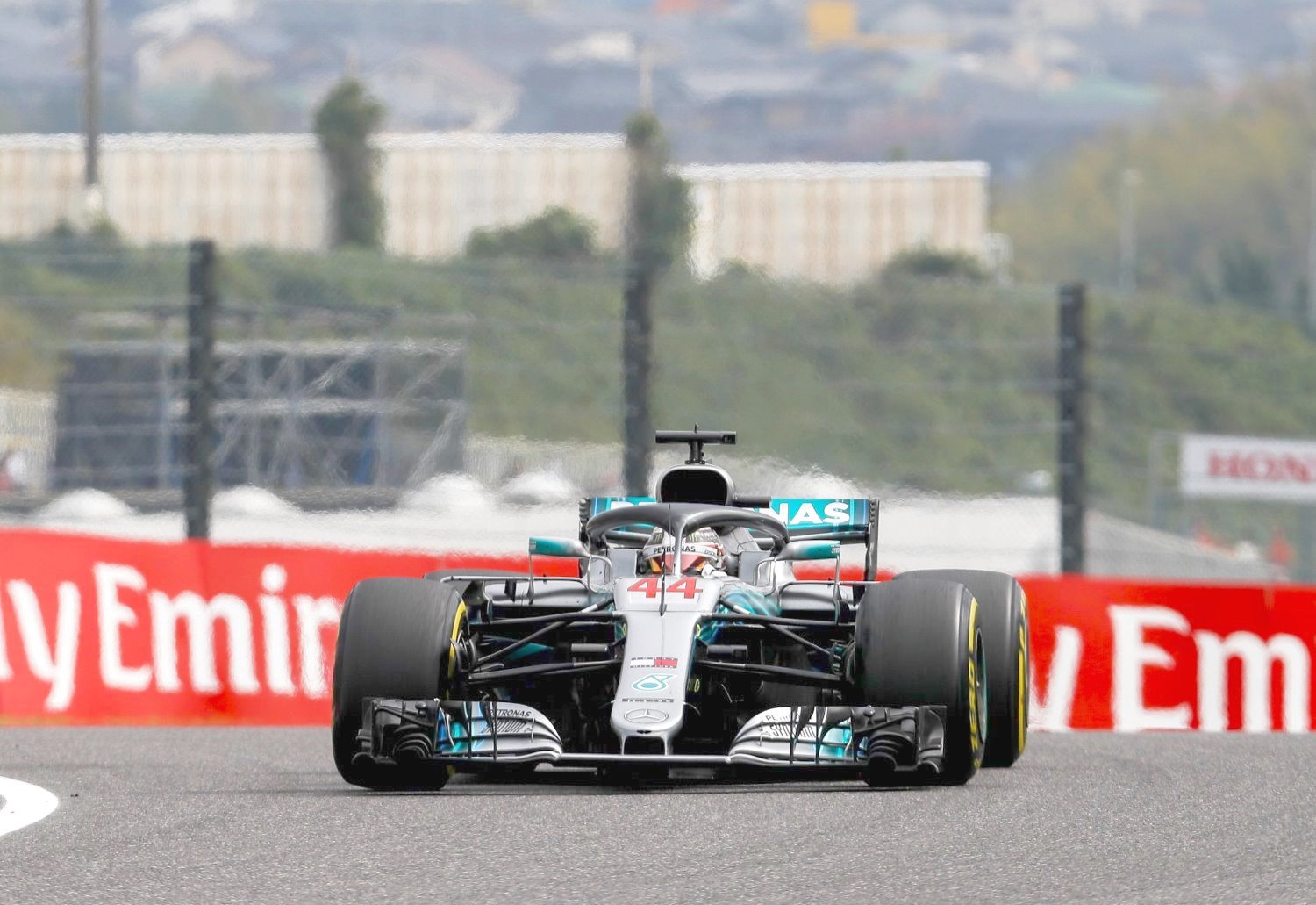 Hamilton flies in his Aldo Costa wondermobile
Every time we come to Suzuka, particularly over the last few years, the cars just get faster and faster, it's incredible. They don't make tracks like this anymore – there's very little room for runoff, a little touch of the grass and you're off in the wall. Suzuka has to be one of my favorite circuits, if not the favorite one, it's very cool. Especially the first and second sectors are insane, the first section is the best roller coaster ride that I've felt in a Formula One car. The balance was in quite a nice place, so I was just enjoying it. Every year I come back, there are always areas that I can improve, so I was like "There are two or three corners where I know that I need to kill it this year" and I got straight up to it. I was much better than I had ever been through those particular corners. Now I just have to stay on it, keep working; my team and I, we're working so well together in fine-tuning this car. I'm just loving driving more than ever; when you get in the car, it's just the best, it's so fast and I'm so grateful to have the opportunity to do what I do. I've just been giving thanks all day today because this is what I've always wanted to do.
Valtteri Bottas
It's always good fun in Suzuka, this is such an enjoyable track to drive. The car also felt quite good, although for me it was better in FP1 than in FP2. We have a full night ahead to investigate all the changes we made and find the right set-up. But overall the car felt pretty good throughout all sectors, I just had some balance issues, struggling a bit with understeer. Overall it's a good starting point for the weekend, but it's hard to say where we stand in relation to the others. It always gets more intense in Qualifying, so we're going to work just as hard as usual to find all the improvements we can. The weather is likely to change tomorrow, so it was good for everyone that we had a dry Friday because it's supposed to be dry on Sunday as well. It's also going to be a lot warmer in the race, so that will be different, but at least we got enough running already in dry conditions, so it doesn't matter if it's wet tomorrow. Even in the dry it's very easy to make mistakes on this track; one small mistake and you're off. In the wet, it's ten times more difficult; Suzuka is one of the most challenging tracks in the wet. The track becomes much more unpredictable, especially when it rains hard or if there is standing water. So if Qualifying is wet tomorrow, it should be very interesting.
Andrew Shovlin
It's been a fairly straightforward day and happily the conditions stayed dry which allowed us to complete all the usual race preparation work. Both drivers are quite happy with the balance and the pace seems reasonably strong. However, it looks like we could face quite different conditions in qualifying and race. We're expecting some rain overnight and the wind looks strong tomorrow which could make things tricky for the drivers in qualifying. Then for Sunday we're expecting hot and sunny conditions. We've got good data on the tires from today but it is never easy to predict exactly how they will behave on a much warmer track. The headline times from today do flatter us but we can still find some time working on the balance both on a single lap and a long run.
Sebastian Vettel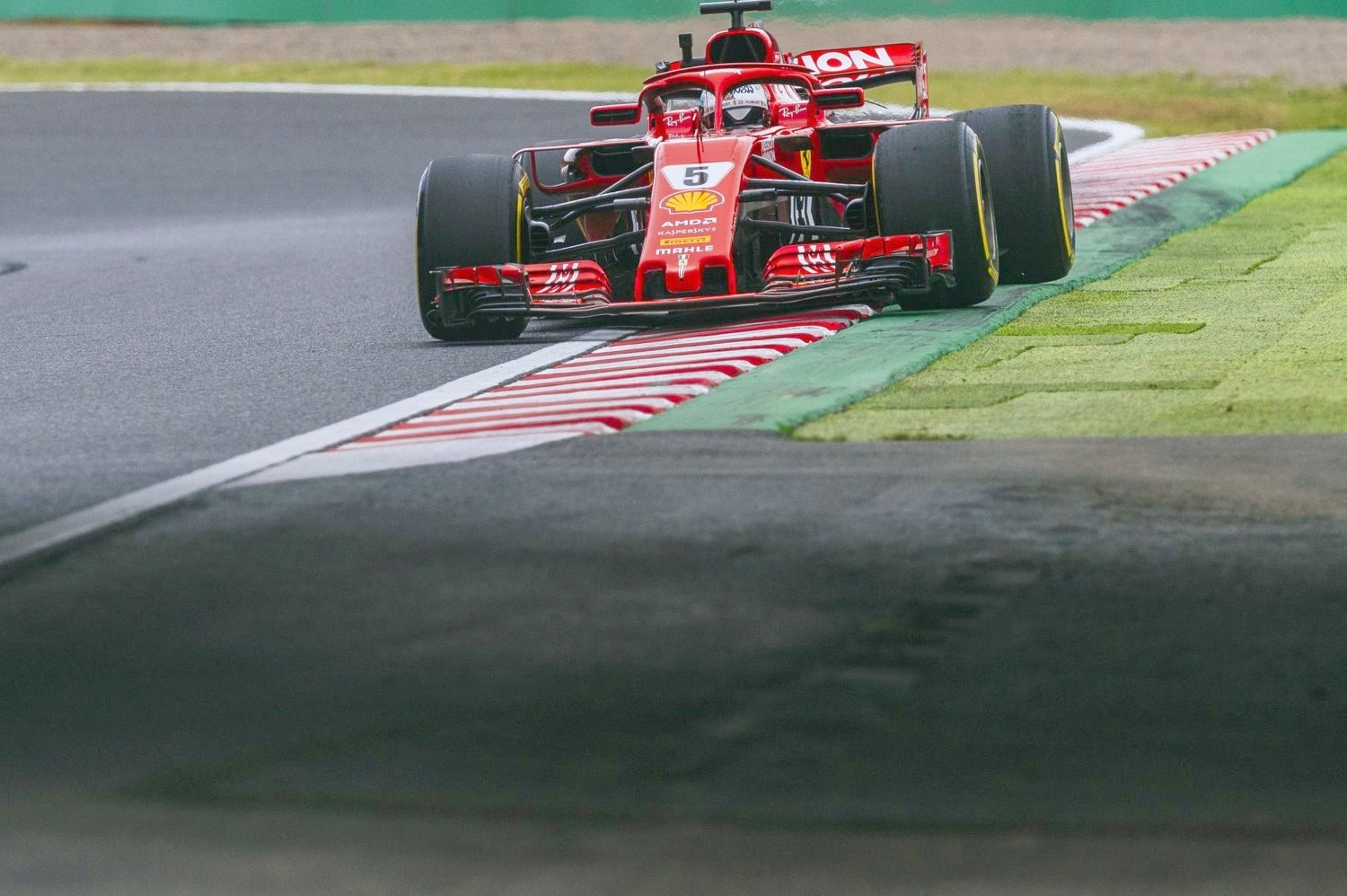 Vettel cannot touch the Ferraris
"All in all I am satisfied, as I think this Friday has been a smooth one for us, but we aren't fast enough yet. Today we tried something with the car, which seemed to give a better feeling, so let's see if we can carry this over tomorrow and find something else, too. Today I think the car slid a little bit too much, thus damaging the tires, but I believe that, overall it was a clean session with no interruptions.
We are trying to get the best out of our package, so we keep focusing on our job. Tonight we have to work hard because we need to be fast in qualifying. Obviously, if the others are as strong tomorrow as they were today, then it will be very hard, but we'll see. Rain could make things more interesting tomorrow, but for now we keep working hard, doing our job and then we'll see. It's a long weekend and today is only Friday, so I am sure there's still a bit to squeeze out of the car".
Kimi Raikkonen
"This has been a normal Friday, both in terms of the things we tried and of engine usage. We have been focusing on trying to get the best set-up for the car and towards the end of the session it felt better to drive, but for sure we have some work to do before tomorrow. I don't know if it will be raining or not during P3 and Qualifying, we'll have to see what the weather brings".
Max Verstappen
"We have some work to do ahead of tomorrow as I wasn't totally satisfied with the feeling in the car today. Both short and long runs didn't feel ideal, it may look closer on paper but I know we can improve. I was running a different rear wing to Daniel which meant less downforce. If we can find a compromise between straight line speed and rear grip then it will put us in a stronger position for the rest of the weekend. Here in Suzuka you need to be confident in the grip in order to attack the corners. It's only Friday so we have time to make the changes and find a good balance ahead of qualifying. I think we can get close to Ferrari and challenge during the race but Mercedes seem too far ahead at the moment."
Daniel Ricciardo
"It was a pretty solid day and there are some promising signs. On the low fuel runs we can be better but I don't think we're looking too bad. My sector one was slow as I had traffic on my fast lap and we can be better there for sure. On the straight we still lose a bit to the front runners, even if we ran the same downforce, they have a bit more power so coming up to Turn 1 we already lose a bit. We gain a little bit back in the corners but I think tomorrow if it's dry you will see a better sector one from us. The long runs seemed more consistent and I was happier with that. Qualifying here is important as it's not easy to overtake and there could be rain tomorrow, although they said it would rain today and it didn't, so I don't really know what to expect. Max ran a smaller rear wing to me today and we had different downforce levels, on one lap there may not be that much difference but I seemed happier with the car on the long runs. Everything ran well and it's been fun. It's a really good circuit and with these fast cars, as you can see from my smile, it's very enjoyable."
Paddy Lowe, Williams Chief Technical Officer:
We started this morning working through some rake running and testing some high-exhaust aero parts on the car. We also did some rear-wing testing between both cars, but predominantly FP1 was all about familiarizing ourselves with the track. We've got two young drivers, so we tried to get as much running around here as possible as Suzuka is one of the trickier circuits to learn. We had a fairly standard program for FP2 with Lance running the soft compound and Sergey the harder medium tire. We elected to change the rear wing-level during the session on Lance's car for a trial that meant we altered our run plan to accommodate. Overall, we got a lot of good running done, both drivers are reasonably happy with the balance and the pace is around about where we expected it to be.
Lance Stroll:
It was good today. It is always fun driving here, as the track is just mega and in my top three. As regards pleasure in the car, this track is up there as one of the best and you can really feel the car working. We will see what tomorrow brings, there may be a bit of rain, but we have to sort out a few things to be a bit more competitive. I think getting into Q2 will be challenging, but we will try as you never know. For sure rain would be nice just to mix things up.
Sergey Sirotkin:
Today was my first time in an F1 car around Suzuka and it was mega. I know there's a lot of speculation about how good it is, but it really is pretty amazing. It's a mega experience for me and I really enjoyed it as it's a very demanding track. To do a qualifying lap requires all your physical and mental energy, and unfortunately, I think this is what we sometimes miss a lot from modern F1 tracks. It's a pleasure to face this challenge here. I think we need to look a bit closer at today's performance. I ran on supersofts during FP1 and as you can imagine, there was not much left from the tire at the end, it's the softest tire in the range. I think we're in a reasonable position, so if we do everything right, and the conditions suit us, we'll be on the edge of the Q1 cut-off. It will be a mega job if we do it, but that's the target.
Practice 2 Times
| | | | | | |
| --- | --- | --- | --- | --- | --- |
| POS | DRIVER | CAR | TIME | GAP | LAPS |
| 1 | Lewis Hamilton | Mercedes | 1m28.217s | 0.000s | 31 |
| 2 | Valtteri Bottas | Mercedes | 1m28.678s | 0.461s | 30 |
| 3 | Sebastian Vettel | Ferrari | 1m29.050s | 0.833s | 36 |
| 4 | Max Verstappen | Red Bull/Renault | 1m29.257s | 1.040s | 32 |
| 5 | Kimi Raikkonen | Ferrari | 1m29.498s | 1.281s | 33 |
| 6 | Daniel Ricciardo | Red Bull/Renault | 1m29.513s | 1.296s | 27 |
| 7 | Esteban Ocon | Force India/Mercedes | 1m30.035s | 1.818s | 32 |
| 8 | Romain Grosjean | Haas/Ferrari | 1m30.440s | 2.223s | 32 |
| 9 | Marcus Ericsson | Sauber/Ferrari | 1m30.478s | 2.261s | 33 |
| 10 | Brendon Hartley | Toro Rosso/Honda | 1m30.502s | 2.285s | 27 |
| 11 | Sergio Perez | Force India/Mercedes | 1m30.510s | 2.293s | 28 |
| 12 | Nico Hulkenberg | Renault | 1m30.644s | 2.427s | 36 |
| 13 | Pierre Gasly | Toro Rosso/Honda | 1m30.795s | 2.578s | 10 |
| 14 | Carlos Sainz | Renault | 1m30.904s | 2.687s | 31 |
| 15 | Charles Leclerc | Sauber/Ferrari | 1m30.906s | 2.689s | 26 |
| 16 | Kevin Magnussen | Haas/Ferrari | 1m30.956s | 2.739s | 25 |
| 17 | Fernando Alonso | McLaren/Renault | 1m30.988s | 2.771s | 34 |
| 18 | Sergey Sirotkin | Williams/Mercedes | 1m31.087s | 2.870s | 39 |
| 19 | Lance Stroll | Williams/Mercedes | 1m31.215s | 2.998s | 32 |
| 20 | Stoffel Vandoorne | McLaren/Renault | 1m31.981s | 3.764s | 32 |