Mercedes dominates opening practice in Suzuka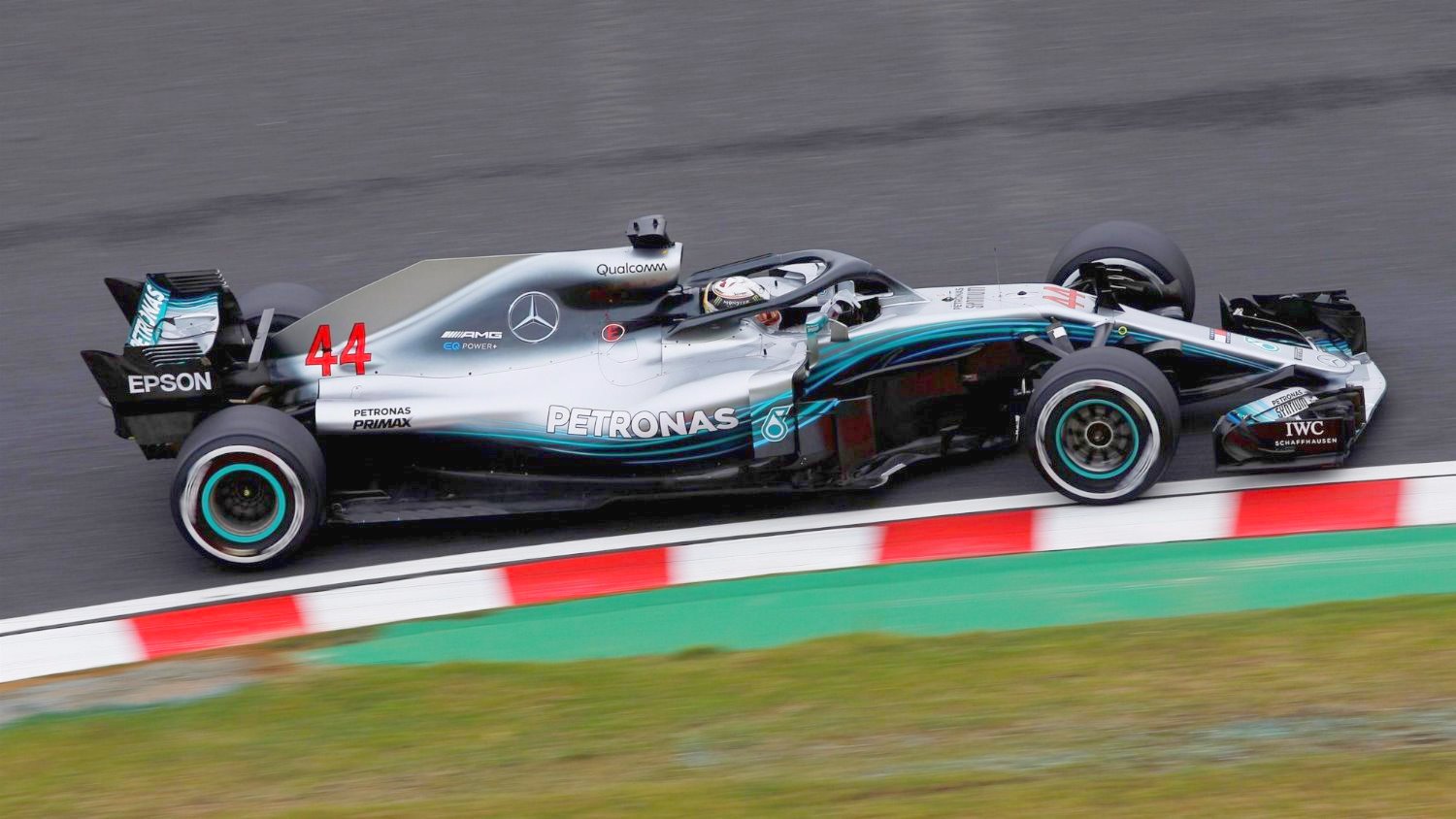 Aldo Costa's car dominating already
Running harder tires than Ferrari, Mercedes was 1-second per lap faster than the two Ferraris in opening practice for the Japanese GP at Suzuka.
Lewis Hamilton turned a lap of 1m28.691s on soft tires to beat his Mercedes teammate Valtteri Bottas by 0.446s who was on medium tires.
The two Ferraris on Supersoft tires were 4th (Kimi Raikkonen) and 5th (Sebastian Vettel) and so far back they are out to lunch. However, Raikkonen spent much of his time in the garage while Vettel failed to manage a fully clean flying lap, so Ferrari's true pace remains a mystery… for now.
Down at Red Bull, Daniel Ricciardo spent more time out on track than anyone else and wound up third, with teammate Max Verstappen in P6.
The 'best of the rest' battle was won by Force India's Esteban Ocon, who edged Haas' Romain Grosjean by two tenths, with Charles Leclerc winning the battle for P9 ahead of his Sauber teammate Marcus Ericsson.
Dead last was McLaren's next great British hope, Lando Norris. You could see a smile on Stoffel Vandoorne's face.
Practice 1 Results
| | | | | | | |
| --- | --- | --- | --- | --- | --- | --- |
| POS | NO | DRIVER | CAR | TIME | GAP | LAPS |
| 1 | 44 | Lewis Hamilton | Mercedes | 1:28.691 | +0.000s | 25 |
| 2 | 77 | Valtteri Bottas | Mercedes | 1:29.137 | +0.446s | 26 |
| 3 | 3 | Daniel Ricciardo | Red Bull Renault | 1:29.373 | +0.682s | 32 |
| 4 | 7 | Kimi Raikkonen | Ferrari | 1:29.627 | +0.936s | 20 |
| 5 | 5 | Sebastian Vettel | Ferrari | 1:29.685 | +0.994s | 20 |
| 6 | 33 | Max Verstappen | Red Bull Renault | 1:29.841 | +1.150s | 30 |
| 7 | 31 | Esteban Ocon | Force India Mercedes | 1:30.591 | +1.900s | 28 |
| 8 | 8 | Romain Grosjean | Haas Ferrari | 1:30.814 | +2.123s | 22 |
| 9 | 16 | Charles Leclerc | Sauber Ferrari | 1:30.929 | +2.238s | 27 |
| 10 | 9 | Marcus Ericsson | Sauber Ferrari | 1:31.073 | +2.382s | 29 |
| 11 | 10 | Pierre Gasly | Toro Rosso Honda | 1:31.073 | +2.382s | 20 |
| 12 | 55 | Carlos Sainz | Renault | 1:31.100 | +2.409s | 23 |
| 13 | 11 | Sergio Perez | Force India Mercedes | 1:31.272 | +2.581s | 29 |
| 14 | 20 | Kevin Magnussen | Haas Ferrari | 1:31.274 | +2.583s | 28 |
| 15 | 27 | Nico Hulkenberg | Renault | 1:31.418 | +2.727s | 18 |
| 16 | 18 | Lance Stroll | Williams Mercedes | 1:31.508 | +2.817s | 27 |
| 17 | 28 | Brendon Hartley | Toro Rosso Honda | 1:31.908 | +3.217s | 23 |
| 18 | 14 | Fernando Alonso | McLaren Renault | 1:32.034 | +3.343s | 21 |
| 19 | 35 | Sergey Sirotkin | Williams Mercedes | 1:32.513 | +3.822s | 26 |
| 20 | 47 | Lando Norris | McLaren Renault | 1:32.683 | +3.992s | 30 |