NASCAR Will Reduce Cars to Just 550 HP at Half of Its Cup Series Races Next Year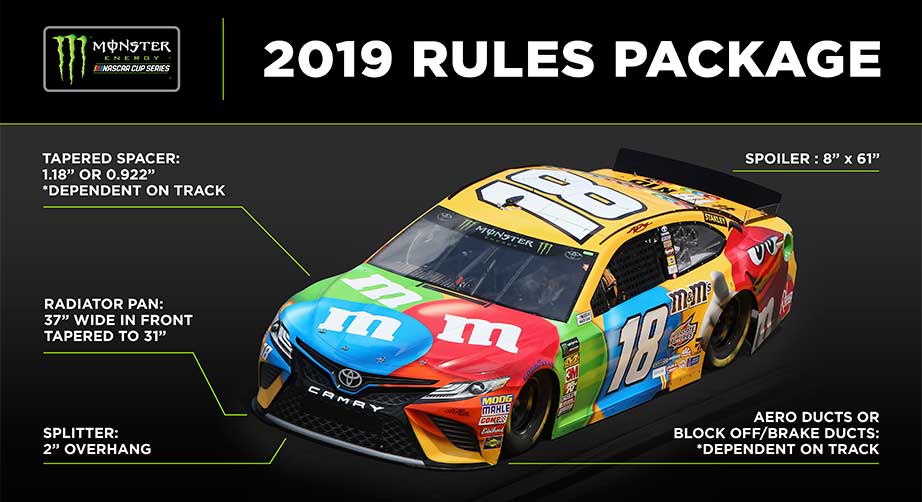 Not only are there aero changes, but HP will be cut like it has been on the superspeedways to create pack racing. NASCAR fans love pack racing and the crashes it creates
NASCAR wants the cars in its top-level Monster Energy NASCAR Cup Series to not string out like a broken bracelet from a Walmart claw machine, and encourage actual side-by-side/back-and-forth racing. NASCAR will try to do that, in part, by taking its Cup Series cars from about 800 horsepower down to 550.
NASCAR announced its new rules package for 2019 on Tuesday, which, depending on the race track, includes some big aerodynamic changes and restrictions on the engine. The changes are similar to what NASCAR did with its Cup Series All-Star race this year, which made the racing great to watch but didn't get the best reviews from the people actually driving the cars.
Here's the gist of the new aerodynamics and car package that'll be used at all tracks in 2019, summarized from NASCAR's press release:
Rear spoiler will be eight inches tall by 61 inches in length next year, up from 2.375 inches by 61 inches this year
Larger front splitter than this year, with a two-inch overhang
Wider radiator pan, measuring 37 inches wide in the front and tapering to 31 inches at the rear
The release said NASCAR will use aerodynamic ducts on the front of the cars to "transfer air to the side of the car away from the front tires," with the intent of making the racing closer, at certain oval tracks longer than a mile next year. The ducts won't be used at road courses, smaller tracks and certain large ovals.
The aerodynamic changes are kind of the opposite of what NASCAR has done in the past few years, and even NASCAR recognized that in its announcement—it said these changes have "the intent of adding downforce to stabilize handling, a break from a trend of downforce reduction" between 2015 and 2018.
But aerodynamics isn't the only change. NASCAR's also cutting power in the Cup Series, dropping engines from the roughly 750 HP they're at now to 550 HP at half of the races next year. That'll be done with a tapered spacer, which has basically the same function as a restrictor plate like the ones used at Daytona and Talladega—lowering power by restricting airflow to the engine.
The restrictions, in NASCAR's words, "both restrict the passage of air through the engine to reduce horsepower, but the tapered spacer's funnel-shaped design allows for a slightly more efficient flow and throttle response."
At five races the cars will get this smaller restricting spacer and no aero ducts. (Those races are both Pocono Raceway race dates, Atlanta Motor Speedway, Darlington Raceway and Homestead-Miami Speedway.)
Other tracks using the spacers will use the ducts.
And on short tracks and road courses neither the smaller spacer nor the ducts will be on the cars.