Bottas agrees to be an obedient slave to Hamilton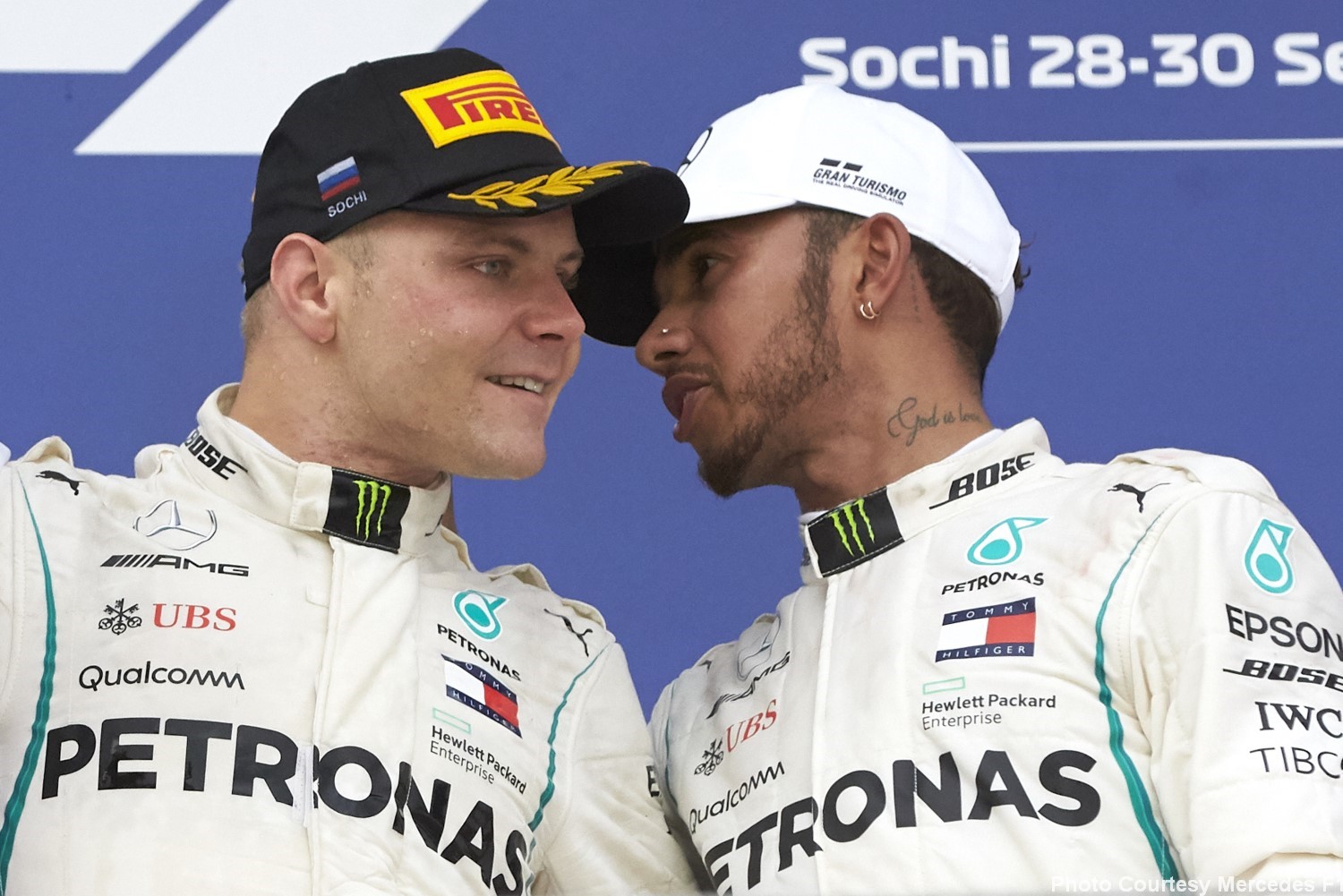 Bottas with his master Lewis Hamilton. Yes Sir Lewis, I will do anything for you. Can I please carry your helmet bag?
Mercedes' team principal Toto Wolff has stated Valtteri Bottas told him he would be prepared to sacrifice more victories for the benefit of the team should the need arise again.
Bottas was asked to move over for teammate and championship leader Lewis Hamilton during the Russian Grand Prix as a precautionary measure against the possible blistering on the British driver's rear tires.
Wolff was quick to commend the 'quality and integrity' of Bottas character and acknowledged the Finn had shown all of the necessary pace to win in Sochi.
"The true strength of a team reveals itself in what individuals are prepared to sacrifice for the group," said Wolff.
"Valtteri was willing to sacrifice his win in Sochi to help protect our 1-2 and extend our lead in both championships – and he said he'd be prepared to do the same again tomorrow. That tells you everything you need to know about the quality and integrity of his character.
"Valtteri proved in Sochi that he is a race-winning Grand Prix driver: he put it on pole, controlled the race and had the pace to win and he also showed that he is a great team player when we need him to be in the final stages of the season."
The Mercedes boss also admits it was not an 'easy call' to swap his drivers, admitting it was a tough battle between 'head and heart' when it came to the making the decision.
Despite being more than 50 points clear in the constructors' championship and Hamilton 50 points clear of Ferrari's Sebastian Vettel in the drivers' standings, Wolff is aware there could still be more difficult challenges further down the line and will face them together as a 'strong team'.
"It wasn't an easy call to make even though it was the right one for the points situation," added the Austrian.
"I think every one of us was facing this struggle between our head and our heart on Sunday, but there is no hard-and-fast rule or matrix you can apply."
"Whatever scenarios you think through, the old military saying is that "no plan survives first contact with the enemy", and we saw that again in Russia with how the race unfolded.
"Each call has its own context and we may face more tough moments before the year is over. But we will handle each one on its merits and face them together, as a strong team."