I hope 'exceptional' Robert Wickens comes back – Sebastien Bourdais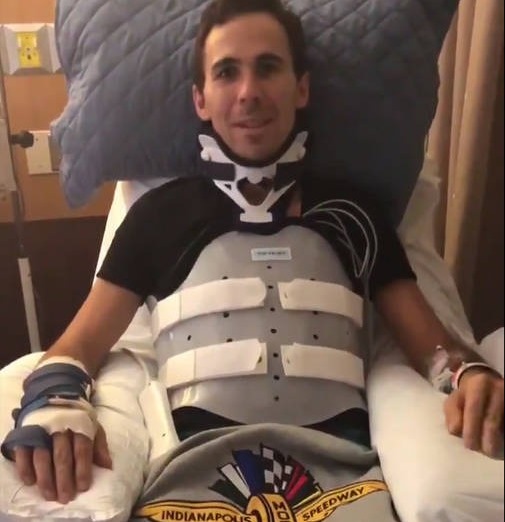 Wickens in rehab
Sebastien Bourdais hopes 'exceptional' Robert Wickens makes a return to the IndyCar series after his horror crash at Pococo Raceway in August during the ABC Supply 500.
The four-time series champion recently went to see Wickens at the IU health methodist hospital in Indianapolis during the series' end of season celebrations in the city, the same hospital where Bourdais spent time recovering from his heavy crash during qualifying for the 2017 Indianapolis 500.
Wickens is still working to recover from a spinal cord injury and has undergone multiple surgeries to repair fractures in both legs and hands as well as a pulmonary contusion among other injuries after slamming into the catch-fencing at the Pensylvania circuit.
"The main reason why I'm here today is I could combine this with seeing Robbie," Bourdais told IndyCar.com. "I stopped by and saw Robbie this afternoon. You don't do it for you. You want to show support and you want to go and see him. Race car drivers don't like hospital rehab facilities.
"It's two rooms down from where I was last year, so I don't need any reminders of that."
Bourdais admits he is still trying to fully recover from his crash 16 months later despite making a return to racing nine months after his crash at the Bommarito Automotive 500 at Gateway Motorsport Park in 2017.
After visiting Wickens' in hospital, Bourdais believes the Schmidt Peterson driver is facing a more difficult challenge in his recovery process than his own after his 2017 accident.
"I had never gotten hurt before, so I didn't know what it was," added the Frenchman. "It could have been a lot worse. You look at Robbie and it puts things in perspective. I hope he comes back. He was pretty exceptional, to do what he did in his rookie year."
"If there's a problem, you listen to the doctors, you get a prognosis, you have a course of action, you know the time frame and then you work it out," Bourdais said. "Here's what's realistic about this situation and here are the steps.
"Providing there are no complications, this is how it's going to work, plus or minus a couple of weeks. If I stay the course, this is what's realistic. I was a little bit ahead of schedule."
The Dale-Coyne Vasser-Sullivan driver who is expected to re-sign with the team for 2019 also spoke of his own recovery process which is still ongoing and admits it is still taking time to piece his muscles back together while battling plenty of aches and pains.
"It's gotten a lot better. I feel pretty good," Bourdais added. "I'm slowly starting to run again. It's slowly coming back together.
"The running was still having an impact where I'd take too long to recover from it. Then you can't handle the workload. If I run a half an hour and then it's going to take me more than a week to get over the pain and the aches, then I might as well not do it.
"There are other ways to work out. You're reactivating all the rapid fibres and stuff like that in your muscles. That what's I've been missing. Now I can slowly get back into that. I've been doing it on the treadmill.
"It's all working out, it's just taking time for the deep tissue to settle back in and stuff reacting to the intense requests. It's a process."