NASCAR, SMI Get High Marks For "Roval" Experiment In Charlotte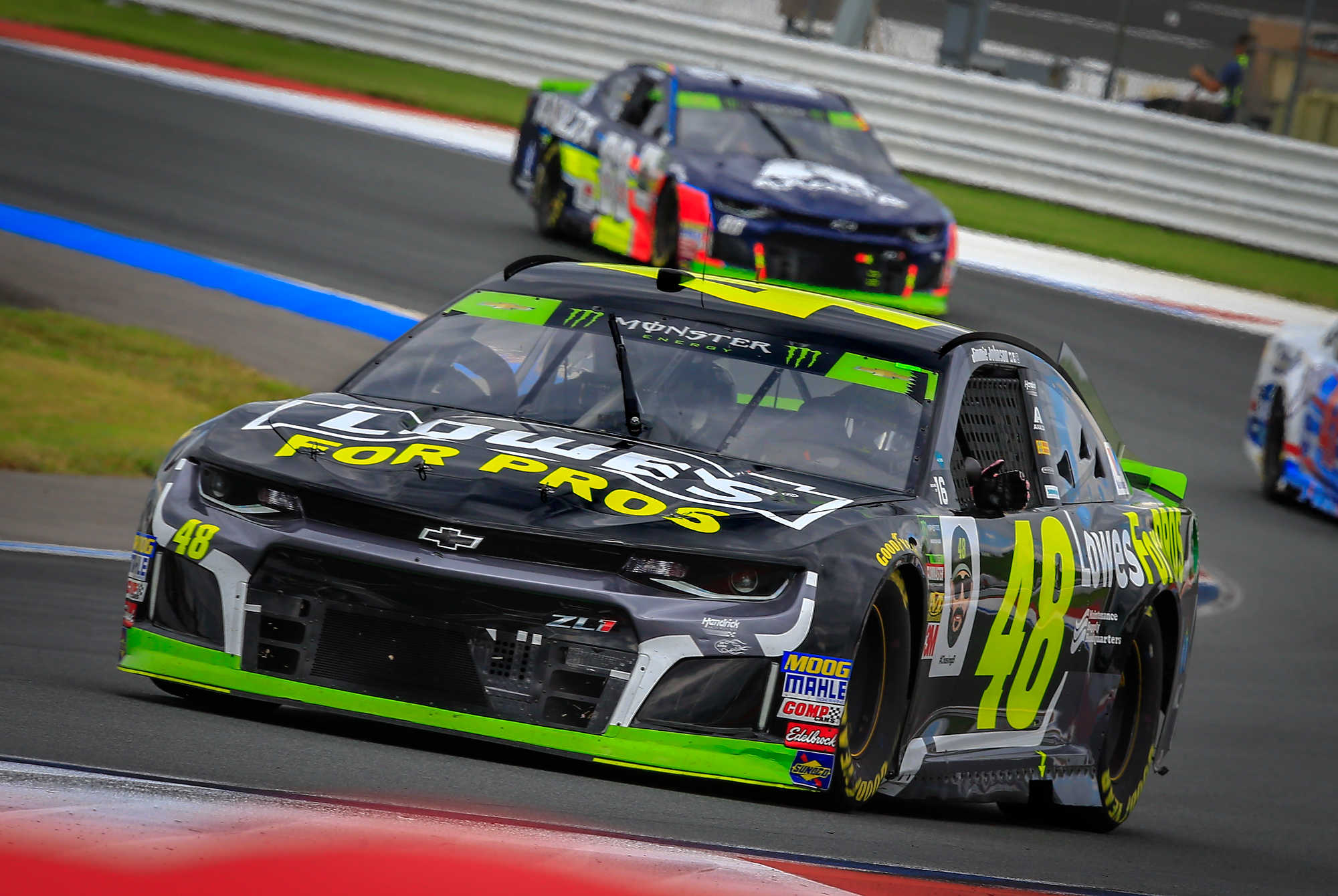 Jimmie Johnson blew it trying too hard to win
Charlotte Motor Speedway yesterday debuted its "Roval" course for NASCAR's Cup Series playoff race there, and it was a "complete and total success," according to Brendan Marks of the CHARLOTTE OBSERVER.
Critics "won't be so easy on the Roval," as they will "complain that it's not conventional driving." They will "lament" wreckage in the final seven laps that "drastically altered not only the course of the race but of the playoffs for a handful of drivers."
Marks: "They're wrong." Fans were "packed into the grandstands" yesterday. SMI President & CEO Marcus Smith said, "The roar from the fans was all I needed to know that that was the moment that everybody will remember for a long time." Marks notes the Roval was a "complete gamble, Smith's brainchild that he has tweaked and tinkered with for years."
At this point in NASCAR's history and standing in the American sports landscape, the Roval "should be proof to accept and lean into even more of those gambles." CHARLOTTE OBSERVER
NBCSN's Nate Ryan said, "We've been giving him credit all week, but Marcus Smith investing millions of dollars to upgrade this road course … acknowledging that it's a mile-and-a-half oval, but it had been disappointing with the fall races. Marcus was very candid about that, that he needed to do something to keep this race from being overshadowed by the All-Star Race, by the 600, and now the conversation becomes do other mile-and-a-half ovals try this?" ("NASCAR Victory Lap," NBCSN, 9/30).
Motorsports reporter Jeff Gluck wrote the hype for the Roval "was real, the freshness of a new course injected a boost of enthusiasm into a long season and the whole thing replaced a traditionally ho-hum event with a huge unknown."
Gluck: "The unofficial winners were many: Marcus Smith, the father of the Roval who saw his brainchild come to life in a majorly successful way; NASCAR, which continues to have an excellently fun second half of the season; and the fans who came from all over the country to check the Roval out for themselves, then surely left feeling like they got their money's worth." JEFFGLUCK.com
NBC's Jeff Burton said, "You wanted those guys that came to this race, you wanted people that watched on TV, to leave feeling good about it, and I don't know how you couldn't." He added, "It was a success. Now, you are not going to make everybody happy, but by far, the majority of people that came here today will want to come back and the people that watched on TV will want to watch it in person" ("NASCAR Victory Lap," NBCSN, 9/30).
In Daytona Beach, Dalton Hopkins writes the Roval experiment "was a success." Not only did the Roval "impress fans — social media reaction, too, was extremely positive — but some touted its advantages over other road courses on the Cup Series because the course is confined within the oval track." Daytona Beach NEWS-JOURNAL.
ESPN.com's Bob Pockrass wrote yesterday's race was a "win for NASCAR at a time when it could really use it." This was "more than just another race." There were relatively "few incidents until the final 43 laps." However, fans will "remember a wild ending, and this one had all of that at the front and as drivers attempted to earn enough points to advance in the playoffs." ESPN.com
The AP's Jenna Fryer noted the race was "much cleaner than expected after two crash-heavy days of practice, but action picked up in the closing laps." Brad Keselowski was on track to win before he "misjudged the entry into the first turn on a restart with six laps remaining." It triggered a "multicar accident that also collected Kyle Larson." AP