Latest F1 news in brief – Monday
Otmar Szafnauer gets engines from Mercedes, he had better agree with Wolff

Fellow boss backs Wolff over team order

Hamilton questions Ferrari's Raikkonen axe
Uncertain Williams future for Sirotkin, Kubica
Vandoorne 'not fast enough for Toro Rosso' – Marko
Raikkonen on Mercedes: They could have gone even faster
Latest Honda Power Unit Update has Put Them 'In Front of Renault'
Ricciardo broke his front wing on the opening lap of the Russian GP
Hamilton: It doesn't feel great
Putin warned Hamilton not to spray him with champagne
Fellow boss backs Wolff over team order
(GMM) Otmar Szafnauer has backed fellow team boss Toto Wolff amid the team orders controversy of Sochi.
Pole sitter Valtteri Bottas was upset after the Russian grand prix, as Mercedes handed victory instead to championship leader Lewis Hamilton.
Wolff defended the decision to swap the places.
"It's better to be a villain today than an idiot in Abu Dhabi," said the Mercedes boss.
Former F1 supremo Bernie Ecclestone watched the Sochi race alongside Vladimir Putin, and when asked if he agrees with the Mercedes switch, he answered: "Of course."
And Force India boss Szafnauer also backed Wolff amid the controversy.
"Fiercely ambitious drivers are fundamental. But they also have to understand that their interests sometimes conflict with the ones who run the team," he said.
Hamilton questions Ferrari's Raikkonen axe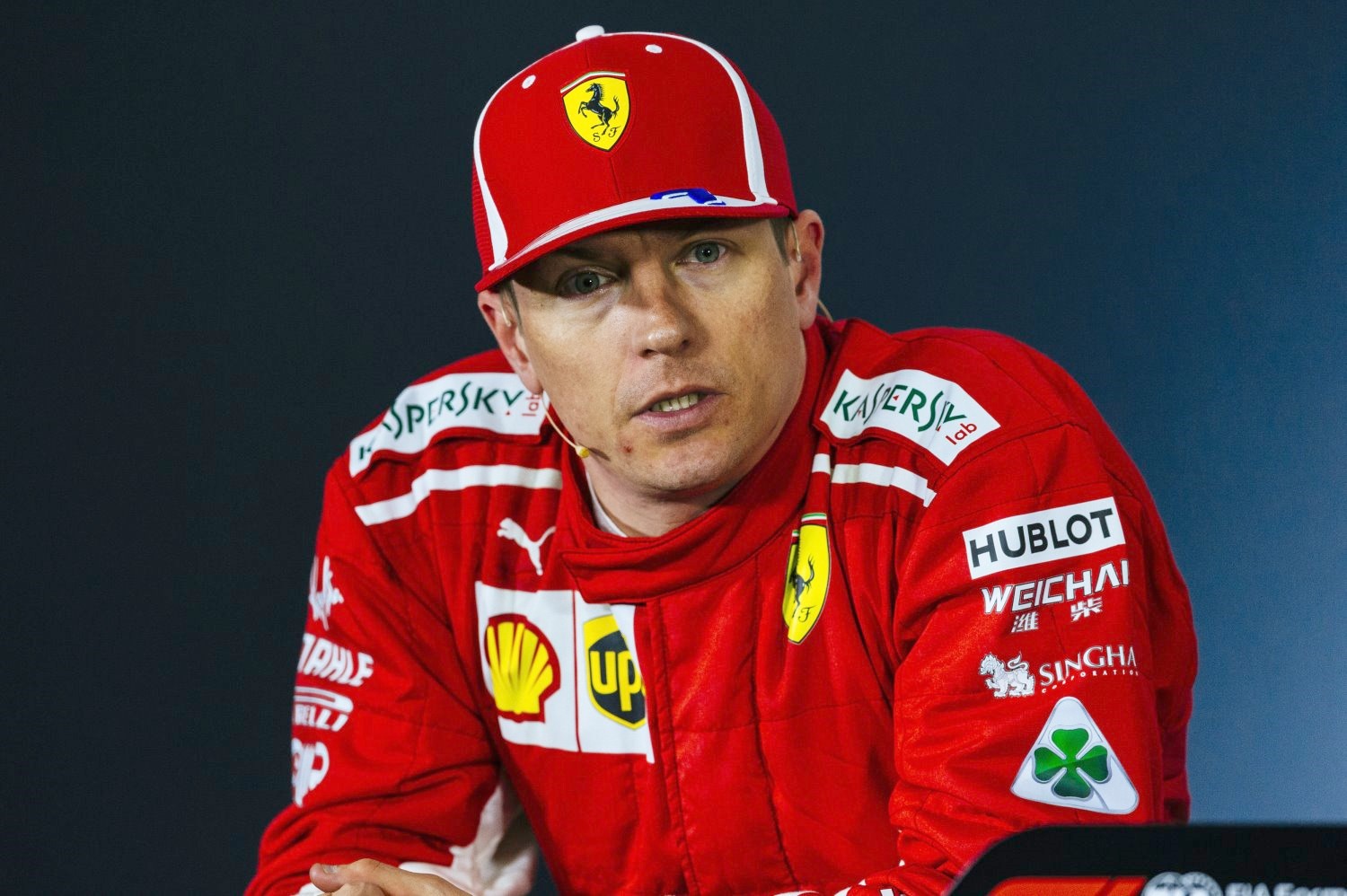 Will Leclerc be faster than Raikkonen?
(GMM) Lewis Hamilton has questioned Ferrari's decision to axe Kimi Raikkonen.
The Finn and 2007 world champion is keeping his F1 career alive at Sauber for the next two years, but Hamilton thinks Ferrari is making a mistake in letting him go.
In an interview with the Swiss newspaper Blick, Hamilton was asked if Raikkonen's impending departure from Ferrari might help his quest to win a fifth title this year.
He answered: "I don't think Kimi is going to change in the last races.
"He is an extraordinary professional and a fantastic driver," said the Mercedes driver. "He remains one of my favorite drivers, and I'm convinced that Ferrari is losing a very important driver.
"It does not make sense to me," Hamilton admitted.
He said that if his own boss made a decision like Ferrari's, he would not be shy to let Toto Wolff know what he thinks.
"The trust is there between us," Hamilton said of Wolff. "If Toto came up with a crazy idea we'd definitely discuss it. I'd say 'Toto, are you sure?'"
Hamilton also said he hopes Red Bull is strong next year after its switch to Honda power.
"We need a third strong team," he said. "Otherwise it's boring — I want to have more of these guys to beat.
"Red Bull has been building a great car for years, but I often wonder if the management there is always making the right decisions."
Uncertain Williams future for Sirotkin, Kubica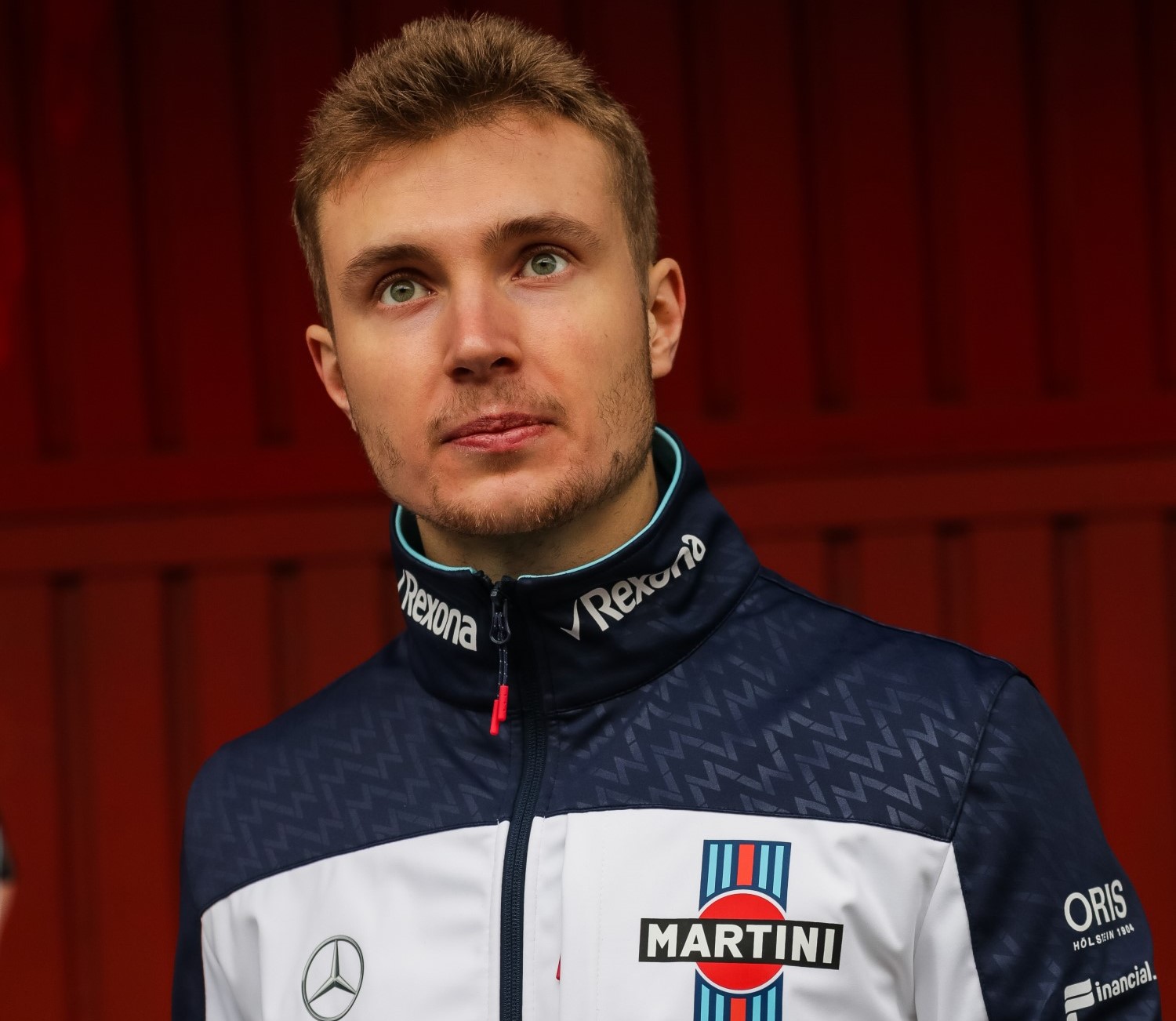 Sirotkin wonders if the check from Russia will be large enough
(GMM) Williams' driver lineup for next year is not set in stone.
The struggling British team is set to lose Lance Stroll to Force India, but it was believed Williams would need to at least retain Sergey Sirotkin and his backing by the Russian bank SMP.
But SMP boss Boris Rotenberg told Tass news agency: "There is no agreement for next season, first we are still in this season."
Also unclear is whether reserve driver Robert Kubica is under consideration.
"I don't want to be in a situation like last year," the Pole told Eleven Sports.
"Everyone should have their deadline and their honor. There is no decision yet, but it should be quite soon," Kubica added.
"I will not wait until December."
He added that he wants to return to racing in 2019, and said switching to another series is possible.
"The situation when it comes to F1 is not easy, but there are also opportunities to be somewhere else. For me it's quite transparent.
"I am waiting but if nothing happens, I will make my own decision," said Kubica.
Vandoorne 'not fast enough for Toro Rosso' – Marko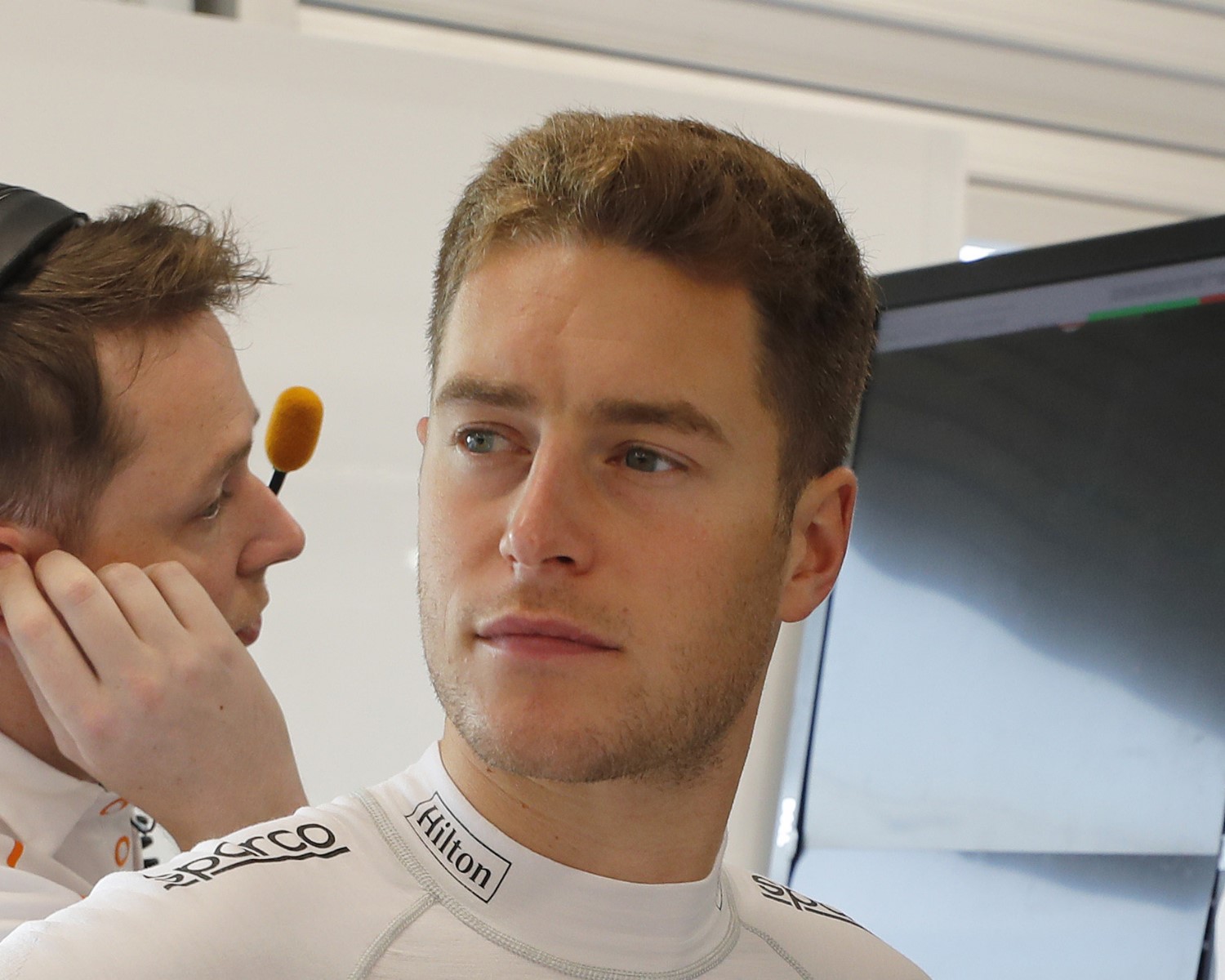 Stoffel Vandoorne too slow for even Toro Rosso, will have to drive IndyCars or Formula E
(GMM) Toro Rosso has ruled Stoffel Vandoorne out of the running for a 2019 seat.
Belgian Vandoorne admits his hopes of keeping his F1 dream alive following his McLaren axe are close to "zero".
Red Bull has now ruled him out of the running for the second seat at Toro Rosso.
"We will not take Stoffel," Dr Helmut Marko told the broadcaster RTBF. "I think he's just not fast enough for F1."
It seems almost set in stone that Vandoorne will instead leave F1 altogether and join the new works Mercedes team in Formula E.
"I have always liked Stoffel, a brilliant driver in the junior categories," said Toto Wolff.
"We must now try to understand why it did not work for him in F1, but maybe there could be some news about him soon.
"I think his character and speed would work very well at Mercedes, but for now we will have to see," the Mercedes chief added.
Raikkonen on Mercedes: They could have gone even faster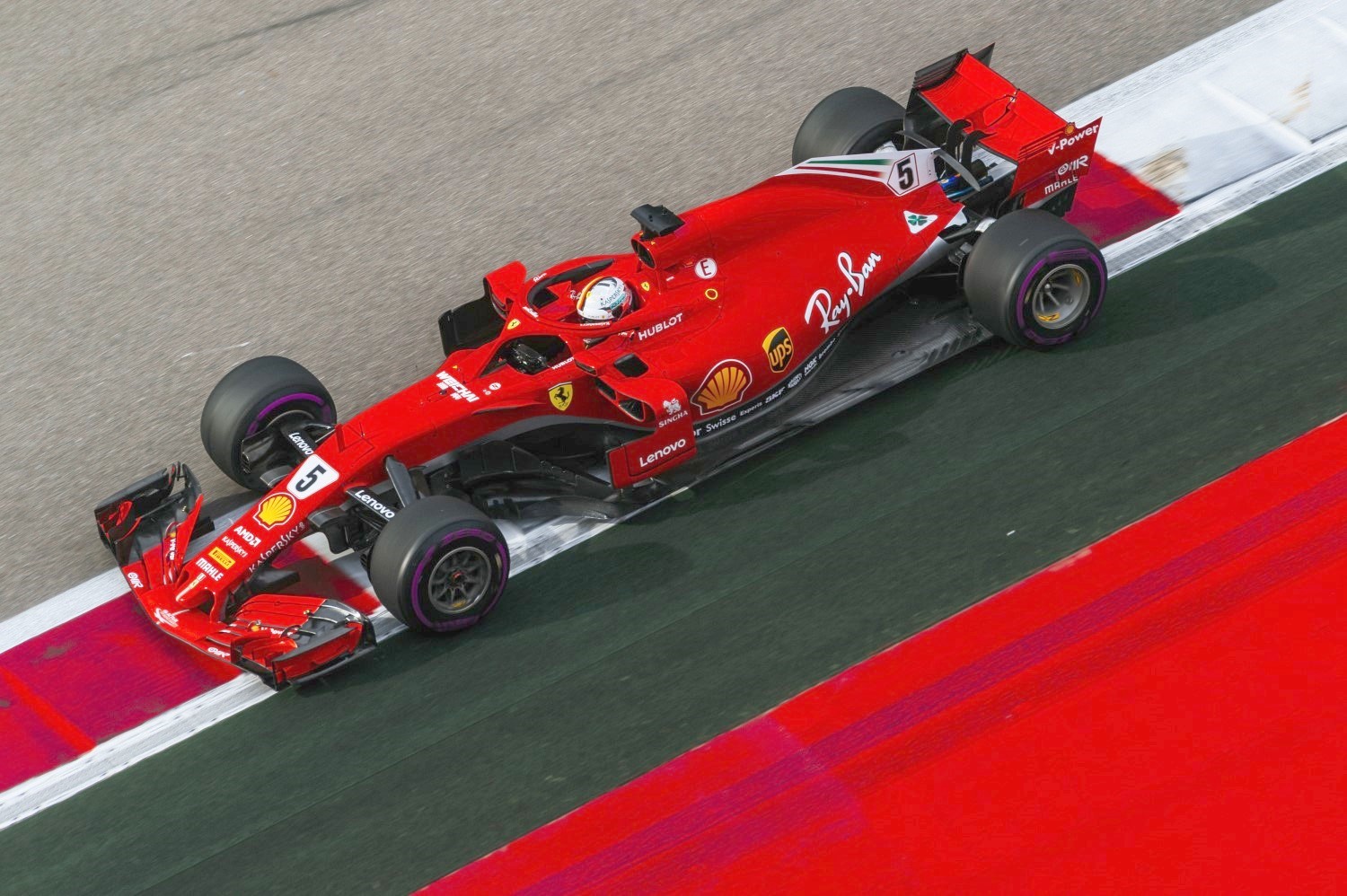 Raikkonen had a lonely run in 4th
Kimi Raikkonen says Mercedes has found key performance gains over the last two races which Ferrari has been unable to respond to in the fight for the 2018 Formula 1 world championship.
The Finnish driver was in fourth place for effectively all of the Russian Grand Prix having seen Mercedes steal a march in qualifying. Raikkonen's race strategy of going longer during his opening stint failed to pay off looking to produce the overcut to climb the order.
Raikkonen felt Mercedes conserved its ultimate race pace to remain ahead of Ferrari without pushing to the maximum but concedes its overall development drive has been stronger than the Italian manufacturer since the start of the flyaway races.
"We went as fast as we could but they were faster," Raikkonen said. "Did they push as much as they needed today? Probably not, just enough to keep us behind.
"We're a bit behind in pure speed, but in the race the car feels okay. But we need to go a bit faster everywhere.
"Who knows what they've [Mercedes] done. Let's see in the next race if it's still the same or not. Hopefully it's a slightly different story, more like it was a little while ago. I guess they found something."
Latest Honda Power Unit Update has Put Them 'In Front of Renault'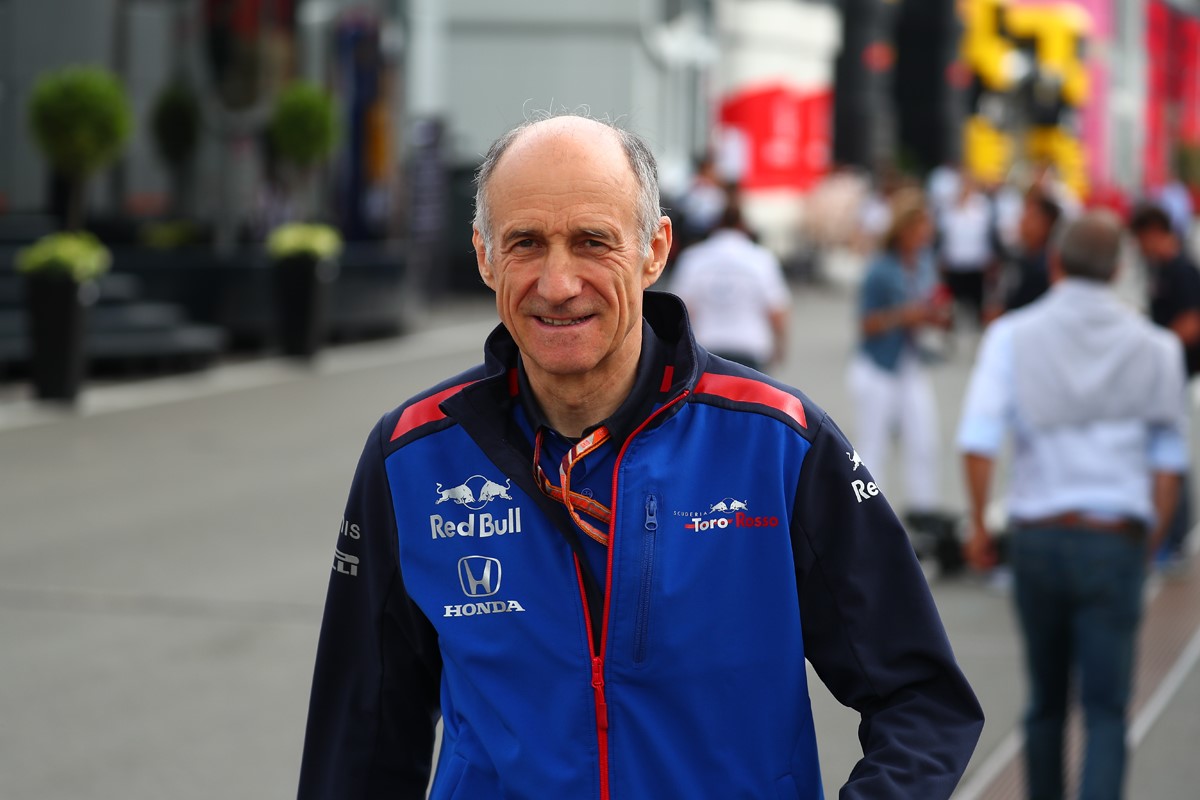 Franz Tost expects Honda power to bury Renault in Japan
Franz Tost feels Honda's latest updates to its power unit has put it ahead of Renault's power unit, and he is excited by the prospect of its first proper race weekend next weekend at the Suzuka International Racing Course in Japan.
Both Pierre Gasly and Brendon Hartley took the new unit for Friday's running at the Sochi Autodrom, with both acquiring grid penalties as a result, although from Saturday onwards both Red Bull Toro Rosso Honda drivers reverted back to the older specification.
Tost, the Team Principal of Toro Rosso, has said that the new update is a significant step forward and has not only caught up with the performance levels of Renault but exceeded them, and it gives them confidence for the remainder of the season.
"Honda is making big steps forward," said Tost to Motorsport.com. "Yesterday [Friday] we had the new spec in the car and it was really fantastic.
"It is in front of Renault. [The] complete package. We had it in the car yesterday, but we have to start from the back of the grid and then we decided we go back to spec 2 just to save some mileage and to make some fine-tuning.
"In Suzuka we will have it."
Tost has revealed the 2019 unit will not have the same design but he stopped at saying just what will be different when it comes to next season.
"There are changes, but I do not want to go into details – I can only tell you they are really on a good way," said Tost. CheckeredFlag.co.uk
Ricciardo broke his front wing on the opening lap of the Russian GP
Undone by debris
Daniel Ricciardo's Russian Grand Prix was hindered by a broken wing from debris.
While teammate Max Verstappen was carving his way from 19th on the grid to 12th, Ricciardo had remained in 18th. Worse still, he had damaged his front wing.
"The first lap wasn't going that great, and then I broke the front wing," Ricciardo explained.
"I had a slipstream from, I think, a McLaren. As soon as I pulled out there was some debris in front of me and I hit that. I just didn't have time to see it or react.
"Just that was a kind of double-whammy on the first (lap) and that shaped the race. It was a bit lonely at the end."
"He had a tough race today," Red Bull team principal Christian Horner said.
"He hit a piece of debris and did quite a bit of damage to the front wing. He lost about 30 points of downforce and put a lot of understeer into the car.
"He had to manage that and it diluted his pace a little – but he obviously lost a lot of ground to Max in that first five or six corners. So he'll be hungry to make amends in the coming races.
For his part, Ricciardo will analyze the vision from the opening lap to try and understand what happened.
"The first part of that first lap, I want to watch a some replays and see if I can pick up a few things or if it was just circumstances that kept me from advancing," Ricciardo said.
"But I'd like to think there's some room for improvement."
Hamilton: It doesn't feel great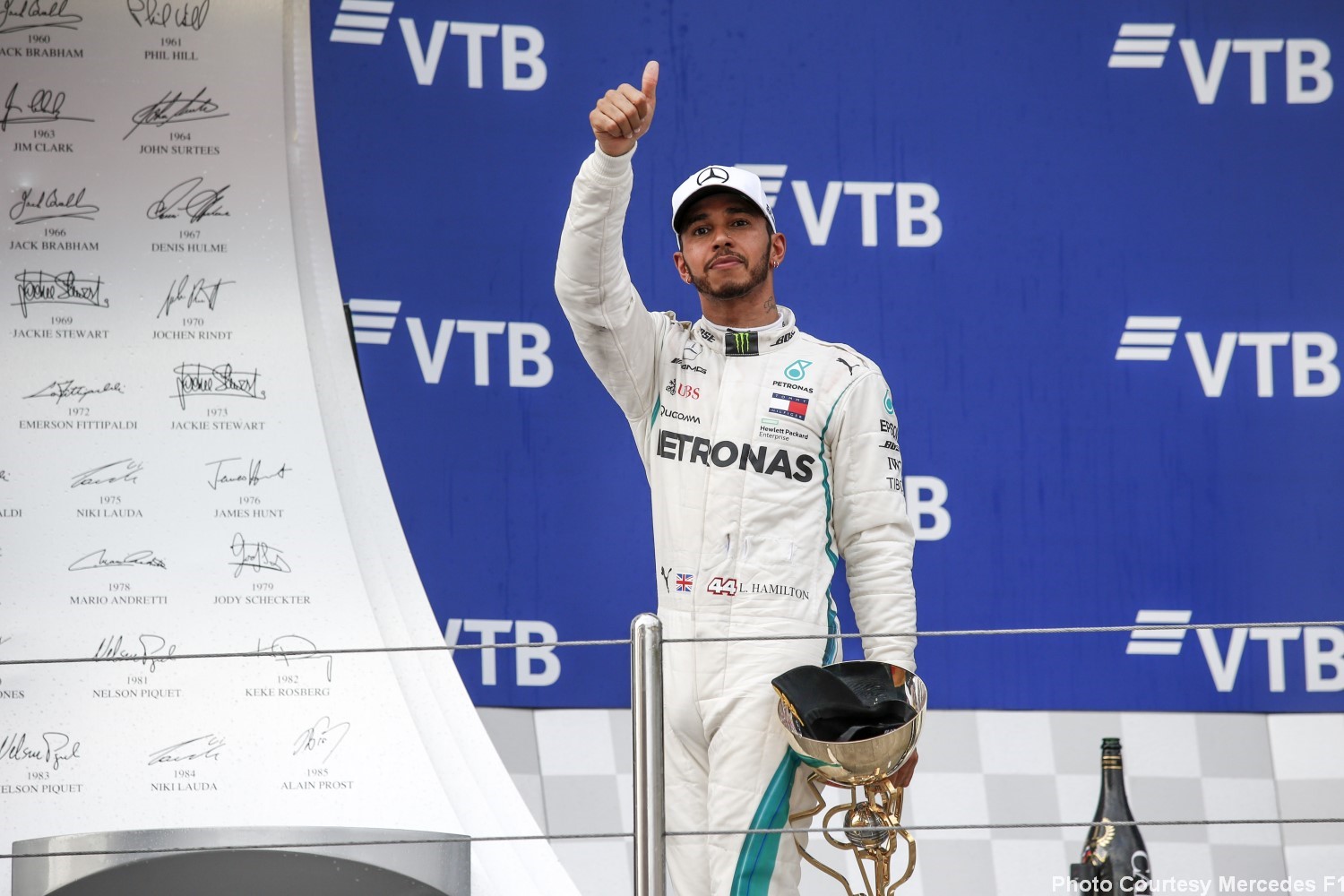 Well of course it feels great
Lewis Hamilton contrite and unhappy after being handed victory on a plate by Mercedes teammate Valtteri Bottas at the Russian Grand Prix, the Finn playing his role as wingman to perfection helping the Briton to a 50 points lead with five race remaining.
After the pitstops – shortly after the halfway mark, with Bottas in the lead chased by Hamilton who had Sebastian Vettel's Ferrari looming in his mirrors – the #77 car got the call to move over and allow the #44 past.
A swap near the end was expected but such an order did not come instead, Hamilton thus scored his third victory at Sochi Autodrom, perhaps his least deserved and least appreciated by the man himself.
Hamilton did not celebrate on the podium or when he alighted his car and was clearly downbeat during the press conference, "It doesn't feel great."
"I don't think I've ever finished first and felt the way I do right now. It's definitely a very conflicting feeling because naturally, you want to extend the championship lead, but we are a team and there are two championships."
"Valtteri has done an exceptional job all weekend, and yesterday in qualifying and you could see how happy I was for him there. I assured Valtteri it's not something I asked for, but it's what the team feels is right to do. It's a very awkward position to be in."
Hamilton has now scored eight wins in this campaign and now has a 50-point gap to Vettel in the championship standings with five rounds remaining.
Putin warned Hamilton not to spray him with champagne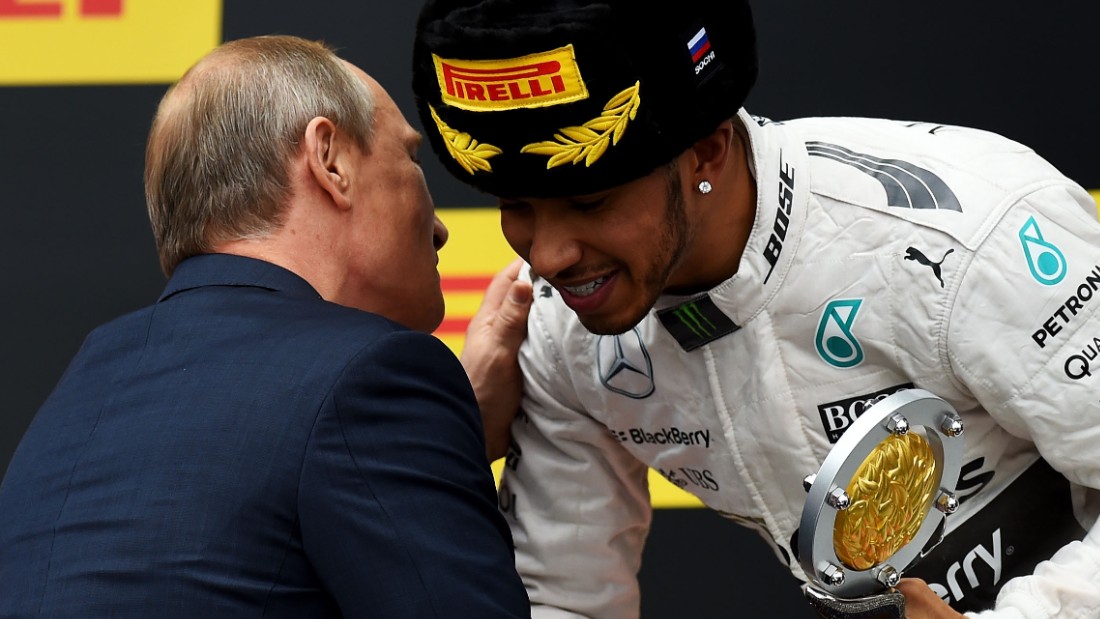 Did Putin tell Hamilton, "If you ruin my good suit with Champagne again I will have you castrated before you leave Russia"?
Vladimir Putin attempted to put the frighteners on Lewis Hamilton when he ordered him not to drench him with champagne.
Hamilton had powered to victory at the Russian Grand Prix to extend his lead in the race for the world title to 50 points.
But no sooner had he leapt out of his car, he was being hauled in for a warning by the Russian president to ensure the Brit did nothing to embarrass him.
Three years ago a fearless Hamilton had soaked Putin on the podium by spraying him with champagne.
At the time the leader laughed it off – but clearly the memory burned deep as he wasted little time telling the Mercedes star not to repeat the trick.
Through his interpreter he conveyed the message as they waited to go out for the trophy presentations – catching Hamilton off guard.
In the green room after the race, Putin is caught on TV speaking to a translator, who turned to Hamilton and said: "I am accustomed to warning you something each year. Year, after year…"