Americas Rallycross celebrates its first champions at World Rallycross of USA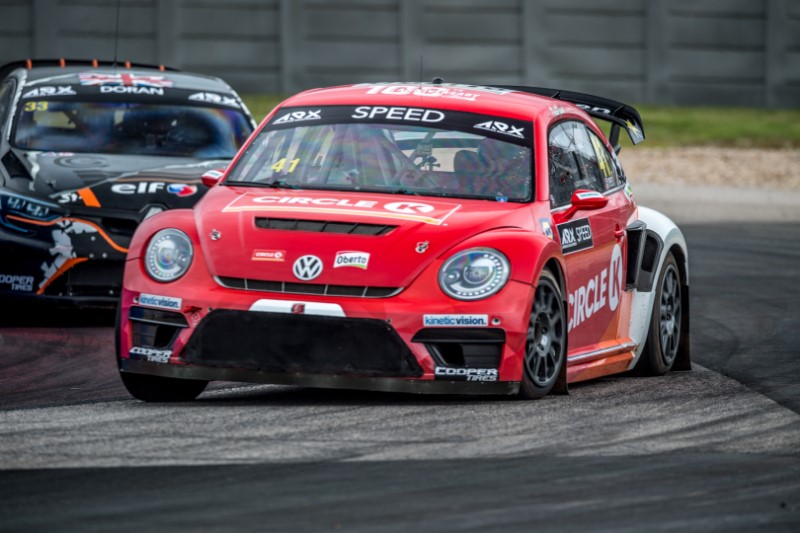 Scott Speed
Volkswagen Andretti Rallycross' Scott Speed claimed the inaugural Americas Rallycross (ARX) title at World Rallycross of USA held at Circuit of The Americas. Teammate Tanner Foust did all he could in the last round by taking the victory and maximum points in Texas.
Foust won semi-final one having taken a point out of Speed's Championship lead at the Intermediate Classification, but by winning semi-final two, Speed was assured of the title as long as he just started the final to claim the one point required to be the champion. He did indeed take the start, on the front row alongside pole man Foust and went straight for the joker as Foust took the hole-shot into turn one ahead of Loenbro Hoonigan's Steve Arpin. In the No. 43 Loenbro Hoonigan Ford Focus RS RX, Ken Block immediately pulled off the grid as the lights went green with a technical issue.
Subaru Rally Team USA's Toomas "Topi" Heikkinen and Patrik Sandell followed Speed into the turn one joker, Sandell making a last moment change of decision to take the non-standard line. Arpin took his joker on the third lap and was passed by Speed, but held onto third. Foust then took his joker on lap four but held onto the lead to take his second win of the inaugural ARX season. Speed finished second and Arpin claimed his first ARX podium in third.
Heikkinen finished fourth in his debut for Subaru Rally Team USA and Sandell finished fifth in the last round and third in the championship point standings. Subaru's Chris Atkinson and Xite Racing's Oliver Bennett had a first-lap-fight in semi-final one and GC Kompetition's Liam Doran had a battle with Sandell in semi-final two but finished the race despite a puncture.
Scott Speed and Volkswagen Andretti Rallycross (VARX) become the first team and driver champions in ARX. This is the fourth driver championship in rallycross, in a row, for Speed and the team's fourth collectively.
Martell claims ARX2 title, Keyes doubles-up at COTA
By winning semi-final one, DirtFish Motorsports' driver Conner Martell secured the ARX2 Championship and lined up on pole position for the final. He took the hole-shot into turn one while Dreyer & Reinbold Racing's Christian Brooks was forced out wide, allowing DirtFish's Fraser McConnell and Keatts Motorsport's Cole Keatts to move up.
McConnell climbed into the lead when Martell was forced out on lap two by a puncture, but it was Buhl Sport Detroit's Alex Keyes – who had taken the joker on the first lap – who moved forward to sweep the weekend at COTA with a pair of victories. Jamaica's Fraser McConnell finished second and 18-year-old Brooks finished third.
Conner Martell and DirtFish Motorsports secured their first championship in rally or rallycross. The official rally school of ARX secured the team championship with consistent performances from its drivers, Scott Anderson, Fraser McConnell and James Rimmer.
Quotes from ARX Champions
Scott Speed (No. 41 Oberto / Circle K Volkswagen Andretti Rallycross Beetle) on winning the 2018 ARX Championship:
"I came here this morning thinking, 'well I still have two qualifiers, I can make up some points'. I knew I had nine points to play with, but after Q3 I pretty much gave all of them back. We were sitting in seventh. I thought something crazy needed to happen to throw away nine points this weekend and it was happening. I went into Q4 with Tanner [Foust] to my right on the outside thinking 'I cannot see how this is going to work out'. I'm just going to try and get off the line as quickly as possible and I hope he gets a bad start. I actually pulled the fastest launch we've ever had. I was able to go along the outside of him into the joker and then we controlled our fate and I was also lucky that no one followed the leader on the normal track and they all got jumbled up. I had reign to put down fliers and took P1 in that qualifier which turned the table from going completely 'oh my god, are we really losing this?' to 'oh man, all we need to do is win our semi-final from pole and we got it'. It was a huge emotional roller coaster this weekend and those are the best. That's why we do it. That's why I come to work every day to live for these moments and you don't know when they are going to come, but for us that was Q4."
Conner Martell (No. 21 DirtFish Motorsports ARX2) on winning the 2018 ARX2 Championship:
"I've worked hard over this summer to come into this series and do as well as I could and I knew we had really good competition. Christian Brooks is super fast, Alex Keyes is really fast, and luckily we were the ones to stay more consistent and today, after Q3, I found out that I secured the championship. It felt really awesome to know that and I was relieved a little bit and didn't have a lot of stress. For next year, I'm really hoping for a Supercar ride but you never know what's going to happen. I'll race ARX2 again if that's what comes or rally or whatever it is, I just want to be in a car. I can't thank the DirtFish team enough and Black Rifle Coffee for being behind me and it was awesome and looking forward to next year."