Latest F1 news in brief – Wednesday
Mika Salo thought Ericsson's big check should have assured him of the 2nd Sauber seat

Salo questions Sauber's Giovinazzi pick

Gasly not out to 'destroy' Verstappen
Russian GP: Red Bull facing grid penalties
Brawn: Why don't we all have the same transmissions?
Ferrari maxes out on supersofts for Japanese GP
Salo questions Sauber's Giovinazzi pick
(GMM) Mika Salo is not sure Sauber has made the right choice for 2019.
The former F1 driver was commenting on the news that the Swiss team has ousted Marcus Ericsson – who is staying in the reserve role – and replaced him for next year with Ferrari junior Antonio Giovinazzi.
Many have hailed the move as a triumph of talent over Ericsson's pay-driver dollars and links to the Sauber ownership.
"I'm not really surprised, but I wanted Ericsson to continue," Salo told C More broadcaster. "I'm sorry that he lost his place."
He said a question mark lingers over Italian Giovinazzi after his one-off performances replacing injured Pascal Wehrlein last year.
"I don't know any more about him, but those few performances were pretty unfortunate," Salo said. "He broke a lot of cars.
"He can probably race well as it was a difficult situation for him. Perhaps he wasn't ready and now he is," he added.
But Salo said the deal does make sense for other reasons. "It looks as though they wanted a young driver to learn alongside Kimi," said the Finn.
"And for Sauber you can see that they are working closely with Ferrari. The car is being developed in the same direction as Ferrari to keep improving the results."
Gasly not out to 'destroy' Verstappen
Gasly knows he is not good enough to destroy Verstappen like Alonso would have
(GMM) Pierre Gasly says he is not approaching his new role at Red Bull as a mission to "destroy" Max Verstappen.
The Frenchman has been signed up to replace Daniel Ricciardo from 2019, but he insists his only initial goal is to settle in and do a good job for himself and the team.
"We always want to have time to get used to everything, but I hope that I can very quickly start working well with the team and the car," Gasly told Ziggo Sport.
Gasly, 22, is a product of Red Bull's junior program and currently drives for the junior team Toro Rosso.
"I've known Red Bull Racing for a while and have already been in the simulator," he said.
"I don't want to destroy Max," Gasly added, referring to Red Bull's highly rated continuing Dutch driver.
"We are both drivers and I will obviously give the best of myself. I want to be the best F1 driver on the grid and he wants the same thing.
"It's a good thing to have someone at your side who is fast. It forces us to go beyond ourselves. We will have great moments together," Gasly said.
Russian GP: Red Bull facing grid penalties
Ricciardo and Verstappen burned by Renault again
Red Bull drivers Max Verstappen and Daniel Ricciardo are braced for grid penalties at the Russian GP as the team revert to Renault's 'B-spec' engine.
Verstappen finished in second place at the Singapore GP when using Renault's 'C-spec' unit.
But McLaren and Renault themselves have both declined to run the new unit, which is more powerful but less reliable, and Verstappen was plagued by intermittent glitches throughout the Singapore weekend.
"We accepted the risks when we took this engine," admitted Red Bull boss Christian Horner. "It's delivered a bit more power, it's been a bit rough round the edges. But we did get the increase in power from it and that helped get on the front-row and achieve the second position."
Introducing new specs of the Renault 'B' units will trigger penalties for both Verstappen and Ricciardo. But Red Bull's reckoning is that it will be their best strategic play in order to challenge Ferrari and Mercedes later in the season at circuits which should be kinder to their package.
"We need to look at it but the likelihood is Sochi is an obvious place," said Horner. "Realistically Mexico is probably the only shot we have got left under normal circumstances [of beating Mercedes and Ferrari].
"Hopefully we can get a few more podiums in before the end of the year."
Brawn: Why don't we all have the same transmissions?
Ross Brawn is 100% correct. Not a single fan buys an F1 ticket to see a transmission win the race
Ways to cut costs in Formula 1 is the proverbial elephant in the room as stakeholders plot the future of the sport, but motorsport chief Ross Brawn is confident that there are areas where standardization can greatly reduce costs for teams across the board, but getting consensus is the biggest hurdle.
Brawn during his tenure with Benetton and Ferrari won eight constructors' and eight drivers' titles in F1, and as boss of the Mercedes team for the first four seasons after its return to F1 in 2010, he put in place the structure that helped the Silver Arrows become the dominant force of this turbo hybrid era.
He laid out his vision for the sport in a recent interview touching on standardization as a cost cut, "There are a number of technical regulation changes we want to implement in areas of the car where we don't feel the competitive differential is something that the fans appreciate."
"I'm talking about elements of the competition between the teams that just don't provide good value competition."
"We want to go one step further and say, why don't we all have the same transmissions? At least the core parts of it – the same shafts, the same differentials.
"That would have quite a significant economic impact. And the effect of this on the perception of the competitiveness of the sport would be negligible."
"For a marginal gain, the individual costs spent by each team are significant. If you are developing your own transmission, I'd estimate that you are spending between $5-10 million dollars a year – and no one sees it."
"There are a number of other areas where we're looking at similar initiatives – the braking system, the suspension, constraints on the aerodynamics – in order to further reduce the cost."
"Even if a change is made for a good reason, you've got to think through what the consequence would be, how it will impact on the race, how teams will interpret it. Because it's not fair on a fan to present a proposal without understanding this may have a consequence they may or may not like."
Brawn and the technical and sporting team he has assembled have wrestled with "how to improve the show and give fans a more thrilling experience without sacrificing any of the DNA that makes Formula 1 the greatest racing spectacle on the planet."
"It hasn't been easy," admitted Brawn, "but we've had a few ideas… What form would that take – greater standardization of parts? If we look at the transmission, there have been some good steps made with that system over the last number of years." grandprix247
Ferrari maxes out on supersofts for Japanese GP
Ferrari has taken a big risk with its tire choice for the Japanese Grand Prix, selecting more supersoft sets than any other team with the possibility the harder tires will be the way to go.
After making many strategy errors, Ferrari now has to take more risks to get itself back on terms with Mercedes in the world championship fight, and therefore, has elected to take 10 sets of supersofts for Sebastian Vettel and Kimi Raikkonen.
This has left it with just two sets of soft tires and one set of mediums.
In contrast, Mercedes has opted to pick just seven sets of the supersoft for Lewis Hamilton and Valtteri Bottas, giving them four sets of softs and two sets of the mediums.
Did Ferrari blow it again?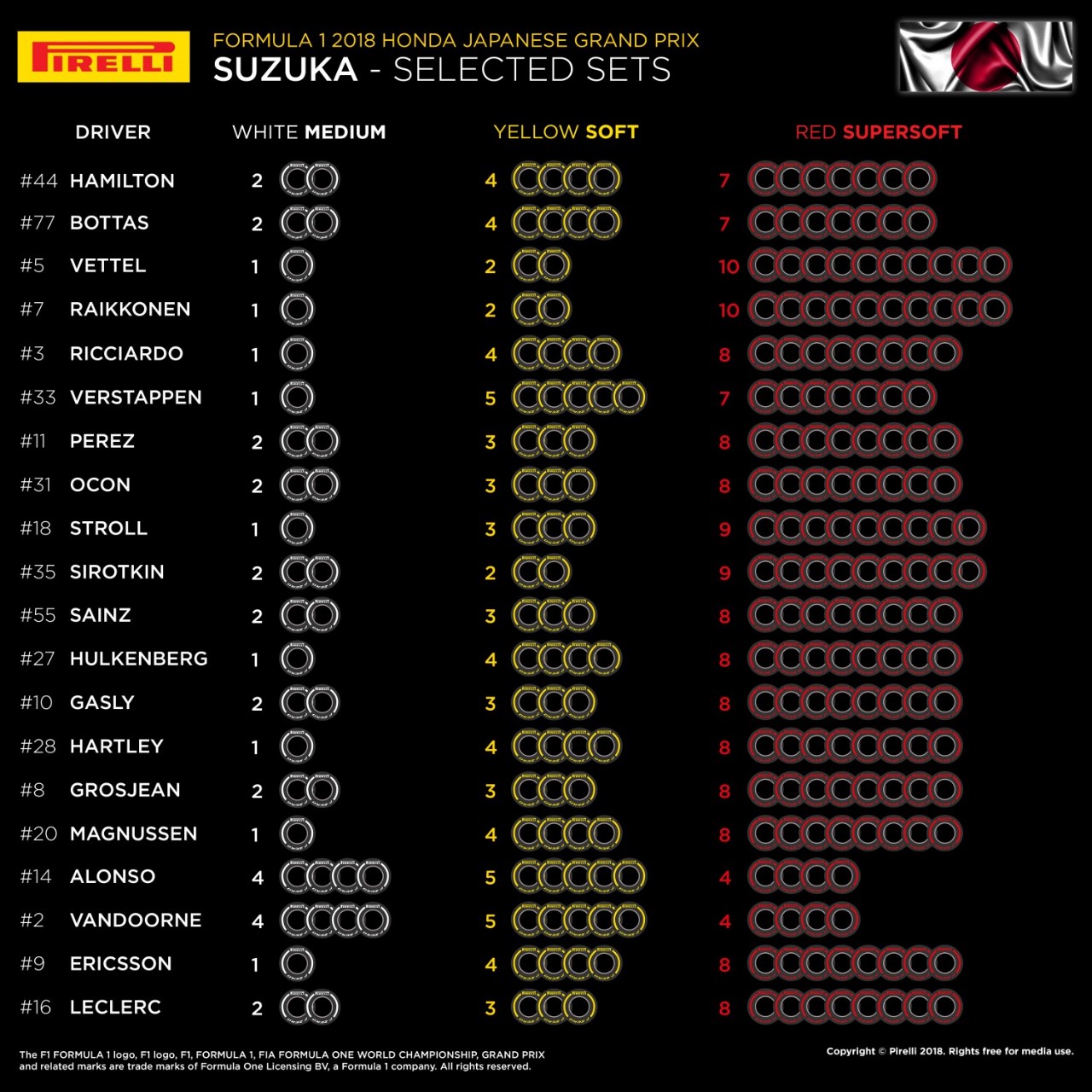 Tires selected for Japanese GP