Lawrence Loshak goes flag-to-flag in VIR Trans Am 100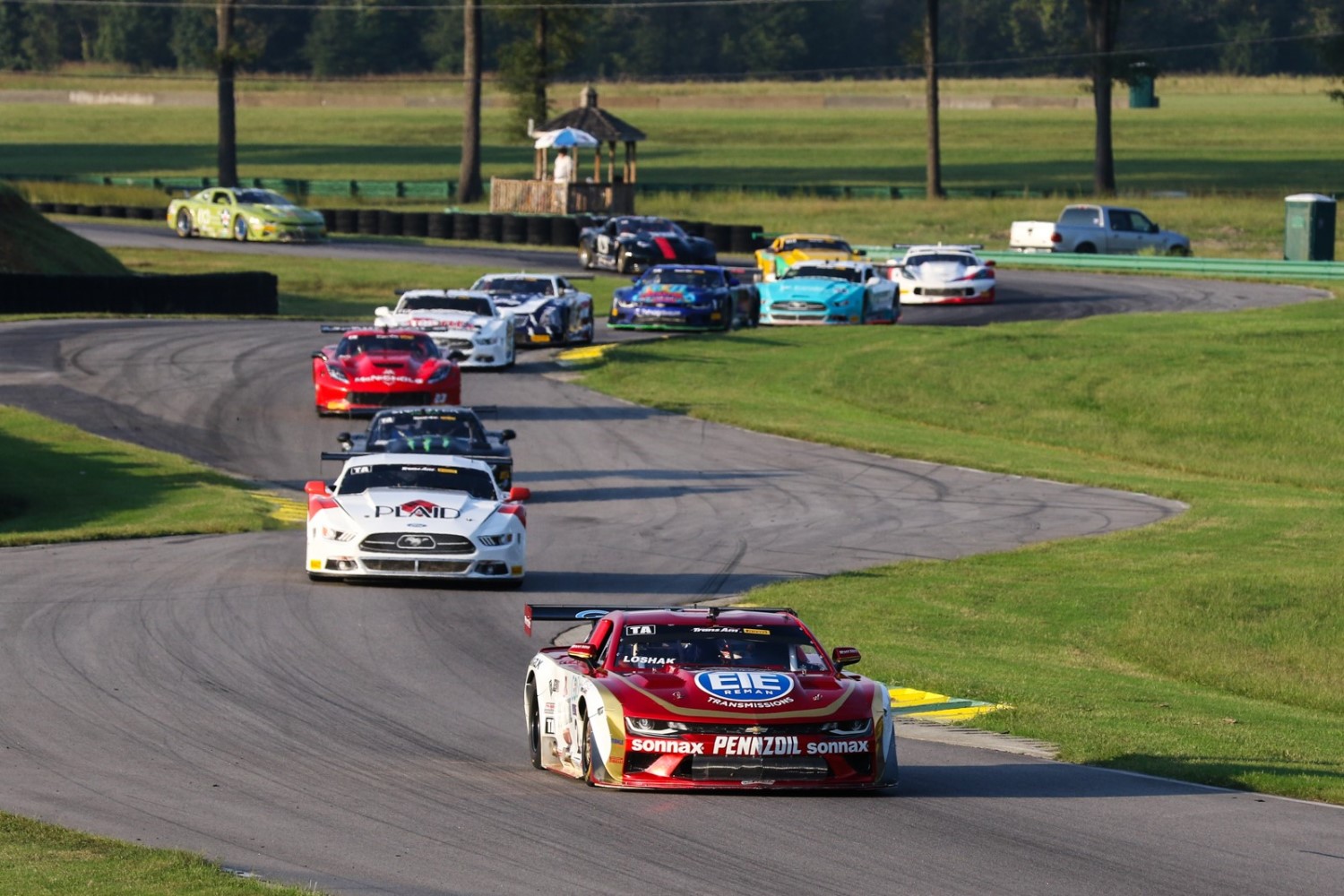 Lawrence Loshak out front and never headed
Lawrence Loshak captured his second victory of the season in the Trans Am Series presented by Pirelli VIR Trans Am 100, going flag-to-flag from behind the wheel of the No. 2 Pennzoil/ ETE/ GoShare Chevrolet Camaro of Burtin Racing. Mark Boden would do the same in Trans Am's TA3 class, securing a second consecutive win in the No. 46 Fall-Line Motorsports Porsche 991 GT3 Cup.
Loshak would lead the 17-car TA class throughout the entire contest, withstanding pressure from Chris Dyson, in the No. 20 Plaid Crafts/ CD Racing Ford Mustang, early on and Boris Said, in the No. 21 Monster Energy/ Weaver Concepts Dodge Challenger, throughout the race. Still, the No. 2 kept both at arm's reach, turning a new track record 1:47.521 in the process.
More than just a victory, the finish, when paired with a day plagued by mechanical issues for championship leader Ernie Francis, Jr., who finished 14th, put Loshak within five points of Francis with only two rounds of racing remaining.
"It's unbelievable, said Loshak. "Hard work pays off, and I can't thank the Burtin Racing crew enough. The whole team has stuck with it; we've had some heartbreakers, but they gave me an incredible car today. It was slippery and hot, jumping off the curbs, driving up the esses— it was a tough race. I was hoping I could back off and conserve the tires, but Boris kept the pressure and Josh Hurley was there too. I decided to push every lap, man, it's just crazy. It's five points. We're going to make this exciting all the way to the end."
With Circuit of The Americas and Daytona International Speedway looming, Loshak insists that his and the Burtin Racing team's mindset cannot and will not change.
"Never give up," said Loshak. "We have to keep challenging. We have a month to go till COTA, but I know these guys won't take a day off. We have plans and some things to try, some people might think 'why do anything, you're winning;' but you can't get complacent. That's the attitude of Burtin Racing, that's why I feel at home. Again, there's no other team I'd rather race for, no other car I'd rather drive, no other series I'd rather be in."
Boris Said would finish second, holding off a hard charging Josh Hurley, in the No. 03 McAleese & Associates/ Jetco Engineering Chevrolet Camaro, over the final laps. The finish was Said's third in four contests, with the 2002 Trans Am champion continuing to find success since his return to the series at Indianapolis Motor Speedway earlier this year.
Josh Hurley proved the surprise of the day, in more ways than one. On location as Jim McAleese' driver coach, Hurley was a last minute addition to the grid with McAleese under the weather. Hurley and the No. 03 started dead last in 17th but charged up to 10th on the first lap and took third on lap 12. Hurley would hold the position though the checkered flag, relentlessly hounding Said and the No. 21. 

"I've done a lot of testing for Jim," said Hurley. "I'm familiar with the car and chassis, and I work for Tony Ave—so it's not my first time around a TA car. I'm just psyched I finally got a chance to race in this series; I've been trying and trying—I've always wanted to. Who doesn't love 850-plus horsepower? The car was fantastic. We still have a few chassis tweaks to make—in the esses the car was particularly scary. So we know what we need to fix; and with little bit more motor, which we're working on for Daytona, you'll see the No. 03 up there again."
For his efforts Hurley was awarded the COOLSHIRT Systems Cool Move of the Race.
The TA class top five also included Amy Ruman, in the No. 23 McNichols Company Chevrolet Corvette, in fourth and David Pintaric, in the No. 57 Kryderacing Cadillac CTS-V. Top ten finishes were secured by, in order: Jeff Hinkle, Simon Gregg, Tomy Drissi, Richard Grant and Kerry Hitt.
In the TA3 class, Mark Boden went largely unchallenged in a dominant flag-to-flag victory of his own, with the No. 46 Fall-Line Motorsports Porsche 991 GT3 Cup capturing the class win by 14 seconds. The win is Boden's second consecutive and third of the year, with the No. 46 yet to miss the podium this season.
"The Fall-Line Porsche was great today," said Boden. "The team did a great job giving me a car that's been fast all weekend. I think it was pretty evident Cindi's motor was hurt. After about five laps of not being caught on the straightaway, it was clear she wasn't running at full speed, so the rest was navigating traffic. The back of the TA field did a pretty good job of being courteous and not holding us up much; navigating traffic wasn't as difficult as it sometimes is."
With the win Boden takes the TA3 points lead, 201 to Alline Cipriani's 187; however, with Boden unable to attend next round at Circuit of The Americas, the No. 46 may have to pull off a similar performance to today's at Trans Am's Daytona finale for a shot at a second consecutive TA3 title. Boden also set the fast lap for the TA3 class, a 1:54.640.
After a weekend long scramble to get the No. 11 RF Engines Chevrolet Corvette race-ready, Randy Kinsland put in an equally commendable performance from behind the wheel. Kinsland, who missed qualifying, started in 10th position in the TA3 class but was up to third by the eighth— commencing a lengthy battle with Cindi Lux, in the No. 45 Lux Performance Dodge Viper, for second. Kinsland would finally overtake Lux on the 20th lap but was unable to catch Boden.
Lux would cross the checkered flag in third, her fourth podium in as many appearances this season. Tom Herb, in the No. 16 Fall-Line Motorsports Porsche 991 GT3 Cup, would give Fall-Line two top five finishes, coming in fourth; while Marko Radisic, in the No. 12 Precision Driving BMW M4 GT4, completed the TA3 top five.
The VIR Trans Am 100 spanned 101.37 miles, 31 laps around the 3.27-mile, 17-turn VIR circuit, the course underwent red flag conditions on lap seven due to reports of fire on the No. 20 of Dyson while pulled off course.
Trans Am also held the VIR Muscle Car Challenge earlier in the day with Scott Lagasse, Jr., winning and Rafa Matos clinching the TA2 class championship.
The Trans Am Series presented by Pirelli will return to action at Circuit of The Americas, Trans Am's penultimate round, November 1-4.
Featuring alongside Trans Am at VIR was the Sportscar Vintage Racing Association holding the Heacock Classic Gold Cup.
Results
Pos
No.
Cls
PIC
Driver/City
Sponsor/Car
Laps
Best Tm

1

2

TA

1

Lawrence Loshak / Shorewood Wisc.

Pennzoil/ETE/GoShare Chevrolet Camaro

31

1:47.521

2

21

TA

2

Boris Said / Carlsbad Calif.

MonsterEnergy/WeaverConcepts Challenger

31

1:47.953

3

03

TA

3

Josh Hurley / Livermore, Calif.

McAleese & Associates/Jetco Engg Camaro

31

1:47.943

4

23

TA

4

Amy Ruman / Stow Ohio

McNicholsCompany Chevrolet Corvette

31

1:49.435

5

57

TA

5

David Pintaric / Canfield Ohio

Kryderacing Cadillac CTS-V

31

1:51.212

6

9

TA

6

Jeff Hinkle / Destin, Fla.

Trgdatacenters.com/Netdepot.com Challenger

31

1:50.263

7

59

TA

7

Simon Gregg / Ponte Vedre Fla.

Derhaag Motorsports Chevrolet Corvette

31

1:51.692

8

8

TA

8

Tomy Drissi / Los Angeles Calif.

The Predator Chevrolet Camaro

30

1:49.466

9

46

TA3

1

Mark Boden / Winnetka Ill.

Fall-LineMotorsports Porsche 991GT3Cup

30

1:54.223

10

11

TA3

2

Randy Kinsland / Whittier, N.C.

RF Engines Chevrolet Corvette

30

1:54.640

11

45

TA3

3

Cindi Lux / Aloha Oregon

LuxPerformanceGroup Dodge Viper

30

1:55.181

12

16

TA3

4

Tom Herb / Barrington Ill.

Fall-LineMotorsports Porsche 991GT3Cup

30

1:55.136

13

12

TA3

5

Marko Radisic / Belgrade Serbia

PrecisionDriving BMW M4 GT4

29

1:56.728

14

30

TA

9

Richard Grant / Germantown Tenn.

Grant Racing Chevrolet Corvette

29

1:56.901

15

55

TA3

6

Milton Grant / Germantown Tenn.

SentrySelfStorage/FairfieldInn Porsche 991

29

1:57.685

16

91

TA

10

Kerry Hitt / Harrisburg Pa.

AdvancedCompositesProducts Camaro

28

1:56.798

17

44

TA

11

Natalie Decker / Eagle River, Wisc.

Ave Racing Chevrolet Corvette

28

1:51.990

18

53

TA

12

Larry Hoopaugh (R) / Chester S.C.

HGC Racing Chevrolet Corvette

27

1:57.734

19

35

TA3

7

Dirk Leuenberger / Redmond Wash.

LuxPerformanceGroup Dodge Viper

27

1:56.188

20

20

TA

13

Chris Dyson (R) / Poughkeepsie N.Y.

PlaidEnterprises/CDRacing Ford Mustang

26

1:49.198

21

33

TA3

8

Joe Moholland / St. Petersburg, Fla.

Moholland Racing Chevrolet Corvette

26

1:58.502

22

98

TA

14

Ernie Francis, Jr. / Dania Fla.

FramelessShowerDoors Ford Mustang

26

1:49.175

23

71

TA3

9

Dave Ricci / West Palm Beach Fla.

Breathless Racing Chevrolet Camaro

26

2:01.890

24

4

TA

15

Paul Fix / Williamsville N.Y.

StopFlex/AveRacing Ford Mustang

16

1:47.845

25

86

TA

16

John Baucom / Wesley Chapel N.C.

Baucom/Roadraceparts.com Ford Mustang

10

1:52.838

26

77

TA

17

Tim Rubright / Kutztown Pa.

Blue Knob Auto.com Ford Mustang

3

1:53.695

27

60

TA3

10

Alline Cipriani (R) / Brazil

Ginetta USA Ginetta G55

8