Loshak and Lagasse, Jr., on pole for VIR Trans Am Races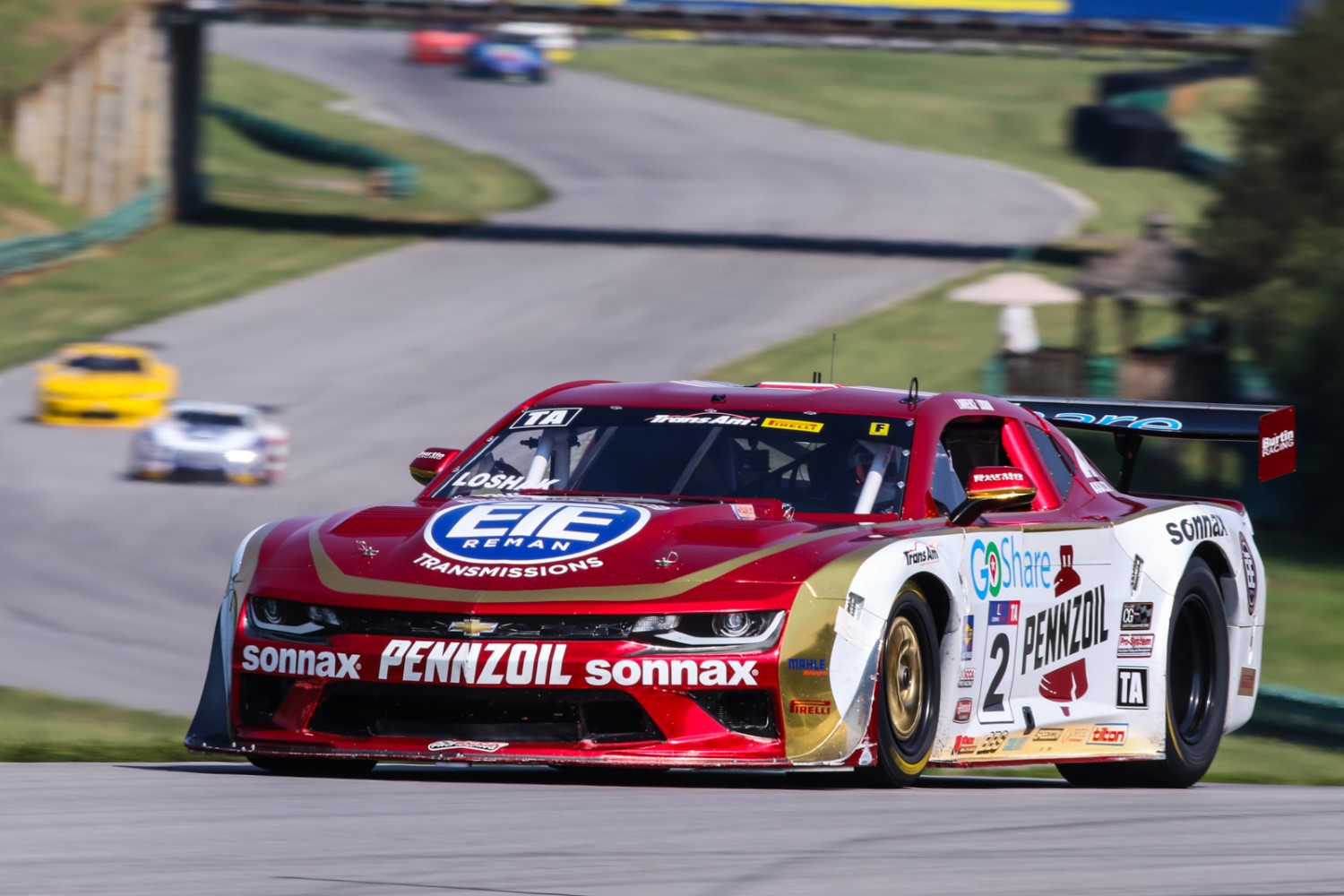 Lawrence Loshak
Following a series of tight qualifying sessions, Lawrence Loshak and Scott Lagasse will start on pole for their respective Trans Am Series presented by Pirelli races tomorrow at VIRginia International Raceway. Also emerging atop the TA3 class qualifying charts was Mark Boden, his second consecutive pole in the production-based class.
For Lawrence Loshak the pole position could not have come at a better time. Loshak and the Burtin Racing prepped No. 2 Pennzoil/ETE/GoShare Chevrolet Camaro are tasked with closing the gap on current points leader Ernie Francis, Jr., with only three races remaining; including tomorrow's VIR Trans Am 100. Now, following a second place finish last round at Watkins Glen and a qualifying track record 1:45.758 lap around the 3.27-mile, 17-turn VIR circuit for pole, that gap has been reduced to 25 points. It is also a task Loshak feels he and the Burtin crew are ready for, both tomorrow and the remainder of the season.
"I can't say enough about the whole Burtin crew," said Loshak. "It's been five races in eight weeks, and it's been so challenging on the equipment and the crew. They haven't had a lot of time to turn this car around from Watkins Glen; there's a lot of maintenance. These 850 horsepower TA cars try to rip themselves apart. The Burtin team didn't take a day off. They go the extra distance to give me the best car out there, so I can go and do my thing. I'm so blessed and happy I can make them proud and put the car on pole. It's getting close; this is what the championship should be about— all the way to the end. I've been saying it all season, 'We're coming for you Ernie'.''
The pole is the sixth of Loshak's Trans Am career, but only second in the TA class. His previous pole in TA came earlier this year at Pittsburgh International Race Complex, where the No. 2 captured a flag-to-flag victory.
"I'm generally pretty good on cold tires," said Loshak. "If I can start up front and crack away, generally I can own the race. But these cars are so fast and there are so many fast drivers. There are places where I'm faster, places where Boris (Said) is faster, places where Chris (Dyson) is faster. If they're in front of you, you can't drive through them. We're all gentlemen racers out here; we'll race contact free. Still, the pole is so important, not only for the points but to get out front and hopefully break away. The safest place— it's out front."
Boris Said, in the No. 21 Monster Energy/ Weaver Concepts Dodge Challenger, will start alongside Loshak after a 1:45.800 lap, just short of Loshak's time. Since his Trans Am return at Indianapolis Motor Speedway earlier this season, Said is yet to qualify outside the TA class top three.
Chris Dyson, in the No. 20 Plaid Crafts Ford Mustang, is also well within striking distance of both Francis and Loshak in the championship points, only eight points behind the pole sitter. Dyson and the No. 20 would turn a 1:46.609 lap of their own to complete the TA class top three, while completing the trifecta of Chevrolet Camaro, Dodge Challenger and Ford Mustang atop the starting grid.
Three-time VIR race winner Paul Fix, in the No. 4 StopFlex/TheCarCoach Ford Mustang, and 2015 and 2016 TA champ Amy Ruman, in the No. 23 McNichols Company Chevrolet Corvette, completed the TA class top five with times of 1:47.144 and 1:47.374, respectively. Current points leader Ernie Francis, Jr., in the No. 98 Frameless Shower Doors Ford Mustang, qualified ninth with a 1:49.474 in his first on track action of the weekend.
In the TA2 class, Scott Lagasse, Jr., captured his second consecutive pole in the No. 95 SLR/Lawrence Equipment Chevrolet Camaro, just edging Tony Ave, in the No. 25 BC Race Cars Chevrolet Camaro, with a 1:51.811 lap over Ave's 1:51.875.

In the TA2 class, Scott Lagasse captured his second consecutive pole in the No. 95 SLR/Lawrence Equipment Chevrolet Camaro, just edging Tony Ave, in the No. 25 BC Race Cars Chevrolet Camaro, with a 1:51.811 lap over Ave's 1:51.875.
With track conditions vastly different, in Lagasse's eyes, than during the TA2 practice session earlier this day, Lagasse saw a less than ideal start to the session but would bring the No. 95 back to pit lane to regroup before heading back out on track. The decision paid immediate dividends for the SLR team with the No. 95 logging the pole-setting lap just before time expired on the session.
"We're getting better," said Lagasse. "I'm getting better. First time out during the session, I missed by marks and drove it off the track—I'm sure I'll hear about it. The track was way freer than earlier today; I messed up and finally just came down pit row, parked and did a reset. Then we we went again and obviously went faster. I'm excited about it, but still it was a big change out there. You saw guys off that usually don't make mistakes; it wasn't just me."
Lagasse arrives at VIR following a near dominate performance at Watkins Glen where the No. 95 started from pole and led 19 of the 30 lap-contest by a comfortable margin before losing power. Now Lagasse and the SLR team get another shot from pole atop the 20-car TA2 field and a chance at what would be a career first Trans Am win.
"It's racing," said Lagasse. "You just have to work hard and do what you can do. It's going to happen; yes it's frustrating. We've felt like we've had a couple shots this year and have just had gremlins not of our doing. The good thing is we have another crack at it. We have Lawrence Equipment on board this weekend, so it's nice to get a pole for them their first race with us. A big thank you to Fields Racing for making this happen; the M1 chassis has been good to me. Tomorrow should be fun."
Ave will start alongside Lagasse, with the 2010 and 2011 TA class champion making his second TA2 class start of the season for BC Race Cars.
Louis-Phillipe Montour, in the No. 13 Montour LTD Chevrolet Camaro, continued his strong qualifying streak with a 1:52.543 to complete the Chevrolet Camaro sweep of the TA2 starting top three.
Tony Buffomante, in the No. 34 Mike Cope Racing Ford Mustang, was fourth quick in the session with a 1:53.587, just hundredths short of Montour's effort. Buffomante's teammate Keith Prociuk, in the No. 9 HP Tuners Chevrolet Camaro, qualified fifth with a 1:52.612, giving Mike Cope Racing two cars in the starting top five.
Qualifying within the top ten for the VIR Muscle Car Challenge were also, in order: Ethan Wilson, Rafa Matos, Doug Peterson, Tom Sheehan and John Atwell.
In TA3, Mark Boden secured his third pole of the season from behind the wheel of the No. 46 Fall-Line Motorsports Porsche 991 GT3 Cup, following up on previous poles at Mid-Ohio Sports Car Course and Watkins Glen—both contests he won. Boden lead the 10-car TA3 field as it takes the green flag in the multi-class VIR Trans Am 100 tomorrow, the sixth pole of his career.
Boden's 1:53.582 was enough to hold off Cindi Lux, in the No. 45 Lux Performance Dodge Viper, for the number one spot, with Lux, last year's VIR victor, qualifying second with a 1:53.875. Lux was forced to watch last round at Watkins Glen from the sidelines with motor issues—issues that now seem to be a thing of the past.
Tom Herb, in the No. 16 Fall-Line Motorsports Porsche 991 GT3 Cup, was third quick in the qualifying session with a 1:55.552, giving the team two cars in the starting top three.
Dirk Leuenberger, in the No. 35 Lux Performance Group Dodge Viper, qualified fourth with a time of 1:56.128; while Marko Radisic, in the No. 12 Precision Driving BMW M4 GT4, completed the TA3 top five with a 1:56.227.
The VIR Muscle Car Challenge, featuring TA2, will commence at 10:55 AM ET tomorrow, while the VIR Trans Am 100, featuring the TA and TA3 classes, will take the green flag at 5:35 PM ET. Both contests will span 101.37 miles, 31 laps around the VIR circuit.
Featuring alongside Trans Am at VIR is the Sportscar Vintage Racing Association holding the Heacock Classic Gold Cup.
Fans can keep up with the Trans Am Series presented by Pirelli throughout the weekend at www.gotransam.com, on Facebook at facebook.com/gotransam and on Twitter at @gotransam.
TA Qualifying (PDF)
TA2 Qualifying Results (PDF)
TA3 Qualifying Results (PDF)
Trans Am Event Schedule:
Saturday September 22, 2018
10:55 AM – 12:10 PM VIR Muscle Car Challenge
5:35 PM — 6:50 PM Trans Am 100
Race Lengths:
31 laps/101.37 miles or 70 minutes.
Circuit:
3.27 miles, 17 turns.
Session Coverage:
Live Timing: All on-track sessions can be followed at www.gotransam.com and on the Race Monitor app available on Windows, Android, iOS and OSX.