Briscoe to drive Ford Le Mans winner at Bathurst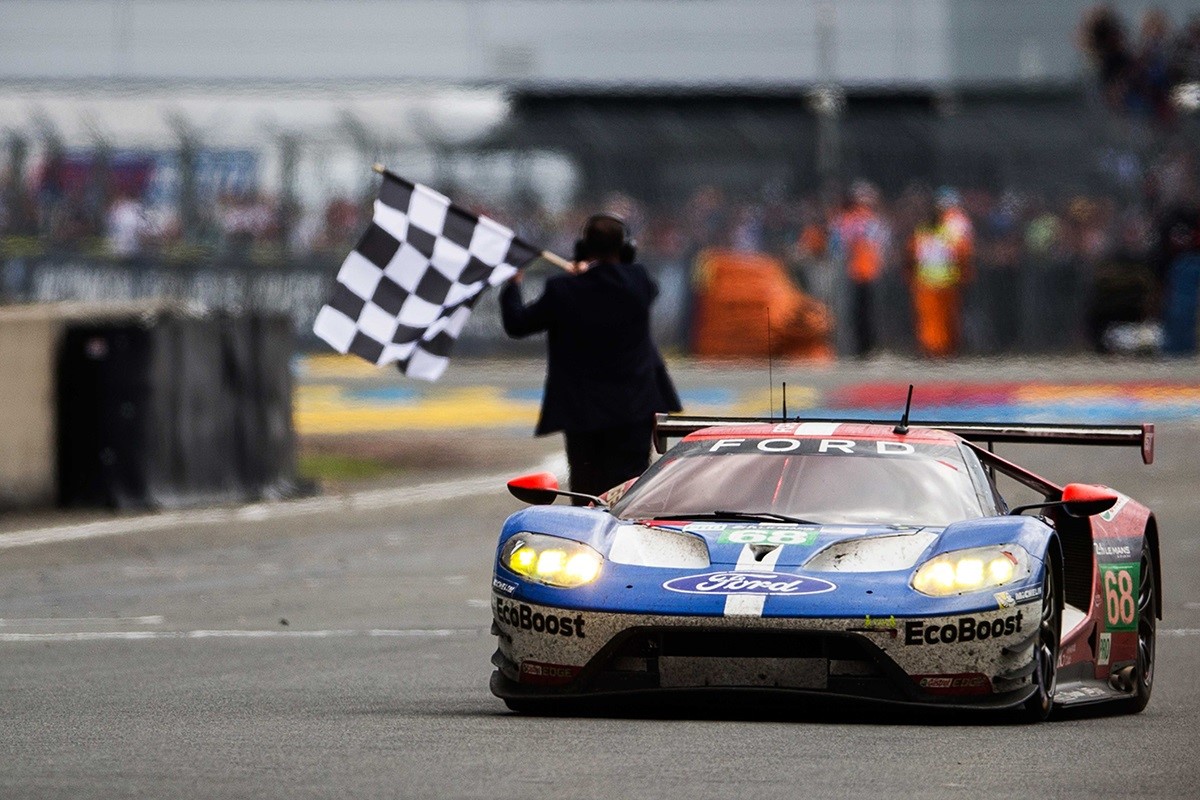 #68 Ford GT taking checkered flag
Sydney-born driver Ryan Briscoe will drive Ford's Le Mans class-winning GT racecar at the Supercheap Auto Bathurst 1000 in just over two weeks' time.
The Blue Oval's flagship racer will be run in Australia for the first time as part of the 2018 Great Race on October 4-7, in dedicated sessions.
Briscoe, part of Ford's line-up in the WeatherTech SportsCar Championship in the US, will be behind the wheel.
"We're excited to have the opportunity to put this amazing race car on such an iconic circuit," said Ford Australian and New Zealand President and CEO, Kay Hart.
"Innovation through design and engineering drives Ford Performance, and where better than Bathurst to introduce the Ford Performance GT to Australians."
Channeling the history of Ford's iconic GT40, which won the Le Mans 24 Hours four times between 1966 and '69, the GT is powered by a 3.5-liter turbo V8 and weighs 1,200kg.
The new-generation Ford GT was unveiled at Le Mans in 2015 and made its debut one year later in the World Endurance Championship and WeatherTech Championship.
It won the GTE-Pro class at Le Mans on debut in 2016 and the GTLM class in the Daytona 24 Hour in the '17 and '18 editions of US sportscar racing's blue-riband event.
Briscoe, part of Ford's US driver line-up since the program was launched and a 2018 Daytona winner, also has three Bathurst 1000 starts to his name in Walkinshaw Holdens.
"The Ford GT is an ultra-high-performance car, so I'm really excited and honored to turn the Ford GT's first laps at Bathurst" Briscoe said.
"For me, Bathurst is one of the best, if not the best racing circuit in the world.
"Nothing quite compares to Bathurst. Bathurst as a circuit demands the highest respect at all times."
This year's Supercheap Auto Bathurst 1000 will be last for Ford's Falcon as a contender, before it's replaced by the Mustang in Supercars in 2019.
To mark the occasion, a special collection of Falcons from the Great Race's history is being assembled.
"To have such an iconic vehicle in the Ford GT here – a car with strong success in some of the world's greatest races – is something Australian fans will love, and it shows how highly regarded Bathurst is globally, and by Ford and Ford Performance," said Supercars CEO, Sean Seamer.
"To have Ryan, an Aussie who has driven with us many times at Bathurst, Sandown and on the Gold Coast, is the icing on the cake."