NASCAR Vegas race exposes real issues for the series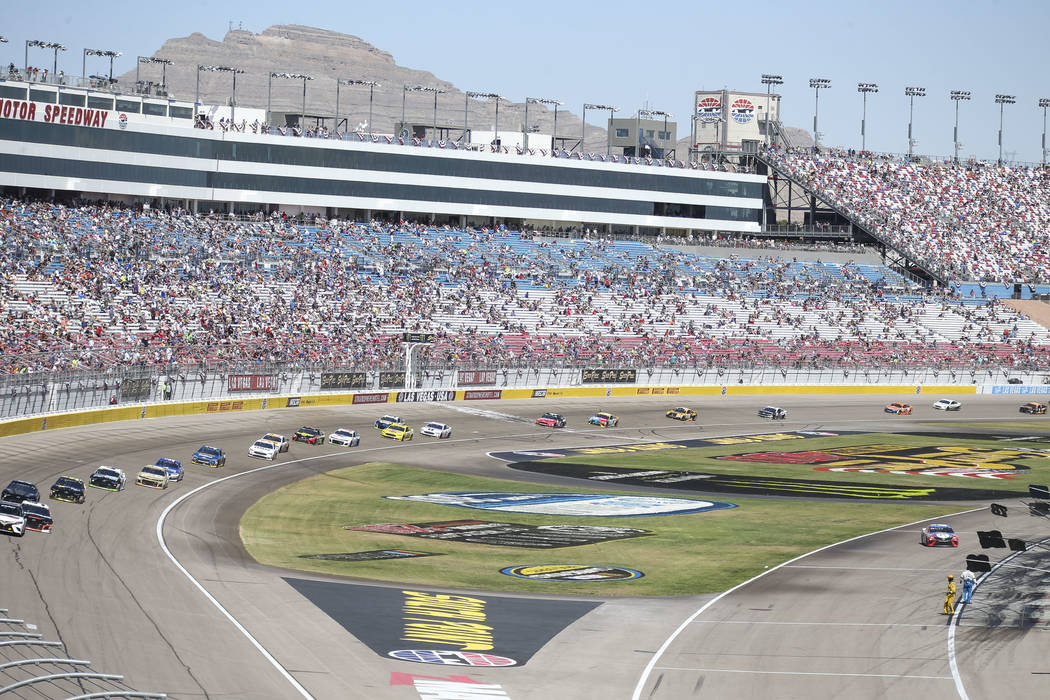 Despite 60% of the LVMS seats being removed, this was the crowd Sunday for the Cup race. Who was the mental midget who though Las Vegas could support two Cup races in the 99-degree heat of September
Late in Saturday's Xfinity Series race, an executive from the South Point, title sponsor of Sunday's Monster Energy NASCAR Cup Series race, showed concern over the mostly empty grandstands at Las Vegas Motor Speedway.
It was much better on Sunday. Not great. But better.
A media-estimated 45,000 watched Brad Keselowski win the inaugural South Point 400, marking the first time that NASCAR had visited LVMS twice in the same year.
That number would make it the lowest-attended Cup Series race in track history, down an estimated 10,000 from spring's Pennzoil 400. NASCAR's policy is to not announce turnstile counts.
But given 100-degree temperatures, competition from pro football on television and NASCAR's plunge in popularity, it could have been worse. That's considering Saturday's minor-league Xfinity race drew about 10,000 fans.
"We're thrilled with it as the first go-round of the NASCAR September weekend," LVMS president Chris Powell said, adding that sweltering weather proved a formidable obstacle.
"I will hasten to add that we're already talking to NASCAR and NBC about the possibility of racing later in the day. We know the heat has caused some heartache for people.
"But this is our first go-round in September; we're learning and we'll continue to learn and make things better."
Made in the shade
An hour before Sunday's green flag, the sprawling grandstands still were mostly empty. But virtually every shady spot on speedway property — and all the so-cooled cooling zones — was filled with gaggles of race fans seeking relief from the heat.
The new swimming pool that sits above where the grandstand in Turns 3 and 4 used to be — since buried under dirt — proved to be the most popular cooling zone.
"This is the best of all the additions," said Brandon Douglas of Logan, Utah, clad in a Chase Elliott T-shirt and wading in knee-deep water. His wife, Jill, wearing a pink No. 48 Jimmie Johnson jersey, said the couple took a dip before the Truck and Xfinity Series races as well.
"We get in the pool, get wet, go to our seats," she said.
Maria Moilanen, the lifeguard on duty at the entertainment zone called "Turn 4 Turn Up," said race fans were well-behaved but that a rescue had to be made before the Truck Series race: A toddler riding an inflatable toy floated into the pool's other shallow end and fell off.
"She was on the duck, and her mom wasn't paying attention," Moilanen said.
Under the nearby Earnhardt Terrace one could belly right up to the Prickly Pear concession stand and get a cocktail or a soft pretzel without having to wait.
"It was definitely slow (Saturday)," said Vanessa Purdy, a band director at Desert Pines High School whose piccolo and trombone players were working to receive a portion of the profits. "It's a lot better today."
The Las Vegas Convention and Visitors Authority board of directors in 2017 approved a seven-year sponsorship and marketing agreement that would contribute $1 million per race, plus $500,000 per year to market spring and fall tripleheader race weekends featuring NASCAR's three touring series: Truck, Xfinity and Monster Cup.
Local politicians, NASCAR drivers and auto racing officials proclaimed it a historic day for the sport and Las Vegas.
It's just not as historic as before.
Crowds estimated at 140,000 or more packed the speedway during the NASCAR boom of the late 1990s and early 2000s, and auxiliary grandstands had to be brought in to accommodate the demand.
But stock car racing is now perceived as a sport in decline. Entire grandstands at many NASCAR tracks have been removed. Seating capacity at LVMS has been reduced by nearly 60 percent, from an estimated 140,000 to 80,000.
Attendance, TV ratings and sponsorships are down.
Johnson, a seven-time NASCAR champion, lost his longtime sponsor in March. The team of reigning champion Martin Truex Jr. has announced it will pull out of the sport after the 2018 season.
—————–
No, this isn't going to be yet another column about fixing NASCAR's schedule, cutting the number of races, introducing new technologies, etc., etc., because frankly, that just doesn't matter and isn't going to work anyway. The demise of Furniture Row Racing – NASCAR's 2017 Champions – was only the latest indication that the NASCAR model was broken more than a decade ago.
And the NASCAR brain trust has done nothing of substance to deal with the fundamental issues, either. They insist otherwise, but the facts are there for all to see, and the only thing offered are the same old excuses and platitudes such as, "the contracts with tracks are locked in until 2022 so we can't really do anything about the schedule until then."
Or, "we're working diligently with our stakeholders – the manufacturers and the teams – to improve the competitive landscape for everyone." This is pure unmitigated bullshit, of course. They just keep inching the ball forward with no real progress on any front.
I will say that the idea that the France family is considering selling the "stock car" racing entity is the only flicker of good news on the horizon, because it will take a fundamental rethink of every aspect of the fading series to save it and rebuild it. Because nothing short of starting over will save the series.
If NASCAR is sold, then the locked-in contracts with tracks would become negotiable. But that's just the beginning. The basic flow of the schedule (including the number of races and the tracks involved, obviously) and most important, the cars themselves will come under scrutiny, which is absolutely crucial.
The bottom line is this: If NASCAR continues on its current path it will be forced to transform itself back to a regional racing series within five years.
That's how dire the situation is. What passes for standing operating procedure for NASCAR today will ensure that the former juggernaut of a racing entity will fade from the scene in terms of importance and its ability to provide incomes for thousands of people, from drivers and engineers to suppliers and associated businesses, and everyone and everything in between.
A major upheaval? Absolutely. But it will be just the start. Peter DeLorenzo/Autoextremist