Latest F1 news in brief – Monday
Alain Prost tries to justify big money Renault is paying Ricciardo. Ricciardo won't win any races for Renault if their inferior car does not improve.

Ricciardo is worth top dollar – Prost

Vettel feeling pressure of 2018 battle – Newey
Vandoorne admits to looking outside F1
Ocon expects to keep seat for rest of season
Formula 1 Turning To Tech Industry For Sponsorship
Force India F1 Escapes Potential $99,000 Fine In Singapore
Dirty politics in F1
Force India hands out F1 team orders after crash in Singapore
Vettel defends Ferrari amid another bad Singapore GP strategy call
Ricciardo is worth top dollar – Prost
(GMM) Paying the big bucks for Daniel Ricciardo is an expense that Renault can fully justify.
That is the view of Alain Prost, an F1 legend who is now an ever-present special advisor for the French carmaker's works team.
He told the Guardian newspaper he is "very happy" with his current role.
"Every time I can see something that is needed then I am there," said the Frenchman.
Prost, a quadruple world champion who is now 63 years old, said Renault is an "interesting" challenge that is different to anything a top team like Mercedes could offer him.
"Mercedes, they're at the top and I don't think I would have the motivation," he said. "Now it's so difficult to get back to the top that I find it very interesting."
Prost said the goal is to help Renault not just win the world championship by 2020, but to be a top team that is then "always a top team".
But Renault is determined not to become a Mercedes or Ferrari-style spender, he insisted.
"We are not going to spend money unless we know that it is worth it. Mercedes and Ferrari may have a different philosophy."
Snapping up Ricciardo at the end of his Red Bull contract, for example, is an important signing for Renault.
"Daniel is more expensive than other drivers," Prost concedes. "When you need that to help the team we did it. Money is not a problem but it has to be justified.
"We have two top drivers, maybe one of the best lineups in F1 today," he said, also referring to Nico Hulkenberg. "They are Renault drivers, not owned by Red Bull or Mercedes.
"It shows everybody outside and inside that we want to do the best, the right choices at the right moment."
Vettel feeling pressure of 2018 battle – Newey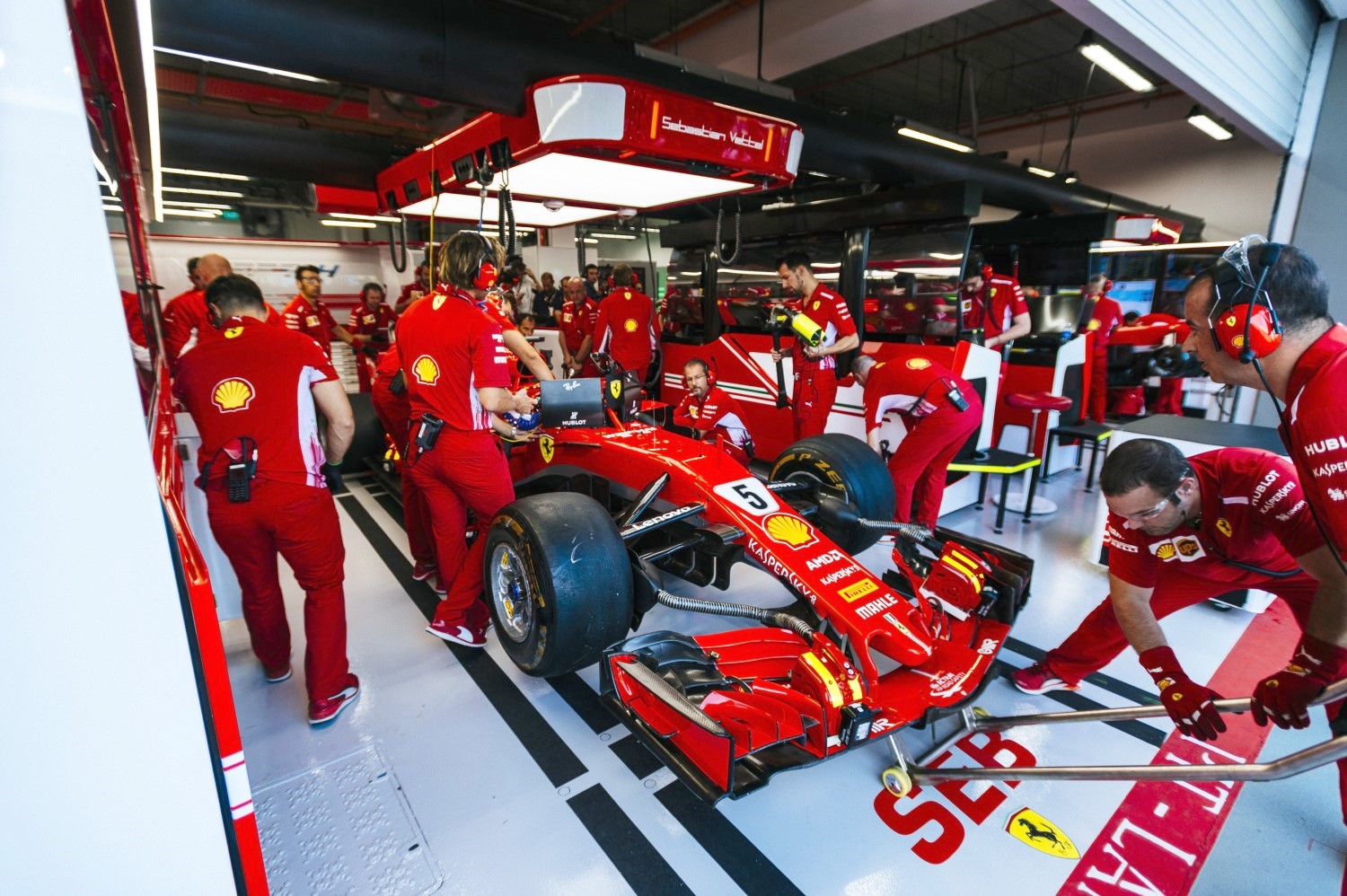 Vettel choking under pressure. He cannot beat Hamilton in an Aldo Costa designed car. No one can
(GMM) Sebastian Vettel often struggles with pressure.
That is the view of Adrian Newey, Red Bull's famous technical boss who penned the cars that German Vettel drove to his four titles some years ago.
Now at Ferrari, Vettel is struggling in his championship battle against Lewis Hamilton, with the deficit blowing out to a full 40 points in Singapore.
"Sebastian works incredibly hard and hardly anyone is more self-critical than he is," Newey told Bild am Sonntag newspaper.
"If he has a weakness, it's that he can make stupid mistakes in the heat of the moment. If he leads he is almost unbeatable.
"But people deal with pressure differently. In the car, he is responsible not only for himself, but for the entire team.
"Some drivers are not bothered, like the Finns. But there are others who really feel the pressure weigh on them at the end of a world championship.
"The harder a driver works, the more he feels the pressure. That's particularly true of Seb," Newey added.
The Red Bull chief explained that although Hamilton made mistakes earlier in his career, the Mercedes driver has now "found a way that makes him better with the pressure".
Newey admits that it could be too late for Vettel to win the 2018 title now.
"If he's going to manage it, he needs at least one retirement from Lewis. Otherwise it's going to be damn hard," he said.
As for Red Bull's preparations for a more serious championship challenge next year, Newey said he is working hard on the chassis that will be Honda-powered.
"We have some aerodynamic rule changes that, in my view, have been introduced somewhat precipitously," said the Briton.
"I'm afraid that it will make overtaking even less likely and that qualifying lap times will be even further apart," Newey added.
However, he said he is determined to keep working in F1 for now.
"If you had asked me ten years ago, I would have said 'five more years'. Five years ago I would have said the same. But I'm not ready to quit yet," said Newey.
Vandoorne admits to looking outside F1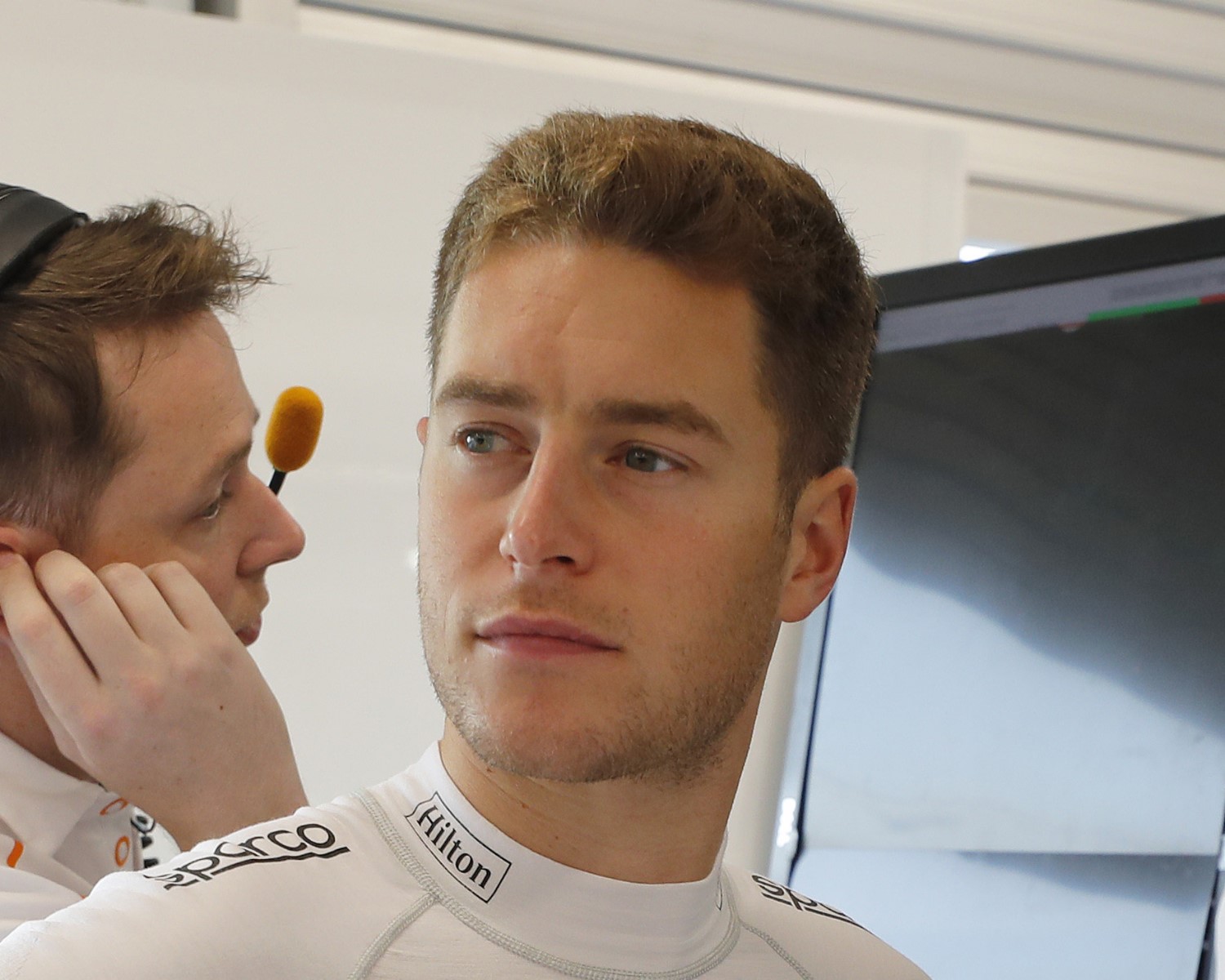 Stoffel Vandoorne stares at an uncertain future
(GMM) Stoffel Vandoorne has admitted he may continue his motor racing career outside of formula one.
After a highly promising junior career, the Belgian has lost his full-time McLaren seat after two seasons and is unlikely to find another cockpit elsewhere.
"Staying in F1 is still possible but the chances are very, very, very small," the 26-year-old told Belgian broadcaster RTBF.
"The market has changed a lot over the last weeks, but nothing is decided yet," Vandoorne added. "We're even looking outside of F1, and I hope to have something very soon.
"There are other championships where the level is very high, and where there are a lot of people who still believe in my talent. I'm still the driver I was before who is able to win races and championships.
"I am convinced that in another environment I can do it again," he said.
Ocon expects to keep seat for rest of season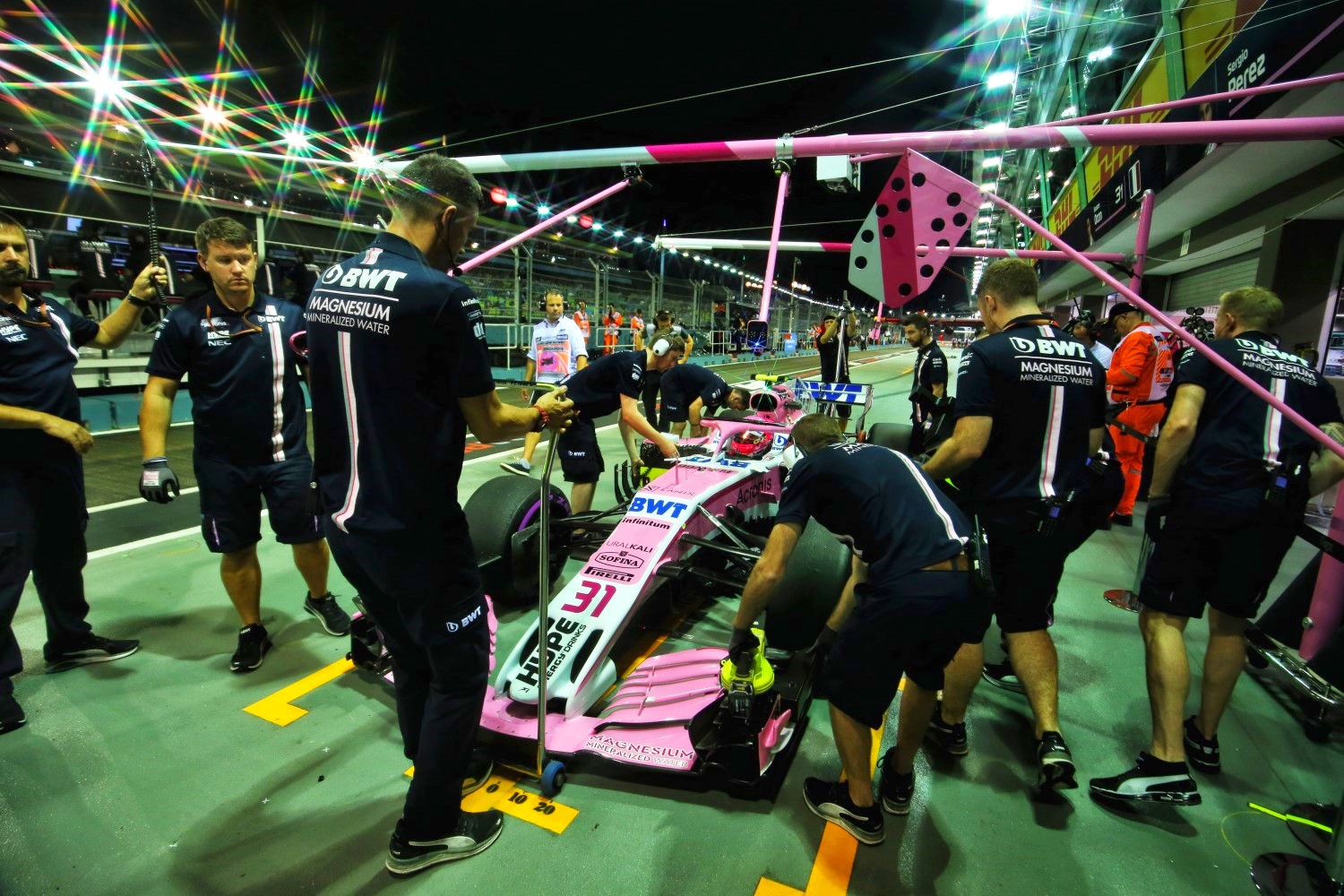 Esteban Ocon safe for now
(GMM) Esteban Ocon says he should keep his Force India cockpit for the rest of the 2018 season.
Earlier, there was speculation Lance Stroll could replace the Frenchman during the season, and perhaps as quickly as the recent Italian or Singapore grands prix.
But Ocon actually looks set to stay.
"As far as I know, I'll be with Force India until the end of the season," he said in Singapore.
Ocon is a Mercedes-contracted driver, and his boss Toto Wolff admitted in Singapore to being livid that no rival team bosses will sign him for 2019 for political reasons.
"Obviously it's not pretty. It's not a fantastic situation. Not knowing and having to wait for my future is hard," the 21-year-old is quoted by El Mundo Deportivo.
"All I can do is to do my talking on the track."
That 'talking' went nowhere in Singapore, though, as he was punted into the wall by his Force India teammate Sergio Perez.
"No comment," said Ocon.
Formula 1 Turning To Tech Industry For Sponsorship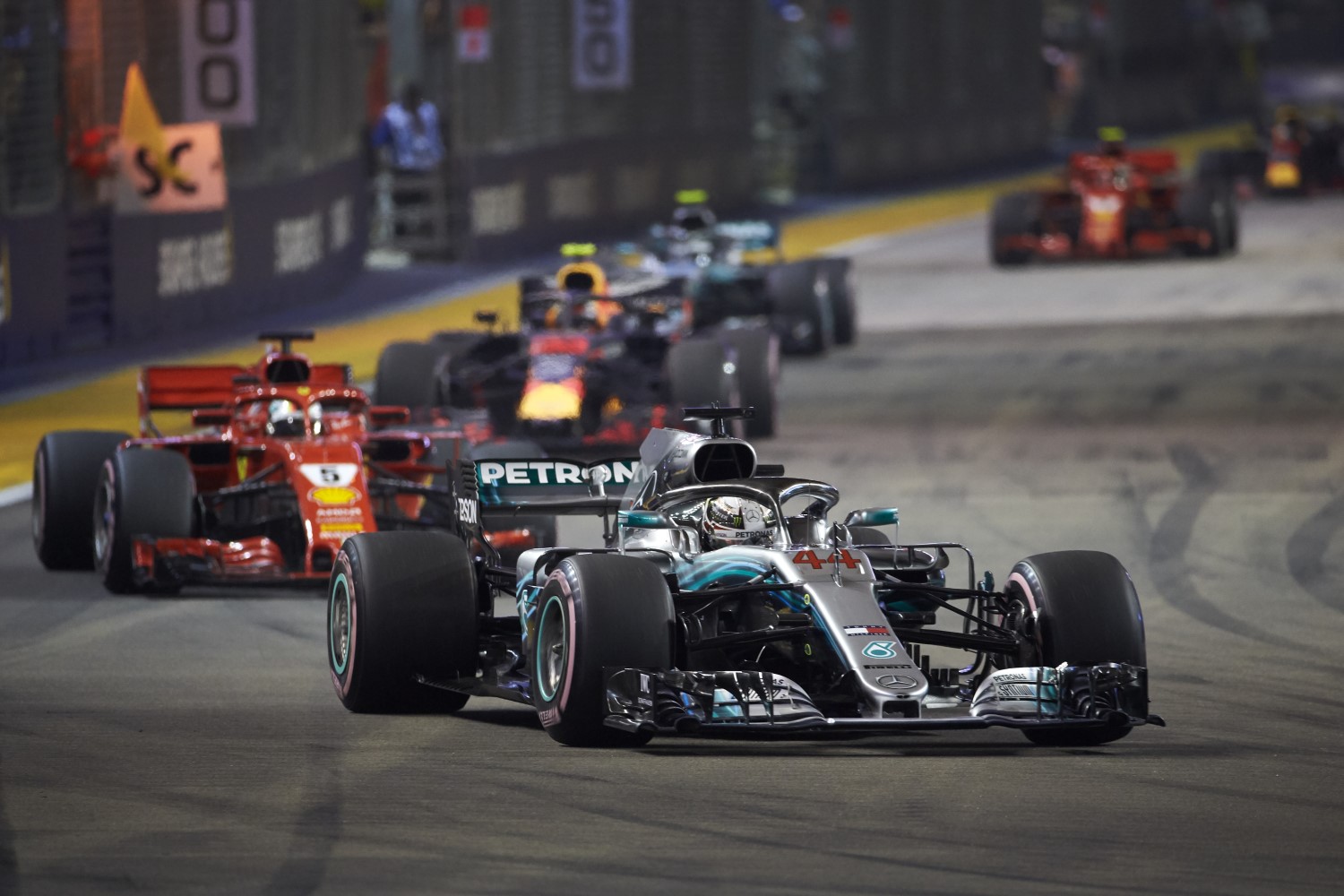 Technology money has replaced Tobacco money in F1
For decades, Formula 1 was "synonymous with tobacco," according to Kate Walker of the N.Y. TIMES.
But "that all ended" late in '06 after F1 banned tobacco advertising. In '15, the last year for which public figures are available, the sport's 10 teams raised about $750M from sponsorships, a $200M drop from '12. That loss of income "hit the sport about the same time as the financial crisis," which forced the Honda, Toyota and Renault teams to shut down, although Renault "eventually returned."
And now F1 is "reconsidering whether to continue to accept advertising from alcohol, fast-food and snack companies."
The sport has been looking for a "new vein of money," and in the last few years, teams have been working to form partnerships with "the deep-pocket companies in the technology industry." Technology and F1 are "natural partners," and companies like Microsoft and Dell have "long invested in the sport."
The loss of tobacco, the advent of lifestyle branding and active consumer engagement have also had teams like McLaren change their sponsorship focus, "abandoning the old model of a big-ticket title sponsor for a series of smaller but longer-term deals."
Teams have been seeking partnerships with data storage and data security companies. The Williams team works with Acronis, while Ferrari has worked with Kaspersky Lab since '10.
It is "not only the teams that benefit from technical partnerships." Thomas Been, chief marketing officer for software company Tibco, a partner of the Mercedes team, said that the F1 environment "had a singular appeal."
Been: "What attracted us to Formula 1 is the level of competition, which I think is a very good analogy to what most of our customers are seeing; the level of technology, which I guess is just a laboratory in which you create the technologies that are going to be used in the cars of tomorrow; and that everything is in real time" N.Y. TIMES
Force India F1 Escapes Potential $99,000 Fine In Singapore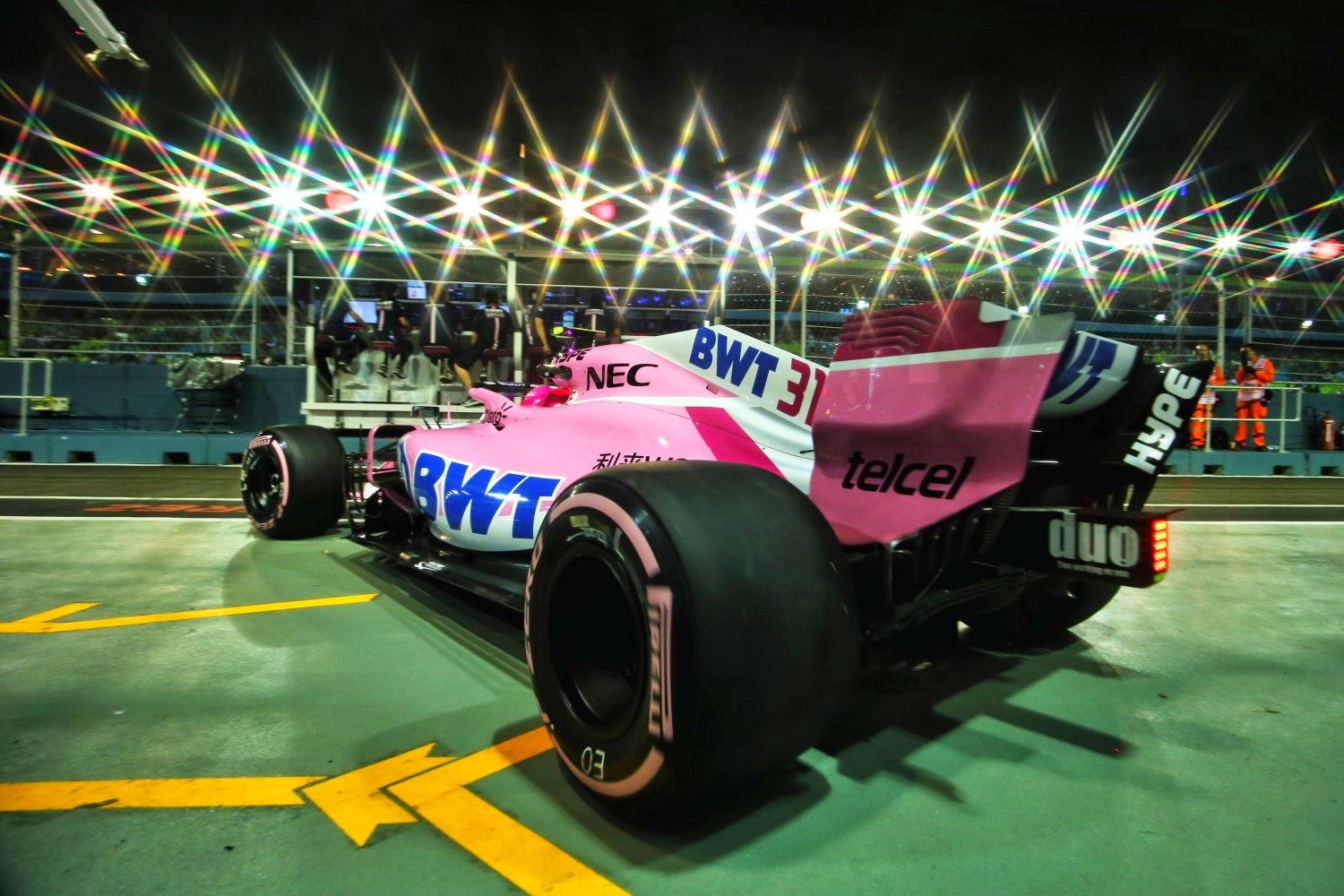 Unsafe release of Esteban Ocon
Force India Formula 1 "escaped" a potential €85,000 ($99,000) fine in Singapore "because a suspended fine" generated by an offense earlier in the season "was deemed not to apply to the revamped team," according to Adam Cooper of MOTORSPORT.
The case "has highlighted how some sporting elements" related to Sahara Force India "have been carried over to the new Racing Point Force" by FIA, and "others have not."
In Singapore, "the team was found guilty of an unsafe release of Esteban Ocon's car in FP3" and received a €5,000 ($5,800) fine.
However, the stewards' decision "made no mention of the fact that at the French GP," the original team received a penalty of a €15,000 ($17,500) fine plus a further €85,000 suspended for 12 months when Sergio Pérez was "released with a loose wheel."
Although the Singapore incident "was not serious, in that it did not involve a loose wheel, in theory it would still have been sufficient to trigger the suspended fine, as that applied to all forms of unsafe release."
However, in Singapore, the stewards "decided that the French GP penalty was awarded to a different team, and thus was no longer valid." In making that call, "they referred to the stewards' decision at Spa which explained the rationale behind the acceptance of Racing Point Force India as a new entry" MOTORSPORT.com
Dirty politics in F1
AUTOWEEK's Sam Hall reported Haas F1 Team Principal Guenther Steiner said that the chances of the Haas F1 team getting its disqualification from the Italian Grand Prix reversed "are 50/50" and that Renault's postrace protest "broke a gentlemen's agreement among teams."
Underhanded tactics and "pushing the rules to the edge of what is acceptable is Formula 1 by definition," and Steiner "has learned the hard way the lengths some teams will go to defend their championship points and prize money."
Disqualified in Italy for running illegal floor dimensions, Haas has taken its case to FIA's court of appeal, with Steiner feeling that the race stewards on the day were not "able to understand the complexities of the problem" AUTOWEEK
Force India hands out F1 team orders after crash in Singapore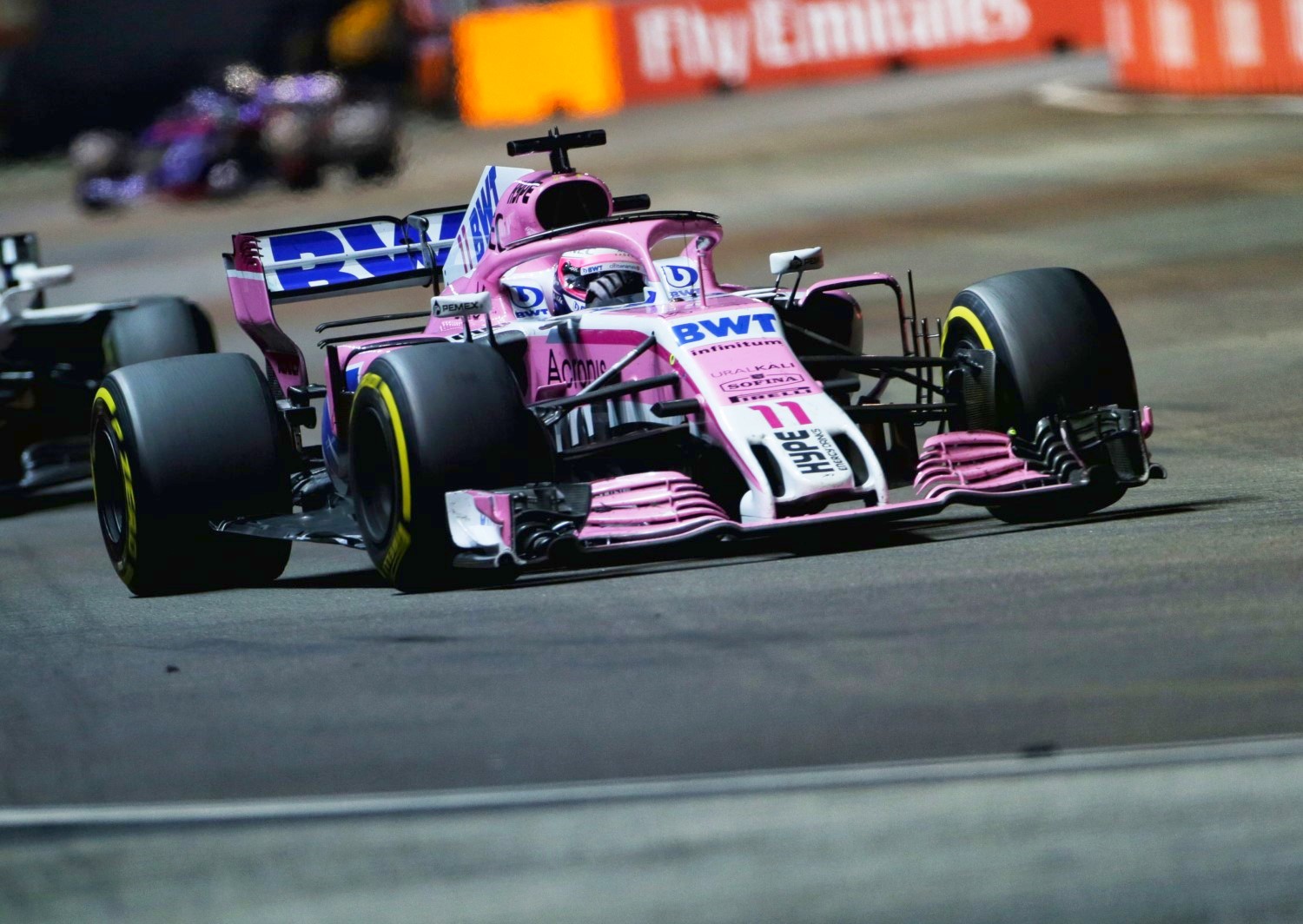 In car replays show Perez intentionally turned right and stuffed Ocon into the wall. Threatened that his more talented teammate will pass him, it's not the first time Perez has done this and F1 does nothing about it
Force India will once again ban their drivers from racing each other after yet more contact between Esteban Ocon and Sergio Perez at the Formula 1 Singapore Grand Prix.
In 2017, the two drivers collided at the Azerbaijan Grand Prix and twice at the Belgium Grand Prix. As a result, the two were internally banned from racing each other after the first lap shakeup had taken place and team boss Otmar Szafnauer has said that he will no reintroduce this rule after Perez put Ocon into the wall on lap one of the Singapore Grand Prix.
To see the video of the opening-lap crash, click HERE to go to the Formula 1 YouTube page.
"It's unacceptable for them to come together like that in an area where there's no run off room," said Szafnauer. "They've got to leave each other room. The team's more important than any one individual and we'll have to go back to the rules we instilled on them last year if that's what they're going to do. We'll have to take control from here.
"Once they're in the car it's hard to control what they do but prior to that we can control it."
While Perez said over team radio that there was no room for him to avoid the race ending contact with Ocon, television images showed nothing but space on his left and that the Mexican had opened his steering to squeeze Ocon into the wall.
"There's enough room on the left-hand side as I could see and you've got to give your teammate enough room. If it's somebody else, if it's not your teammate then it's a racing incident but if it's your teammate then you've got to give room.
"It's been over a year since it last happened. It wasn't after Baku last year that we introduced the rules, it was after Spa and from Spa until here it hasn't happened so it's back to the old rules which allowed them to race on lap one whereas in the past, we didn't allow them to race on lap one and now we can remove that. If they continue to do this, even on lap one, then there's other ways to separate them which we hope that we don't ever have to employ."
Ruled as a racing incident by race stewards, you could tell how close to receiving a penalty the Mexican had come when later contact with Williams driver Sergey Sirotkin resulted in Perez being hit with a drive through penalty, one of the harshest penalties he could have been dealt during a race.
"It was a very unfortunate incident, one of those which is very hard to avoid," said Perez. "As I'm picking up the power, I just got a clip from one car. I did not even realize that was Esteban and then as I get the message from the team I was very sorry for that. It's a very hard day for us.
"And then the strategy. We pit when we're having a tremendous first stint. We have a very big gap to the car behind but then we stopped into traffic and it was very hard to get by Sirotkin and then there was contact with him.
"After the race always easy to analyze and pick up the right strategy but probably we got the strategy a bit wrong." Sam Hall/AutoWeek
Vettel defends Ferrari amid another bad Singapore GP strategy call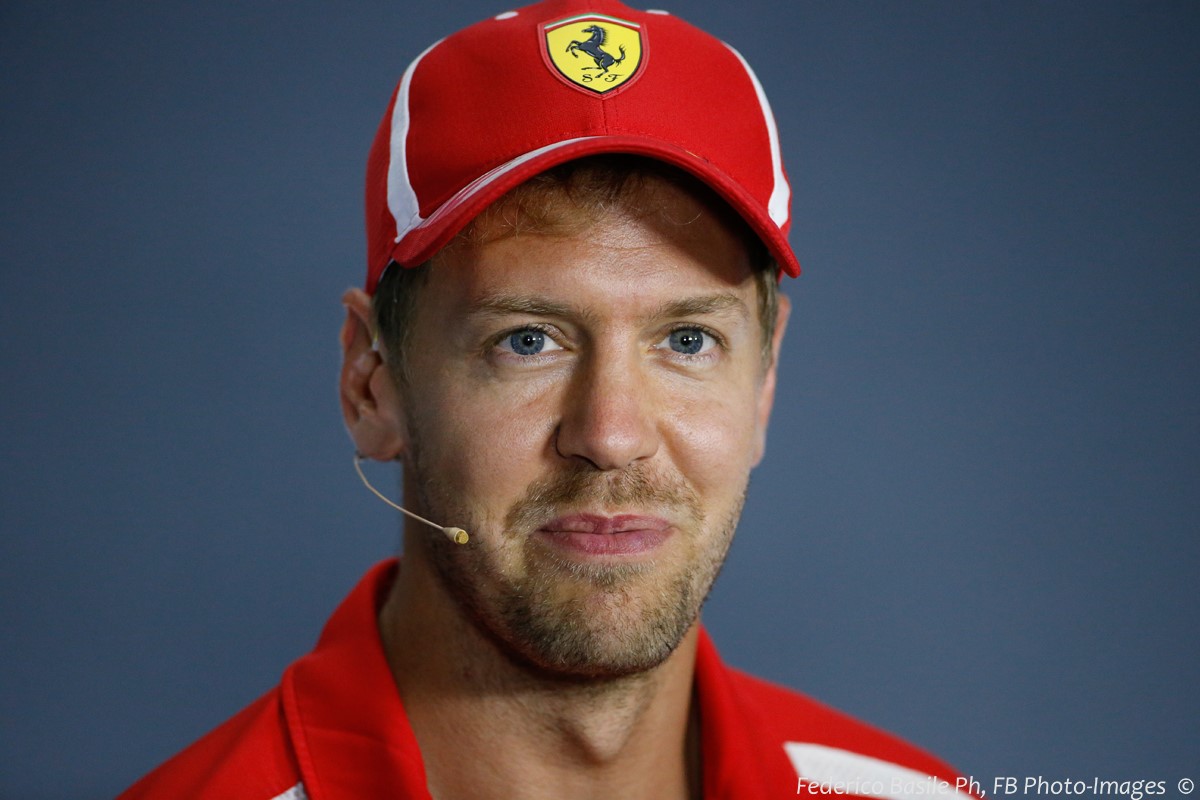 Vettel defends yet another Ferrari misstep
Sebastian Vettel leapt to Ferrari's defense amid criticism for its "aggressive" strategy during Formula 1's Singapore Grand Prix.
Vettel jumped Red Bull's Max Verstappen for second on the opening lap and was the first of the front-runners to pit when he came in on lap 14 of 61.
Vettel discarded Hypersofts for Ultrasofts but filtered back on track behind the yet-to-stop Sergio Perez, while Verstappen stayed out for another three laps.
Verstappen, along with race leader Lewis Hamilton, took on Soft tires at his stop and managed to come out of the pits side-by-side with Vettel.
Verstappen held the inside line to keep Vettel at bay and their positions remained unchanged throughout the remainder of the race, as the Ferrari driver lost further ground in the title battle.
"I think overall we were not fast enough," said Vettel, who is now 40 points behind Hamilton with six Grands Prix remaining.
"We didn't have the pace in the race. But also I think we tried to be aggressive in the beginning and obviously it didn't work out.
"After that I think I had a different race from the other guys, on a different tire, and I wasn't very convinced that we could make it to the end, but pitting wasn't an option because you lose too much time in the pit stop. So we just focused on making it home."
When pressed further on the choice to take on Ultrasofts, Vettel said: "I think the decision we took in the race, the decisions to try to be aggressive, if it works it's great, today it didn't work.
"Obviously it didn't work by quite a bit and we need to look into that.
"But I believe we saw something and that's why we go for it. Obviously inside the car it's difficult to be on top of everything because you cannot see where you come out etc.
"We were aggressive in trying to get ahead, taking into account that we have to go through traffic, which in the end bit us also, to lose the second place.
"If it doesn't work it is always easy to criticize but I will always defend what we did."