Dixon tops final practice at Sonoma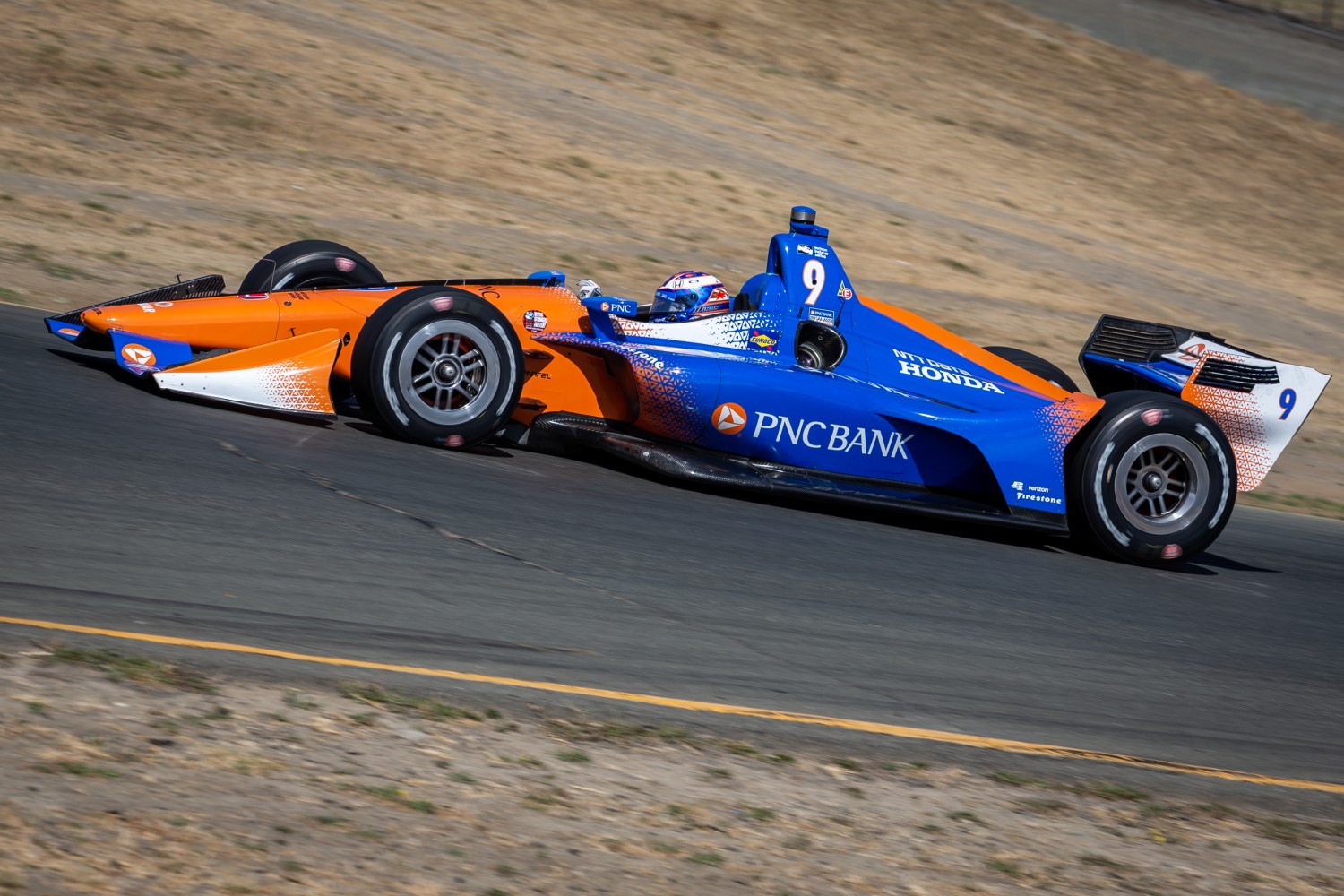 Scott Dixon
Points leader Scott Dixon turned the fastest lap in his Ganassi Honda in final IndyCar practice for the Sonoma GP on Saturday morning at was once the old Sears Point Raceway. Dixon's lap of 1m187.9697s.
Will Power was 2nd quick in his Penske Chevy just 0.0096s behind.
Andretti Autosport Honda teammates Ryan Hunter-Reay and Alexander Rossi were 3rd and 4th quick both 0.15s behind while Josef Newgarden rounded out the top-5 in the #1 Penske Chevy.
Practice 3 Results
| | | | | | | | |
| --- | --- | --- | --- | --- | --- | --- | --- |
| POS | DRIVER | CAR NO. | TIME | SPEED | LAPS | BEHIND | GAP |
| 1 | Scott Dixon | 9 | 01:17.9697 | 110.12 | 13 | –.—- | –.—- |
| 2 | Will Power | 12 | 01:17.9793 | 110.106 | 14 | 0.0096 | 0.0096 |
| 3 | Ryan Hunter-Reay | 28 | 01:18.1238 | 109.902 | 15 | 0.1541 | 0.1445 |
| 4 | Alexander Rossi | 27 | 01:18.1256 | 109.9 | 15 | 0.1559 | 0.0018 |
| 5 | Josef Newgarden | 1 | 01:18.1269 | 109.898 | 10 | 0.1572 | 0.0013 |
| 6 | Simon Pagenaud | 22 | 01:18.1649 | 109.845 | 14 | 0.1952 | 0.0380 |
| 7 | Zach Veach | 26 | 01:18.2580 | 109.714 | 14 | 0.2883 | 0.0931 |
| 8 | Takuma Sato | 30 | 01:18.3817 | 109.541 | 19 | 0.4120 | 0.1237 |
| 9 | Santino Ferrucci | 39 | 01:18.4383 | 109.462 | 17 | 0.4686 | 0.0566 |
| 10 | Marco Andretti | 98 | 01:18.4423 | 109.456 | 11 | 0.4726 | 0.0040 |
| 11 | Ed Jones | 10 | 01:18.5143 | 109.356 | 18 | 0.5446 | 0.0720 |
| 12 | Graham Rahal | 15 | 01:18.7550 | 109.022 | 19 | 0.7853 | 0.2407 |
| 13 | Charlie Kimball | 23 | 01:18.7870 | 108.977 | 17 | 0.8173 | 0.0320 |
| 14 | Spencer Pigot | 21 | 01:18.8916 | 108.833 | 15 | 0.9219 | 0.1046 |
| 15 | Jack Harvey | 60 | 01:18.9142 | 108.802 | 17 | 0.9445 | 0.0226 |
| 16 | James Hinchcliffe | 5 | 01:18.9762 | 108.716 | 14 | 1.0065 | 0.0620 |
| 17 | Jordan King | 20 | 01:19.0190 | 108.657 | 14 | 1.0493 | 0.0428 |
| 18 | Pietro Fittipaldi | 19 | 01:19.0238 | 108.651 | 21 | 1.0541 | 0.0048 |
| 19 | Carlos Munoz | 6 | 01:19.0729 | 108.583 | 13 | 1.1032 | 0.0491 |
| 20 | Max Chilton | 59 | 01:19.1383 | 108.494 | 16 | 1.1686 | 0.0654 |
| 21 | Patricio O'Ward | 8 | 01:19.2751 | 108.306 | 22 | 1.3054 | 0.1368 |
| 22 | Colton Herta | 88 | 01:19.4347 | 108.089 | 16 | 1.4650 | 0.1596 |
| 23 | Tony Kanaan | 14 | 01:19.4634 | 108.05 | 16 | 1.4937 | 0.0287 |
| 24 | Matheus Leist | 4 | 01:19.5275 | 107.963 | 14 | 1.5578 | 0.0641 |
| 25 | Sebastien Bourdais | 18 | 01:19.7064 | 107.72 | 4 | 1.7367 | 0.1789 |