Vettel recovers, tops practice 3 in Singapore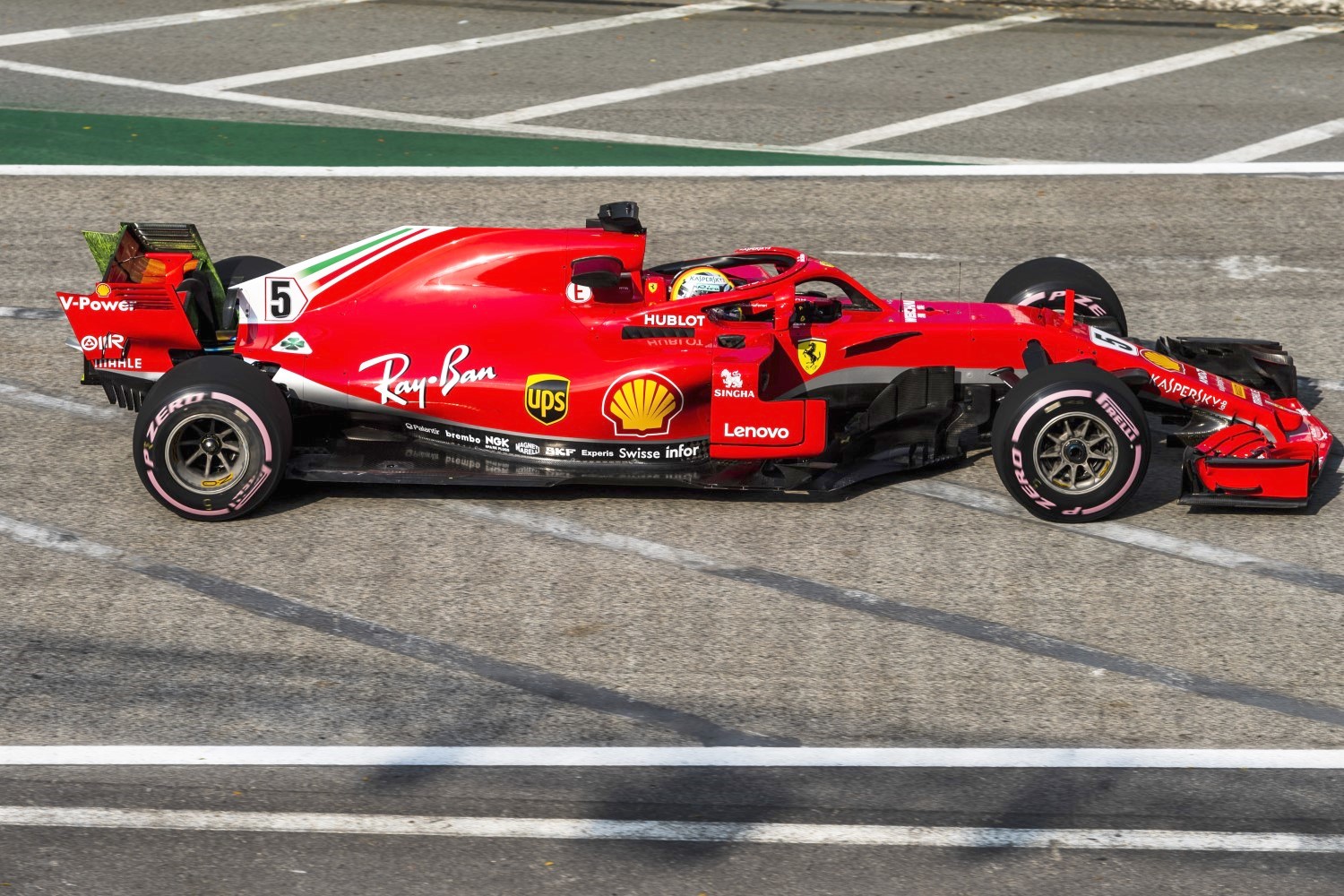 Vettel turns up the heat
After clipping the wall in practice in Singapore Friday night and missing most of the session, Ferrari ace Sebastian Vettel recovered in Practice 3 with a blistering time of 1m38.054s in the afternoon when the temperatures are higher and not representative of qualifying and race time temps. Temps will fall as the sun sets and qualifying times will tumble in two hours.
Ferrari teammate Kimi Raikkonen was 0.362s behind in 2nd for a Ferrari 1-2 in the incident free session.
Hamilton was no match for the two Italian cars in this session and slotted in third 0.504s behind Vettel with his Mercedes teammate 4th 0.549s back.
Daniel Ricciardo and Max Verstappen were 5th and 6th quick both over 1-second slower in their Red Bulls.
With F1 being 99% car and 1% driver the first three rows based on practice 3 are:
Row 1: Ferrari row
Row 2: Mercedes row
Row 3: Red Bull row
Practice 3 Results
| | | | | | | |
| --- | --- | --- | --- | --- | --- | --- |
| POS | NO | DRIVER | CAR | TIME | GAP | LAPS |
| 1 | 5 | Sebastian Vettel | Ferrari | 1:38.054 | +0.000s | 19 |
| 2 | 7 | Kimi Raikkonen | Ferrari | 1:38.416 | +0.362s | 16 |
| 3 | 44 | Lewis Hamilton | Mercedes | 1:38.558 | +0.504s | 14 |
| 4 | 77 | Valtteri Bottas | Mercedes | 1:38.603 | +0.549s | 17 |
| 5 | 3 | Daniel Ricciardo | Red Bull Renault | 1:39.186 | +1.132s | 14 |
| 6 | 33 | Max Verstappen | Red Bull Renault | 1:39.265 | +1.211s | 10 |
| 7 | 8 | Romain Grosjean | Haas Ferrari | 1:39.747 | +1.693s | 14 |
| 8 | 31 | Esteban Ocon | Force India Mercedes | 1:40.073 | +2.019s | 14 |
| 9 | 11 | Sergio Perez | Force India Mercedes | 1:40.231 | +2.177s | 14 |
| 10 | 14 | Fernando Alonso | McLaren Renault | 1:40.254 | +2.200s | 10 |
| 11 | 27 | Nico Hulkenberg | Renault | 1:40.450 | +2.396s | 17 |
| 12 | 20 | Kevin Magnussen | Haas Ferrari | 1:40.559 | +2.505s | 13 |
| 13 | 55 | Carlos Sainz | Renault | 1:40.591 | +2.537s | 14 |
| 14 | 10 | Pierre Gasly | Toro Rosso Honda | 1:40.686 | +2.632s | 16 |
| 15 | 2 | Stoffel Vandoorne | McLaren Renault | 1:40.798 | +2.744s | 15 |
| 16 | 16 | Charles Leclerc | Sauber Ferrari | 1:40.915 | +2.861s | 20 |
| 17 | 28 | Brendon Hartley | Toro Rosso Honda | 1:41.562 | +3.508s | 18 |
| 18 | 35 | Sergey Sirotkin | Williams Mercedes | 1:41.884 | +3.830s | 19 |
| 19 | 9 | Marcus Ericsson | Sauber Ferrari | 1:41.953 | +3.899s | 18 |
| 20 | 18 | Lance Stroll | Williams Mercedes | 1:42.220 | +4.166s | 18 |