Bathurst Champion Reynolds claims pole for Sandown 500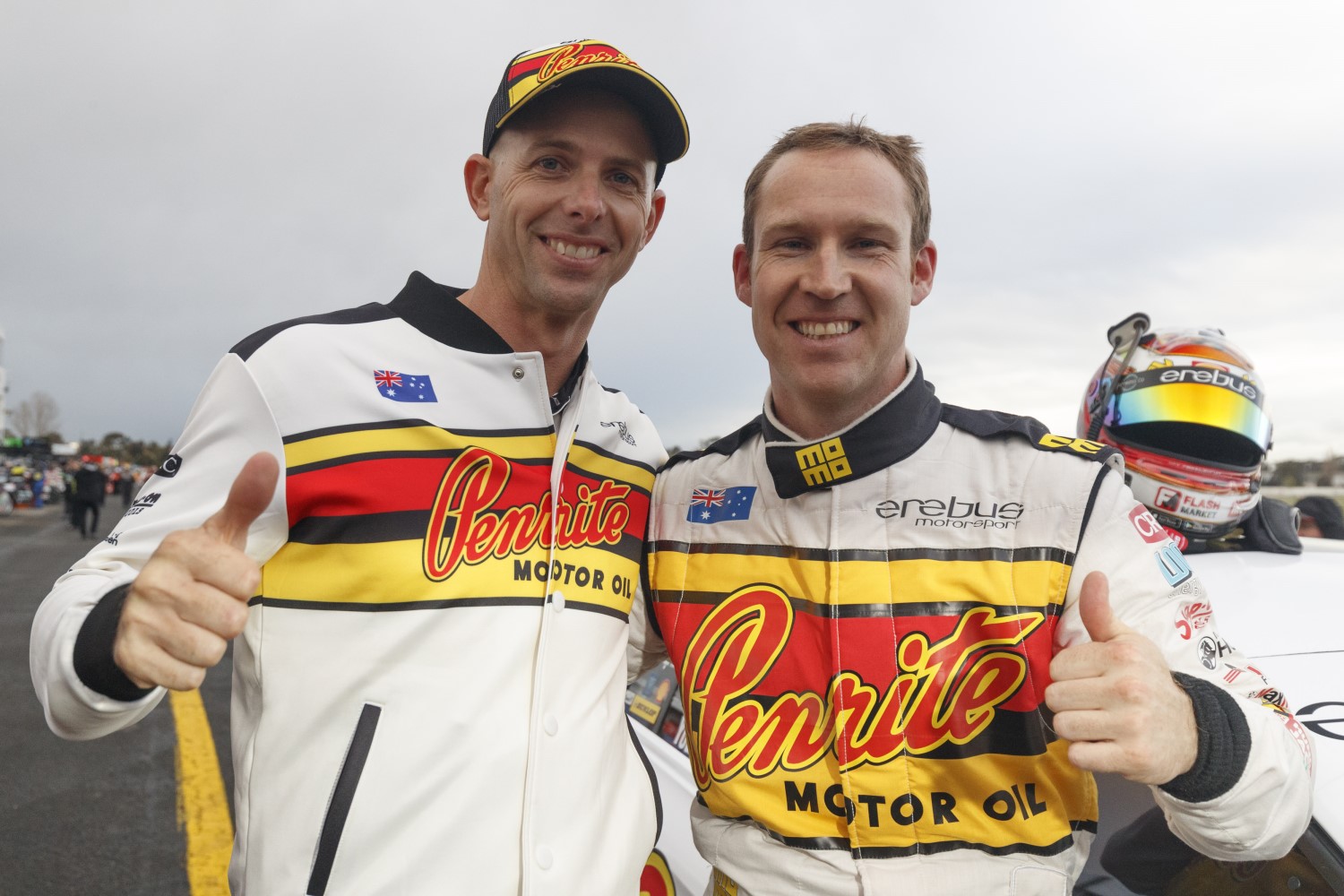 Luke Youlden and David Reynolds
Bathurst Champions David Reynolds and Luke Youlden survived a freak hailstorm to assume control of the RABBLE.club Sandown 500 after two minutes of Melbourne weather madness.
With co-drivers battling in the first of the two ARMOR ALL qualifying races to decide tomorrow's starting order a mid-race storm sent the field scrambling.
The first race decided the starting order for the second; which set the grid for tomorrow.
Reynolds and Youlden survived the first race chaos and managed the second to claim ARMOR ALL Pole Position for the Sandown classic ahead of Jamie Whincup and Paul Dumbrell who recovered from the first race dramas.
"We got very lucky with the strategy call (in race one)," Reynolds said. "If we were the lead car we probably would have pitted. Things organically happened today and we benefited from them."
Another pairing who didn't stop, Scott McLaughlin and Alex Premat, will start third alongside team-mates Fabian Coulthard and Tony D'Alberto.
Whincup charged back having made up eight places while Shane van Gisbergen flew in the second half of the second race, ultimately finishing in position 11 (from 19), where he and Earl Bamber will start tomorrow.
"We have been in this position before though and it hasn't gone so well on Sundays," said Whincup. "The focus is on making sure we minimize the mistakes and be there in the end."
In a frenetic few laps of race one half the field decided to change to wet tyres and the other half stayed out. It proved a costly result for those who played it safe.
With co-drivers in the seat the gamble paid off for some, and not for others. Novocastrian Aaren Russell was the greatest beneficiary, winning the opening ARMOR ALL qualifying race after one-time leader James Moffat was spun from behind.
"The weather just threw everything out the window, I was so nervous in the car," Russell said. "I got lucky, got to the lead and pushed on. I am a bit speechless at the moment."
Youlden was also a big winner, bringing his Erebus Penrite Motorsport entry home in second. Others included McLaughlin's co-driver, Frenchman Alex Premat, was third while Tony D'Alberto, driving with Fabian Coulthard, was fourth.
"Sometimes you have just got to have a little bit of luck go your way," McLaughlin explained. "That was tough conditions man. I have never driven in hail in a Supercar before so full credit to them."
It was the reverse for both Red Bull Holden Racing Team who brought in Dumbrell, who at the time held a commanding lead at the time, and Kiwi Earl Bamber who had to double stack.
It meant Dumbrell finished 11th and Bamber 16th, leaving Van Gisbergen with his work cut out and Whincup ten places back from where he could have been.
Former Supercars Champion James Courtney will have his team working overtime tonight after he slid off the track at high-speed early in this afternoon's session. His Mobil 1 Boost Mobile Commodore suffered severe damage and he will start from the back of the grid tomorrow.
Van Gisbergen had a tussle with teammate Craig Lowndes during the second Race for the Grid and will start from 11th tomorrow.
The Top Ten for tomorrow's 500km race will be Reynolds, Whincup, McLaughlin, Coulthard, Mark Winterbottom, Heimgartner, reigning Pirtek Enduro Cup Champion Chaz Mostert, Tim Slade, rookie Anton De Pasquale and Lowndes.
Reigning Sandown 500 winner Cam Waters will start from 13th, while his former teammate and fellow 2017 winner Richie Stanaway will start from 17th position.
The 161-lap race will begin at 1:20pm tomorrow afternoon local time in Australia.