IndyCar Sonoma driver quotes from Friday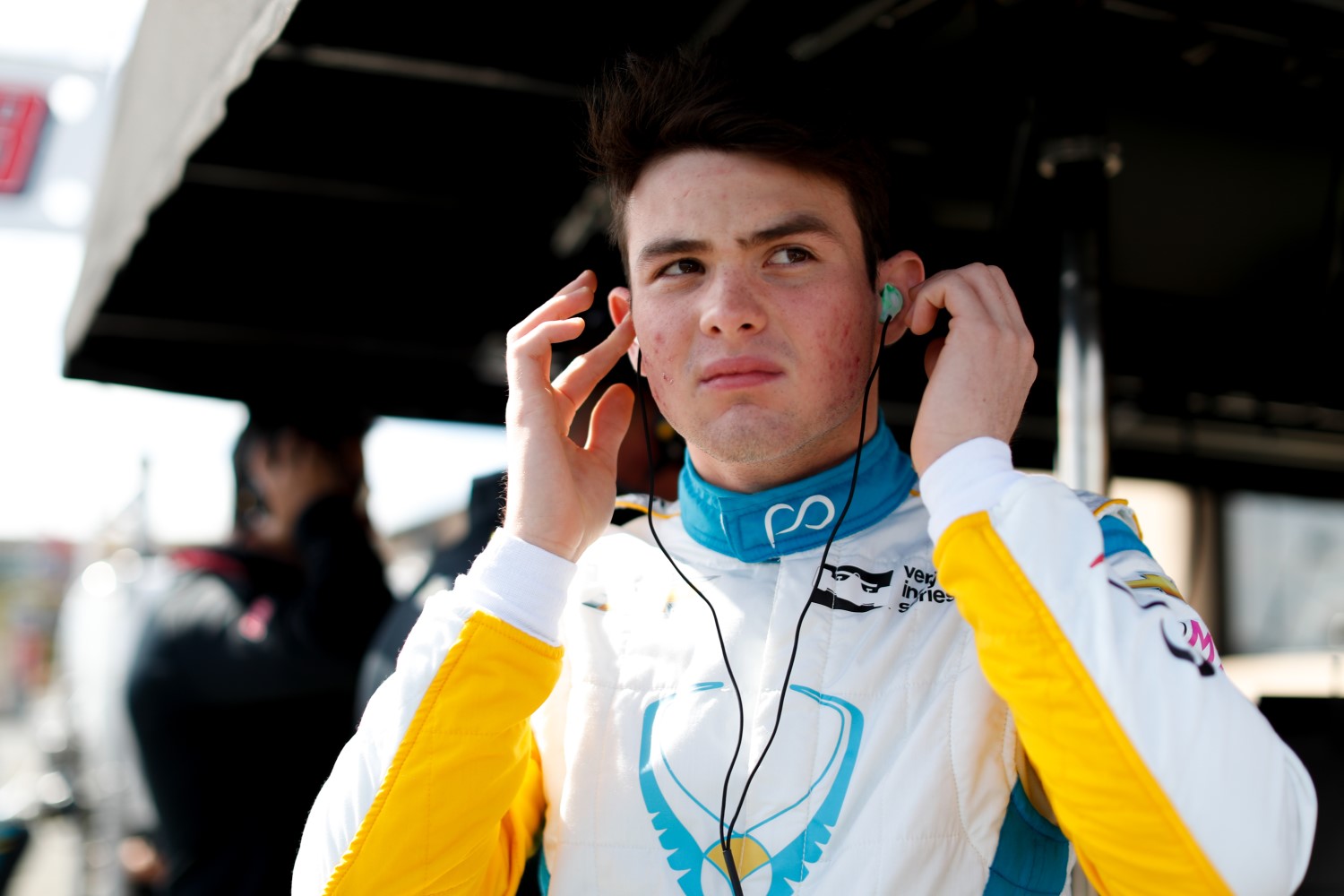 Rookie sensation Patricio O'Ward
JOSEF NEWGARDEN (No. 1 Verizon Team Penske Chevrolet):
"I think we were OK. We tested here last week, so we were pretty ready to go. It was difficult this afternoon, to be honest. When I first went out, I wasn't very happy the first run and then we made really good progress the second run and seemed pretty decent compared to last week. We were happy with our cars when we tested here last Thursday, so we felt optimistic coming into the weekend and now we're just trying to go through the motions and make the right steps all the way up through the end of Sunday. That's kind of what you do on a race weekend. You try and make the right decisions every day. So, it was a pretty decent start. Now we've just got to put it together tomorrow and Sunday on race day."
MATHEUS "MATT" LEIST (No. 4 ABC Supply AJ Foyt Racing Chevrolet): "Difficult day for the ABC cars at the track today. I think we just didn't have a great balance, the car was pretty difficult to drive; too much oversteer. The sessions are short, so we didn't have time to figure it out, but tomorrow is a new day. We are going to debrief, work hard and try to find a faster car."
JAMES HINCHCLIFFE (No. 5 Arrow Electronics SPM Honda): "Today certainly ended better than it started. In P1 we had a problem with the car that we didn't find until after the fact and led to a difficult session that had us spinning around. I think I was pointing backward as much as I was forward in Practice 1, so it's nice to rebound and be in the top five this afternoon. Credit to the Arrow Electronics guys for finding the problem and making the car decent. This place is always tricky, and not getting to test here, we were kind of starting a little bit behind, but at least we have three cars again this weekend, so we can use the data from all of them and try to make everybody better. Hopefully this shows that we've got decent pace on the reds (Firestone alternate tires) for tomorrow because qualifying at the front here is always nice. Tomorrow is a different day, so we've got to put our heads down, try and close the gap a little bit and see what we can do."
CARLOS MUNOZ (No. 6 Lucas Oil SPM Honda): "I think we will make a step forward with the black (Firestone primary) tires – we were a little bit more competitive. On the reds (Firestone alternate tires), it wasn't our greatest run, but at least we know where we are on the timesheet. James (Hinchcliffe) was pretty good on the reds, so we'll see. We'll work hard overnight, check all the data, see the car differences and where we can do better. I think for sure the Lucas Oil car has more potential than what we had earlier."

PATRICIO O'WARD (No. 8 Harding Group Chevrolet): "It was a pretty good day and I'm very satisfied with how we ended. The first practice felt like a shot out of a canon because there were so many cars out there than what I was used to and I didn't get any clean running. I'm happy I got some clean running in Practice 2. We were working hard on getting the car right for qualifying, so we were on the red (Firestone alternate) tires for most of practice. It feels really good, so now we're going to work on the black (Firestone primary) tires to get ready for the race setup. As of now, I'm very satisfied with today."
SCOTT DIXON (No. 9 PNC Bank Chip Ganassi Racing Honda): "Conditions were a little tough today and we're down around 30-40 percent overall on downforce compared to last year. Tomorrow could be different and tricky. You have to get the braking right for sure. There was a cool spread on the timesheets today and it was pretty cool seeing an Indy Lights champion up there mixing it up. I also think the temperature is going to play a huge part in what tires you take. We'll take a look at it tonight and see what we need to do in order to make some gains for qualifying in the PNC Bank car."
ED JONES (No. 10 NTT DATA Chip Ganassi Racing Honda): "Starting P6 in opening practice was a good start for us in the NTT DATA car here this weekend in Sonoma. I think we have a good car here this weekend and hope to get the maximum from it in qualifying tomorrow. Scott (Dixon) is very fast, as well so far, so I think we'll have a lot of good data to cover tonight. I'm excited for this weekend and hope we can have some luck finally go our way this season."

WILL POWER (No. 12 Verizon Team Penske Chevrolet): "(Qualifying is) going to be very difficult. The track is very low grip. Obviously, we have less downforce this year and it's just so hard to put a mistake-free lap together. I'm not sure anybody did. Maybe Josef (Newgarden) did. So yeah, it'll be a very interesting qualifying session. As you can see, it's very tight at the front, then the middle pack is very tight. It's just tight all the way through and that's just INDYCAR now. You can't pick a bad driver out of that lot. You look at the rookie (Patricio) O'Ward – that's super impressive first time out. That guy has definitely got some talent."
TONY KANAAN (No. 14 ABC Supply AJ Foyt Racing Chevrolet): "It's been an interesting day. We got traffic a lot on our best laps, so it doesn't look as good as we want it to look. It's been a tricky track this year, it's really hard to understand what the car is doing. We are going to look at some data tonight and see if we can fix it for tomorrow."
GRAHAM RAHAL (No. 15 TOTAL Honda): "Practice was OK. We are struggling a little bit and need to find a little more speed. On the reds (Firestone alternate tires), it seemed to take too long for them to come in. By the time they did, they were probably gone by that point. We will keep working on it. I don't think by any means we have our finger quite on the pulse just yet, but we're certainly not giving up. We'll see what we come up with for tomorrow."
PIETRO FITTIPALDI (No. 19 Paysafe Honda): "I think practice went well today with our Paysafe car. The morning session had a lot more grip than the afternoon, but it was like that for everyone. In the afternoon, the temperatures were a lot higher and that changes how the car feels. The track was a lot more slippery, but it's like that around here. It's hard to put together one lap, but that's what we're going to have to do in qualifying. We were able to be in the top 10 today in practice, but tomorrow is when it counts, so we'll go debrief with the engineers, find the ideal set up and try to get a top-10 qualifying tomorrow, and hopefully, do the same thing in the race."
JORDAN KING (No. 20 Ed Carpenter Racing Fuzzy's Vodka Chevrolet): "Second practice was certainly a step forward. We closed the gap to the front slightly on blacks (Firestone primary tires) and on reds (Firestone alternate tires), as well. It's just quite tricky because Sonoma is quite moody. By moody, I mean with the wind, or track temperature, or someone goes off in front of you, so there's dust on the surface – it's always changing quite a bit. Reds, there's a little bit of time left to be had on my part and a couple more changes we can do. I think we'll be in the window then and be able to start working towards that last little bit of time. We're not a million miles away, making progress, so hopefully we can find a few more tenths tomorrow morning before going into qualifying."
SPENCER PIGOT (No. 21 Ed Carpenter Racing Fuzzy's Vodka Chevrolet): "We definitely have some things to work on for tomorrow. We scanned through lots of different ideas and changes throughout the day today on blacks (Firestone primary tires) and on reds (Firestone alternate tires). Some things worked and some didn't, so we will piece together what the positives were and build a solid base to start from tomorrow."
SIMON PAGENAUD (No. 22 DXC Technology Team Penske Chevrolet): "It was a good day. We made a big leap forward today. I'm really happy with the DXC Technology Chevrolet. I am so happy with the car that I made a mistake on my fast lap on new tires. The performance of the car is really good right now. I think we will be right there with Will (Power) and Josef (Newgarden) tomorrow. I'm quite happy this weekend so far."
CHARLIE KIMBALL (No. 23 Tresiba Chevrolet): "Obviously, the finishing position isn't what we want from today, but at the same time we learned a lot about the No. 23 Tresiba Chevrolet needs on the Firestone alternates (tires), which will matter in qualifying tomorrow. The weather is supposed to be a little bit cooler tomorrow, maybe more like it was this morning, which bodes well for us with us being a little more competitive in the first practice. We'll look at all the data and be ready to go for practice tomorrow morning and figure out what we need to do on the alternates tomorrow afternoon."

ZACH VEACH (No. 26 Group 1001 Honda): "Overall, I'd say it was an OK day. We were P9 this morning, P11 this afternoon. We just messed up our run on the reds (Firestone alternate tires). It looked like we had a run that would have put us top five, we just ran off the track in Turn 2. That kind of ruined our red run, but I think we have a decent race car. It's another weekend that we've been consistently inside the top 10, so I feel good about that. We're just looking to bring it home in qualifying for another career best tomorrow."
ALEXANDER ROSSI (No. 27 NAPA AUTO PARTS Honda): "I think we made a step forward this afternoon from this morning. We had the test yesterday, which I thought was really good for us, but this place changes so quickly and so often. What you have one day doesn't necessarily transfer completely the next day. We definitely have some work to do overnight – we need to put our heads together. But this isn't the first time we've had a bad Friday, so I have a lot of confidence in the 27 NAPA team that come tomorrow afternoon we'll be all right."

RYAN HUNTER-REAY (No. 28 DHL Honda): "It was a good start to the day; we were P1 this morning and overall. We went to some pretty aggressive changes this afternoon, knowing that Practice 2 was our last opportunity to do it before qualifying – being that you don't want the car too far off in Practice 3 tomorrow morning. We made some changes, got aggressive with it and it was the wrong way. So, we'll make some changes and head back to where we were in Practice 1, and hopefully, get the DHL car back to its good form."
TAKUMA SATO (No. 30 Mi-Jack / Panasonic Honda): "I think we made some progress today. The first practice ended with mixed feelings. It was supposed to be better, but the car didn't really feel happy and the lap time also was not great. For the afternoon session, we made some changes, which was a definite improvement. We had a relatively good performance on the black (Firestone primary) tires, but on the reds (Firestone alternate tires), we need to work hard to find a better balance. But at least we found some direction, which is quite encouraging."

SANTINO FERRUCCI (No. 39 Cly-Del Honda): "Practice was pretty good today. In the morning session, we were running really well. I was still learning the track and I made a driving mistake in the last chicane and lost something like four-tenths. Then this afternoon, in Practice 2, it went better than I had expected it to. It shows that we have some good pace again on the red (Firestone primary) tires. We're working hard to keep improving that and we'll see where we can place our Cly-Del Manufacturing car on the grid tomorrow."
MAX CHILTON (No. 59 Gallagher Chevrolet): "I think we were hoping to come out of today and be a bit quicker than we were, but we just didn't quite get there at the end of the day with the No. 59 Gallagher Chevrolet. We learned a ton yesterday during the test and even more today, so I'd say, even though we aren't where we want to be, we're definitely getting closer. We have some work to do tonight and in that first practice tomorrow to make sure we're ready for qualifying, but I think we'll get there."
JACK HARVEY (No. 60 AutoNation SiriusXM MSR with SPM Honda): "Today went OK, it wasn't awesome but it wasn't bad either. We have generated some momentum the last few races so we want to keep that going. The thing about this track is that if we can make the changes that we need to, it can produce quite a lot of lap time. I'm not concerned right now, we just have to work at it."

COLTON HERTA (No. 88 Harding Group Chevrolet): "I just kept learning. It seems like our pace on blacks (Firestone primary tires) is pretty good, it's right around top-10 pace. I made a mistake on the red (Firestone alternate) tires and I ended up on the bottom half of the timesheets today, but that's something to learn off of. I didn't quite nail the lap. It's tough when you have one lap, so I'm still trying to get to grips with that. I'll try to do a better job tomorrow."
MARCO ANDRETTI (No. 98 U.S. Concrete / Curb Honda): "A lot of driving here is just about staying with the track. The afternoon wasn't an ideal practice session for us, but we have a good idea of what we need to do for qualifying tomorrow to get the U.S. Concrete car into the Firestone Fast Six."