TOTAL QUARTZ to be Primary Sponsor for Rahal at Sonoma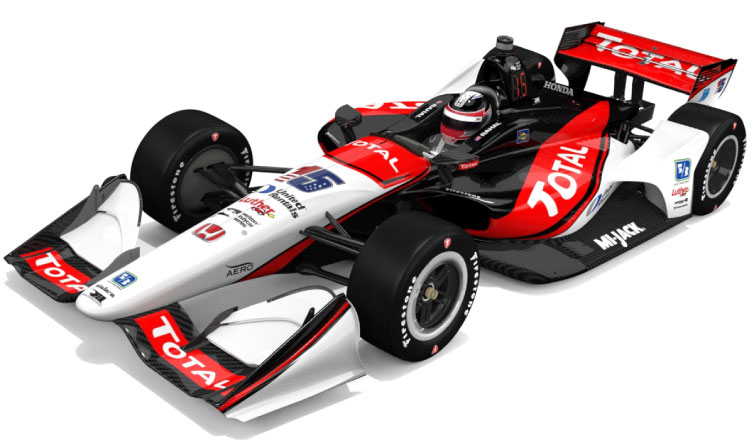 Total livery
Rahal Letterman Lanigan Racing (RLL) and Total Specialties USA, Inc., Total S.A.'s U.S. marketing affiliate, have expanded their relationship to include primary sponsorship of the team's No. 15 entry for Graham Rahal in the IndyCar Series season-finale at Sonoma Raceway on September 16. In January it was announced that the brand would be primary sponsor of the entry at the Toyota Grand Prix of Long Beach and that TOTAL QUARTZ would be the Official Lubricant Partner of the team.
"One of the highlights of our year has been the building of our relationship with Total," said Bobby Rahal, team co-owner of Rahal Letterman Lanigan Racing with David Letterman and Michael Lanigan. "I may be partial but their logo and colors look especially great on our Indy car and we are excited about the opportunity to feature them again as the primary sponsor of Graham's car at Sonoma. We are hoping to end the season on a high note and I can't think of a better way than back-to-back wins for the team."
The 2018 season marked Total's return to the team after being an associate sponsor in the inaugural season in 1992 where Bobby Rahal earned his third Indy car title. The 2018 Long Beach race marked their first as a primary sponsor of an Indy car and Sonoma will be their second.
"Total is a leader in finished lubricant products around the globe, and RLL is a leader in motorsport, so it is a perfect alignment for Total to sponsor Graham Rahal and the RLL team" said Christophe Doussoux, Senior Vice President, Lubricants for Total Specialties USA, Inc. "I agree with Bobby that the Total colors look great on the #15 car, and we are so proud to partner with this great Rahal Letterman Lanigan Racing team – I wish them Good Luck at this important season-closing race at Sonoma!"
Total has a long and prestigious history in motorsports, including partnerships in Formula 1, 24 Hours of Le Mans, World Rally Championship, and Dakar Rally, among others. Legendary drivers have carried the brand's iconic logo to countless race wins and world championships. Currently Total Specialties USA, Inc. is Official Lubricant Partner of the Mid-Ohio Sports Car Course and the Mid-Ohio School. TOTAL QUARTZ will be both a strategic brand marketing partner as well as a technical partner across the IndyCar Series team.
The highlight of Rahal's season to date is a second place finish in the Firestone Grand Prix of St. Petersburg. His best start of fifth and best finish on second place at Sonoma Raceway came in 2016 with RLL. A team test at the track on September 5 will help prepare Rahal and teammate Takuma Sato for a strong finish to the season. The 2018 INDYCAR Grand Prix of Sonoma will take place September 16 and will air live on NBCSN at 6:30 PM ET. For more details about the Series, please visit www.indycar.com