Allgaier wins Indy Xfinity Race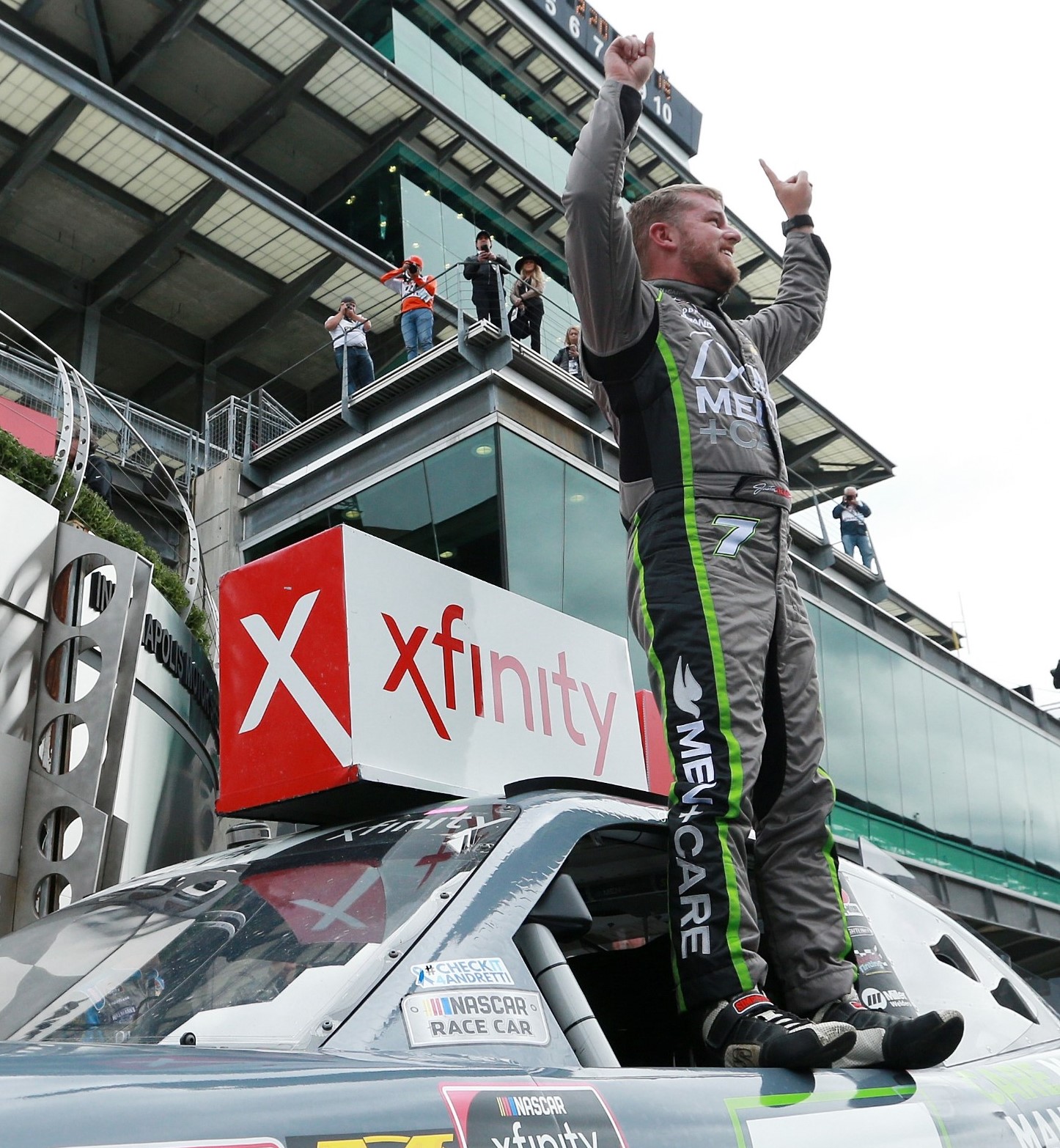 Justin Allgaier
JR Motorsports Chevy Camaro driver Justin Allgaier held off a 5-car train of Tyler Reddick, Ryan Blaney, Chase Elliott, Daniel Hemric and Matt Tifft over the final 10 laps to win the Lilly Diabetes 250 NASCAR Xfinity race at the Indianapolis Motor Speedway.
Unfortunately the massive grandstands were largely empty after Saturday's rainout and Monday being a work day.
The race was interrupted by 5 cautions due to accidents.
Allgaier, the Xfinity Series points leader, logged his fifth victory of 2018 in the penultimate regular-season race in the series. He led a race-high 41 laps.
JR Motorsports teammate Tyler Reddick finished second in the No. 9 Chevrolet. Ryan Blaney, Chase Elliott and Daniel Hemric rounded out the top five in the 100-lap, 250-mile race.
Competition was so intense from that start that drivers were four-wide for the end of Stage 1, with John Hunter Nemechek squeaking out the stage win.
Hemric won Stage 2 after taking the lead 22 laps before the end of the stage.
Elliott Sadler, who entered the race in second place in the driver standings, wrecked out of the race on Lap 22 when his No. 1 JR Motorsports Chevrolet was caught up with Ty Dillon's spinning No. 3 Chevrolet. Sadler, competing in his final fulltime season, told NBCSN he was disappointed to be knocked from contention for the regular-season Xfinity title.
Austin Cindric also suffered damage to his No. 10 Chevrolet in that Sadler-Dillon wreck, but finished 34th and held onto the 12th-place position in the playoff standings.
Later, Cole Custer spun through the infield grass and smacked the wall after he clipped the No. 19 Toyota of Brandon Jones on Lap 71. Custer's No. 00 Ford suffered significant damage and he was forced from the race.
The race included a red flag for about six minutes after Ryan Preece's No. 18 Toyota made hard contact with the infield tire barrier on Lap 78 after spinning in Turn 2.
Results
| | | | | | |
| --- | --- | --- | --- | --- | --- |
| POS | CAR | DRIVER | MANUF | LAPS | BEHIND |
| 1 | 7 | Justin Allgaier | Chevy | 100 | — |
| 2 | 9 | Tyler Reddick | Chevy | 100 | 0.092 |
| 3 | 22 | Ryan Blaney | Ford | 100 | 0.308 |
| 4 | 23 | Chase Elliott | Chevy | 100 | 0.637 |
| 5 | 21 | Daniel Hemric | Chevy | 100 | 0.971 |
| 6 | 2 | Matt Tifft | Chevy | 100 | 1.302 |
| 7 | 20 | Christopher Bell | Toyota | 100 | 3.573 |
| 8 | 10 | Austin Dillon | Chevy | 100 | 11.152 |
| 9 | 60 | Chase Briscoe | Ford | 100 | 12.157 |
| 10 | 19 | Brandon Jones | Toyota | 100 | 13.165 |
| 11 | 16 | Ryan Reed | Ford | 100 | 13.269 |
| 12 | 4 | Ross Chastain | Chevy | 100 | 14.538 |
| 13 | 39 | Ryan Sieg | Chevy | 100 | 17.180 |
| 14 | 51 | Jeremy Clements | Chevy | 100 | 17.397 |
| 15 | 35 | Joey Gase | Chevy | 100 | 30.843 |
| 16 | 15 | BJ McLeod | Chevy | 100 | 31.828 |
| 17 | 01 | Vinnie Miller | Chevy | 99 | -1 |
| 18 | 52 | David Starr | Chevy | 99 | -1 |
| 19 | 36 | Alex Labbe | Chevy | 98 | -2 |
| 20 | 0 | Garrett Smithley | Chevy | 98 | -2 |
| 21 | 40 | Chad Finchum | Toyota | 98 | -2 |
| 22 | 11 | Ryan Truex | Chevy | 97 | -3 |
| 23 | 8 | Caesar Bacarella | Chevy | 93 | -7 |
| 24 | 90 | Josh Williams | Chevy | 92 | -8 |
| 25 | 42 | John Hunter Nemechek | Chevy | 90 | -10 |
| 26 | 74 | Mike Harmon | Chevy | 85 | -15 |
| 27 | 78 | Tommy Joe Martins | Chevy | 83 | -17 |
| 28 | 18 | Ryan Preece | Toyota | 78 | -22 |
| 29 | 00 | Cole Custer | Ford | 71 | -29 |
| 30 | 38 | JJ Yeley | Chevy | 67 | -33 |
| 31 | 5 | Michael Annett | Chevy | 51 | -49 |
| 32 | 89 | Morgan Shepherd | Chevy | 34 | -66 |
| 33 | 3 | Ty Dillon | Chevy | 34 | -66 |
| 34 | 12 | Austin Cindric | Ford | 24 | -76 |
| 35 | 1 | Elliott Sadler | Chevy | 22 | -78 |
| 36 | 76 | Spencer Boyd | Chevy | 22 | -78 |
| 37 | 66 | Brandon Hightower | Dodge | 20 | -80 |
| 38 | 45 | Josh Bilicki # | Toyota | 19 | -81 |
| 39 | 55 | Bayley Currey | Toyota | 14 | -86 |
| 40 | 93 | Jeff Green | Chevy | 8 | -92 |