Will Power tops practice 2 for the Portland GP (Update)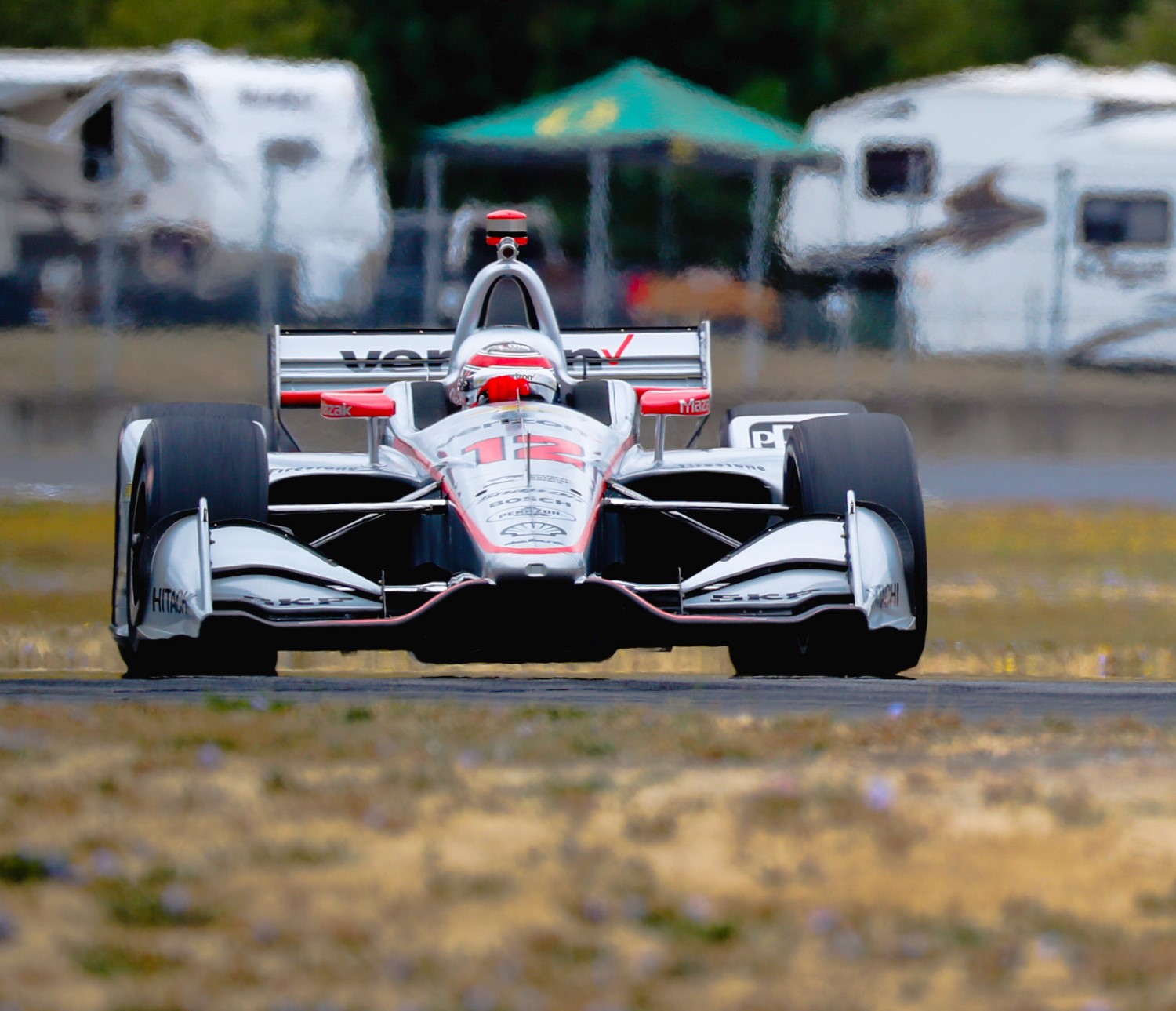 Will Power
UPDATE More Friday observations added below.
08/31/18 Penske Chevy driver Will Power turned the fastest lap of 57.5053s in practice 2 for the Portland GP IndyCar race.
Marco Andretti and rookie Santino Ferrucci were a surprising 2nd and 3rd quick.
Point leader Scott Dixon and Jack Harvey rounded out the top-5.
More to follow……
Friday Observations from Portland
Friday crowd seemed very strong given it is paid, not free. Larger than Toronto free Friday our my estimation. Not enough food vendors.
Venue seems quite decent to be honest.
Locals seem very excited to have Indycar back
Decent number of grandstands set up.
People that were here in 2007 indicate that track and facility seems identical to 2007.
Track slowed as it warmed.
Power compared turn 1 to Cleveland, "hard to imagine everyone getting through there". Could ruin the title chase for someone
There will have to be give‎ and take as cars come out of pits as it is so close to turn 1
Sebastian Bourdais thinks track is very different from 2007 with the repaving and some new curbs.
Ferrucci & Harvey, as rookies, got an extra set of red tires so not that surprising they were near the top of the charts. Lets see what qualifying brings…
Results
| | | | | | | | | |
| --- | --- | --- | --- | --- | --- | --- | --- | --- |
| Pos | No | Name | FTime | Diff | Gap | FSpeed | Engine | Team |
| 1 | 12 | Will Power | 57.405 | –.—- | –.—- | 123.166 | Chevy | Team Penske |
| 2 | 98 | Marco Andretti | 57.467 | 0.0615 | 0.0615 | 123.035 | Honda | Andretti Herta Autosport with CA |
| 3 | 39 | Santino Ferrucci | 57.482 | 0.0765 | 0.0150 | 123.002 | Honda | Dale Coyne Racing |
| 4 | 9 | Scott Dixon | 57.566 | 0.1609 | 0.0844 | 122.822 | Honda | Chip Ganassi Racing Teams |
| 5 | 60 | Jack Harvey | 57.698 | 0.2931 | 0.1322 | 122.541 | Honda | Meyer Shank Racing with SPM |
| 6 | 1 | Josef Newgarden | 57.715 | 0.3101 | 0.0170 | 122.505 | Chevy | Team Penske |
| 7 | 88 | Gabby Chaves | 57.722 | 0.3169 | 0.0068 | 122.490 | Chevy | Harding Racing |
| 8 | 26 | Zach Veach | 57.722 | 0.3172 | 0.0003 | 122.489 | Honda | Andretti Autosport |
| 9 | 20 | Jordan King | 57.791 | 0.3862 | 0.0690 | 122.343 | Chevy | Ed Carpenter Racing |
| 10 | 18 | Sebastien Bourdais | 57.825 | 0.4195 | 0.0333 | 122.273 | Honda | Dale Coyne Racing with VS |
| 11 | 21 | Spencer Pigot | 57.831 | 0.4261 | 0.0066 | 122.259 | Chevy | Ed Carpenter Racing |
| 12 | 5 | James Hinchcliffe | 57.847 | 0.4419 | 0.0158 | 122.225 | Honda | Schmidt Peterson Motorsports |
| 13 | 22 | Simon Pagenaud | 57.855 | 0.4499 | 0.0080 | 122.209 | Chevy | Team Penske |
| 14 | 23 | Charlie Kimball | 57.885 | 0.4797 | 0.0298 | 122.146 | Chevy | Carlin |
| 15 | 10 | Ed Jones | 57.901 | 0.4961 | 0.0164 | 122.111 | Honda | Chip Ganassi Racing Teams |
| 16 | 6 | Carlos Munoz | 57.914 | 0.5088 | 0.0127 | 122.084 | Honda | Schmidt Peterson Motorsports |
| 17 | 28 | Ryan Hunter-Reay | 57.925 | 0.5200 | 0.0112 | 122.061 | Honda | Andretti Autosport |
| 18 | 59 | Max Chilton | 58.014 | 0.6092 | 0.0892 | 121.873 | Chevy | Carlin |
| 19 | 19 | Pietro Fittipaldi | 58.083 | 0.6772 | 0.0680 | 121.730 | Honda | Dale Coyne Racing |
| 20 | 15 | Graham Rahal | 58.096 | 0.6910 | 0.0138 | 121.701 | Honda | Rahal Letterman Lanigan Racing |
| 21 | 30 | Takuma Sato | 58.123 | 0.7174 | 0.0264 | 121.646 | Honda | Rahal Letterman Lanigan Racing |
| 22 | 14 | Tony Kanaan | 58.194 | 0.7884 | 0.0710 | 121.498 | Chevy | AJ Foyt Enterprises |
| 23 | 27 | Alexander Rossi | 58.248 | 0.8432 | 0.0548 | 121.383 | Honda | Andretti Autosport |
| 24 | 4 | Matheus Leist | 58.249 | 0.8435 | 0.0003 | 121.383 | Chevy | AJ Foyt Enterprises |
| 25 | 32 | Alfonso Celis Jr | 58.526 | 1.1209 | 0.2774 | 120.807 | Chevy | Juncos Racing |