Vettel leads Ferrari 1-2 in 2nd Monza practice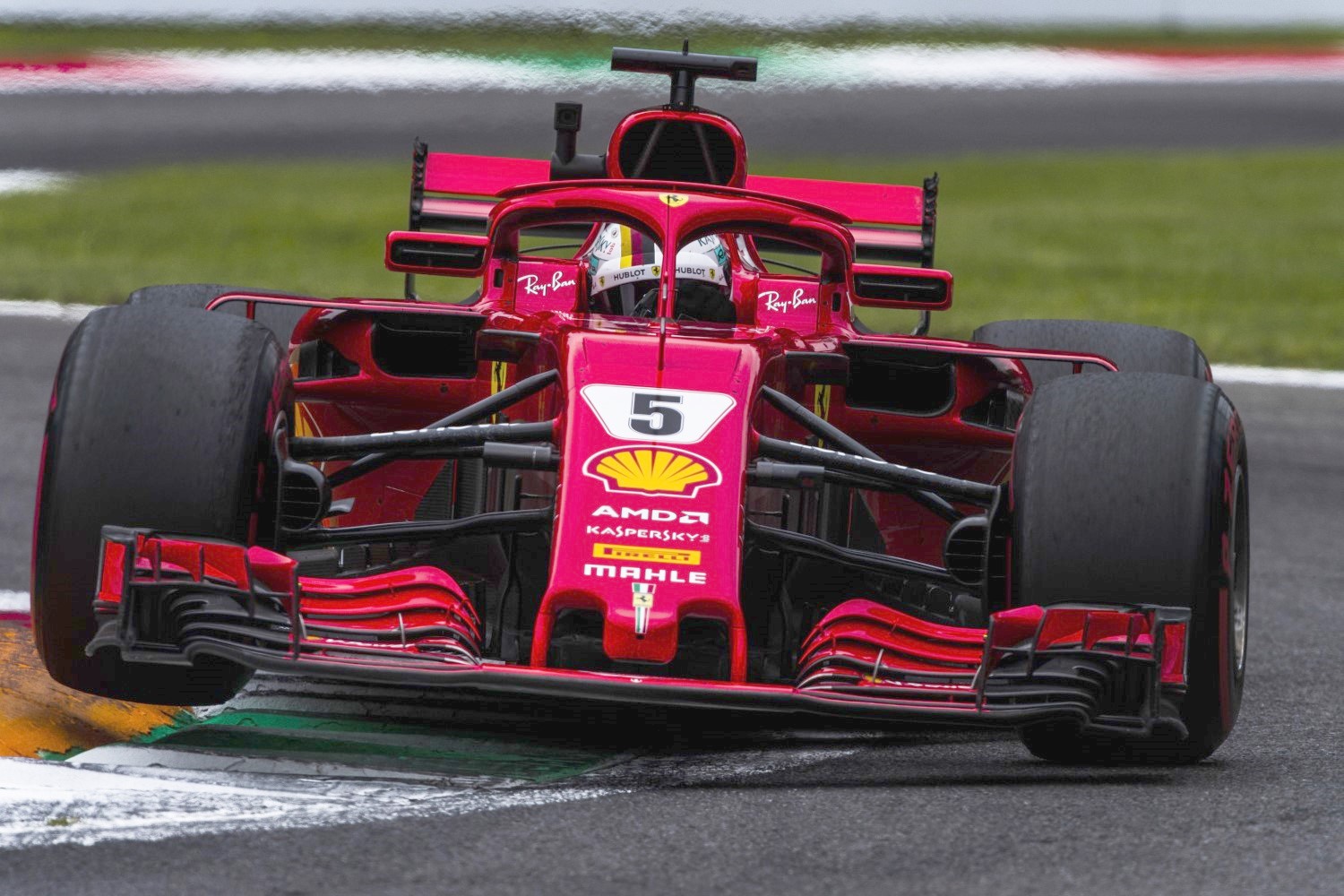 Vettel quickest before spinning
Despite a ride through the gravel trap exciting the Parabolica that was more damaging to his ego than his car, Ferrari driver Sebastian Vettel turned a lap of 1m21.105s to top the 2nd practice session for the Italian GP at Monza.
Vettel's teammate Kimi Raikkonen was 2nd quick at 1m21.375s and Lewis Hamilton was close in his Mercedes at 1m21.392s.
Vettel managed just four laps in the day's first practice amid car problems, which led to Ferrari changing his gearbox, but he enjoyed better success this time, pipping team mate Kimi Raikkonen to top spot by two-tenths of a second. His session ended on a sour note, though, when his Prancing Horse took a trip through the Parabolica gravel, nudging the barrier, before he was able to return to the pits.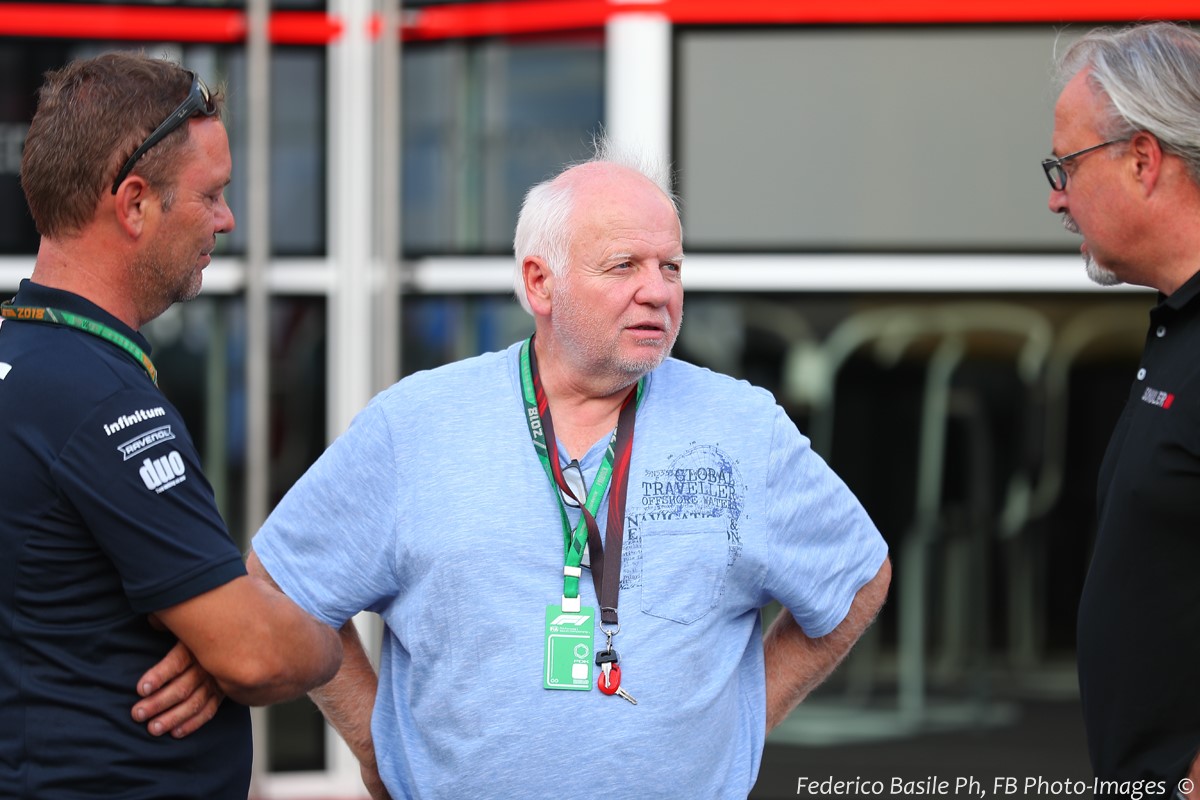 Vettel's father Norbert
The German's chief title rival Lewis Hamilton also endured a low-key FP1 – with wet conditions limiting the Brit to just six laps – but the Mercedes driver was this time only 0.287s off the pace to make up the top three, ahead of Valtteri Bottas in the sister Silver Arrow.
Behind the tussling Ferraris and Mercedes were the Red Bull pair of Max Verstappen and Daniel Ricciardo, the former edging the battle for fifth by a tenth. After a surprise top six in FP1, which saw Sergio Perez go quickest, this was a more familiar group leading the way.
Speaking of Perez, the Mexican had to settle for eighth on Friday afternoon, with his Force India team mate Esteban Ocon the quickest of the pink cars in seventh, while Charles Leclerc won the battle for P9 ahead of Renault's Nico Hulkenberg.
Quotes
Lewis Hamilton
We woke up to torrential rain this morning, which meant it was a less busy first session than normal. We did a few laps but after that it was like having a day in the office when you don't have too much work to do – I was even snoozing in the car at one point! But we did plenty of laps this afternoon in the dry and we could see that, like in Spa, we had a small gap to Ferrari on both the short and the long runs. My laps felt pretty good, but Ferrari was a little bit quicker today. We're all working flat out right now in every part of the team, and we have work to do tonight as well – but there are some areas where we can see deficits, so I hope we can make a little step for qualifying. It has been a big battle for a number of races now, and they have had a small advantage since the middle of the summer, but we are pushing as hard as we can to overcome that. Although we are on Ferrari's home turf, we have some great support out there and it's always a boost to see that in the grandstands. It will be a very close fight tomorrow and, like every race weekend, we will be giving it everything we've got.
Valtteri Bottas
The conditions out there were quite mixed today with heavy rain in the morning and a dry afternoon. We did only one run in the morning on the Intermediate tyres; Monza is a tricky place in the wet as it is difficult to find the right braking points. We seemed competitive in the wet compared to the cars who were out in similar conditions. Luckily the afternoon was dry and we could get some proper running in; the long runs were especially important as the race is expected to be dry. As expected, Ferrari seemed very quick in the dry. It's not going to be easy, but we still have a few things we can improve for qualifying. Compared to Spa, the car felt better in the slow corners which is a good step in the right direction. The weather forecast for tomorrow is not entirely conclusive, so we need to be prepared for everything and get a lot of running done in FP3 no matter if it's wet or dry.
Andrew Shovlin
There's not a lot to say about the first session, the car worked nicely in the wet conditions but once the drivers had a feel for the balance we stopped and saved engine mileage for the dry. The afternoon was a busy programme, made a bit busier by the early red flag. We were relieved to see that Marcus was ok but once the session got going again there wasn't time to do all the running we had intended. The cars ran faultlessly and we have been able to collect good data from the session on low and high fuel. We've not had the normal amount of time to tune the car, so tonight we'll be looking at what we can do to find a bit more speed. The track is going to be different for qualifying and the race, we may even see another wet qualifying so we'll prepare for all eventualities and hopefully we can give Ferrari a tough time.
MAX VERSTAPPEN
"It was alright today, the same conditions for everyone. Luckily we had a dry second practice where we could try a few things. In Qualifying with dry conditions, I think we are too slow, but on the long runs it looks more positive. If it's going to be enough to really fight, I don't think so. From the car perspective the behaviour was good so of course I'm happy with that. But this is definitely the worst track for us, I don't expect any miracles and we will try to make the best of it. I don't think it's necessary to go with a different tyre strategy tomorrow as both compounds behaved really well. I don't expect any problems there and we will just have to try to have the best Qualifying possible. I don't know yet whether we will use the C-Spec engine tomorrow, we will decide that overnight when we have looked at the data. We just have to keep pushing and try to improve our car and then we will see where we are."
DANIEL RICCIARDO
"We looked more competitive on the long runs this afternoon but on the short runs Ferrari were really fast and we also still have a big gap to Mercedes. We definitely closed the gap on the long runs which is promising for the race, but there is still a bit to find. I used the new C-Spec engine for the first time which seemed to run ok. We won't really know how well it performed until we look at the data but this afternoon we did some decent running with it and hopefully it shows some good numbers. Tomorrow I probably won't do much running and it's possible I will skip Qualifying as I'm going to be starting at the back anyway. I think on Sunday we will have a good enough car to come through the field and then work on the best position in the top five. To be honest, it's just good to see that Marcus is ok because that was a big one and a worry for us all. He had a far tougher day than me."
More to follow…….
Practice 2 Results
| | | | | | | |
| --- | --- | --- | --- | --- | --- | --- |
| POS | NO | DRIVER | CAR | TIME | GAP | LAPS |
| 1 | 5 | Sebastian Vettel | Ferrari | 1:21.105 | +0.000s | 27 |
| 2 | 7 | Kimi Raikkonen | Ferrari | 1:21.375 | +0.270s | 31 |
| 3 | 44 | Lewis Hamilton | Mercedes | 1:21.392 | +0.287s | 31 |
| 4 | 77 | Valtteri Bottas | Mercedes | 1:21.803 | +0.698s | 35 |
| 5 | 33 | Max Verstappen | Red Bull Racing Tag Heuer | 1:22.154 | +1.049s | 28 |
| 6 | 3 | Daniel Ricciardo | Red Bull Racing Tag Heuer | 1:22.296 | +1.191s | 28 |
| 7 | 31 | Esteban Ocon | Force India Mercedes | 1:22.930 | +1.825s | 30 |
| 8 | 11 | Sergio Perez | Force India Mercedes | 1:22.942 | +1.837s | 32 |
| 9 | 16 | Charles Leclerc | Sauber Ferrari | 1:22.965 | +1.860s | 20 |
| 10 | 27 | Nico Hulkenberg | Renault | 1:23.063 | +1.958s | 30 |
| 11 | 8 | Romain Grosjean | Haas Ferrari | 1:23.077 | +1.972s | 31 |
| 12 | 55 | Carlos Sainz | Renault | 1:23.193 | +2.088s | 32 |
| 13 | 20 | Kevin Magnussen | Haas Ferrari | 1:23.233 | +2.128s | 28 |
| 14 | 10 | Pierre Gasly | Scuderia Toro Rosso Honda | 1:23.402 | +2.297s | 34 |
| 15 | 35 | Sergey Sirotkin | Williams Mercedes | 1:23.514 | +2.409s | 28 |
| 16 | 28 | Brendon Hartley | Scuderia Toro Rosso Honda | 1:23.531 | +2.426s | 16 |
| 17 | 18 | Lance Stroll | Williams Mercedes | 1:23.566 | +2.461s | 29 |
| 18 | 14 | Fernando Alonso | McLaren Renault | 1:23.741 | +2.636s | 23 |
| 19 | 2 | Stoffel Vandoorne | McLaren Renault | 1:24.084 | +2.979s | 30 |
| 20 | 9 | Marcus Ericsson | Sauber Ferrari | | | 2 |