Portland GP Test Day: Power tops Andretti and Rossi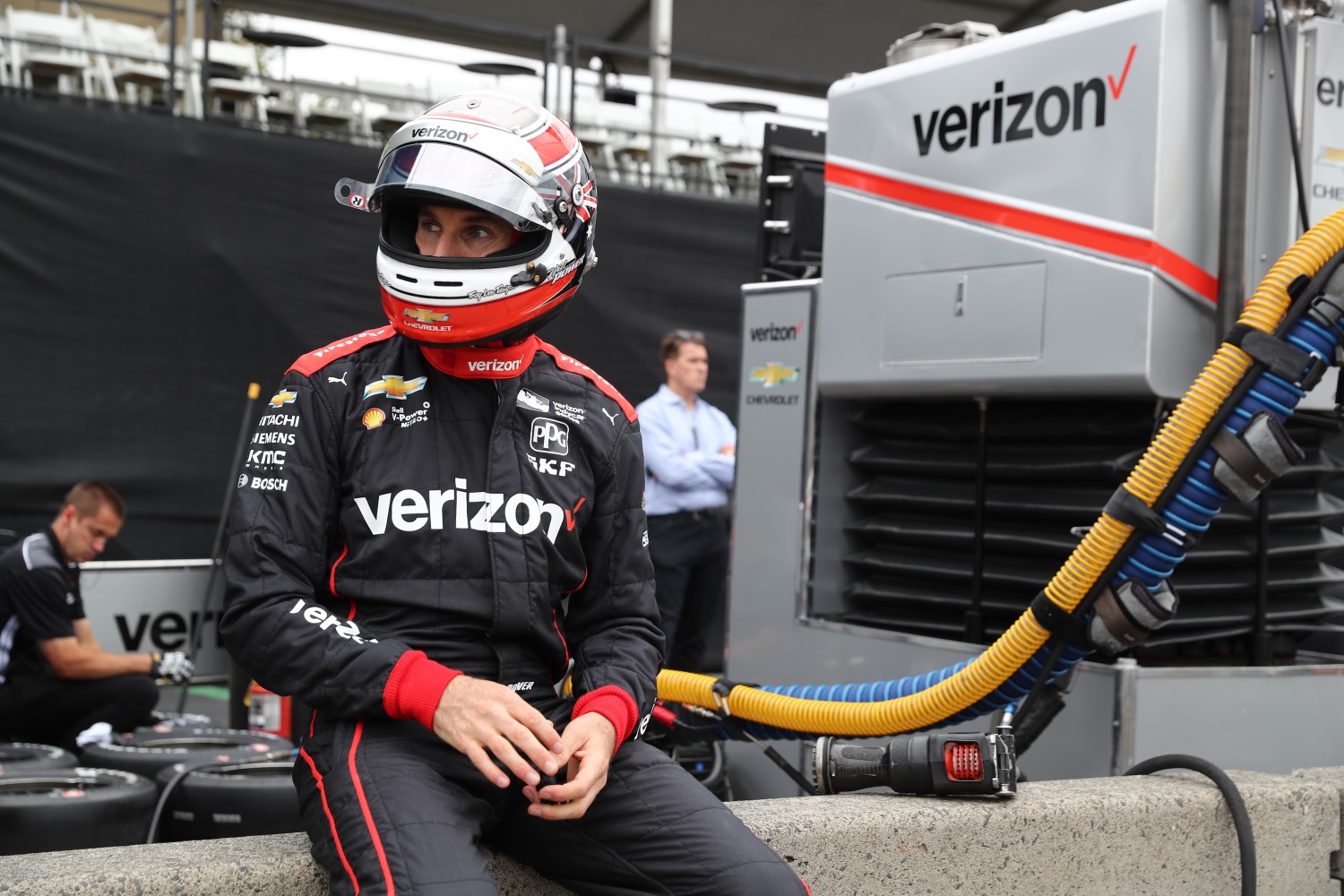 Will Power looks down pit lane prior to the start of the Portland Open Test
The IndyCars are back at Portland International Raceway and ahead of opening practice Friday, Thursday was designated as a 'Test Day' because teams had no setups for the current car for this track.
Will Power was fastest in the first practice session that ended at 12:45pm Pacific Time, just beating Andretti Autosport teammates Marco Andretti and Alexander Rossi.
Jordan King and Josef Newgarden rounded out the top-5 which saw Chevys and Honda fairly equally matched.
The next session begins at 3:25pm Pacific Time. Champ Car Speeds from 2007 were in the 121-122mph range
Test Session 1 Results
| | | | | | | | | | |
| --- | --- | --- | --- | --- | --- | --- | --- | --- | --- |
| Pos | No | Name | FTime | Diff | Gap | Laps | FSpeed | Engine | Team |
| 1 | 12 | Will Power | 58.954 | –.—- | –.—- | 44 | 118.771 | Chevy | Team Penske |
| 2 | 98 | Marco Andretti | 59.020 | 0.0664 | 0.0664 | 35 | 118.637 | Honda | Andretti Herta Autosport with CA |
| 3 | 27 | Alexander Rossi | 59.064 | 0.1102 | 0.0438 | 37 | 118.549 | Honda | Andretti Autosport |
| 4 | 20 | Jordan King | 59.133 | 0.1787 | 0.0685 | 34 | 118.412 | Chevy | Ed Carpenter Racing |
| 5 | 1 | Josef Newgarden | 59.154 | 0.1997 | 0.0210 | 26 | 118.370 | Chevy | Team Penske |
| 6 | 26 | Zach Veach | 59.202 | 0.2482 | 0.0485 | 30 | 118.273 | Honda | Andretti Autosport |
| 7 | 9 | Scott Dixon | 59.236 | 0.2816 | 0.0334 | 38 | 118.206 | Honda | Chip Ganassi Racing Teams |
| 8 | 28 | Ryan Hunter-Reay | 59.269 | 0.3148 | 0.0256 | 23 | 118.140 | Honda | Andretti Autosport |
| 9 | 30 | Takuma Sato | 59.280 | 0.3262 | 0.0114 | 35 | 118.117 | Honda | Rahal Letterman Lanigan Racing |
| 10 | 21 | Spencer Pigot | 59.376 | 0.4221 | 0.0959 | 31 | 117.926 | Chevy | Ed Carpenter Racing |
| 11 | 18 | Sebastien Bourdais | 59.386 | 0.4324 | 0.0103 | 29 | 117.906 | Honda | Dale Coyne Racing with VS |
| 12 | 5 | James Hinchcliffe | 59.399 | 0.4448 | 0.0124 | 37 | 117.881 | Honda | Schmidt Peterson Motorsports |
| 13 | 4 | Matheus Leist | 59.447 | 0.4933 | 0.0485 | 53 | 117.785 | Chevy | AJ Foyt Enterprises |
| 14 | 14 | Tony Kanaan | 59.479 | 0.5246 | 0.0313 | 33 | 117.723 | Chevy | AJ Foyt Enterprises |
| 15 | 10 | Ed Jones | 59.526 | 0.5721 | 0.0475 | 40 | 117.629 | Honda | Chip Ganassi Racing Teams |
| 16 | 22 | Simon Pagenaud | 59.575 | 0.6213 | 0.0492 | 48 | 117.532 | Chevy | Team Penske |
| 17 | 88 | Gabby Chaves | 59.576 | 0.6218 | 0.0005 | 46 | 117.531 | Chevy | Harding Racing |
| 18 | 15 | Graham Rahal | 59.598 | 0.6439 | 0.0221 | 29 | 117.487 | Honda | Rahal Letterman Lanigan Racing |
| 19 | 6 | Carlos Munoz | 59.637 | 0.6826 | 0.0387 | 33 | 117.411 | Honda | Schmidt Peterson Motorsports |
| 20 | 19 | Pietro Fittipaldi | 59.651 | 0.6973 | 0.0147 | 43 | 117.382 | Honda | Dale Coyne Racing |
| 21 | 59 | Max Chilton | 59.736 | 0.7819 | 0.0037 | 37 | 117.216 | Chevy | Carlin |
| 22 | 23 | Charlie Kimball | 59.896 | 0.9418 | 0.1599 | 29 | 116.903 | Chevy | Carlin |
| 23 | 60 | Jack Harvey | 1:00.132 | 1.1775 | 0.2357 | 33 | 116.445 | Honda | Meyer Shank Racing with SPM |
| 24 | 32 | Alfonso Celis Jr | 1:00.182 | 1.2284 | 0.0509 | 42 | 116.346 | Chevy | Juncos Racing |
| 25 | 39 | Santino Ferrucci | 1:00.233 | 1.2139 | 0.0364 | 33 | 116.249 | Honda | Dale Coyne Racing |