Latest F1 news in brief – Thursday
Force India goes for the money grab

Force India fights for $33 million

Mercedes 'not used to losing' – Arrivabene
Hamilton to skip Thursday at Monza
Perez not judging future teammate Stroll
Perez has 2019 F1 deal signed, announcement soon
Raikkonen announcement still unclear
Verstappen 'still no fan' of Halo
Ocon confirms failed McLaren seat fitting
Renault F1 team explains why it didn't sign Ocon for 2019
Force India fights for $33 million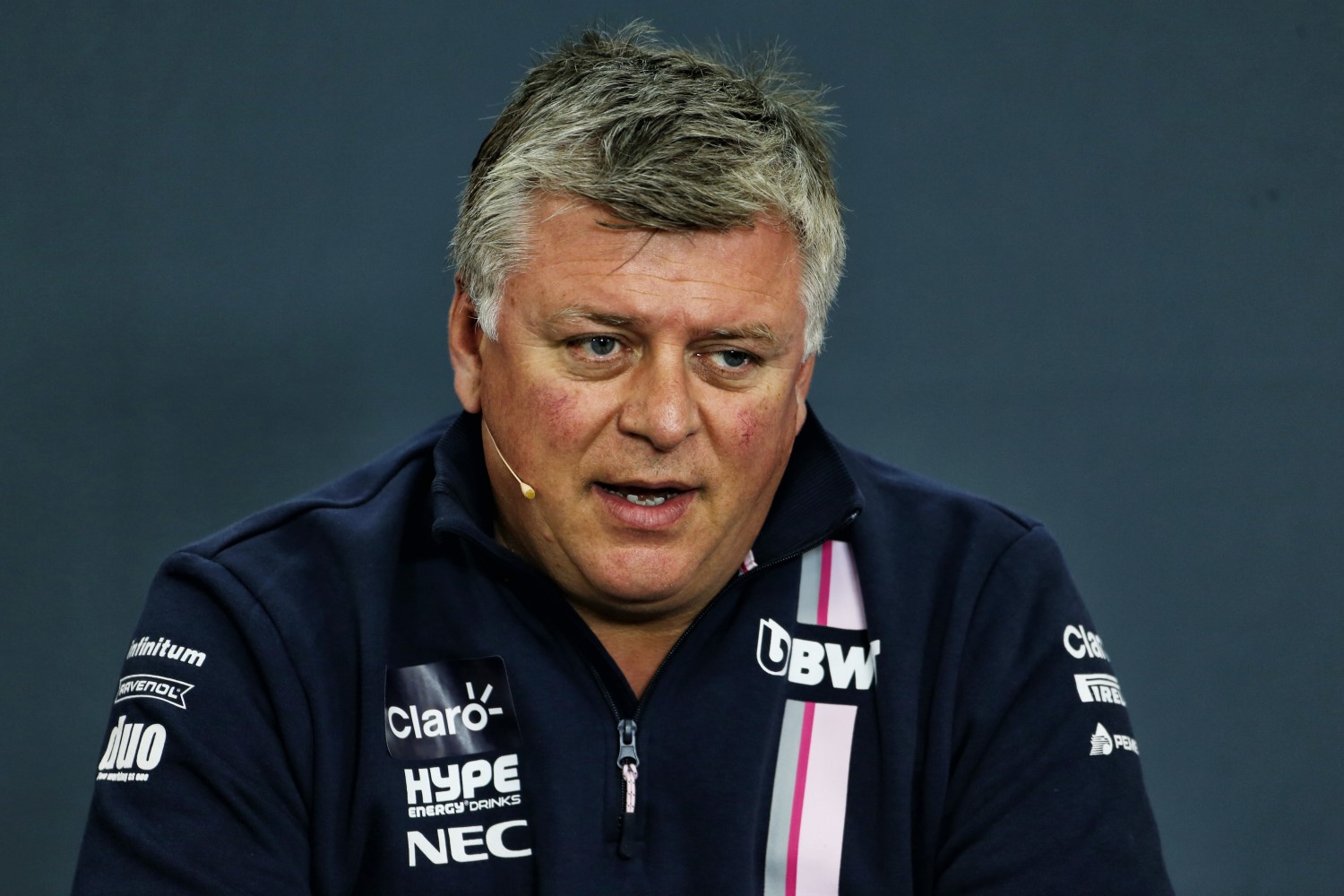 Otmar Szafnauer
(GMM) Force India is fighting for its right to keep $33 million in official prize money.
Taken over by Lawrence Stroll, the team actually had to become a new entrant as of the Belgian grand prix, which meant the forfeiting of its championship points.
But although Haas is not happy, the teams and Liberty Media said 'Racing Point Force India' can keep its prize money.
"We have to decide what we prefer. Stick with principles or keep a team that is now solidly funded," Mercedes team boss Toto Wolff told Auto Motor und Sport.
Wolff, though, has an interest in keeping Force India alive, as the Silverstone based team is tipped to potentially become a Mercedes 'B team'.
That means Renault has reservations.
"Renault will not stand in the way of the rescue of a team. And Formula One Management has assured us that they will take on the problem of B teams," said Cyril Abiteboul.
A McLaren spokesman agrees.
"All we care about is that there will be no more B teams in the future that are technically, politically and sportingly dependent on their works partner. We have nothing against Force India," he said.
Even Williams is on board, but potentially only because Stroll has agreed to compensate the team as Lance Stroll departs.
Haas, though, remains unhappy.
"We'll have to see how it ends," said Gunther Steiner. "Things developed very quickly and I don't think every aspect was given enough time."
Force India sees it another way.
"Haas was not disadvantaged by us," said team boss Otmar Szafnauer. "They benefitted from a rule that allowed them to buy a large part of the car from Ferrari.
"They only had to hire 220 people. When Force India entered formula one, we were forced to design and build our own car. That's why we have 400 employees today.
"Haas may not have received the column 1 money, but they have benefitted financially from a softening of the formula one principles," he added.
Mercedes 'not used to losing' – Arrivabene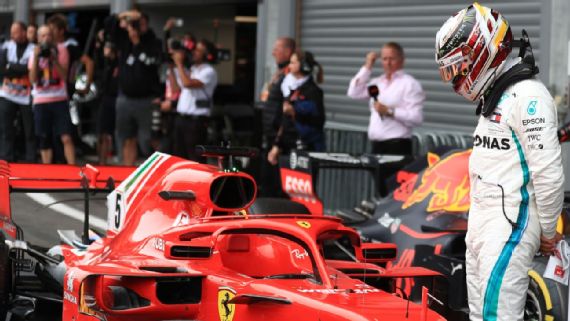 Hamilton looks over the Ferrari in Spa, trying to steal whatever secrets he can
Getty Images
(GMM) Maurizio Arrivabene says Mercedes is adjusting to the idea of being beaten in formula one.
Mercedes has utterly dominated in the 'power unit' era, but most insiders now agree that Ferrari has hit the front in 2018.
It left Lewis Hamilton wondering after Spa if the Maranello team has a "trick" engine.
When asked about Mercedes' defeat in Belgium, Ferrari team boss Arrivabene said: "They are not used to it.
"We were silent, we took punches left and right and we got up. We are used to it, they are not," he said at a pre-Italian grand prix event in Milan.
Coverage of Hamilton's "trick" comments has been mixed. Some say the insinuations of cheating have some merit, while others simply applaud the work done at Maranello.
"I read many articles that talk about our guys who work so well on the car," Arrivabene said.
"But then in the team I had to remind everyone that we are not ahead, we are chasing, so we keep our heads down," he added.
The Italian said Ferrari can cope with the enormous pressure of delivering for its 'Tifosi' this weekend at Monza.
"For us it would be a dream and a gift to give all of Italy, but the responsibility has always been there.
"This year there is more pressure because we won the previous race, but this is racing and we are used to it," Arrivabene said.
"We are still a young team and I do not guarantee anything for the end of the season, but everyone wants it — and you know what I mean."
Hamilton to skip Thursday at Monza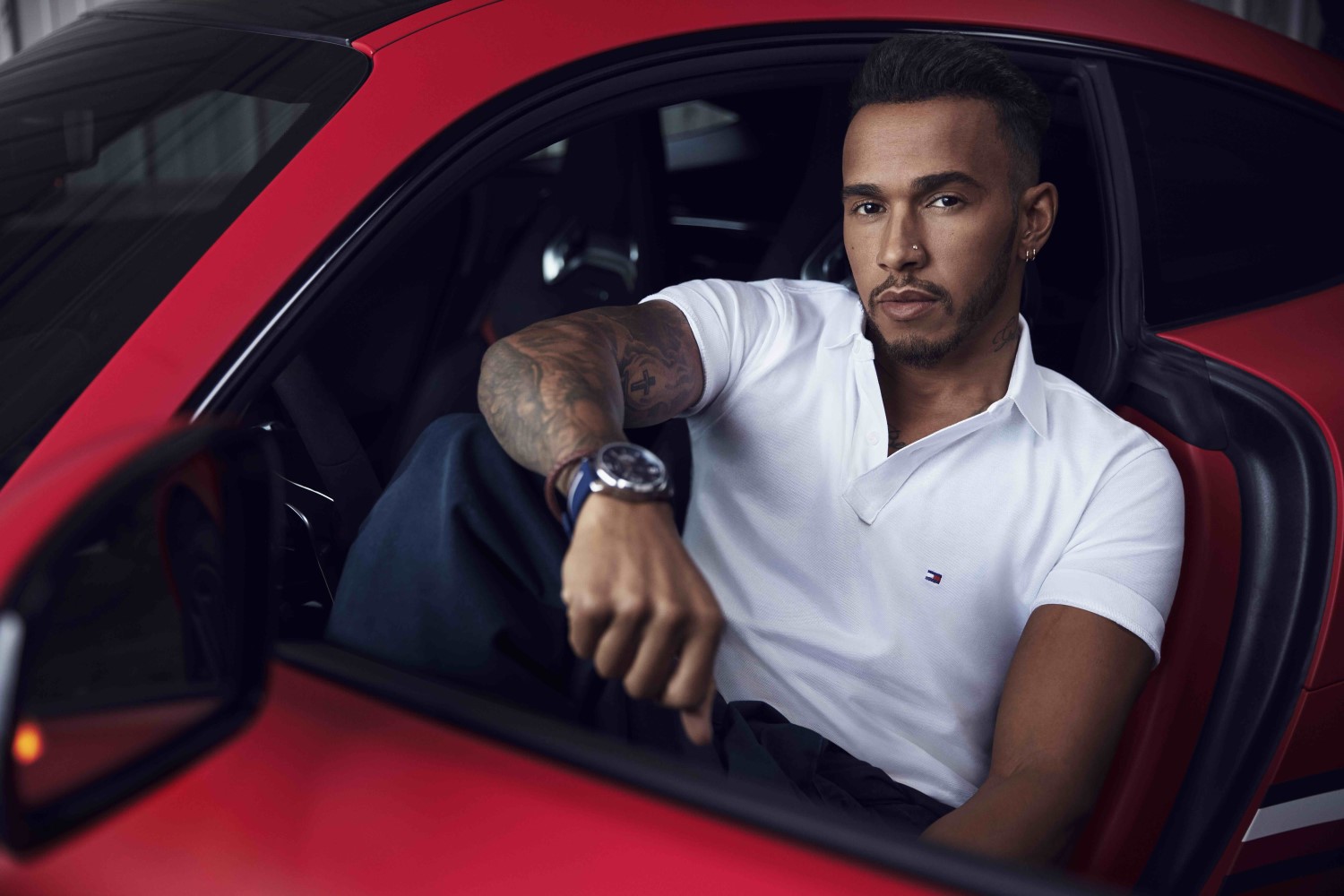 Hamilton has clothes modeling to do according to AR1.com
(GMM) Lewis Hamilton will skip Thursday's media activities at Monza, Sky Italia reports.
The local broadcaster said the world championship leader will only be at the circuit ahead of Friday practice for the Italian grand prix.
"In Hungary Ferrari was exempted from Thursday activities, but that was due to the death of president Sergio Marchionne," Sky said.
"To date there is no official justification, and Lewis' reasons may be personal," the report added.
Perez not judging future teammate Stroll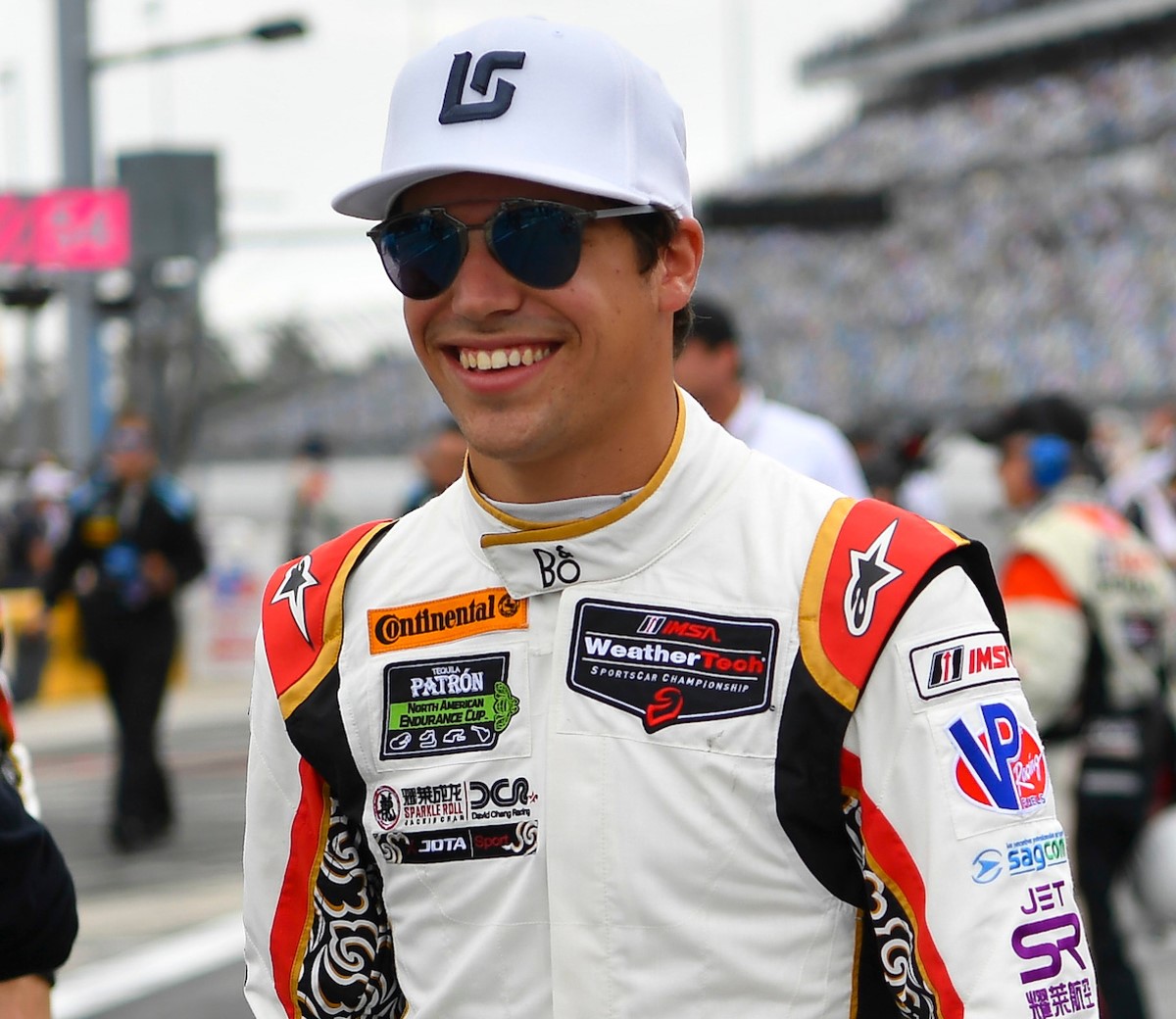 Will Stroll get preferential treatment from daddy's team?
(GMM) Sergio Perez isn't sure what to make of Lance Stroll.
It is strongly rumored that, after Sunday's Italian grand prix, Stroll will make the switch to Force India.
The Silverstone based team has just been bought by Stroll's billionaire father Lawrence.
Perez, to be his teammate, isn't sure what to expect.
"It's difficult to know a driver when you're not racing alongside him," the Mexican is quoted by Italy's Autosprint.
"In formula one there is so much difference between the teams that it's hard to judge a driver. Williams is in a position of great difficulty so it's very difficult to judge.
"I think Stroll has grown up and now has good experience after two seasons, so we will see what he is able to do," Perez added.
Perez also commented on Daniel Ricciardo's 2019 move from Red Bull to Renault.
"It's an interesting move," he said.
"It will show how strong the battle is in the middle group. It will also be interesting to see him against Hulkenberg — I think he will have some difficult times with Nico."
Perez has 2019 F1 deal signed, announcement soon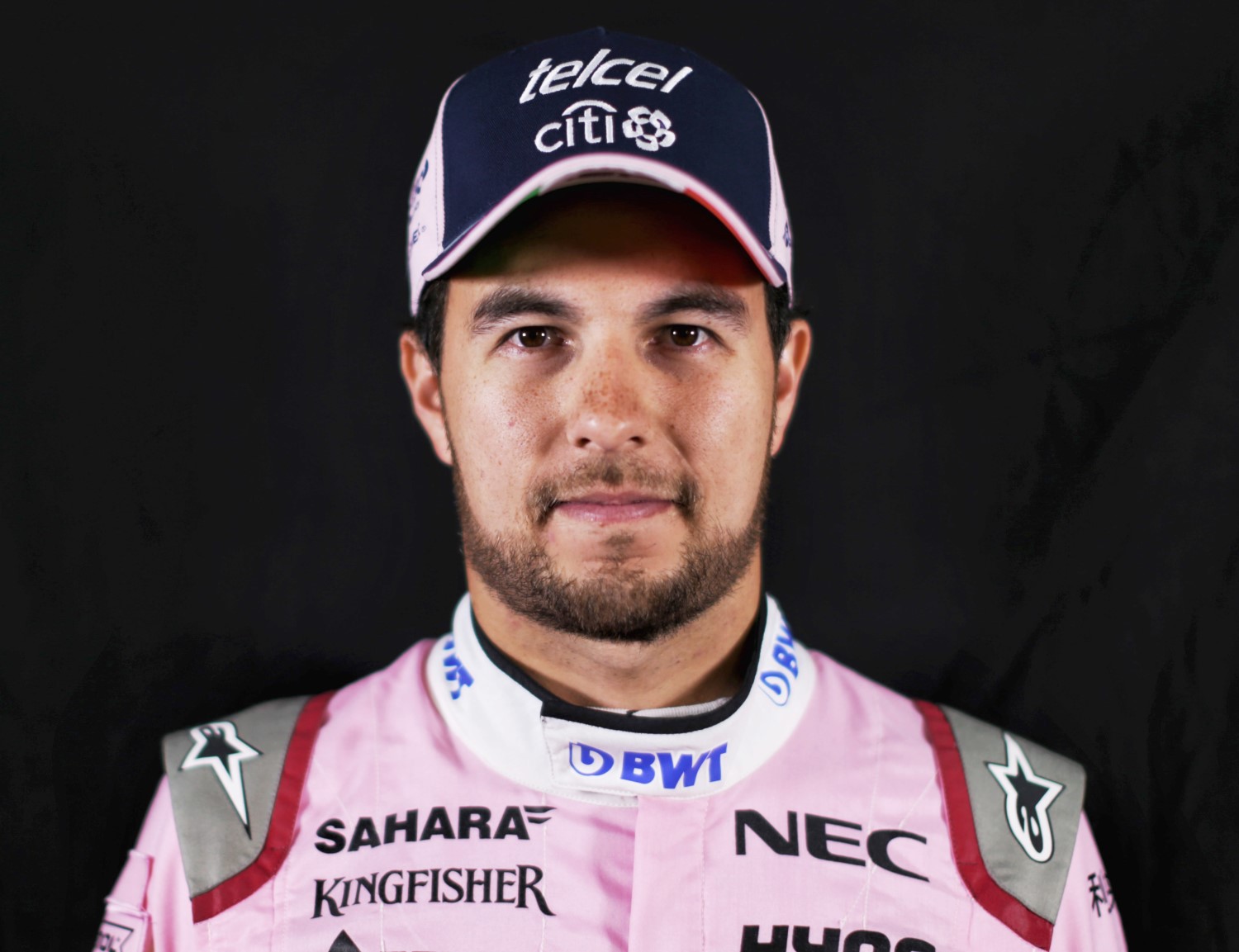 Sergio Perez – has check will drive at Racing Point Force India
Sergio Perez says he has signed a deal for the 2019 Formula 1 season and expects an official announcement to come shortly.
The Mexican is expected to remain at the rebranded Racing Point Force India squad for a sixth campaign, possibly alongside Lance Stroll, after his father Lawrence Stroll led a consortium to save the team from administration.
Perez played a prominent role in instigating the administration process as he took legal action against the Silverstone-based outfit after revealing he was asked by team members to help save Force India following long-running financial difficulties.
When asked if he felt an announcement was likely to come ahead of this weekend's Italian Grand Prix at Monza, Perez replied: "Who knows, probably. I don't think it'll be long from now. We are not in a hurry."
Perez headed teammate Esteban Ocon in fifth as the pair sealed a superb double points finish for Force India at Spa, after both drivers starred in a wet qualifying session to secure a second-row lock-out.
The result lifted the rebranded Force India squad up to ninth in the constructors' championship after it forfeited its previous points tally and Perez hopes the newly-bought team will start to see the benefits of its fresh funds relate to on-track performance in the near-future.
He said an update that was previously expected should now arrive in time for the upcoming Singapore Grand Prix next month.
"Singapore is actually the one that was expected already," he explained. "It was in the program. We're getting a good one for Singapore.
"I think we should be looking really for the new owners, the start of the next year should be the target to really kick out new things and try to be on a much higher level."
Raikkonen announcement still unclear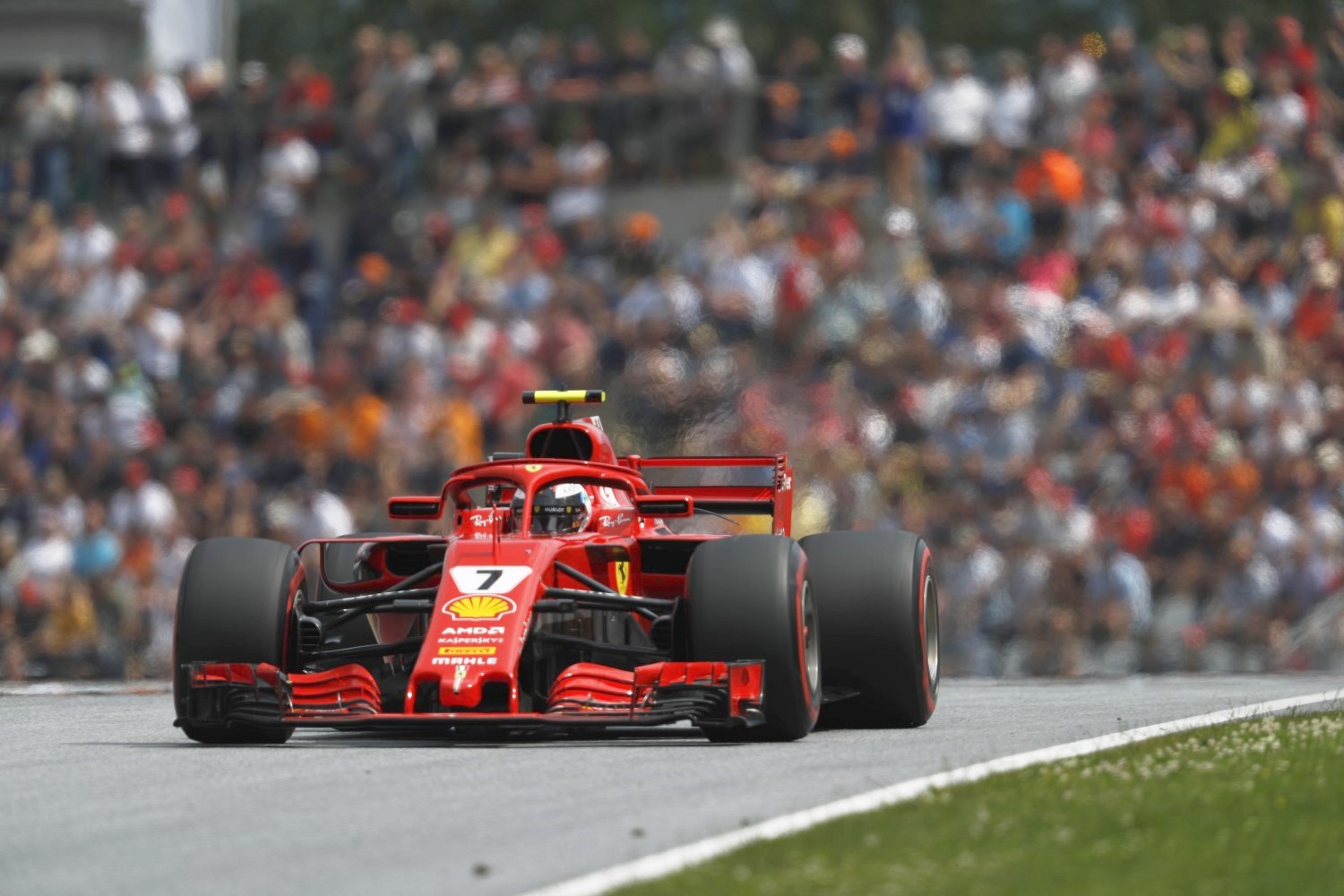 Raikkonen being strung along
(GMM) It is still not clear if Ferrari is planning a driver announcement for Monza.
While some expect the Italian team to confirm Kimi Raikkonen for 2019, Finland's Turun Sanomat says "reliable sources" report that is not the case.
Ferrari spokesman Alberto Antonini would not comment.
Earlier, La Gazzetta dello Sport predicted that Raikkonen would be replaced for next year by young charger Charles Leclerc.
Correspondent Luigi Perna now says: "The Leclerc move seems to have been put on ice. The situation changed when Sergio Marchionne died."
Sebastian Vettel said at a pre-Italian grand prix event in Milan: "I hope for another victory now in Monza and also that it is a good race for Kimi, who was unlucky at Spa."
Verstappen 'still no fan' of Halo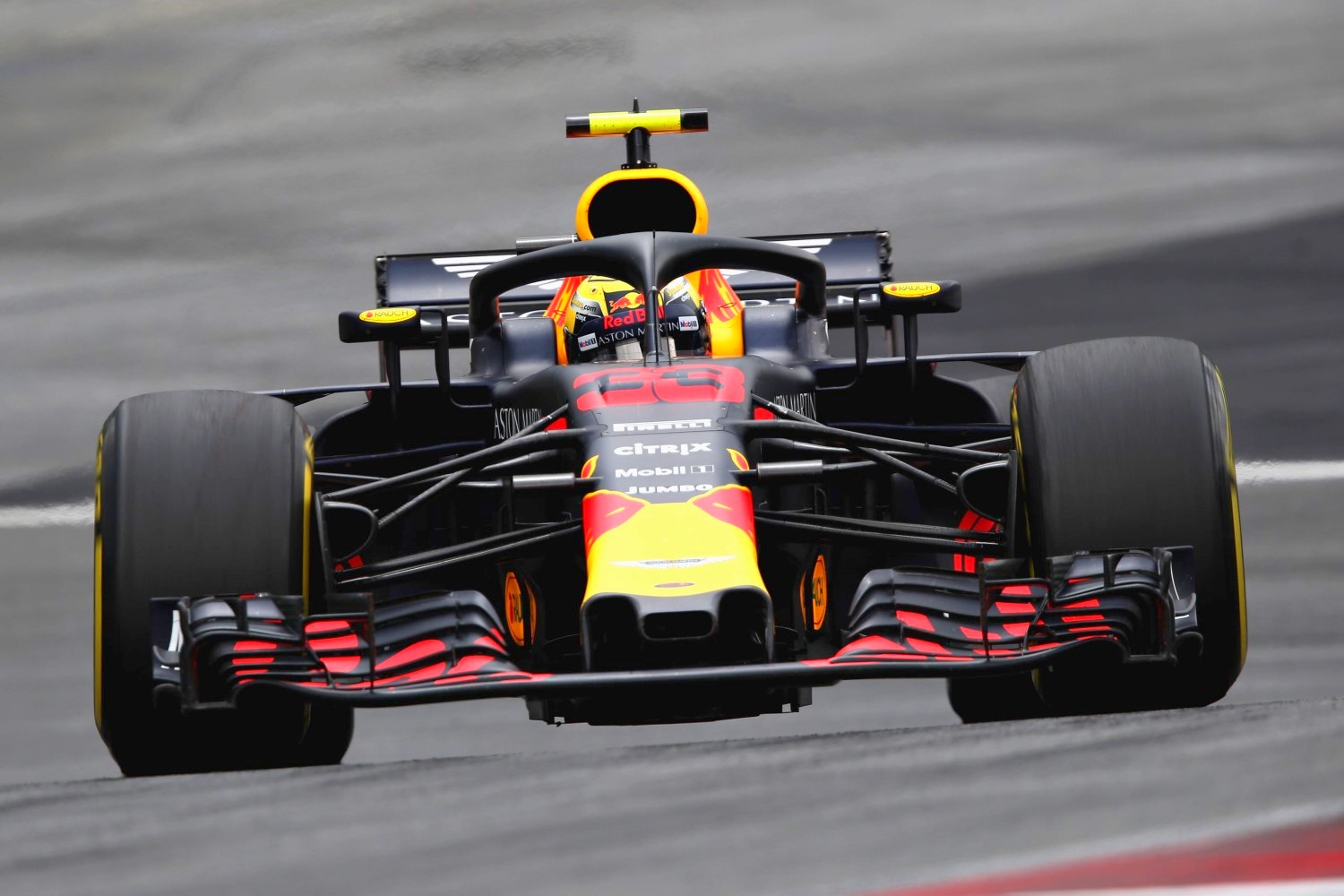 Verstappen says Halo looks like a flip-flop on a car
(GMM) Even a scary crash at Spa has not convinced Max Verstappen about the merits of 'Halo'.
At the first corner of the Belgian grand prix, Fernando Alonso's McLaren leapfrogged over the Sauber of Charles Leclerc.
Tire marks on the Halo convinced many that the controversial safety innovation had saved Leclerc's life.
But Verstappen told Ziggo Sport: "I'm still not a fan of it."
As for whether Halo saved Leclerc on Sunday, the Red Bull driver answered: "You never know. It's always difficult.
"If you see how low we are in these cars, I wonder how much it would have hit him or not. I don't think so.
"But of course it's better that no one was injured."
Verstappen, 20, said his biggest problem with Halo is the aesthetics.
"It's a super ugly thing. Like a flip flop on your car," he insisted.
Ocon confirms failed McLaren seat fitting
Ocon too tall for McLaren
(GMM) Esteban Ocon has admitted he had a seat fitting at McLaren's Woking factory.
Last week, it was rumored the Frenchman could be ousted by Lance Stroll at Force India, but accommodated with immediate effect at McLaren.
However, it is believed the 2018 McLaren could not accommodate his 6'-1" height.
"It's true that I went and it's true that that happened," Ocon is quoted by Spain's Marca.
It is an alarming turn of events for the talented Frenchman, who earlier looked set to join Renault for 2019.
"In Budapest we thought his future was clear," said Mercedes' Toto Wolff. "But it all changed within 48 hours.
"There is no point in complaining. Renault getting Ricciardo was a no-brainer. They had to go for it.
"It's unfortunate for Esteban, but we are continuing to help him to find a seat. There is a lot of interest and I'm very optimistic about the future," Wolff added.
Renault F1 team explains why it didn't sign Ocon for 2019
Abiteboul says Ocon's Mercedes ties were a factor
Renault Sport Formula 1 boss Cyril Abiteboul says Esteban Ocon's ties to Mercedes worked against him when the team made its final call on drivers for 2019.
Ocon had been expected to be named as Nico Hulkenberg's team-mate, but that plan was abandoned at the last minute when Red Bull driver Daniel Ricciardo made himself available in the week after the Hungarian Grand Prix.
Current Force India driver Ocon would have been loaned to Renault by Mercedes, in much the same way as Red Bull has loaned out Carlos Sainz Jr to the Enstone squad since last September.
Abiteboul said the team had reservations over being beholden to a leading rival once more, especially another manufacturer.
"It was a difficult decision," Abiteboul told Autosport. "I think Esteban was a great fit.
"We've been extremely honest in our decision with people around Esteban – as always with these things the discussions are never with the driver – but in the present case it was a bit awkward because it was a competitor, Mercedes.
"We were just coming out of that with Carlos, with a positive and a negative associated.
"I have to accept the fact that without discussing with Red Bull we would not have had Carlos this year, and I think it was great to have Carlos, so I think on balance we still did something good last year.
"But having to do that again – one more year or two more years, 2019 and '20 – in years we are supposed to, if we are to comply with our road map, start competing with top teams… Being dependent on that top team, a competitor, for a very important resource, felt a little bit awkward.
"It was not totally a deal breaker, otherwise we would not have considered Esteban in the first instance.
"But it was really something that was at the back of our minds." Autosport