Mick Schumacher scores third win in five races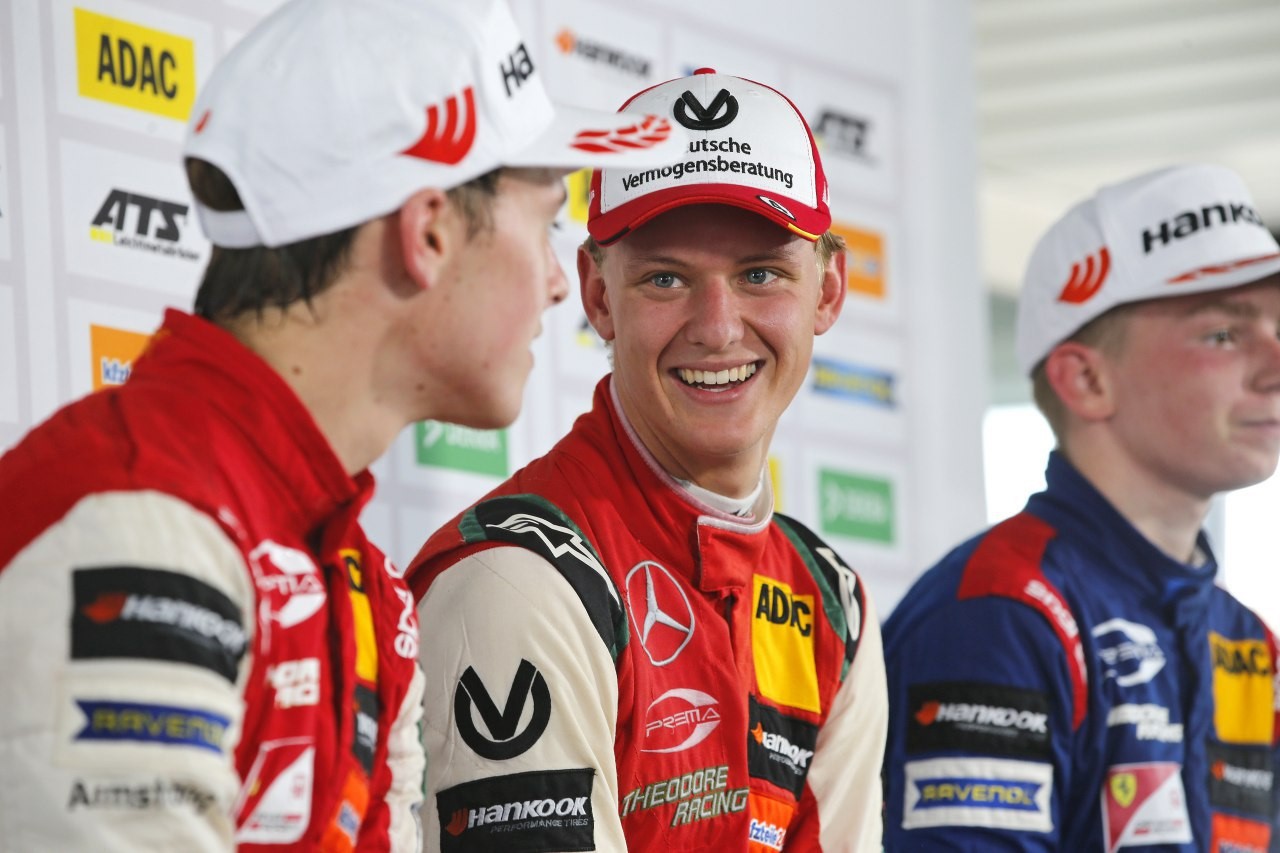 A happy Schumacher
PREMA Theodore Racing experienced an outstanding Saturday at Misano. After locking out the two front rows of the grid in qualifying 1, the team put up a stellar run in race 1, dominating from start to finish to end up 1-2-3-4. Pole-sitter Mick Schumacher performed without a hitch from the word go, leading from start to finish.
It was a stunning win for him, the third in the last five races, which hands him fourth place in standings and a legitimate shot at the title fight. Ending up not too far away in second, rookie Marcus Armstrong trimmed his gap to the lead of the championship chart, while Robert Shwartzman posted his third podium finish of the season.
The Russian engaged in a spectacular but fair battle with team-mate and fellow Ferrari Driver Academy driver Guanyu Zhou. The Chinese racer tried to find the right spot to make his move but in the end there was no room to make it happen for him. Completing a good team picture, Ralf Aron improved from P9 at the start to P7.

Guanyu Zhou, Car #1
Combined Practice: P4 Fastest lap: 1:29.032
Qualifying 1: P3 Fastest lap: 1:27.992
Starting Position Race 1: P3 Race 1: P4
"We started on the outside lane and there were cars queuing for the first braking point. Eventually, Robert managed to go by me. During the race, my pace was much quicker and I was a bit held up, but on this track you don't get real opportunities to battle so I ended up P4."
Mick Schumacher, Car #4
Combined Practice: P11 Fastest lap: 1:29.296
Qualifying 1: P1 Fastest lap: 1:27.934
Starting Position Race 1: P1 Race 1: P1
"The potential has always been there, but initially, we weren't able to make full use of it. Since Spa-Francorchamps, however, things have been going pretty well and I am happy that I am now also able to show what I can achieve in the races. Today, I was able to pull a gap at the start and on the first lap and then I tried to manage it."
Ralf Aron, Car #7
Combined Practice: P1 Fastest lap: 1:28.719
Qualifying 1: P9 Fastest lap: 1:28.224
Starting Position Race 1: P9 Race 1: P7
"I had a good start and I was fighting. I gained two positions straight away, and having a good pace I was gettin closer and closer to the front end of the pack. Unfortunately, this is not the easiest place to overtake, but the car was good and in the end we salvaged a points finish."
Marcus Armstrong, Car #8
Combined Practice: P2 Fastest lap: 1:28.740
Qualifying 1: P2 Fastest lap: 1:27.963
Starting Position Race 1: P2 Race 1: P2
"I didn't have a fantastic start and that for sure helped Mick to pull away as I had to go defensive with my team-mates behind me. Then I got some breathing room: it was my plan to come strong from the middle part of the race, but Mick did an amazing job."
Robert Shwartzman, Car #10
Combined Practice: P13 Fastest lap: 1:29.442
Qualifying 1: P4 Fastest lap: 1:28.015
Starting Position Race 1: P4 Race 1: P3
"It has been hard especially at the beginning when I was struggling a little bit with grip. Zhou was really close and we had quite a battle, always fair. He put up a great fight without trying anything that would have ended up in a crash. In the final stages I managed some good laps to get space and then I focused on not making mistakes."