Vettel leads Ferrari 1-2 in final Spa practice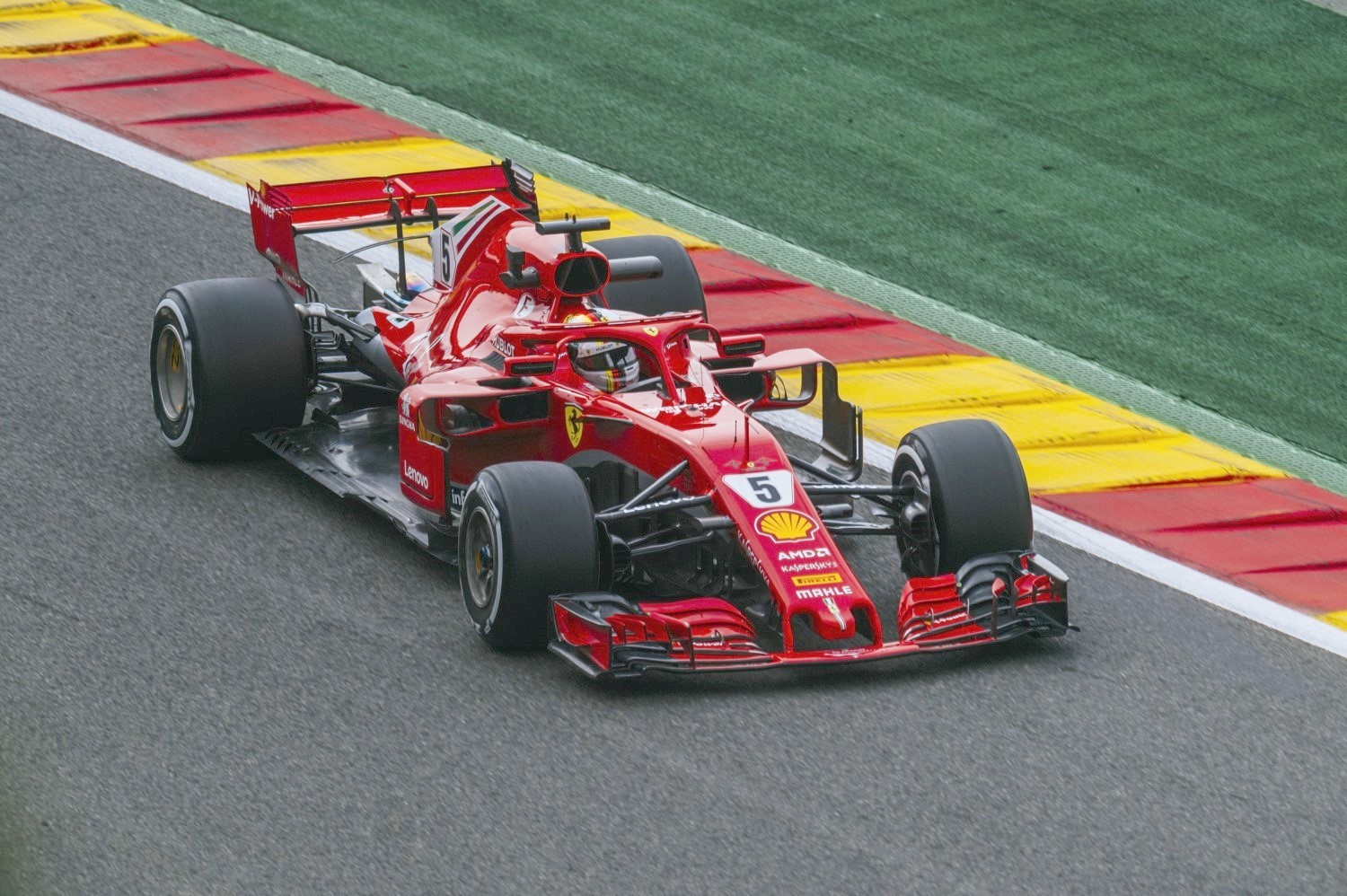 Vettel quickest, but……
While Sebastian Vettel and Kimi Raikkonen ran 1-2 for Ferrari in the final practice for the Belgian GP at Spa, they set their times on Super Soft tires.
Third quick, and only 0.137s behind was Lewis Hamilton's Mercedes on the harder soft tires. So early predictions are for Hamilton to take pole in 2 hours time.
Valtteri Bottas ended the session in fourth place for Mercedes, but is set to face an investigation from the stewards after an incident between the Finn and McLaren's Stoffel Vandoorne in the final 10 minutes of the session.
Vandoorne came across Bottas, who was on an outlap, on the Kemmel Straight, and attempted to move to the right, only to be squeezed into the grass. Vandoorne spun on the wet grass and across the track before coming to rest in the barrier on the right-hand side, resulting in a red flag.
While Bottas explained over team radio he had not seen Vandoorne, the stewards quickly confirmed they would be investigating the incident after the session.
Red Bull drivers Max Verstappen and Daniel Ricciardo could only manage a late flying lap in on the Supersoft tyre, leaving them fifth and sixth respectively. Sauber's Charles Leclerc led the midfield in seventh, his best time coming on the Soft compound tyre, with Sergio Perez taking eighth for Force India. Nico Hulkenberg and Sergio Perez rounded out the top 10 positions.
Results
| | | | | | | |
| --- | --- | --- | --- | --- | --- | --- |
| POS | NO | DRIVER | CAR | TIME | GAP | LAPS |
| 1 | 5 | Sebastian Vettel | Ferrari | 1:42.661 | +0.000s | 13 |
| 2 | 7 | Kimi Raikkonen | Ferrari | 1:42.724 | +0.063s | 15 |
| 3 | 44 | Lewis Hamilton | Mercedes | 1:42.798 | +0.137s | 10 |
| 4 | 77 | Valtteri Bottas | Mercedes | 1:43.464 | +0.803s | 13 |
| 5 | 33 | Max Verstappen | Red Bull Racing Tag Heuer | 1:44.048 | +1.387s | 10 |
| 6 | 3 | Daniel Ricciardo | Red Bull Racing Tag Heuer | 1:44.479 | +1.818s | 13 |
| 7 | 16 | Charles Leclerc | Sauber Ferrari | 1:44.963 | +2.302s | 12 |
| 8 | 11 | Sergio Perez | Force India Mercedes | 1:45.341 | +2.680s | 10 |
| 9 | 27 | Nico Hulkenberg | Renault | 1:45.464 | +2.803s | 17 |
| 10 | 31 | Esteban Ocon | Force India Mercedes | 1:45.485 | +2.824s | 13 |
| 11 | 9 | Marcus Ericsson | Sauber Ferrari | 1:45.536 | +2.875s | 11 |
| 12 | 8 | Romain Grosjean | Haas Ferrari | 1:45.814 | +3.153s | 12 |
| 13 | 55 | Carlos Sainz | Renault | 1:45.925 | +3.264s | 13 |
| 14 | 20 | Kevin Magnussen | Haas Ferrari | 1:46.087 | +3.426s | 12 |
| 15 | 10 | Pierre Gasly | Scuderia Toro Rosso Honda | 1:46.182 | +3.521s | 16 |
| 16 | 28 | Brendon Hartley | Scuderia Toro Rosso Honda | 1:46.259 | +3.598s | 17 |
| 17 | 18 | Lance Stroll | Williams Mercedes | 1:46.502 | +3.841s | 10 |
| 18 | 35 | Sergey Sirotkin | Williams Mercedes | 1:46.630 | +3.969s | 11 |
| 19 | 14 | Fernando Alonso | McLaren Renault | 1:46.942 | +4.281s | 16 |
| 20 | 2 | Stoffel Vandoorne | McLaren Renault | 1:47.061 | +4.400s | 14 |