Rossi tops Dixon in final practice at Gateway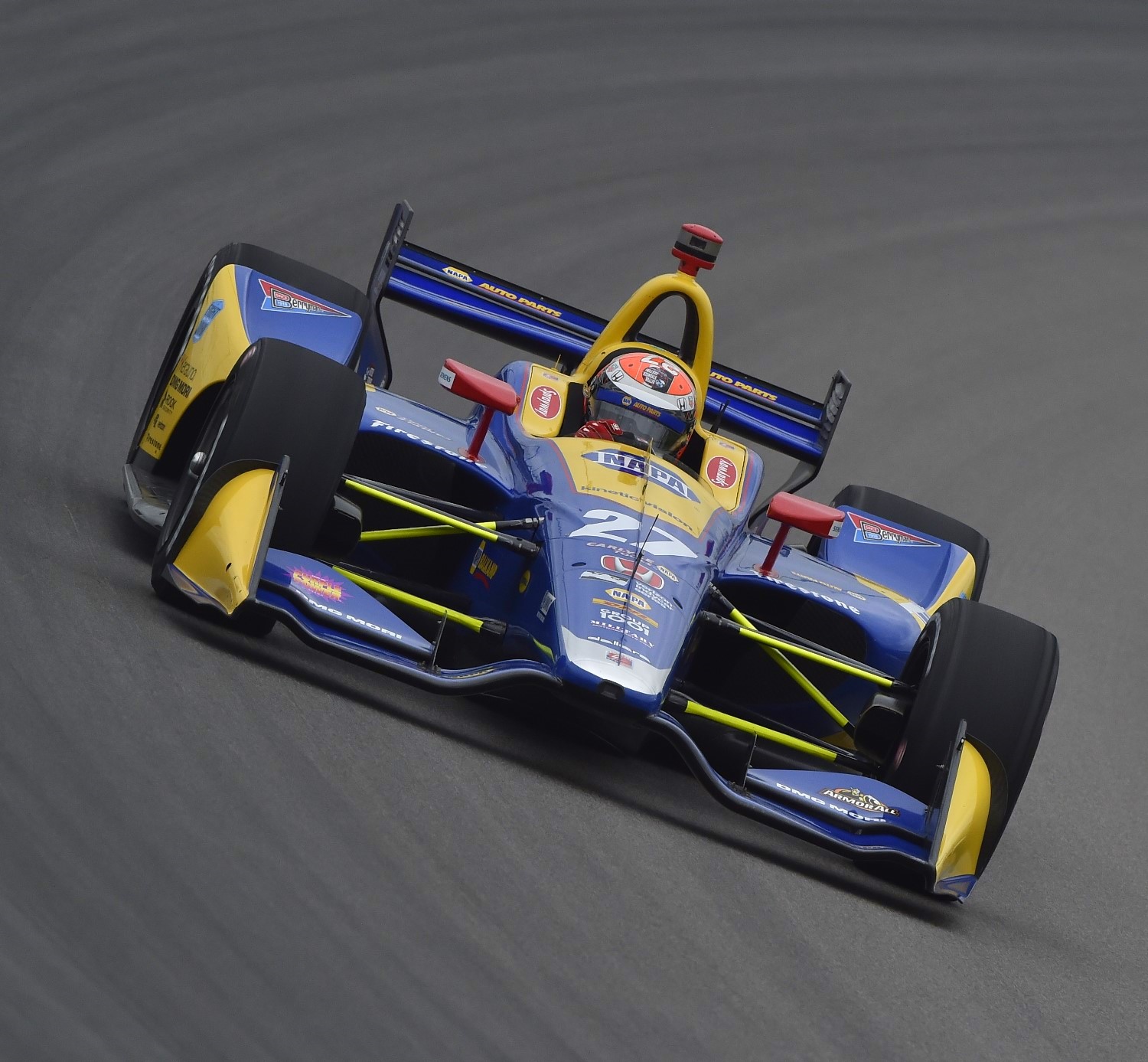 Rossi on top again
IndyCar rookie Pietro Fittipaldi, driving injured, thought he had turned the fastest lap in final practice Friday night for the Bommarito Automotive Group 500 at 182.294mph so he got out of the car for the night. Then Alexander Rossi went out and turned a faster lap at 183.060mph to lead the first practice session just as he did the first.
And to rub salt in the wounds, point leader nipped Fittipaldi as well to slot in 2nd quick at 183.022mph.
Ed Jones and Zach Veach rounded out the top-5 with Ryan Hunter-Reay a close 6th.
More to follow……
Final Practice Results
| | | | | | | | | | |
| --- | --- | --- | --- | --- | --- | --- | --- | --- | --- |
| Pos | No | Name | FTime | Diff | Gap | Laps | FSpeed | Engine | Team |
| 1 | 27 | Alexander Rossi | 24.582 | –.—- | –.—- | 114 | 183.060 | Honda | Andretti Autosport |
| 2 | 9 | Scott Dixon | 24.587 | 0.0051 | 0.0051 | 120 | 183.022 | Honda | Chip Ganassi Racing Teams |
| 3 | 19 | Pietro Fittipaldi | 24.685 | 0.1033 | 0.0982 | 119 | 182.294 | Honda | Dale Coyne Racing |
| 4 | 10 | Ed Jones | 24.689 | 0.1068 | 0.0035 | 104 | 182.268 | Honda | Chip Ganassi Racing Teams |
| 5 | 26 | Zach Veach | 24.691 | 0.1092 | 0.0024 | 142 | 182.250 | Honda | Andretti Autosport |
| 6 | 28 | Ryan Hunter-Reay | 24.699 | 0.1167 | 0.0075 | 105 | 182.195 | Honda | Andretti Autosport |
| 7 | 14 | Tony Kanaan | 24.756 | 0.1741 | 0.0574 | 69 | 181.773 | Chevy | AJ Foyt Enterprises |
| 8 | 15 | Graham Rahal | 24.865 | 0.2828 | 0.1087 | 149 | 180.978 | Honda | Rahal Letterman Lanigan Racing |
| 9 | 18 | Sebastien Bourdais | 24.872 | 0.2902 | 0.0074 | 124 | 180.924 | Honda | Dale Coyne Racing with VS |
| 10 | 12 | Will Power | 24.884 | 0.3014 | 0.0112 | 114 | 180.843 | Chevy | Team Penske |
| 11 | 98 | Marco Andretti | 24.891 | 0.3089 | 0.0075 | 97 | 180.788 | Honda | Andretti Herta Autosport with CA |
| 12 | 1 | Josef Newgarden | 24.919 | 0.3371 | 0.0282 | 61 | 180.584 | Chevy | Team Penske |
| 13 | 30 | Takuma Sato | 24.934 | 0.3518 | 0.0147 | 122 | 180.477 | Honda | Rahal Letterman Lanigan Racing |
| 14 | 22 | Simon Pagenaud | 24.936 | 0.3542 | 0.0024 | 87 | 180.460 | Chevy | Team Penske |
| 15 | 5 | James Hinchcliffe | 25.088 | 0.5058 | 0.1516 | 87 | 179.369 | Honda | Schmidt Peterson Motorsports |
| 16 | 88 | Gabby Chaves | 25.106 | 0.5239 | 0.0181 | 114 | 179.240 | Chevy | Harding Racing |
| 17 | 21 | Spencer Pigot | 25.113 | 0.5313 | 0.0074 | 88 | 179.187 | Chevy | Ed Carpenter Racing |
| 18 | 20 | Ed Carpenter | 25.133 | 0.5504 | 0.0191 | 81 | 179.051 | Chevy | Ed Carpenter Racing |
| 19 | 59 | Max Chilton | 25.201 | 0.6186 | 0.0682 | 91 | 178.566 | Chevy | Carlin |
| 20 | 4 | Matheus Leist | 25.297 | 0.7146 | 0.0960 | 88 | 177.889 | Chevy | AJ Foyt Enterprises |
| 21 | 23 | Charlie Kimball | 25.334 | 0.7521 | 0.0375 | 100 | 177.626 | Chevy | Carlin |