Rossi tops Gateway IndyCar practice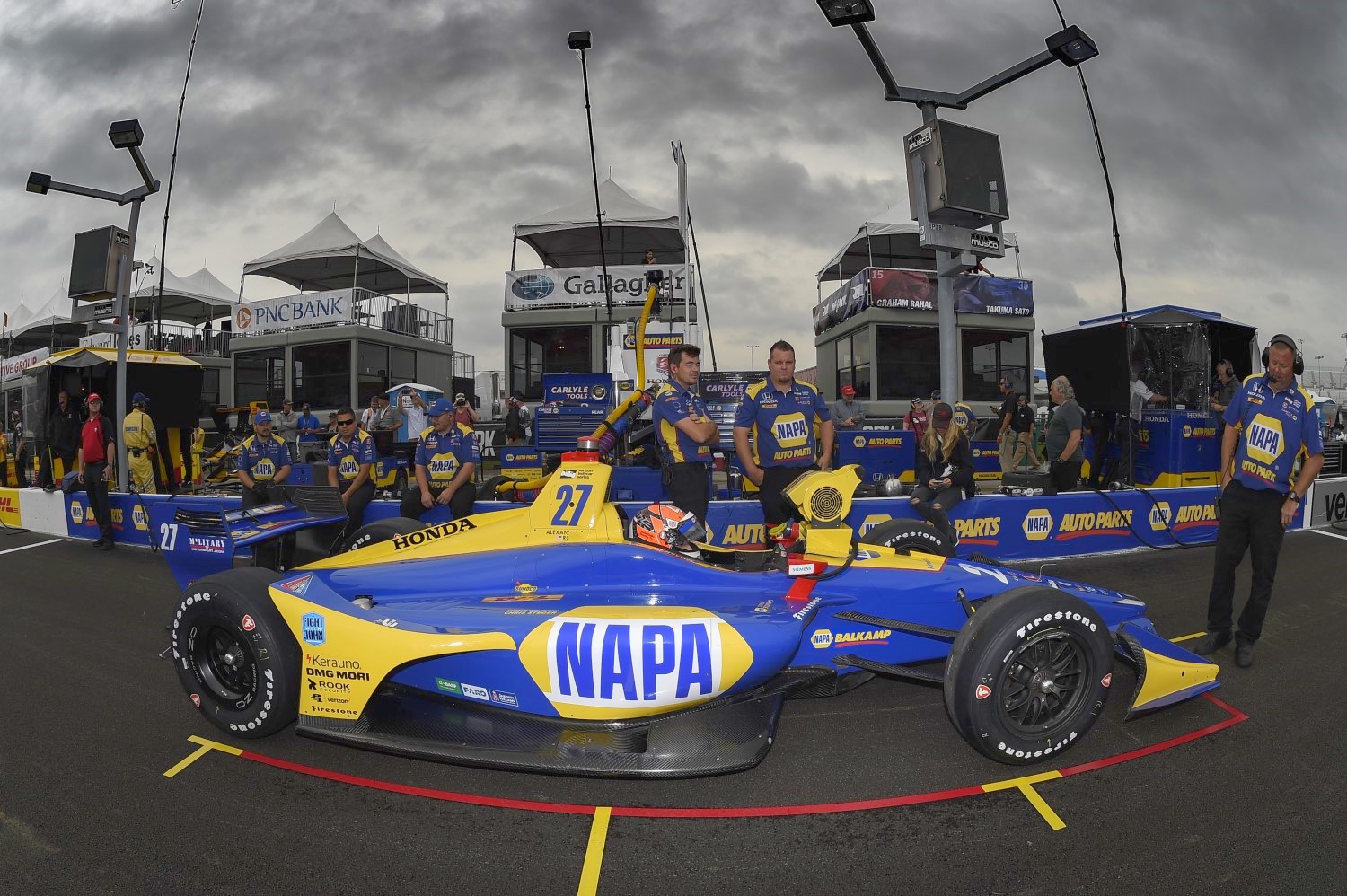 Fast man Rossi and his crew wait out the rain
Alexander Rossi remains on a tear an topped rain delayed IndyCar practice at Gateway with a lap of 184.424mph to lead feloow Honda drivers Scott Dixon and Sebastien Bourdais.
Rossi was a full 2/10ths of a second faster than Dixon, a lot on the short 1.25-mile oval. Rossi is gunning to catch Dixon in points and is driving better than anyone right now.
Because of the rain delay qualifying has been cancelled and the cars will lineup based on entrant points.
Results
| | | | | | | | | |
| --- | --- | --- | --- | --- | --- | --- | --- | --- |
| Pos | No | Name | FTime | Diff | Gap | FSpeed | Engine | Team |
| 1 | 27 | Alexander Rossi | 24.400 | –.—- | –.—- | 184.424 | Honda | Andretti Autosport |
| 2 | 9 | Scott Dixon | 24.621 | 0.2204 | 0.2204 | 182.773 | Honda | Chip Ganassi Racing Teams |
| 3 | 18 | Sebastien Bourdais | 24.634 | 0.2336 | 0.0132 | 182.675 | Honda | Dale Coyne Racing w/VS |
| 4 | 14 | Tony Kanaan | 24.665 | 0.2648 | 0.0312 | 182.444 | Chevy | AJ Foyt Enterprises |
| 5 | 10 | Ed Jones | 24.676 | 0.2756 | 0.0108 | 182.364 | Honda | Chip Ganassi Racing Teams |
| 6 | 28 | Ryan Hunter-Reay | 24.781 | 0.3804 | 0.1468 | 181.593 | Honda | Andretti Autosport |
| 7 | 21 | Spencer Pigot | 24.793 | 0.3929 | 0.0125 | 181.501 | Chevy | Ed Carpenter Racing |
| 8 | 26 | Zach Veach | 24.806 | 0.4062 | 0.0133 | 181.404 | Honda | Andretti Autosport |
| 9 | 5 | James Hinchcliffe | 24.872 | 0.4713 | 0.0651 | 180.929 | Honda | Schmidt Peterson Motorsports |
| 10 | 1 | Josef Newgarden | 24.941 | 0.5402 | 0.0689 | 180.429 | Chevy | Team Penske |
| 11 | 12 | Will Power | 25.001 | 0.6007 | 0.0605 | 179.993 | Chevy | Team Penske |
| 12 | 22 | Simon Pagenaud | 25.003 | 0.6023 | 0.0016 | 179.981 | Chevy | Team Penske |
| 13 | 20 | Ed Carpenter | 25.017 | 0.6162 | 0.0139 | 179.881 | Chevy | Ed Carpenter Racing |
| 14 | 15 | Graham Rahal | 25.029 | 0.6286 | 0.0124 | 179.792 | Honda | Rahal Letterman Lanigan |
| 15 | 88 | Gabby Chaves | 25.211 | 0.8109 | 0.1823 | 178.492 | Chevy | Harding Racing |
| 16 | 98 | Marco Andretti | 25.254 | 0.8533 | 0.0424 | 178.192 | Honda | Andretti Herta Autosport w/CA |
| 17 | 19 | Pietro Fittipaldi | 25.449 | 1.0484 | 0.1951 | 176.826 | Honda | Dale Coyne Racing |
| 18 | 23 | Charlie Kimball | 25.487 | 1.0871 | 0.0387 | 176.558 | Chevy | Carlin |
| 19 | 59 | Max Chilton | 25.493 | 1.0929 | 0.0058 | 176.518 | Chevy | Carlin |
| 20 | 4 | Matheus Leist | 25.634 | 1.2337 | 0.1408 | 175.548 | Chevy | AJ Foyt Enterprises |
| 21 | 30 | Takuma Sato | 25.680 | 1.2795 | 0.0458 | 175.235 | Honda | Rahal Letterman Lanigan |