Latest F1 news in brief – Friday
Kevin Magnussen lighter in the wallet now

Magnussen ex-manager wins lawsuit

Schumacher 'cries' at Lake Geneva view – relative
F1 could delay 2021 engine rule change – Brawn
2019 German GP rescue talks 'good' – Bratches
Grid penalty for Bottas
Alonso says Red Bull offered him Daniel Ricciardo's seat
Magnussen ex-manager wins lawsuit
(GMM) Kevin Magnussen has lost a lawsuit brought by his former manager.
Dorte Riis Madsen had instigated a case in Copenhagen against the Danish driver, claiming a percentage of his earnings due to unfair dismissal and contract breach.
Ekstra Bladet newspaper claims the court sided with Riis Madsen, ruling that 20 per cent of Magnussen's gross income between September 2015 and July 2021 be forfeited to his former manager.
"We did not expect this," said the Haas driver's lawyer Claus Barrett Christiansen.
"Having said that, the result is probably more of a victory than a defeat. Dorte Riis comes out of it with much less than she hoped for.
"But it's a shame for Kevin that his former lawyer does not have to pay compensation for his bad advice," Christiansen added.
On track, though, Magnussen's life is better. He is expected to be retained by Haas for 2019.
"Last year there was no discussion about the contract and I'm still enjoying not being part of this madness," the Dane said at Spa, where the 'silly season' is in full swing.
"Contracts are always difficult. If you agree 98 per cent, the last 2 are the most difficult. At the moment I'm just waiting."
The fate of Magnussen's current teammate, Romain Grosjean, does not look as rosy. Romain Grosjean is expected to be replaced by promising Ferrari junior Charles Leclerc.
"This weekend we are here at Spa, next week we are at Monza and then I think the team will have more time to think about it," Grosjean said on Thursday.
Schumacher 'cries' at Lake Geneva view – relative
Schumacher in 2012
(GMM) Michael Schumacher's former manager says he has "closed the chapter" on the stricken F1 legend.
The condition of Schumacher, the most successful driver in F1 history, is basically unknown as he recovers from brain injuries at his home on Lake Geneva.
One unnamed relative has this week told the Paris Match news magazine: "When we put him in his wheelchair with a beautiful panorama view of the lake, Michael sometimes cries."
But Schumacher's former manager Willi Weber says he has been completely excluded from the great German's life by the former Ferrari and Mercedes driver's family and current management.
Weber spoke to Bunte magazine from Mallorca, where it is tipped Corinna Schumacher may move her husband to live.
"On one hand, people would be happy if Michael is in Mallorca," Weber said.
"On the other, no one knows how he is doing or whether he would notice anything about the beauty that surrounds him.
"I just wonder why his family bought an estate here. Michael never felt good in Mallorca. It was far from his dream island," he added.
"After a long mourning, I have closed the chapter on the subject of Michael, otherwise I would go crazy," said Weber.
"We had the best, most successful time together, going through thick and thin for 20 years."
F1 could delay 2021 engine rule change – Brawn
Brawn now says new engine can be delayed
(GMM) Ross Brawn has admitted F1 could delay the introduction of a new engine formula for 2021.
The 2021 engine rule change has been long touted, although most of the existing manufacturers are opposed to big tweaks including the scrapping of the MGU-H.
Recently, Mercedes' Toto Wolff said he thinks the rules should not change dramatically if a new engine supplier like Porsche does not commit to entering the sport in 2021.
Liberty Media's F1 sporting boss Brawn now says: "We want to devise new technical rules for the engines, with which we can arouse the interest of new manufacturers and at the same time keep the existing manufacturers on board.
"That's why I think we should think about the timing," he added. "I'm not sure if 2021 is the right date or whether we should wait until we can be sure that extensive adjustments will also bring fresh blood into the sport."
Brawn said there are rule tweaks that can be made instead, like engine development limits during the season.
"With the engine, we have to decide whether we want revolution or evolution for the time being," he declared.
2019 German GP rescue talks 'good' – Bratches
Sean Bratches
(GMM) F1 commercial boss Sean Bratches has declared himself an "optimist" as talks with Hockenheim about a 2019 race continue.
Talks between Liberty Media and Hockenheim about a German grand prix for next year had completely broken down.
But then F1's plans for an inaugural event in Miami next year also fell through, reinvigorating efforts to rescue Hockenheim.
"I'm an optimist," Bratches said when asked about the German GP talks.
"We have not yet published a calendar for 2019, but we will do that shortly," he revealed. "And while my German is not faultless, the talks have been quite good."
Hockenheim marketing boss Jorn Teske agreed: "We very much hope that we will have a grand prix again next year, but I cannot say more about it now.
"The discussions are still going on," he said.
"It's clear that both negotiating parties are trying to find a solution, and that's very positive because it means there is serious interest on the F1 side in having the German GP.
"So we're optimistic too, but that's all I can say at the moment," Teske added.
At the same time, Bratches said Liberty Media remains committed to putting together a race in Miami for 2020.
"I am working closely with Stephen Ross and his team, as well as those in the relevant districts, to get the race going. We've made a lot of progress, but there is still a lot to do," he said.
Grid penalty for Bottas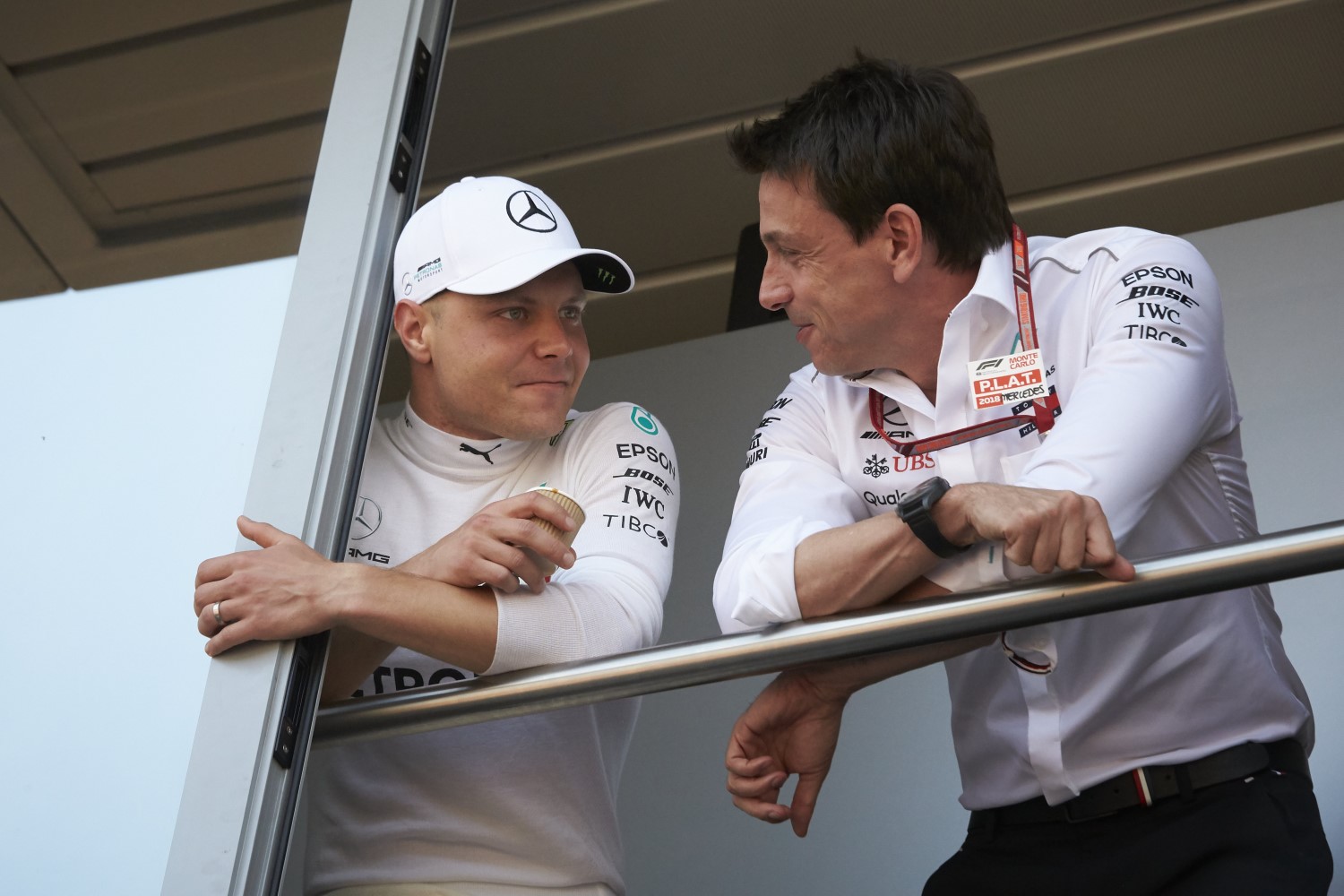 Bottas and Wolff
Valtteri Bottas is set to take a grid penalty at the Belgian Grand Prix after Mercedes confirmed it will introduce its upgraded Formula 1 engine at Spa.
Mercedes will give works drivers Bottas and Lewis Hamilton, plus its two customer teams Williams and Racing Point Force India, new engines for the first weekend after F1's summer break.
Bottas had already reached his seasonal limit for engine components after taking a fresh engine in Britain last month following a retirement in Austria caused by a hydraulic problem.
He will take a new internal combustion engine, turbocharger, MGU-H, MGU-K, control electronics and energy store for the Belgian GP.
That means an automatic back-of-the-grid start, with Bottas set to share the final row with Nico Hulkenberg as Renault will fit a complete new power unit on the German's car.
The consolation for both drivers is Spa is a less punishing place to take such a penalty as overtaking is easier than other circuits.
Hamilton had let slip on Thursday that he would use Mercedes' new engine this weekend, and the team has now confirmed he will get a new combustion engine, turbo and MGU-H.
His title rival Sebastian Vettel will also benefit from a new Ferrari engine this weekend.
Ferrari has confirmed Vettel and Kimi Raikkonen will have new combustion engines, while Vettel will also get a new turbocharger and MGU-H.
Raikkonen had used one more of each component already.
As well as Hulkenberg getting a complete set of components, the other Renault of Carlos Sainz Jr will benefit from a new combustion engine.
Stoffel Vandoorne's McLaren will also be fitted with a new Renault combustion engine, plus a new turbo and MGU-H. Autosport
Alonso says Red Bull offered him Daniel Ricciardo's seat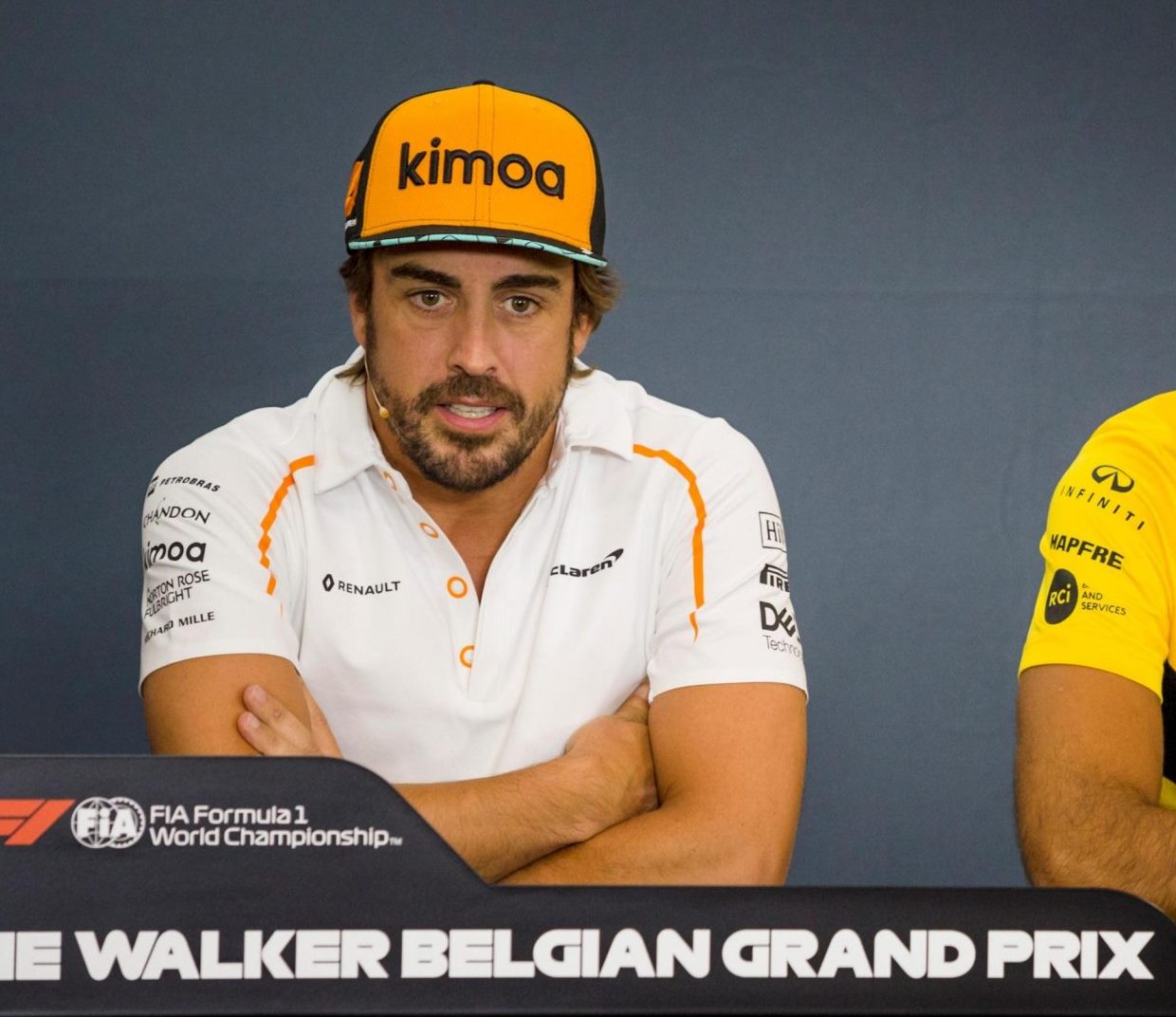 Fernando Alonso at Thursday's press conference
Fernando Alonso claims Red Bull approached him "a couple of times this year" to replace Daniel Ricciardo in 2019.
Ricciardo's move to Renault for next season has started a chain reaction across the grid, moving Red Bull juniors Pierre Gasly and Carlos Sainz in different directions. Gasly will step up from Toro Rosso to the senior team, while Sainz will leave the program entirely to replace Alonso at McLaren following his fellow countryman's decision to quit at the end of 2018.
Alonso has said his decision to walk away from F1 is down to the predictability of the sport and admitted during Thursday's press conference that it was also down to the fact he has not had a winning car for several years.
The day after Ricciardo's announcement was made, Red Bull boss Christian Horner told F1's official podcast he would never sign the Spaniard because he causes "chaos" behind the scenes wherever he goes. Speaking to Sky Sports in the TV pen on Thursday, Alonso claimed Horner had been in contact about the seat.
"From one of these top three teams I had an offer already a couple of times this year," he said. "It was not the time for me to join that adventure. For me at the moment Formula One is not giving me the challenges I am looking for at the moment. Outside F1 I am discovering other series outside motorsport which give you different challenges and makes you more complete driver. It's what I will try to find in 2019."
When asked if he was referring to Red Bull and an offer to replace Ricciardo, he said: "Yes". ESPN