Latest F1 news in brief – Thursday
Max Verstappen

Renault deficit 'more than 40hp' – Verstappen

F1 'not the same' without Lauda – Marko
'Soft' budget cap set for 2019 – Brawn
GlobeAir becomes Official Partner of the Alfa Romeo Sauber F1 Team
McLaren claims more new sponsors that rivals
Santino Ferrucci set to retain Haas F1 affiliation
Renault deficit 'more than 40hp' – Verstappen
Verstappen holds ears with Renault engine running
(GMM) Max Verstappen has hit out at the performance of his Renault engines.
Playing down his hopes at Spa Francorchamps, the Dutchman says he does not have enough power for the Belgian circuit's long straights.
"30, 40 horse power?" he told RTL when asked what the deficit is. "No, it's much, much, much more, and it doesn't work like that."
Red Bull official Dr Helmut Marko declared this week that, apart from the Renault-bound Daniel Ricciardo, the team lost faith in Renault after years of promise.
"They never got the engine under control," he told Servus TV. "The promise of being competitive never materialized.
"They are not at Mercedes or Ferrari's performance level, but also in terms of reliability.
"With Honda, we will have a partner who is fully committed, has the human and technical resources, and sees us as the number 1 team.
"At Renault we were just the customer. We were treated fairly, but their own team always had priority. That's why we accepted the alternative with pleasure," Marko added.
F1 'not the same' without Lauda – Marko
Marko misses Lauda
(GMM) Dr Helmut Marko says grands prix are not the same in the absence of Niki Lauda.
F1 legend Lauda is currently recovering from a lung transplant in a Vienna hospital.
"We all know that it was very serious and it still has not been said that the lungs are rejected, but that's something private I don't want to comment on," Marko, a top official at Red Bull, told Servus TV.
"He needs our support and we know he's a great fighter," Marko, an Austrian and former F1 driver like Mercedes team chairman Lauda, added.
"I have to say that there were two grands prix without him and it's not the same," he said.
The Vienna hospital where 69-year-old Lauda is recuperating said: "Please understand that we must maintain the privacy of our patients. We do not comment on rumors."
'Soft' budget cap set for 2019 – Brawn
Ross Brawn
(GMM) Ross Brawn says a budget cap is arriving in F1 as early as next year.
The controversial issue of mandatorily limiting budgets has been mooted for years, but sporting boss Brawn says Liberty Media will start imposing the regime from 2019.
"The cost cutting work is going well," he said, according to the German news agency SID.
"We first want to introduce it in a 'soft' way with test runs for the years 2019 and 2020. It will be part of the regulations from 2021. It's as good as decided," Brawn added.
SID claims the budget cap will be around $150 million per year, but Brawn admitted that it will be imposed gradually.
"A top team is currently spending about twice that of a midfield team. The Force India case shows that the financial burden on the teams is unmanageable in the long term.
"So if we reduce that gap to 10 or 20 per cent, a midfield team doing a great job will be competitive again," Brawn said.
GlobeAir becomes Official Partner of the Alfa Romeo Sauber F1 Team
We are delighted to announce that GlobeAir will join the Alfa Romeo Sauber F1 Team as Official Partner.
GlobeAir is a private jet operator, that offers charter flights in Europe – on-demand and at competitive rates. The partnership will support the Alfa Romeo Sauber F1 Team in optimizing their logistics within Europe.
The company's logo will be featured on the sidepod floorline of the car from the 201 FIA Formula One Belgian Grand Prix in Spa.
Bernhard Fragner, CEO GlobeAir:
"Like the Alfa Romeo Sauber F1 Team, GlobeAir is a team of hard-working people driven by passion. Every day, we dedicate our working life to optimize the company's performances and bring GlobeAir to the next level. That's where our common vision lies, and that's why we are very pleased about this partnership,"
Frederic Vasseur, Team Principal Alfa Romeo Sauber F1 Team:
"We are pleased to welcome GlobeAir as a new Official Partner of the Alfa Romeo Sauber F1 Team. In Formula One, it is essential to ensure the efficient and speedy transportation of our personnel. By providing on-demand tailored solutions for air travel, GlobeAir is a partner that can support us in optimizing our processes. We look forward to this collaboration."
About GlobeAir:
With almost 50% of the market share, GlobeAir AG is Europe's leader within the sector of very light jets. GlobeAir AG is IS-BAO as well as Wyvern certified. The company has achieved its success through dedication and by offering bespoke service before, during and after the flight. Further information about GlobeAir is available at www.globeair.com.
McLaren claims more new sponsors that rivals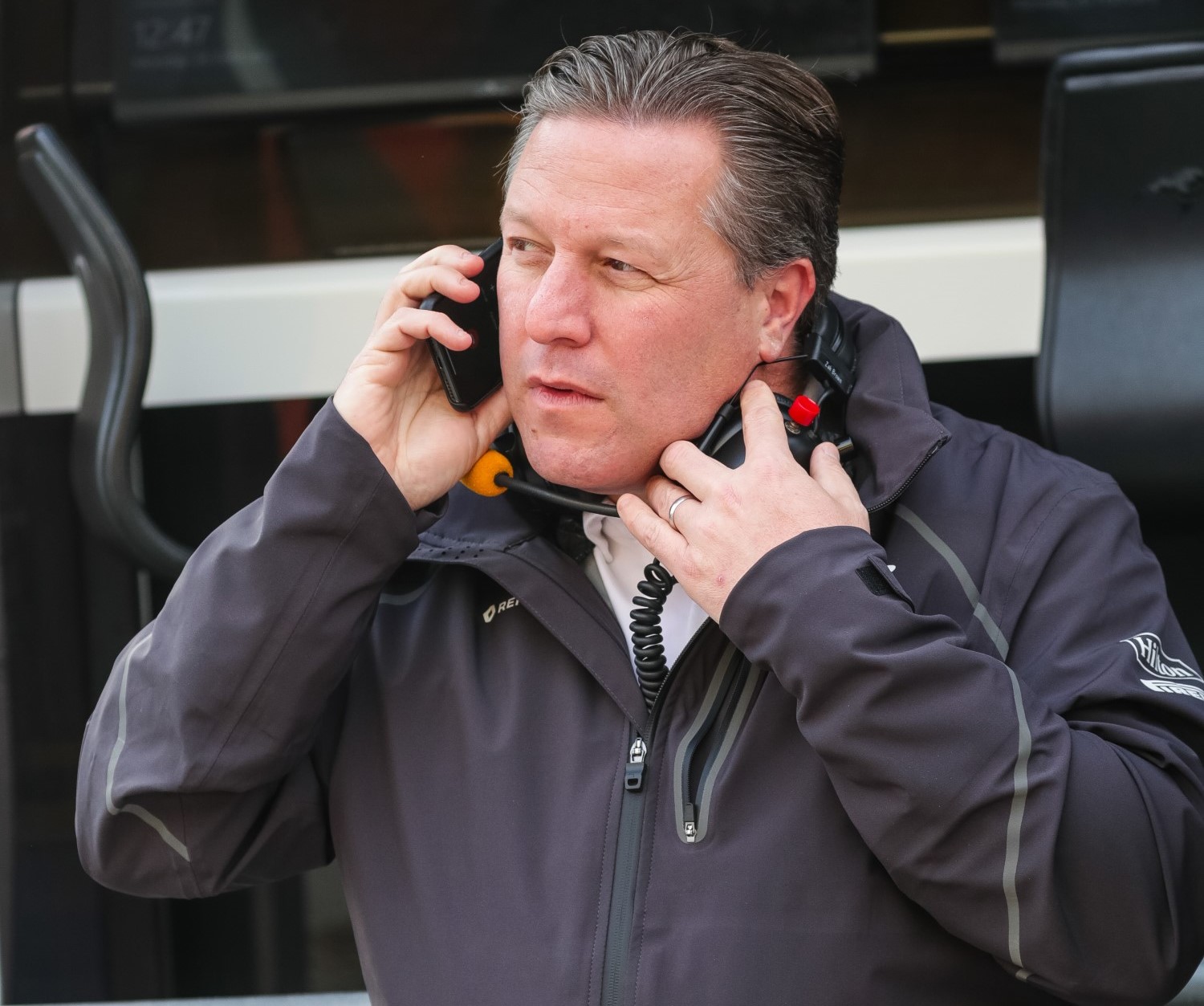 Zak Brown was hired by McLaren to bring in sponsors
McLaren Group CEO Zak Brown said that he "hit his target for increasing sponsorship revenue and the team has brought in more new backers than any of its Formula 1 rivals," according to Rencken & Collantine of RACE FANS.
However, he admitted the team "faces a significant shortfall in its budget for this season."
Brown said, "Our performance hasn't helped. And especially don't forget this year you sell last year, so last year was one of the worst years." However, Brown added that he "hit my number" in terms of the amount of revenue he needed to bring in from sponsorship.
Brown: "I've hit what I said I would do. And then we've got to keep growing it. The car has got lots of space, it started with lots of space. The companies we've put on have been outstanding: Dell Technologies, Petrobras, being high-quality entities, and we're keeping pushing." He added that the extent of advertising on the car does not "necessarily reflect how lucrative the deals have been."
He said, "There's a perception that goes back 10, 20 years of stickers on the cars, which is that, 'We'll equate the size of what the sticker on the car is to what we think the money is.' That just isn't the case these days. And certainly not for us. Because the partnerships run a lot deeper than just straightforward a logo on the car." RACE FANS
Santino Ferrucci set to retain Haas F1 affiliation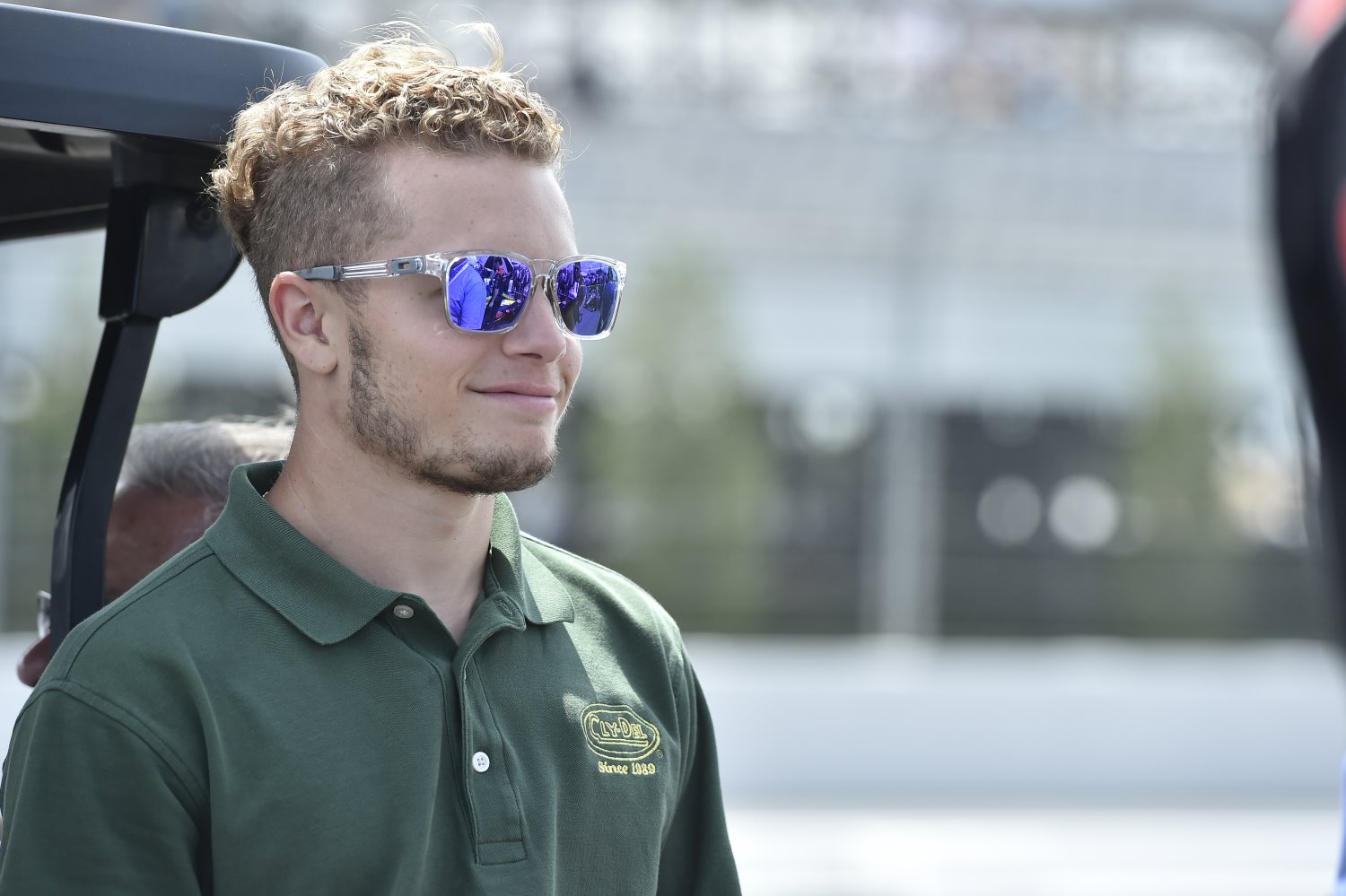 Ferrucci at Pocono IndyCar race
Ferrucci joined Haas as its development driver upon the American team's entry into Formula 1 two years ago, carrying out in-season running in both 2016 and 2017.
Ferrucci stepped up to Formula 2 mid-2017 and remained with the Trident team into 2018, but clashed with team-mate Arjun Maini, also part of Haas' development programme, at Silverstone.
Ferrucci received a heavy fine and a two-round suspension for deliberately hitting Maini on the cool-down lap of the Sprint Race, and also incurred a sanction for other indiscretions.
Trident swiftly sacked Ferrucci and announced that it would be undertaking legal action on account of alleged non-payments.
Ferrucci has since been signed by Dale Coyne Racing to contest two upcoming IndyCar events, having made his debut in June's Detroit double-header for the team.
Haas said prior to the summer break that it was evaluating the situation and team boss Guenther Steiner commented on Thursday that the 20-year-old will retain his affiliation.
"I think we'll keep him for the time being on the programme," said Steiner.
"We'll see what he's going to do in IndyCar and stay with that one.
"The guy is trying to make a career, and we don't want to pull the rug from under his feet."
Steiner also explained that Haas hopes to resolve its 2019 driver line-up in the coming weeks, though refused to divulge details of its intentions.
"I think we should be weeks out, a few weeks," said Steiner, whose team fields Kevin Magnussen and Romain Grosjean.
"I hope we don't have to drag this one on too long, because I want to get to the conclusion, and we all want to get to the conclusion.
"I think we owe that to the drivers and to the team as well.
"The team is always eager to know who is going to drive our car. We need a little bit more work, but we're in a good way."