Latest F1 news in brief – Wednesday
Sergio Perez to stay at Force India?

Perez says rescued Force India 'best option'

Ricciardo's Renault move 'strange' – Marko
Red Bull set to decide Gasly replacement
Company questions Force India takeover
Ferrari to announce Raikkonen for 2019 – report
Liberty wants Alonso to be F1 'ambassador'
Sainz success to take 'years' – Button
Italy GP boss admits Monza future uncertain
Germany looks set to stay on 2019 F1 calendar
Perez says rescued Force India 'best option'
(GMM) Force India has only slipped in 2018 because of its financial problems.
That is the claim of Sergio Perez, who is giving strong hints that notwithstanding the takeover by a Lawrence Stroll-led consortium, he intends to stay in 2019.
"If Force India is in good hands, then I would like to stay," the Mexican told Auto Motor und Sport.
"It's still the best team behind the big three. I used to wait forever for a decision from Ferrari, but this year I'm not so I hope the decision is sooner," Perez added.
He said financial problems have hurt Force India's progress, including "many updates that were delayed".
But Perez still thinks Force India is the best option if Ferrari, Mercedes and Red Bull do not have available seats.
"There are two categories in formula one," he said. "That's the biggest problem the sport has to improve.
"There has to be more than three teams team fighting for victory. It's not a fair sport anymore."
Ricciardo's Renault move 'strange' – Marko
Marko says Red Bull got caught with their pants down
(GMM) Dr Helmut Marko says Daniel Ricciardo's decision to quit Red Bull was "very strange".
Australian Ricciardo caught Marko as well as the rest of the F1 world by surprise when he announced he is joining Renault for 2019.
"It's a very strange story," Marko told Servus TV.
"On Wednesday before Austria, we agreed. In Hungary, he told both me and Mr. Mateschitz that he would sign at the test on Tuesday. He didn't.
"On Thursday I got a call and his voice was funny. 'We are adults, come to the point' I told him. He said he's going to Renault.
"I can only assume he does not believe in Honda and that Renault offered him a very high amount of money. But I think 'shoeys' will be very difficult for him in the near future," Marko said.
Marko also acknowledged that, after a decade in the Red Bull program, Ricciardo just needed a change, especially as the Renault engines are being dropped.
"Unlike Ricciardo, we have lost faith in Renault," Marko admitted. "Their promise of being competitive never occurred. That's why I took pleasure in the opportunity offered to us.
"We started with Toro Rosso but everything worked perfectly. And Honda will work even harder next year.
"We have a different approach to McLaren. They more or less dictated to Honda what the engine should look like. We simply tell them to build the best engine possible and we'll somehow accommodate it.
"They have clearly made mistakes but this year with Toro Rosso we clearly see that things are improving. I'm sure we'll be ahead of Renault next year," he added.
Red Bull set to decide Gasly replacement
Dan Ticktum
(GMM) Red Bull is poised to decide Pierre Gasly's 2019 replacement at Toro Rosso in the coming days.
Frenchman Gasly has been promoted to the senior team to replace Daniel Ricciardo.
"It's only his second season so he lacks experience," Dr Helmut Marko told Servus TV. "But he will not be far from Max (Verstappen) in pure speed in qualifying.
"Then we expect him to be adequately replacing Ricciardo by the middle of the season," the Red Bull chief added.
Red Bull's once thriving pool of young talent is no longer as strong, but it is strongly rumored that Dan Ticktum, a 19-year-old F3 driver, is the favorite to join Toro Rosso.
"We want to decide the replacement for Gasly by Monza," Marko said.
Company questions Force India takeover
(GMM) Force India's takeover by the Lawrence Stroll-led consortium could have hit a road bump.
A company called Uralkali, headed by Russian Dmitry Mazepin whose son is a Force India test driver, is questioning the Stroll takeover.
Uralkali claims it put together a "competitive bid" for the team, but says the conditions placed upon it by the administrators were unfair.
In a statement, the Mazepin-led potash company said the administrators "refused to engage" and "did not reply to phone calls and emails".
"Uralkali considers that the process conducted by the administrator may not be in the best interests of Force India's creditors and other stakeholders, and the sport in general," it added.
Ferrari to announce Raikkonen for 2019 – report
Kimi Raikkonen
(GMM) Ferrari is poised to announce the identity of Sebastian Vettel's teammate for 2019.
Although Charles Leclerc was favorite prior to the death of president Sergio Marchionne, Corriere della Sera now says Kimi Raikkonen is definitely staying.
The report says the news will be announced either at Spa or next weekend at Monza.
Corriere della Sera claims Ferrari junior Leclerc, 20, will instead move from one Ferrari-powered customer, Sauber, to Haas next year.
He will replace Romain Grosjean, the Italian newspaper added.
Liberty wants Alonso to be F1 'ambassador'
Will Alonso be happy being an ambassador?
(GMM) F1 commercial boss Sean Bratches wants Fernando Alonso to remain in the sport as an ambassador.
The two-time champion is quitting at the end of the year, declaring that "When the talking is more about politics and bad radio messages, I think there are other things that give me more action and happiness".
Alonso is tipped to switch full-time to Indycar.
Bratches, Liberty Media's F1 commercial chief, said he is disappointed.
"I hope that we can keep him as an ambassador so that he can help to bring this great sport forward," he is quoted by the Dutch newspaper De Telegraaf.
"I had hoped he would be here for ten years more. He's a hero and a legend and he's meant so much to the sport."
Bratches said Alonso has a point about how predictable F1 has become.
"Alonso is right," he said. "But there is certainly a chance now to make the sport less predictable and we are going to work on that."
Sainz Jr. success to take 'years' – Button
Carlos Sainz Jr. staring into an uncertain future
(GMM) It could take McLaren "years" to get back to the front of the grid.
That is the warning of former team driver Jenson Button, as he was asked about Carlos Sainz's move from Renault to replace the retiring Fernando Alonso.
"I don't think the pace of the car will change in 2019," Button told El Mundo Deportivo newspaper.
"They've fallen too far behind. It's a great team that has won many world championships so they can do it, but it will take time."
Button said 23-year-old Spaniard Sainz will therefore need to be patient as he pushes for wins and titles.
"He will need to understand that it will take a few years of hard work," said the Briton.
"He will need to make himself heard and his opinion count, and hopefully bring the car forward," Button added.
"It will always be difficult to replace Fernando, but they wouldn't have chosen him if they didn't believe he deserved it."
Another former F1 driver, Marc Surer, thinks McLaren went off the wrong track during the Honda years.
"If you look at where they are now, I think Honda was never so bad," he is quoted by AS newspaper.
"They'd be exactly where they are if the Honda was still in there. I think the engineers were fooling themselves by thinking they had the best chassis on the grid.
"They were slowest on the straights and fastest in the corners, but anyone can do that if you have enough downforce on it," Surer added.
Italy GP boss admits Monza future uncertain
Without government backing F1 race promoters lose their shirt
(GMM) Monza is still facing an uncertain future.
Amid similar problems at another traditional European circuit, Hockenheim, the boss at Italian GP venue Monza also revealed financial issues.
"Last year we came out with a strong loss and in 2018 the budget will not look much better," Italian motor racing federation (Aci) president Angelo Sticchi Damiani said.
He is now hoping for fruitful talks with Liberty Media.
"Chase Carey told me that formula one is unimaginable without Monza," he told La Gazzetta dello Sport.
Germany looks set to stay on 2019 F1 calendar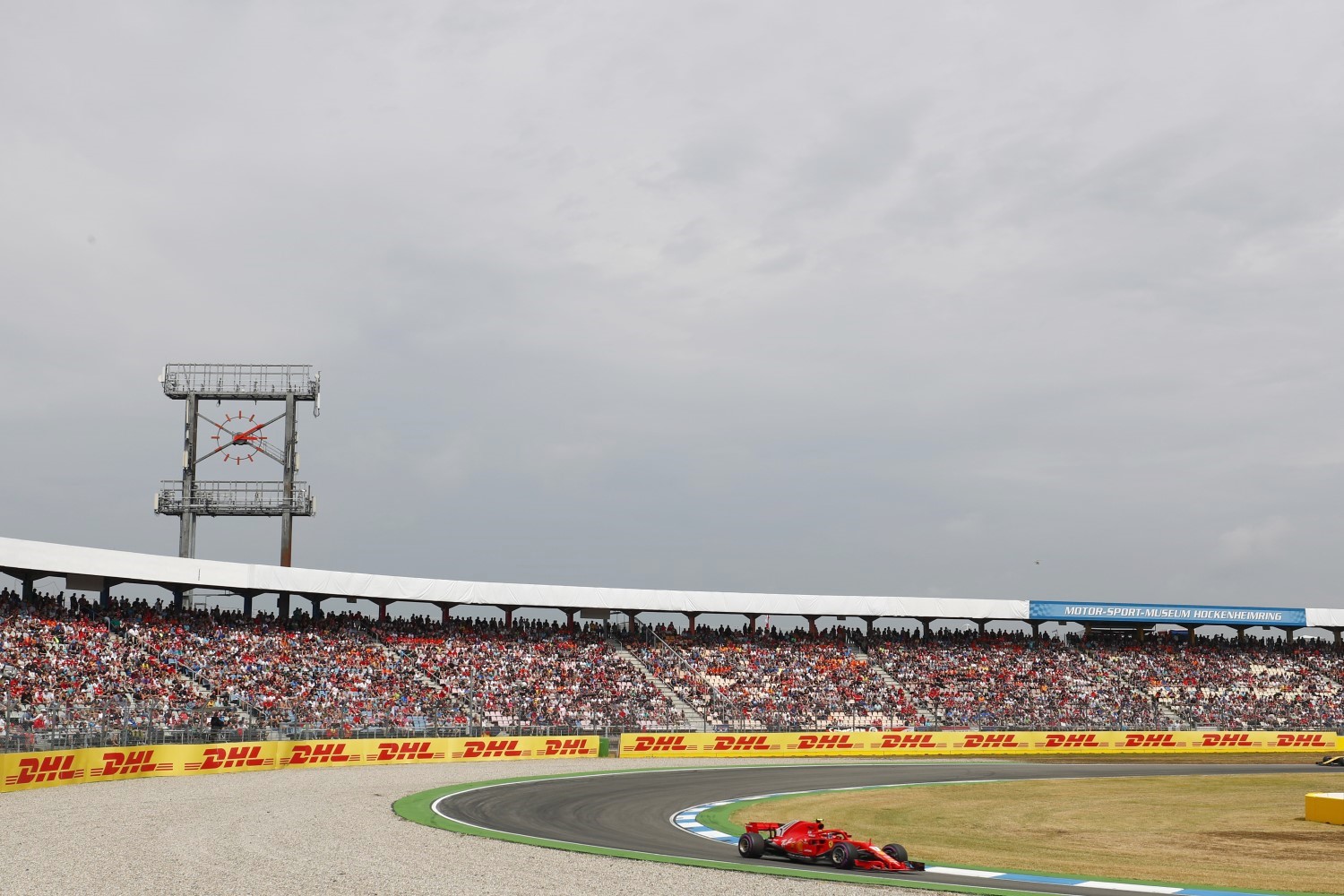 Germany set to return
The German Grand Prix looks likely to be back on the Formula One calendar next year amid growing optimism about the race's future.
Formula One's managing director Sean Bratches said on Tuesday he suspected there would again be 21 races, the same number as this season, on the 2019 calendar but provided no details.
"I'm an optimist. We haven't released our schedule yet albeit we will shortly; around Spa," the American told Reuters after addressing a Black Book motorsport forum in London.
"My German's not great, it's OK, but the talks have gone OK," he added.
Jorn Teske, Hockenheim's marketing director, told Reuters that talks with commercial rights holders Liberty Media had been ongoing in recent weeks but no deal had been done as yet.
"We very much hope that we will host the GP next year but I cannot say more. It's still open. We are still discussing," he said.
"What is clear is that both parties are trying to find a solution and this is very good. It means there is really a serious interest of Formula One to keep the German GP.
"So yes, we are optimistic as well but that's all for the moment."