Veach tops practice at Pocono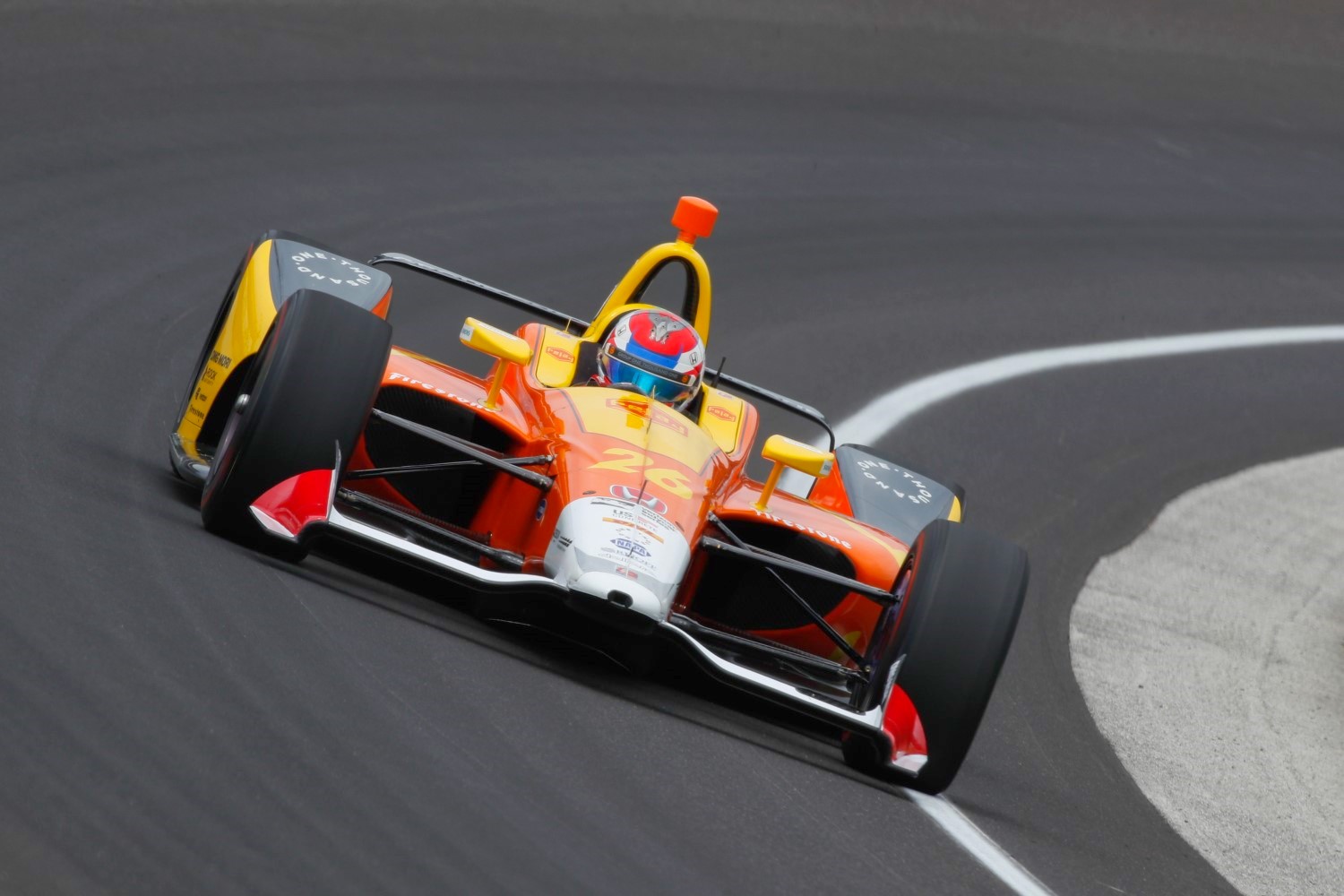 Zach Veach
Andretti Autosport Honda rookie Zach Veach topped practice ahead of qualifying for the ABC Supply 500 at Pocono with a speed of 217.393mph.
With a late lap Josef Newgarden was 2nd in his Penske Chevy with a lap of 217.016mph.
Alexander Rossi was third quick at 216.907mph in his Andretti Honda while Sebastien Bourdais was 4th in his Dale Coyne Honda and with point leader Scott Dixon rounding out the top-5.
Practice 1 Results
| | | | | | | | | | |
| --- | --- | --- | --- | --- | --- | --- | --- | --- | --- |
| Pos | No | Name | FTime | Diff | Gap | Laps | FSpeed | Engine | Team |
| 1 | 26 | Zach Veach | 41.400 | –.—- | –.—- | 32 | 217.393 | Honda | Andretti Autosport |
| 2 | 1 | Josef Newgarden | 41.472 | 0.0719 | 0.0719 | 34 | 217.016 | Chevy | Team Penske |
| 3 | 27 | Alexander Rossi | 41.492 | 0.0927 | 0.0208 | 36 | 216.907 | Honda | Andretti Autosport |
| 4 | 18 | Sebastien Bourdais | 41.685 | 0.2854 | 0.1927 | 31 | 215.904 | Honda | Dale Coyne Racing with VS |
| 5 | 9 | Scott Dixon | 41.729 | 0.3290 | 0.0436 | 27 | 215.679 | Honda | Chip Ganassi Racing Teams |
| 6 | 14 | Tony Kanaan | 41.769 | 0.3696 | 0.0406 | 28 | 215.469 | Chevy | AJ Foyt Enterprises |
| 7 | 22 | Simon Pagenaud | 41.805 | 0.4052 | 0.0356 | 24 | 215.286 | Chevy | Team Penske |
| 8 | 30 | Takuma Sato | 41.825 | 0.4258 | 0.0206 | 25 | 215.180 | Honda | Rahal Letterman Lanigan Racing |
| 9 | 15 | Graham Rahal | 41.873 | 0.4728 | 0.0470 | 34 | 214.938 | Honda | Rahal Letterman Lanigan Racing |
| 10 | 5 | James Hinchcliffe | 41.877 | 0.4775 | 0.0047 | 29 | 214.914 | Honda | Schmidt Peterson Motorsports |
| 11 | 12 | Will Power | 41.879 | 0.4789 | 0.0014 | 30 | 214.907 | Chevy | Team Penske |
| 12 | 21 | Spencer Pigot | 42.013 | 0.6132 | 0.1343 | 31 | 214.220 | Chevy | Ed Carpenter Racing |
| 13 | 6 | Robert Wickens | 42.118 | 0.7185 | 0.1053 | 29 | 213.684 | Honda | Schmidt Peterson Motorsports |
| 14 | 98 | Marco Andretti | 42.130 | 0.7308 | 0.1166 | 20 | 213.622 | Honda | Andretti Herta Autosport with CA |
| 15 | 23 | Charlie Kimball | 42.163 | 0.7633 | 0.0325 | 34 | 213.457 | Chevy | Carlin |
| 16 | 20 | Ed Carpenter | 42.183 | 0.7836 | 0.0203 | 31 | 213.355 | Chevy | Ed Carpenter Racing |
| 17 | 28 | Ryan Hunter-Reay | 42.196 | 0.7967 | 0.0131 | 34 | 213.288 | Honda | Andretti Autosport |
| 18 | 4 | Matheus Leist | 42.283 | 0.8836 | 0.0869 | 31 | 212.850 | Chevy | AJ Foyt Enterprises |
| 19 | 19 | Pietro Fittipaldi | 42.321 | 0.9211 | 0.0375 | 28 | 212.661 | Honda | Dale Coyne Racing |
| 20 | 10 | Ed Jones | 42.384 | 0.9846 | 0.0635 | 35 | 212.343 | Honda | Chip Ganassi Racing Teams |
| 21 | 59 | Max Chilton | 43.053 | 1.6531 | 0.6685 | 38 | 209.046 | Chevy | Carlin |
| 22 | 88 | Conor Daly | 43.687 | 2.2870 | 0.6339 | 15 | 206.012 | Chevy | Harding Racing |