Saturday morning IndyCar update from Pocono
Local favorite Marco Andretti
Good morning from a very overcast Pocono Raceway. Right now it is not raining and there is a decent possibility the rain might hold off to get the late morning (10:30 to 11:30am) practice in for the IndyCars. This afternoon looks like qualifying might be a washout, but you never know how the weather might turn up here in the mountains.
The trucks and blowers are currently out on the track drying up some wet spots from an overnight rain shower.
Qualifying is scheduled for 1:30 pm ET if the rain holds off (clouds look ominous out to the west) and a final practice is scheduled for 4:45 to 5:45pm
The forecast for Sunday has now improved and after some morning showers it is forecast to clear up and be nice for the race.
The talk in the paddock today centers around what Fernando Alonso might do, next year's schedule, the title fight headed by Scott Dixon and Alexander Rossi, and whether the cars will race better with the front wing changes.
ABC Supply is the big sponsor for this race. ABC Supply prides itself on supporting its associates, its customers, and its race team– AJ Foyt Racing. This Sunday the nation's largest exterior building products distributor will host nearly 1900 guests at the ABC Supply 500 at Pocono Raceway, marking a new high in the company's guest count at this event in the Northeast region. It stands as the largest hospitality gathering for the company at a Verizon IndyCar Series event this year.
Tom Kuchan, the company's northeast region vice-president, explained why this event has worked so well for the company, which last year hosted over 1400 guests at Pocono.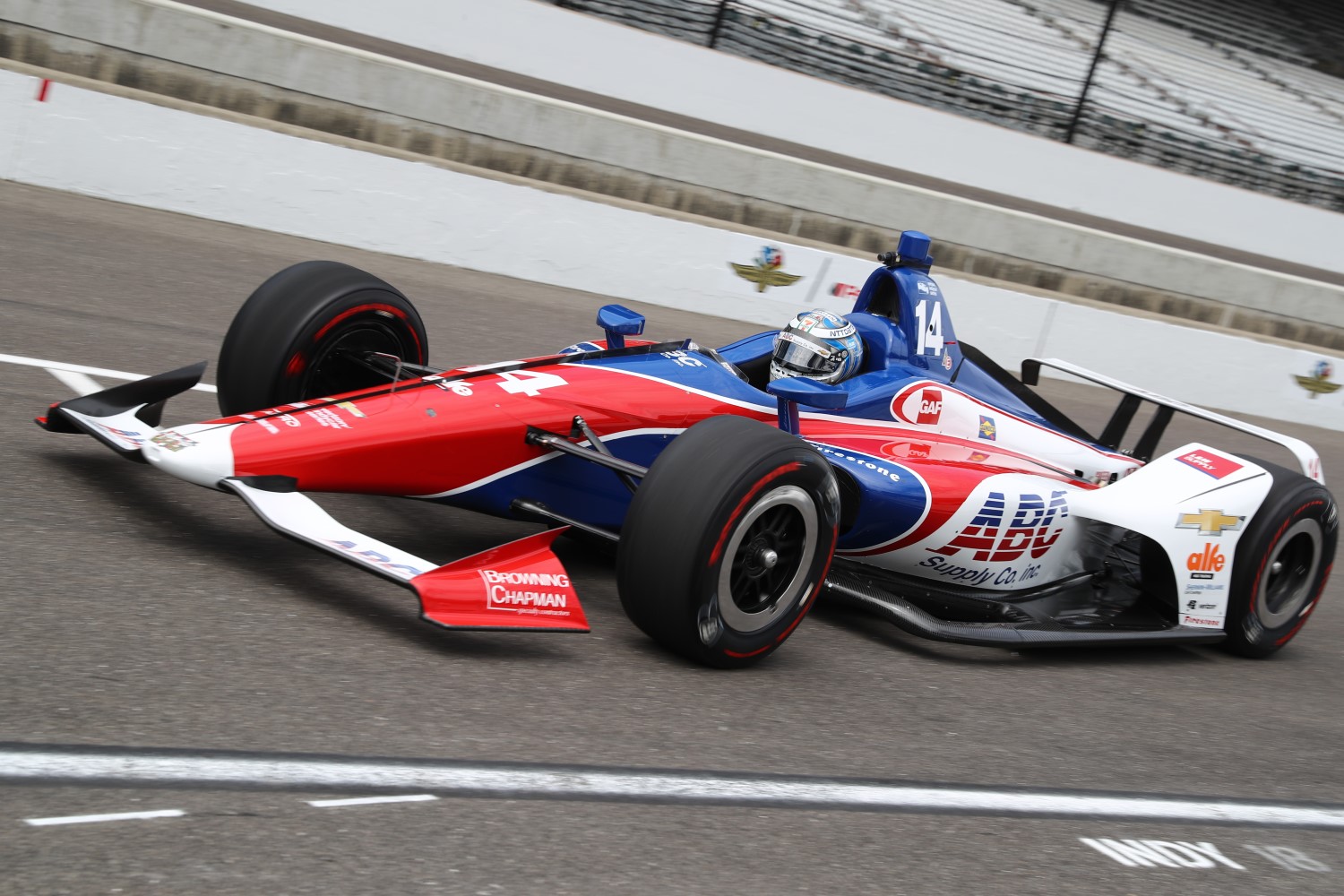 Tony Kanaan in the ABC Supply #14
"Pocono Raceway is in a central location for most of the Northeast Region of ABC Supply, which means a lot of our people can easily get there for the day," Kuchan shared. "Once our guests get there, they are well taken care of by the Pocono Raceway staff. We have had a great partnership with them since we first sponsored the Indy race back in 2015."
"The ABC Supply family continues to grow with more branches, more associates and more customers every year. Our repeat attendees like to come back year after year for a great family day at the races, and the rookies want to see what Indy Racing is all about."
"IndyCar racing lines up with many of our company values," Kuchan explained. "The race team works hard and at the end of the day you just want to have fun. Our associates and customers work hard all year long and come out to the races to have fun together with their families. The race team is a family just like our associates and customers are one big family. With races across the country, it's easy for everyone to rally behind the team."
Stay tuned to AR1.com for further updates as news or rumors surface in the paddock Mark C. reporting live from Pocono