Toyota drops sponsorship of Long Beach Grand Prix (2nd Update)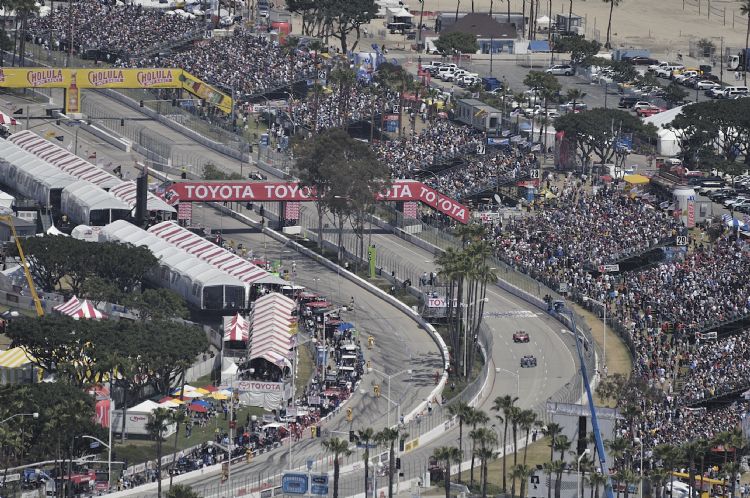 The 2nd most popular race on the IndyCar calendar needs a new title sponsor
UPDATE
Toyota has "ended its 44-year partnership with the Grand Prix of Long Beach," forcing race officials to "find a new title sponsor" ahead of next April's three-day festival anchored by an IndyCar race, according to a front-page piece by Haire & Munguia of the Long Beach PRESS-TELEGRAM.
Grand Prix Association of Long Beach President & CEO Jim Michaelian said that the automaker told race organizers it "would not renew its latest three-year contract shortly after this year's event."
Toyota's North American division "began its relationship with the Grand Prix during the event's inaugural year" in '75, when it began "providing a pace car." Toyota the following year "created a charity match race," and in '80 became the "title sponsor."
Long Beach Mayor Robert Garcia said, "Once they made the decision to move most of their operations out of Southern California and over to Texas, I think a lot of us wondered if that relationship would continue."
Toyota GM/Motorsports Laura Pierce "denied that moving the headquarters from Torrance to El Paso played a role in the company ending the partnership."
She noted that Toyota still "sponsors a NASCAR race" in Northern California at Sonoma Raceway. Michaelian said that his group has had "meetings with some potential sponsors, both vehicle manufacturers and non-automakers, but would not disclose the names of those companies." Long Beach PRESS-TELEGRAM.
TREASURED RACE: This year's Grand Prix drew around 185,000 fans over the three-day span, and in California, Robert Morales notes the event is "considered IndyCar's most popular race behind the Indianapolis 500." It is "certainly one of the most coveted" races for drivers. Michaelian said that it all "makes the race very attractive to sponsors."
IndyCar had three events on the '18 schedule "without a title sponsor" — Portland, Sonoma and the infield race at Indianapolis Motor Speedway.
As to whether Long Beach could continue without a title sponsor, Michaelian "wouldn't go there." Michaelian: "We are committed to finding sponsorship needed to make this event happen and we're going to do that. That's our responsibility, and we're going to get it done" Long Beach PRESS-TELEGRAM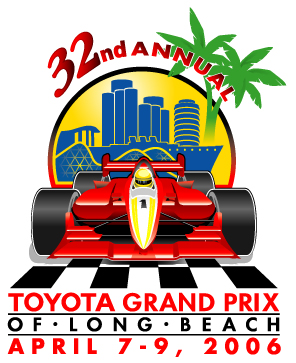 2006 Long Beach GP logo.
08/16/18 AR1.com reached out to Toyota regarding their announcement and they told us, "Toyota has had an incredibly successful 44 year-run as the entitlement sponsor of the Grand Prix of Long Beach. We value the relationship we've built over those years, but feel it is in the best interest of Toyota to no longer be the entitlement sponsor."
They gave us no indication that the LB race being on NBCSN for the past 9 years with its low ratings and little exposure for Toyota being a factor, but one has to wonder if that factored into their decision behind the scenes.
08/16/18 LONG BEACH, Calif. – Toyota Motor North America has announced its decision not to renew its title sponsorship agreement for the annual Grand Prix of Long Beach.
The following is a statement from Jim Michaelian, president and CEO of the Grand Prix Association of Long Beach.
"We have had a phenomenal relationship with Toyota for 44 years, a record in the racing world. In recent discussions, however, Toyota has elected not to renew as the title sponsor. This has now opened up an opportunity to identify a new title partner. Coming off a very successful 44th Toyota Grand Prix of Long Beach, we're excited about the future and are exploring all possible sponsorship opportunities that might exist in the market.
"Toyota came aboard our fledgling event in 1975 as Official Pace Car provider and in 1980, Toyota stepped up to become our entitlement sponsor and remained in that position for 39 years. In 1976, Toyota created the charitable Toyota 'Race for Youth' Match Race which would become the world-famous Toyota Pro/Celebrity Race starting in 1977, continuing for the next 40 years. Among the many beneficiaries of this race were the Children's Hospitals of Long Beach and Orange County. Together, over the years, we were able to build the Toyota Grand Prix of Long Beach into America's #1 Street Race.
"On behalf of the Grand Prix Association of Long Beach, I would like to thank Toyota for all that it did to help us grow our event and make it what it is today. We are proud to have had Toyota be the most prominent of our sponsor partners for so many years." The 2019 Grand Prix of Long Beach will take place April 12-14.