Latest F1 news in brief – Thursday
In F1 the car is 99% and driver 1%. With McLaren Alonso had 0.00% chance to win races

Alonso 'lost motivation' for F1 – Briatore

Hamilton vs Vettel 'best ever fight' – Coulthard
Vettel 'could eat Charles Leclerc alive' – Villeneuve
Michael Schumacher 'to be transferred to mansion on Majorca'
Alonso 'lost motivation' for F1 – Briatore
(GMM) Fernando Alonso is quitting F1 because he lost motivation — but he could return.
That is the news from Flavio Briatore, the former Renault team boss who is still involved in Spaniard Alonso's management.
He told La Gazzetta dello Sport that the 37-year-old has decided to sit out 2019 in order to race in other categories, because he got tired of not having a winning F1 car.
"It makes no sense for him to be seventh or eighth," Briatore said.
"That way, a driver loses motivation. I find it strange that in this formula one, there is apparently no place for a driver with the talent of Fernando."
Briatore rejected Christian Horner's recent claim that no top team wants Alonso because he is a divisive force.
"I'm friends with Christian, but I think he got too excited. I think if there is a team that cannot handle its drivers, it is his," said the Italian. "That is exactly why Daniel Ricciardo is leaving.
"Fernando drove for me and glorified the Renault team. He was an exemplary teammate for the other drivers and a benchmark for the engineers," Briatore added.
Many insiders now expect Alonso to race full-time in the Indycar series next year.
Briatore said: "Let's see. First, he will finish the season in formula one and world endurance, and then I would understand it if he decided to take a break.
"What is for certain is that it's too early to say goodbye. Things change very fast in formula one. You should never say never. I would like to see Fernando in a Mercedes or Ferrari."
Hamilton vs Vettel 'best ever fight' – Coulthard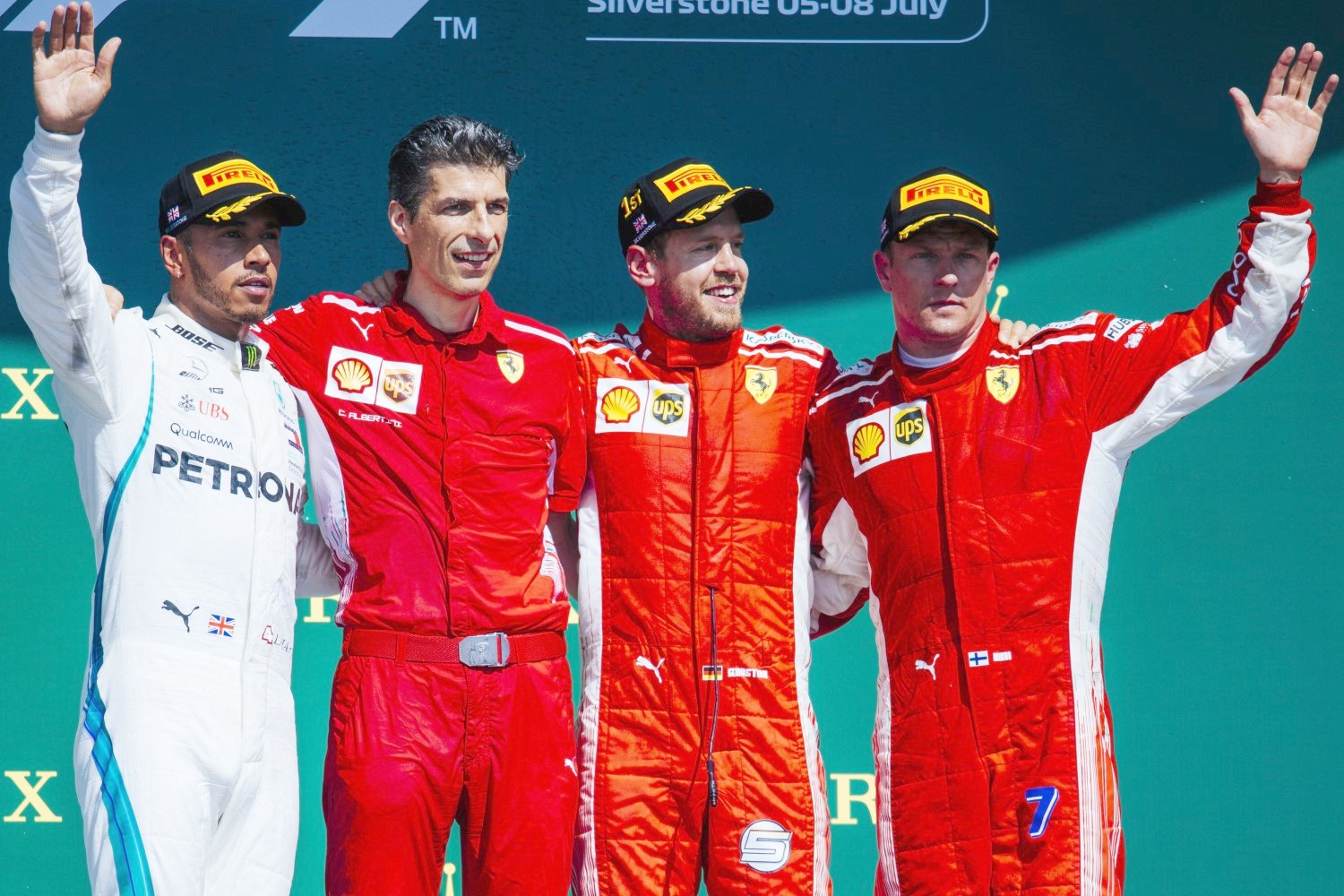 Hamilton left and Vettel (C) at Silverstone
(GMM) The F1 world is witnessing "possibly the best ever" fight for the world championship in 2018.
That is the claim of former McLaren and Red Bull driver David Coulthard.
He told Sport Bild: "This season we have one of the best title bouts in a long time and possibly the best ever. It will go down in history.
"Lewis (Hamilton) and Sebastian (Vettel) are not just extremely fast and focused but completely different characters. And in Valtteri Bottas and Kimi Raikkonen they have two good teammates who do not necessarily play the water carrier," the Scot added.
Coulthard, who is now British F1 broadcaster, played down high profile errors made recently by Ferrari's Vettel, including his crash at Hockenheim.
"In the end it will be the strengths that are the decisive factor, not the weaknesses," he said.
"It's because of their strengths that they're in the lead. Only after Abu Dhabi should we tally up who made the most mistakes and how many points he lost. Not before," Coulthard added.
He compared the German to F1 legend Michael Schumacher, and said Hamilton is commonly misunderstood as being overly aggressive.
"He does not like trouble, actually," Coulthard said.
"After Baku last year, for example, he wanted talks between men to clear things up with Vettel. Sebastian is similar, but he's a family man and very mature," he added.
"I think they respect each other on a sporting level, although they're too different to be friends."
Vettel 'could eat Charles Leclerc alive' – Villeneuve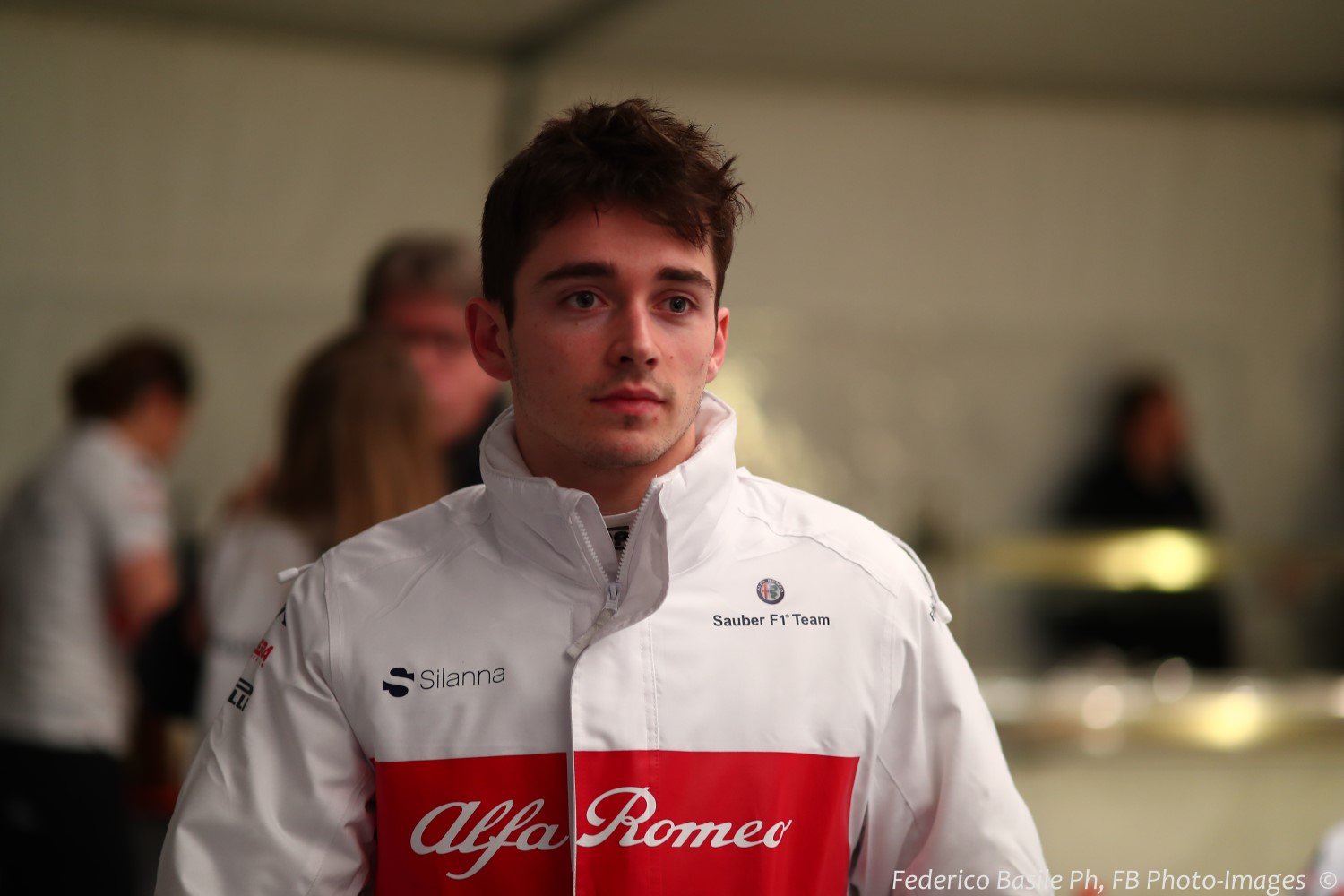 Will Leclerc get destroyed?
1997 World champion Jacques Villeneuve believes promoting Ferrari academy driver Charles Leclerc could lead to Sebastian Vettel 'eating him alive' should he replace Kimi Raikkonen in 2019.
Speaking on the F1 podcast, Villeneuve feels Raikkonen deserves another extension on his Ferrari contract after how well he has driven this season, the Finn currently sits third in the Drivers' Championship, 43 points behind team-mate Vettel, despite no victories.
Speculation has surrounded the future of the 2007 world champion for many seasons, this has now come to a pinch point due to the pressure of Leclerc's performances in his rookie season in a Sauber.
When asked by host Tom Clarkson if Raikkonen should stay, Villeneuve said: "Of course, look at the work he has been doing.
"He's third in the championship, he's often quicker than Vettel, when he's not he's what, a tenth behind? He's paramount in the development of the car.
"The whole team works fantastically well now, put a young cub next to Vettel; What will Vettel do? He'll try to eat him alive.
"And either he will destroy the young cub, or it'll end in tears and the whole team will end up going slower within two years, so that's not constructive."
When asked by Clarkson whether Villeneuve would promote Leclerc, he further elaborated on why he wouldn't do it, citing teams like Ferrari and Mercedes being top teams that don't develop drivers, which should be the job of junior teams.
"Not for one more year, no," added the Canadian. "Charles is still making a few mistakes, it would be great for Leclerc. It would be amazing for him, but it would be two years of Ferrari preparing him.
"Ferrari is like Mercedes, it's not a team to prepare drivers. It's a top team. Top teams, they buy and they pay the drivers as when they're at their best and when they want them.
"That's why you have junior teams to prepare them."
Michael Schumacher 'to be transferred to mansion on Majorca'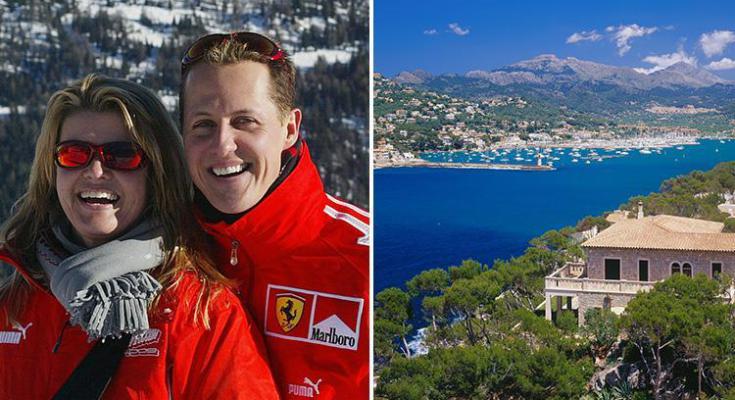 New home for the Schumachers
Michael Schumacher, the Formula 1 legend, will reportedly be moved to a £27 million mansion in Majorca that his wife is said to have bought last month.
Schumacher, 49, sustained severe head injuries in a skiing accident in France on December 29, 2013 and has been cared for at his home in Switzerland since September 2014.
Katia Rouarch, who became mayoress of Andratx in June last year, told weekly Swiss magazine L'Illustre that preparations had been made to welcome the German to the Spanish island.
"I can officially confirm Michael Schumacher will move in to our municipality and that everything is set up here to welcome him," she was quoted as saying. Spanish magazine Marca reported it had also confirmed the move.
It was not known exactly when Schumacher would arrive or how long he would be staying there.
Schumacher's wife Corinna reportedly bought the mansion last month from Florentino Perez, the Real Madrid president, for almost £27 million (30 million euros).
She purchased the property near Andratx in the southwest of the island in order to spend holidays there with her children and friends, German newspaper Bild reported.
Schumacher used to spend holidays on the island in the past while his brother Ralf has also spent time there.
The 15,000 square meter estate is said to boast two swimming pools, a helipad, a gym and a huge palm-tree-fringed garden.
"The place, surrounded by solid walls, has many advantages: it is located on a promontory, a part of which becomes a small precipice, which makes the property inaccessible to prying eyes," the magazine reported.