Latest F1 news in brief – Tuesday
Ricciardo isn't moving to Renault to win races, it was to retire rich by tripling his salary

No Ricciardo race wins until 2020 – Abiteboul

No air travel for Niki Lauda
Massa 'annoyed' by Stroll comments
Hartley can still 'hold head high' if he loses F1 seat
Massa: On pure talent Michael and Fernando on same level
Have Sebastian Vettel's Errors Already Cost Him The Title?
No Ricciardo race wins until 2020 – Abiteboul
(GMM) Daniel Ricciardo may not have a car to win races in 2019, the Australian's new boss has admitted.
Ricciardo and Renault shocked the F1 world recently by announcing that the 29-year-old is leaving Red Bull at the end of the year.
"His commitment to us proves our will to accelerate the catching-up process to the top teams," Renault boss Cyril Abiteboul told Auto Motor und Sport.
"It's also a recognition of the work we have done over the past two and a half years.
"Daniel's talent and charisma are a big bonus for us. We have to repay that trust by providing him with the best possible car," the Frenchman added.
However, Abiteboul acknowledges that Ricciardo may not be in a winning position until 2020 or 2021.
"With Ricciardo, the big objective is to fight for the title in 2021, but we hope that he can start winning races in 2020," he told France's Auto Hebdo.
"But I have also realized that these 29, 30-year-old drivers – and it's the same thing with Nico (Hulkenberg) – they not only want to drive but they aspire to something else.
"It's not the same with everyone, but I do believe it is with these two guys," Abiteboul said.
He also said Ricciardo had "justified doubts" about Red Bull's Honda engines for 2019.
No air travel for Niki Lauda
(GMM) Niki Lauda may not be able to return to the F1 circuits any time soon.
Recently, as he recovers in intensive care from a lung transplant, the F1 legend's surgeon said Lauda should be able to return to "normal life" eventually.
But Osterreich newspaper claims the Mercedes team chairman had a setback over the weekend, when he had to be connected to a dialysis machine.
Lauda, 69, has since improved, but Osterreich says he will not be able to travel by plane for six months.
And he has been told to holiday only in "neighboring countries" so that he can return quickly to the hospital in Vienna if need be.
Massa 'annoyed' by Stroll comments
Old-man Massa buried Stroll
(GMM) Felipe Massa has admitted he was "annoyed" by recent comments made by Williams driver Lance Stroll.
Last year, F1 veteran Massa sat alongside teenage rookie Stroll at Williams, where it was common knowledge that the experienced Brazilian was his driving "mentor".
But Stroll insisted recently that he got "no guidance from him (Massa) whatsoever".
Massa told Globo: "I did more for him than Michael Schumacher did for me, and he (Schumacher) was my teacher.
"With all modesty, I did a great deal for him. I first met him when he was 7, so it was a pleasure for me to take him under my wing and help him."
Massa, now retired, hinted that he therefore feels betrayed by Stroll's recent comments.
"He had big problems with pace and also understanding a formula one car. I was very close to him and spoke to him a lot and helped him in a way that no one else has done for a driver," he said.
"That's why I was angry when I saw the comments, because I had not imagined he would say that. But we have no problem with each other," Massa added.
Hartley can still 'hold head high' if he loses F1 seat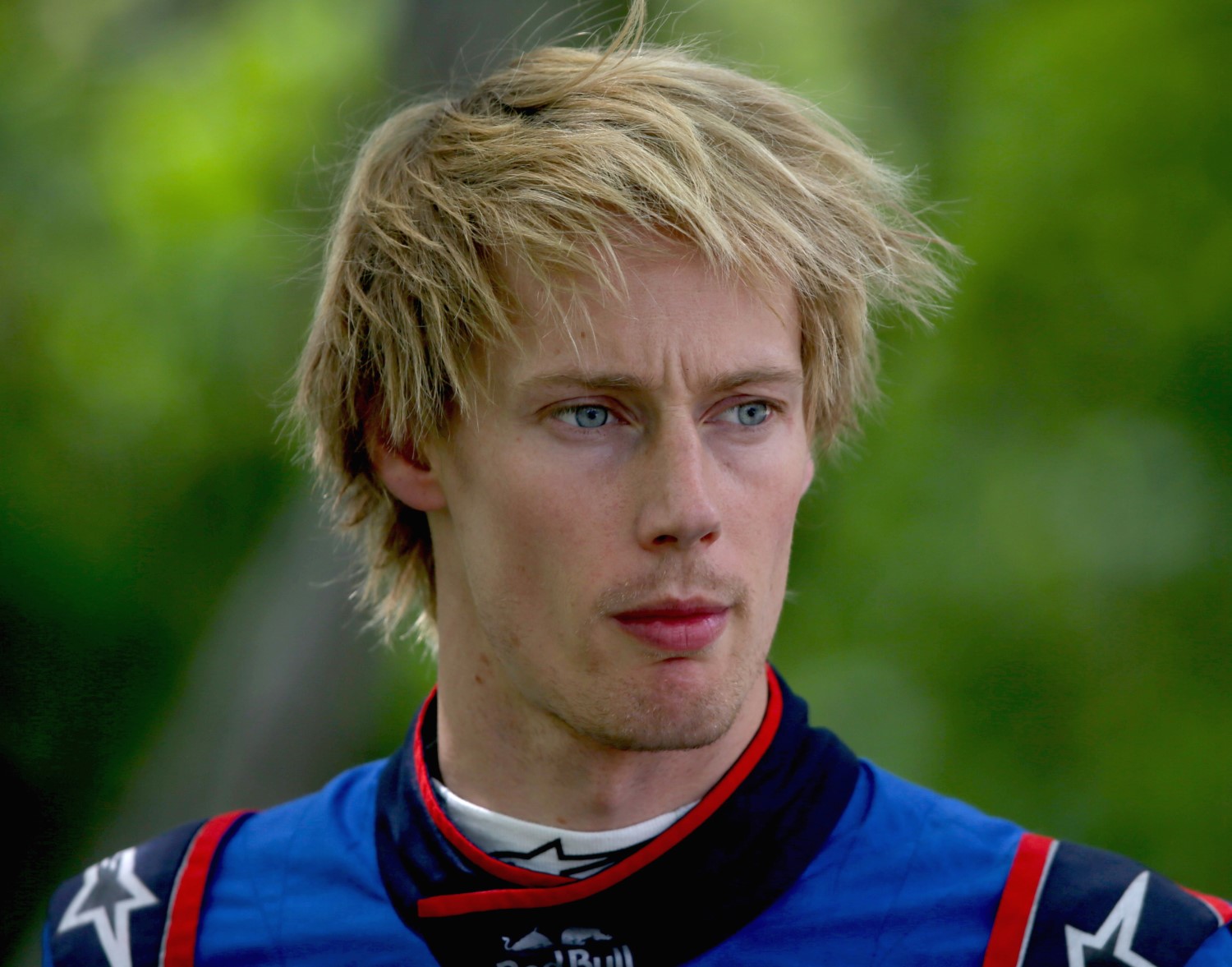 Brandon Hartley – back to sports cars?
Brendon Hartley believes he can be proud of the job he has done at Toro Rosso during his first full season in Formula 1.
The Kiwi has endured a tough 2018 campaign and heads into the second half of the season with just two points to his name, while teammate Pierre Gasly has been one of the standout performers on the grid with notable results coming in Bahrain and Hungary en route to amassing 26 points so far.
A plethora of crashes including big incidents in Canada and at Silverstone have marred Hartley's campaign, leaving his future in the sport uncertain. Toro Rosso had an approach for Lando Norris knocked back by McLaren earlier in the year, with the Formula 2 title contender linked with taking Hartley's place.
"If Formula 1 finishes at the end of the year or whenever I'll hold my head high," Hartley said. "I know the job I'm doing behind the scenes and I know that I'm giving everything that I can.
"Not everyone always knows the full story," he added. "But I feel in a good place and I hope I can consolidate the momentum I've had in the last weekends. Even if I didn't always have the result I actually feel like I was very strong and I hope I can get some more results and more points on the board in the next races."
When asked if he had the feeling his seat was under threat, Hartley replied: "No not at all. I guess it's the fact two months ago I was getting asked questions every second if my F1 career was over.
"I guess it changed my attitude a little bit and I feel very strongly about it," he added. "A lot of things are out of my control and I feel very content that I am doing the best that I can and hopefully the results will follow."
Hartley revealed he has sought advice from former Porsche World Endurance Championship teammate and ex-F1 driver Mark Webber on a number of occasions since joining the F1 grid.
"We chat quite a lot," he said. "I think all through my career I've learned that it's good to take advice from as many people as you can and when you have someone like Mark who's happy to pick up the phone or have a meal and discuss everything I try and take full advantage of that. He's a good friend and always has something interesting to say or advice to give or compare notes.
"I think he saw many things in his time in Formula 1. I was very lucky to have him as a team mate in [WEC] as well. Especially off the track, managing situations, how to deal with the team, mentally how to deal with the pressures that are involved in Formula 1. There's a lot of advice he can offer and he's been helpful."
Hartley said Webber also offered advice about how to deal with a constant stream of rumors.
"Even early in the Porsche days it was very clear to me he wasn't too fazed about what was written or rumors, just focused on the things that were important. Having a larger view, seeing the bigger picture," he explained.
"I think I've got better and better at that. I think especially this year being under a situation with a bit of pressure, coming from all angles, from the media or whoever, actually it has made me feel a lot stronger and made me realize where my energy needs to be.
"I actually feel really good about the situation regardless of what's written or not written. It's made things a lot clearer for me on where my mind needs to be focused and how I need to feel."
Massa: On pure talent Michael and Fernando on same level
Massa drove against both Schumacher and Alonso at Ferrari
Felipe Massa has the distinction of being a teammate to two of the most respected Formula 1 drivers of the past two decades namely Michael Schumacher and Fernando Alonso, both during their times at Ferrari.
The Brazilian who retired from F1 at the end of the last season spoke about his two former teammates during the TV show "Conversa com Bial" and the comparisons provide some interesting insight to the two great drivers.
Massa spent 2006 as Schumacher's teammate before partnering Kimi Raikkonen from 2007 until the end of 2009. Alonso arrived at Maranello in 2010 where he spent four seasons as Massa's teammate.
When asked to compare the two drivers during the TV show, Massa said, "As for pure talent, I would put Michael and Fernando on the same level. Alonso has the gift, the ease, of understanding a race and driving incredibly fast. A highly intelligent driver with extensive skills and I would say all that also about Michael."
"I have to admit – it was not easy to live by his side. I had a close relationship with Michael. I was young and eager to absorb all the knowledge of a seven-time champion, and Schumacher treated me very well."
"But I had to wrestle with Fernando in a different way. Outside of the race car, I had zero problems with Alonso, we have always maintained a healthy working relationship."
"With Fernando, that's one thing. If he pulls down his visor, he becomes another person. He can split a team. We saw that in many racing teams he drove for."
"I see that as his problem. Maybe he could have made more of his talent without this trait," added Massa, echoing the general consensus in the F1 paddock.
Have Sebastian Vettel's Errors Already Cost Him The Title?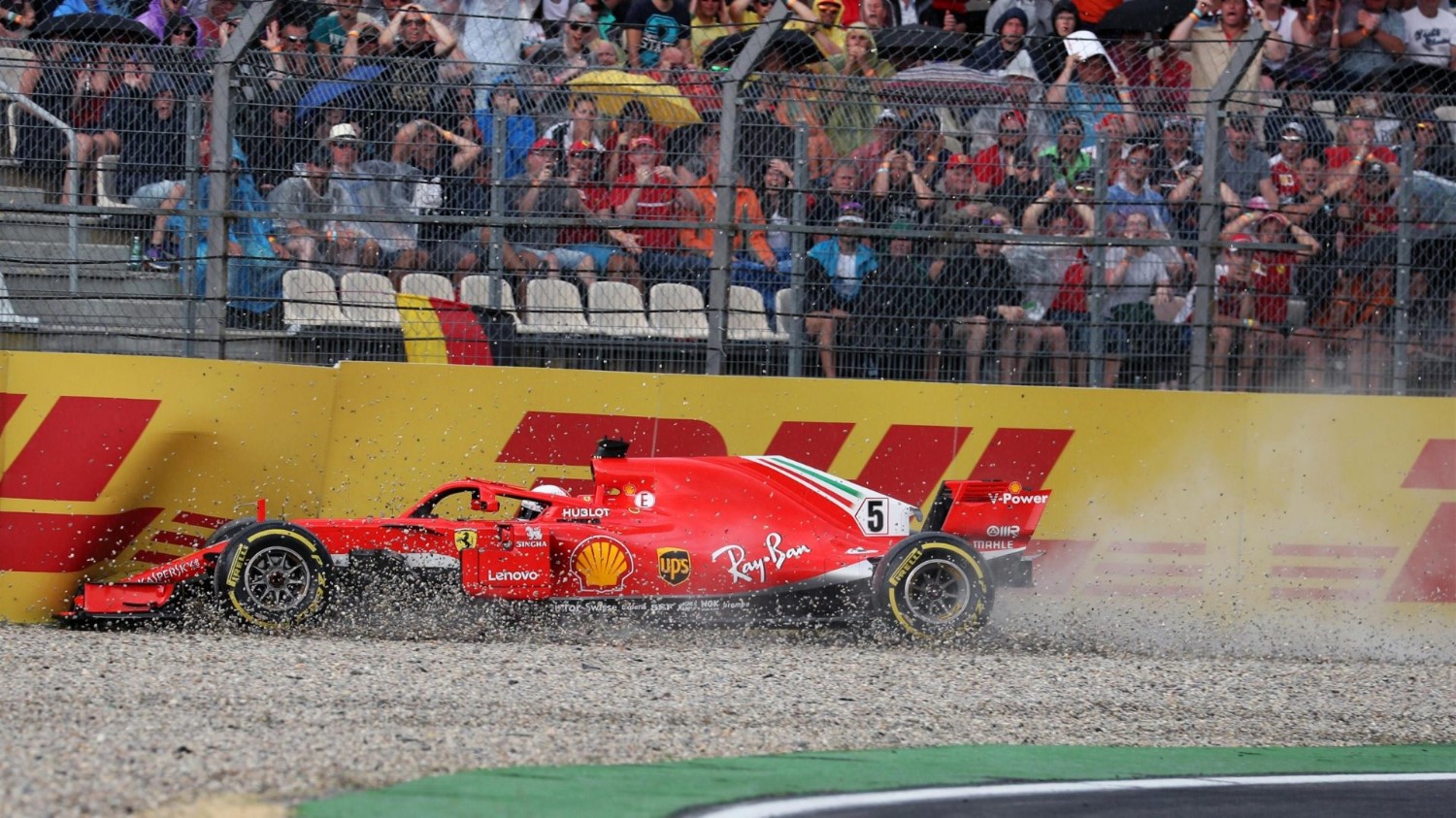 Vettel's crash in Germany in the rain will likely cost him the 2018 title
The quest for five world championships has been the main headline for the 2018 FIA Formula 1 World Championship with Sebastian Vettel and Lewis Hamilton fighting once again for the title. Both drivers battled hard in last year's edition which saw the Mercedes AMG Petronas Motorsport of Hamilton clinching the championship with two races to spare. Scuderia Ferrari have mounted a strong title charge with the SF71H as they aim to win their first title in ten years. Vettel currently lies second in the championship, 24 points behind Hamilton going into the summer break, but the story could have been different for the German.
Vettel has so far claimed four wins, five pole positions and seven podium finishes. He also has led more laps than anyone so far this season, with the thirty-one year old leading a total of 297 laps compare to Hamilton's 232. With those statistics, Vettel's title charge is more ambitious and stronger on paper compare to 2017. So why is he far back going into the Belgian Grand Prix? There have been five races this year where Vettel and Ferrari have made errors or fell short which in return has cost them valuable championship points to the point where Vettel could even be leading the championship.
We all know how the German Grand Prix ended for Vettel. A massive hammer blow for himself and Ferrari as a rare error for the German saw him go off into the gravel and hitting the barrier in the stadium section. The incident alone helped his rival Hamilton go on and win the race, where the day before saw Hamilton suffer major issues with his car in qualifying, hindering his grid position. That resulted in Vettel gaining his first retirement of the season and lose his championship lead to the Brit by 17 points. If his race ending error didn't happen, Vettel would have probably went on to win on home soil and we could have been looking at a different championship leader going into the summer break. It's rare we see a multiple world champion make mistakes on track but when we go, it's a reminder that they're human too and even the best can mistakes.
After winning the opening two rounds in Australia and Bahrain, the Chinese Grand Prix saw Vettel at comfortably in third place with a handful of laps to go. Down at the hairpin after the long back straight, Aston Martin Red Bull Racing's Max Verstappen attempted to dive down the inside of Vettel in what was an ever closing gap. The two collided which send both drivers spinning and leaving Vettel with damage to his floor, which hindered his pace as he plummeted down the order. He would go on to finish eighth place in the race. Whilst this wasn't Vettel's fault in causing the incident and Verstappen being handed a time-penalty, it proved to be costly as he only left Shanghai with just four points.
The next race in Baku however, was a gamble that failed to pay off and proved to be very costly. At the Azerbaijan Grand Prix, Vettel was on course to execute the perfect race. Pole position, comfortable around Baku and was on course to take back the lead of the race when Valtteri Bottas pits, who went long on his tires. But an safety car on Lap 40 following the collision from the two Red Bull cars allowed Bottas to pit and hold onto the lead. On Lap 48 with the safety car in, Vettel attempted to pass Bottas for the lead down at Turn 1 but resulted in the Ferrari locking up and going wide into the corner, leaving him down to fourth place and with flat spotted tires.
This move by Vettel proved to be unnecessary as a lap later, race leader Bottas suffered a tire failure down the main straight and was forced to retire. If Vettel had not made that move the previous lap, he could have won the race. Was Vettel too ambitious with the move? Maybe so. Could he have saved the move for another lap? Most likely. You can't blame him for having a go. He learned his lesson at the British Grand Prix as with patience saw him pass Bottas as he claimed victory at Silverstone. If he did that in Baku, he could have won the race.
At Paul Ricard, Vettel caused a Turn 1 incident when he tagged Valtteri Bottas when battling for second place, colliding into the Mercedes driver in the inside of the corner. Both cars suffered damage in the race, with Vettel having a broken front wing and Bottas a puncture, resulting in both drivers sent to the back of the field under the safety car. Whilst Vettel did deliver a great comeback through the field to finish in fifth place, a podium finish or even a challenge for the win was possible if the clash with Bottas didn't happen.
Whilst the Austrian Grand Prix saw both Mercedes drivers of Hamilton and Bottas retire from the race, handing Max Verstappen his first win of the season, it could have been a different story. During Qualifying, Renault Sport Formula One Team's Carlos Sainz Jr. was starting his flying lap but after Turn 1 had to take avoiding action as the Ferrari of Vettel was slow in the middle of the track. Sainz had to go off the track to avoid colliding with the slow Ferrari, hindering his qualifying run. Whilst both drivers made it into the final session, Vettel was penalized for the incident and was handed a three place grid drop. He started the race in sixth but finished the race in third, benefiting from Hamilton's retirement. Had he not block Sainz in that qualifying session, he could of taken the chance of leaving with three extra points or even a winners' trophy.
Whilst these mistakes could bite back at Vettel in the second half of the season, there is still hope for Ferrari and the German. Out of the last 17 seasons, only 12 drivers who led the championship into the summer break went on to win the championship. Last year Vettel had a 14 point lead to Hamilton at Hungary going into the break, which he infamously lost due to Ferrari's downfall in the Asian races. However, it doesn't mean the tide can be changed within the final nine races.
Vettel has been in this position when fighting for a world championship. Back in the 2012 season with eight races to go, Fernando Alonso led the championship by 40 points to second place Mark Webber. Vettel at that time was third overall and only holding one win and three podiums to his name. He suffered a difficult start to that year with incidents in the opening half of the season but a strong run and a bit of luck he was able to turn it around and win his third world championship at the final race at Brazil. Comebacks can happen as we saw last year with Hamilton and the previous year with Nico Rosberg in 2016, who slipped at the midway stage of the season before fighting back.
Despite all the errors and question marks about Vettel's errors, the German has remained calm and positive over the matter. In Baku, he admitted that the move was his mistake and said he doesn't regret making the decision. His unexpected exit at home soil saw Vettel nearly in tears over the team radio as he slaps his Ferrari into the wall, but after the race he said that this things happen in racing. A lot of the media have made reference to Ferrari's meltdown last year but it seems Vettel is trying to keep the Italian camp motivated, knowing they have the better overall package for the season ahead. He already learned his lesson from Baku in being patient with his attacking, as proven in Silverstone and Budapest. But the mistake in Germany could be an incident that could haunt Vettel for the future.
Out of the five races mentioned, Vettel has lost out on potentially collecting 62 extra points, which in turn would create a healthy lead going into the summer break. That's quite a big loss. It's hard to question "what if's" in a sport like F1 but with mistakes, you can imagine the potential outcome of results if they didn't happen.
With the pressure strongly on Vettel to deliver Ferrari's first title in ten years and his first ever in Ferrari colors, he will be hoping for a strong and clean run to the end of the season. His form in the second stage of the season has been strong in the past which has helped him deliver four world championships at Red Bull, but the nightmares of 2017 will be in the air even if Vettel continues to say they're confident it won't happen again. Is the season over yet? No. Vettel can still come back and win the championship but he is up against one of the sport's most talented driver in Lewis Hamilton and Mercedes. It's a challenge both Ferrari and Vettel will want to come out on top and return the glory back Maranello. Aaron Gillard/TheCheckeredFlag