Latest F1 news in brief – Monday
Williams and Lowe going down with the ship together

Williams: Paddy is our CTO and I back him 100%

Vettel: Ferrari can make things happen after break
F1 drivers wanted DRS through Blanchimont at Spa
Brawn: Honda made important progress in performance
Williams: Paddy is our CTO and I back him 100%
Williams technical chief Paddy Lowe was one of the first to put up his hand and declare that their current car, the FW41, is one of the worst cars ever produced at their Grove factory, but deputy team principal Claire Williams is backing the former Mercedes man to lead them out of the doldrums.
Lowe once again shouldered the blame for the shortcomings of their current car, while protecting their inexperienced drivers Lance Stroll and Sergey Sirotkin, during an interview with the official F1 website, "We haven't given them the equipment this year to fight for points, which is unfortunate but within that, they have stayed disciplined, committed and hardworking."
"People have asked if that [inexperienced drivers] has been a problem to us. I'd say the car is our main problem. We don't assign any of that responsibility to the drivers."
"What we have done is produce a car where some of those aggressive steps have not worked and on the contrary has taken us backwards, not forwards. On top of that, it's uncovered a range of areas in which we have slipped behind in terms of our capability and process to develop the car. That's been disappointing."
Williams has revealed that "a reset and rebuild" is in process at Grove, with Lowe adding, "We've done a lot of very good work, but when you go and look at the numbers, we've probably stood still relative to our competitors."
"We're not going to give up, but if we're realistic, the idea of getting back towards the front of the midfield at this stage in this season is maybe not going to happen."
"So naturally, which happens anyway, a lot more focus moves to the following year," explained Lowe who survived the axe, but once the dust settled Head of Aerodynamics Dirk de Beer and Chief Designer Ed Wood were no longer in the building.
Next year may be even tougher for Williams, Martini title sponsorship will terminate after Abu Dhabi and now the Strolls are taking their business to Force India, who are also heading for a significant dip in prize money earnings from FOM.
Their last world champion Jacques Villeneuve, a staunch critic of the team, predicts this is the beginning of the end for the once mighty team that has 16 Formula 1 world titles to their name.
Prior to Lawrence Stroll pulling his investment, Williams said, "We're in fine shape financially. Of course we'd always want the money. Engineers spend as much as you give them. But we're not about to go under, we're not in a fight for survival."
"We have a good budget. There are lots of losses financially for us next year, but we have other avenues. I've grown up in this sport, I've grown up in this team where we've been in much harder situations than this."
"When Mum and Dad have been sat around the dinner table and Mum saying: what on earth are we going to do next year Frank? and Dad replying: Don't worry, something will turn up. I have that approach because something always does.
"I believe we will be fine next year, we already know we do have a healthy budget and that we'll be okay next year," added Williams in the interview, before the news of the Stroll led buyout of Force India.
Vettel: Ferrari can make things happen after break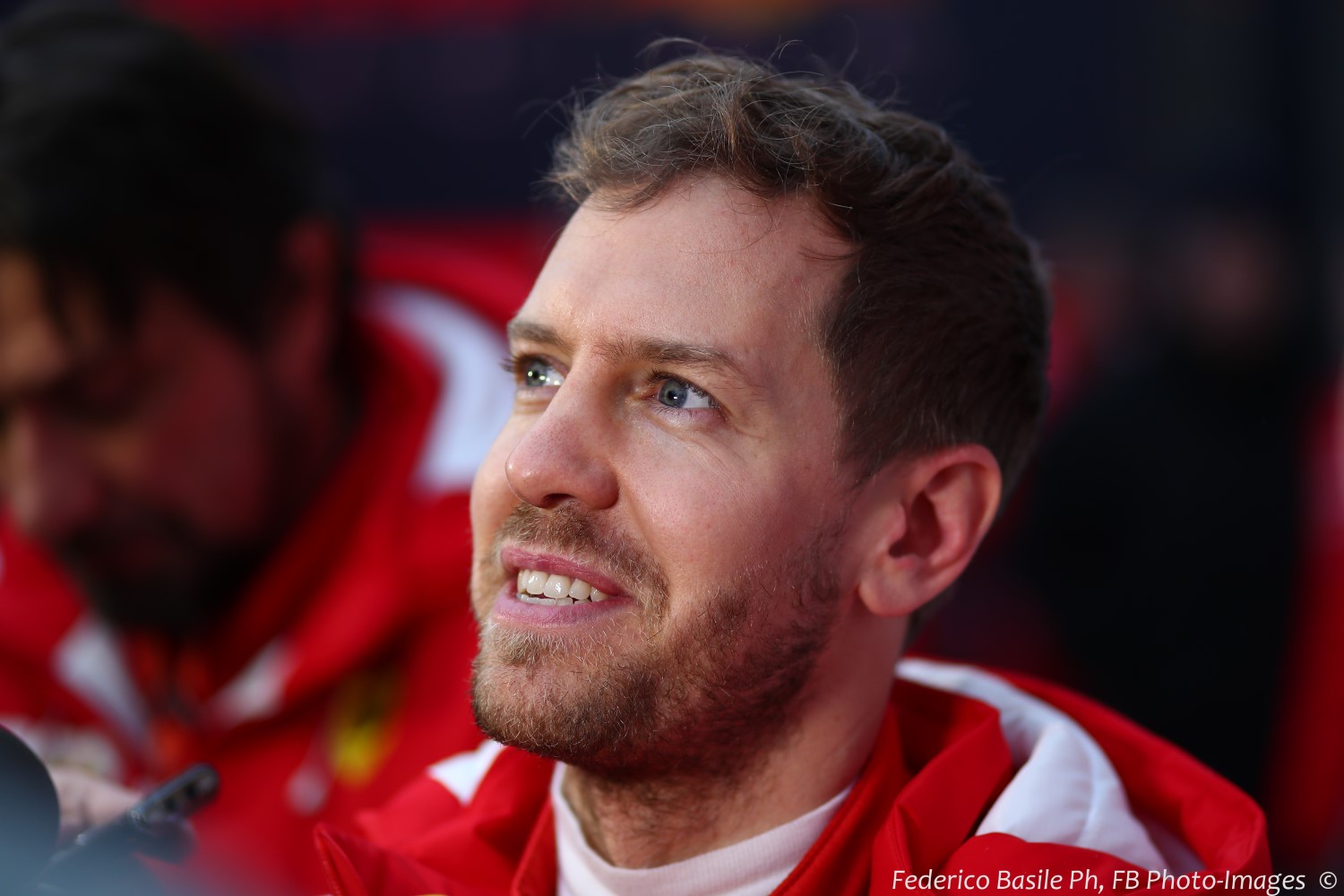 Does Vettel really think he can beat the Aldo Costa Mercedes?
A recent 32-point swing has left Sebastian Vettel trailing Lewis Hamilton by almost a race win's worth of points as F1 broke for the summer.
Vettel, though, is refusing to be downbeat. "We had sometimes the pendulum swinging our way, sometimes not," he said. "From my point of view I think it's been fairly consistent. The one error that was very costly in Germany – that was quite small, because I wasn't even trying but went off.
"That's part of the game. I can't rewind the clock. It has happened. It obviously hurt us, but I'm quite confident that if we have the car to fight with, we can put them under pressure and make things happen in the second half."
Ferrari and Mercedes have been developing their cars at an extraordinary rate, which has seen one, then the other, jump ahead in the competitive order.
Ferrari and Vettel's title challenge unraveled following the summer break last year, with Vettel retiring in Singapore and Japan, but the Mercedes was faster in terms of outright pace. The reverse is the case this year – and that's what gives Vettel hope.
"Last year, we lost the championship I think because our car wasn't quick enough to be a match in the final part of the season, despite what happened with the DNFs," he said.
"So I hope that this year, and I think this year has shown so far that our car is more efficient, our car is stronger and still has a lot of potential to unleash. I'm quite confident with what's sitting in the pipeline that we can improve. So we'll see. It should be an exciting second part of the year."
Vettel will have a chance to close the gap on Hamilton when F1 returns to action at the Belgian Grand Prix on August 24-26.
F1 drivers wanted DRS through Blanchimont at Spa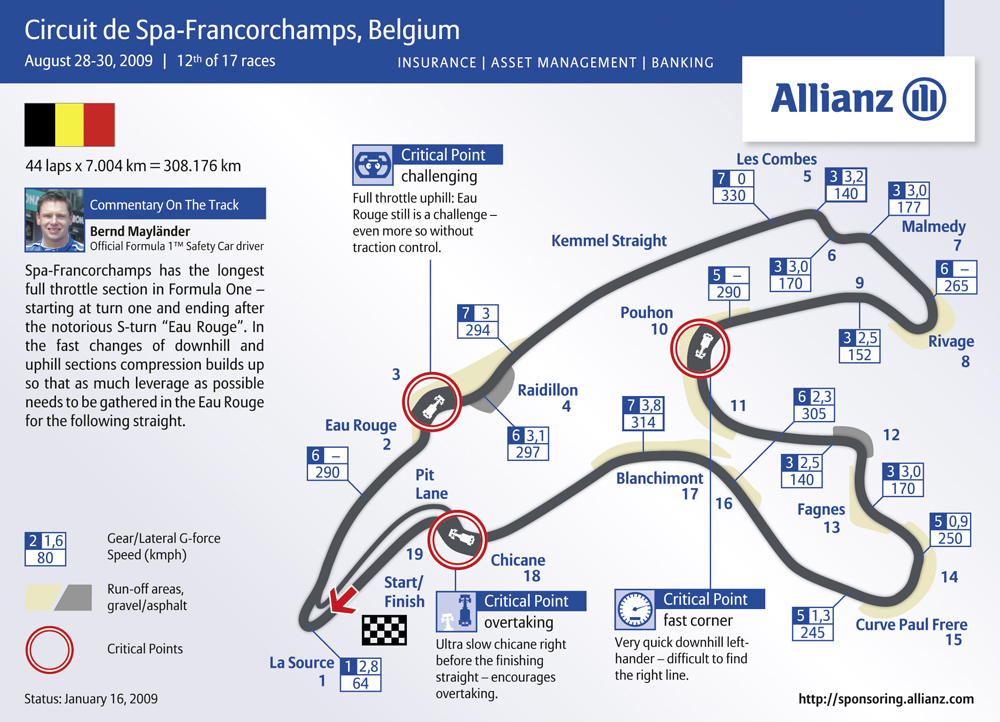 Spa
Formula 1 race director Charlie Whiting received a request from some drivers to place a third DRS zone through the Blanchimont corner at the Circuit de Spa-Francorchamps for the Belgian Grand Prix weekend, but opted against its implementation.
In a bid to aid overtaking through 2018, an additional DRS zone has been added to a number of circuits so far this season, and as the longest track on the F1 calendar, Spa appeared well-suited to having a third zone put in place.
While it was considered following calls from some drivers to put in a zone through the high-speed left-hander at Blanchimont in the final sector, Whiting confirmed that there would still be two zones at Spa, with the second zone on the Kemmel Straight being extended.
"The DRS zone going up to Les Combes will be 100 meters longer. The other DRS zone is on the pit straight, which doesn't really do an awful lot," Whiting said.
"I did have a discussion with a couple of drivers this weekend about where else we could do it at Spa, and I think it's not really realistic to do it anywhere else.
"Some drivers fancied the idea of going through Turn 16 and 17 with it open, but I'm not sure it's a good idea."
Concerns about DRS usage through high-speed corners were sparked at Silverstone, when drivers had the opportunity to use it through the fast Turn 1, with Romain Grosjean and Marcus Ericsson both suffering big crashes at the corner after leaving the flap in their rear wings open.
The Belgian Grand Prix takes place at Spa from August 24-26.
Brawn: Honda made important progress in performance
Ross Brawn
Formula 1 motorsport chief Ross Brawn is impressed with the progress Honda has made with Toro Rosso this season, feedback that will no doubt be music to the ears of Red Bull bosses who have slapped all their money on the Japanese auto giant providing them with a race-winning engine next year.
Looking back on the season, after 12 rounds, Brawn observed, "Given the situation and the resources available, Toro Rosso is doing a good job, just like Honda. The Japanese have made important progress, especially in terms of performance."
"It is important that they are on the right path as they will also be providing power units to their Red Bull sister team next year. The more teams that can battle it out at the top the better the show – that's exactly what fans and we in Formula 1 also want."
Stats at this stage show that Toro Rosso are eighth in the championship standings, having scored nearly half of what their closest rival team has scored this season.
But Brawn sees the positives after their good showing at the recent Hungarian Grand Prix, "The Honda-powered team celebrated their best qualifying result of the year."
"In the race, Gasly drove to a brilliant sixth place. He was the only one who was not outscored by a star driver from one of the top three teams and Hartley was in eleventh also close to the points."
"The team have experienced ups-and-downs this season, on the one hand, there were the highlights like Bahrain, Monaco and Hungary, but on the other hand they were victims of a lot of bad luck," added Brawn whose own 'minnow' team – Brawn GP – dominated the 2009 F1 world championship with a car originally built for Honda, only to be powered by Mercedes after the Japanese bosses pulled the plug on their F1 program.