Latest F1 news in brief – Sunday
Chase Carey pines about the loss TV viewers due to pay-per-view.

Italy pay-per-view switch to blame for audience drop

Horner says Daniel Ricciardo might regret his decision
Williams: Trying to rebuild your team isn't a work of moment
F1 falling behind on attempts to firm up '21 engine rules
Coulthard: No downside to Red Bull's Honda F1 engine switch
What if Gasly ends up being another Kvyat?
Italy pay-per-view switch to blame for audience drop
Formula 1's recent drop in television viewership can be blamed on Italy's move from free-to-air TV to subscription service according to Chase Carey, who insists it has nothing to do with declining interest in the sport.
F1 reported a four per cent drop in audience numbers compared to the previous season, which Carey explained was down to a switch in how F1 is broadcast in Italy, and if those numbers are excluded, audience numbers actually increased.
"That [drop] is largely due to our move from free to pay television in Italy," Carey said during an investor call. "Excluding Italy our television viewership is up three per cent year-on-year and our Saturday viewership for qualifying is up even more."
He added that the USA and China showed "particularly strong uplifts" in the amount of people watching live coverage.
While televisions audiences might be down overall, Carey reported that live race attendance had risen.
"Live attendance in aggregate is up 4 per cent year-on-year at the 10 tracks where we raced last year," he added. "And attendance at the two tracks we did not have in 2017, which are France and Germany, was well in excess of expectations. In Germany, the promoter even had to build new grandstands to meet demand."
Liberty Media's research also showed that fans believed the sport had improved in 2018 compared to previous seasons.
"44 per cent of our average fans are more interested in the 2018 season than they were in 2017 versus only 7 per cent a year ago. 66 per cent of fans believe F1 has improved versus two years ago, just 15 per cent say it's worse. And 67 per cent of fans say F1 is in good hands with Liberty while 10 per cent disagree."
Horner says Daniel Ricciardo might regret his decision
In Ricciardo Horner lost his best driver, and in not signing Alonso he's missing out on an even better one
Felipe Massa says he can understand why Daniel Ricciardo decided to quit Red Bull.
Ricciardo, one of F1's top drivers, is leaving the top-three team at the end of the year to join the work's Renault project.
Some think the Australian is moving solely for money, and his current boss Christian Horner suspects he might come to regret the decision.
But former F1 driver Massa says he understands.
"Daniel, like the rest of us, doesn't know what will happen with the Honda engines next year," he told Globo.
"He is also not very happy with Max Verstappen. It's a risk, and it may or may not work out."
Meanwhile, Red Bull chief Horner said Fernando Alonso will not be replacing Ricciardo in 2019 because of the "chaos" Alonso brings to F1 teams.
On Twitter, Alonso reacted with multiple "laughing" emojis, and a hashtag that included the words "Nothanks."
Williams: Trying to rebuild your team isn't a work of moment
Poor Claire, she thought Paddy Lowe was going to lead the team back to the top, instead his car took them right to the bottom. We guess she never realized he was riding Aldo Costa's coattails all those years
Many are predicting doom and gloom for the once mighty Williams team as they will lose massive backing when Martini and the Stroll family walk out the door at the end of the season, but deputy team chief Claire Williams is convinced a reset will help them bounce back but suggests it won't be a rapid recovery.
Speaking to the official F1 website, the daughter of Sir Frank Williams knows exactly where her team stands, "You don't go from P5 to P10 without having a number of areas of weakness across your organization and that's clearly what we have."
"We went for quite an aggressive strategy over the winter, we felt we probably needed to if we were going to affect any significant change. That didn't pan out for us. Then on top of that, we got our aero program wrong. Sometimes that happens, but it is what it is."
"Over-panicking in situations like this is the worst mistake you can make. It's a case of sitting down and analyzing all the areas of weakness. We've been through that process, we've uncovered along the way some other areas of weakness. So from that perspective, it's been a positive exercise for us. It has enabled us to start from zero and move forward from there."
Since they last won a Formula 1 world title with Jacques Villeneuve over two decades ago, the team has been in steady decline with occasional blips of good form. But right now they are at arguably their lowest ebb with little if any light at the end of the tunnel.
Last year Paddy Lowe was drafted into the team in an effort to bolster the operation but, despite hiring highly rated former Ferrari man Dirk de Beer, the first car under Lowe's watch – the FW41 – has been a flop and contributed to the downfall eg. Lawrence Stroll buying Force India so his lad Lance can have a half decent ride.
As a result the axe was wielded internally, Chief Designer Ed Wood was first to go for whatever reasons, followed by de Beer. The departure of the fall guys has blown a hole in the essential management positions within the team.
Williams acknowledged the problems, "We're looking to fix this internally. People underestimate the kind of time it can take to reset a Formula 1 team. You don't just swap a few people out. It's not ever about one person anyway."
"Trying to rebuild your team internally isn't a work of moment. If you make rushed decisions, you can make mistakes. We need to make sure we're properly analyzing every area, whether that's people, resource, structures, processes."
"We're going through that analysis now and making our decisions off the back of those results. Everything needs to be data driven, so we get it right. It's not just emotive or visceral reaction to something, because in that circumstance you normally get it wrong."
"It has to be a slow process, because this is such a big machine that we're trying to turn around, so you have to go through it methodically. If we do all that, we can turn a corner," added Williams.
F1 falling behind on attempts to firm up '21 engine rules
Cyril Abiteboul
Renault boss Cyril Abiteboul has warned that Formula 1 is falling behind schedule as it continues to firm up its 2021 engine regulations, writes Adam Cooper of Autosport.
The FIA and Liberty's plans to introduce a simplified power unit without an MGU-H – outlined last October – were dealt a blow when the four existing manufacturers decided recently they would rather stick with the current hardware with small changes.
They cited cost reasons and the fact that no new entrants have come forward for 2021.
The new rules were discussed further via a video conference last week, involving manufacturers, the FIA, and F1.
"The clock is ticking if we want to have a completely different engine for 2021," Abiteboul told Autosport.
"[The] summer break this year would be the red line. It's no secret that two of the main drivers for that change of regulation were the possibility of a new entrant and the situation at Red Bull.
"Red Bull and Toro Rosso were massively driving the change because it was clear to them that, independently from our situation, they had to think about their own situation.
"So now that Red Bull has found a new partner in Honda and there do not seem to be new entrants, the necessity of radical change to the engine regulation has lowered."
Teams were previously promised new engine rules would be firmed up by the end of June.
Abiteboul said all four manufacturers were aligned in their views.
"We are talking about details right now but I think in general we agree on the target, we agree it is better to keep the existing platform and that we can make a better job with it," he said.
"We still accept that we need to improve the power unit for other reasons, mainly for the show, for the customer teams, for the manufacturers in terms of cost also."
He added Renault was in favor of keeping the MGU-H.
"It would be silly to have used the MGU-H for a number of years and [then] actually do the opposite of what the car makers will be doing," said Abiteboul.
"Maybe we can simplify the way the MGU-K is being used, the way the energy deploys, the way it can contribute to the show rather than removing something."
Haas boss Gunther Steiner said 2021 engines should be available at a reasonable cost to customers.
"I don't want to tell them what to do, they know what to do," Steiner told Autosport.
"I would like to have a cost cap on the money we have to pay the engine manufacturer that is set. And then they can do what they want.
"If they want to make an engine out of gold, then we get it for set price, feel free to do so.
"That is more because we don't have the expertise to get involved.
"As long as we are sure there is a supply and the cost of the supply is controlled whatever money we can agree on, we are happy." Autosport
Coulthard: No downside to Red Bull's Honda F1 engine switch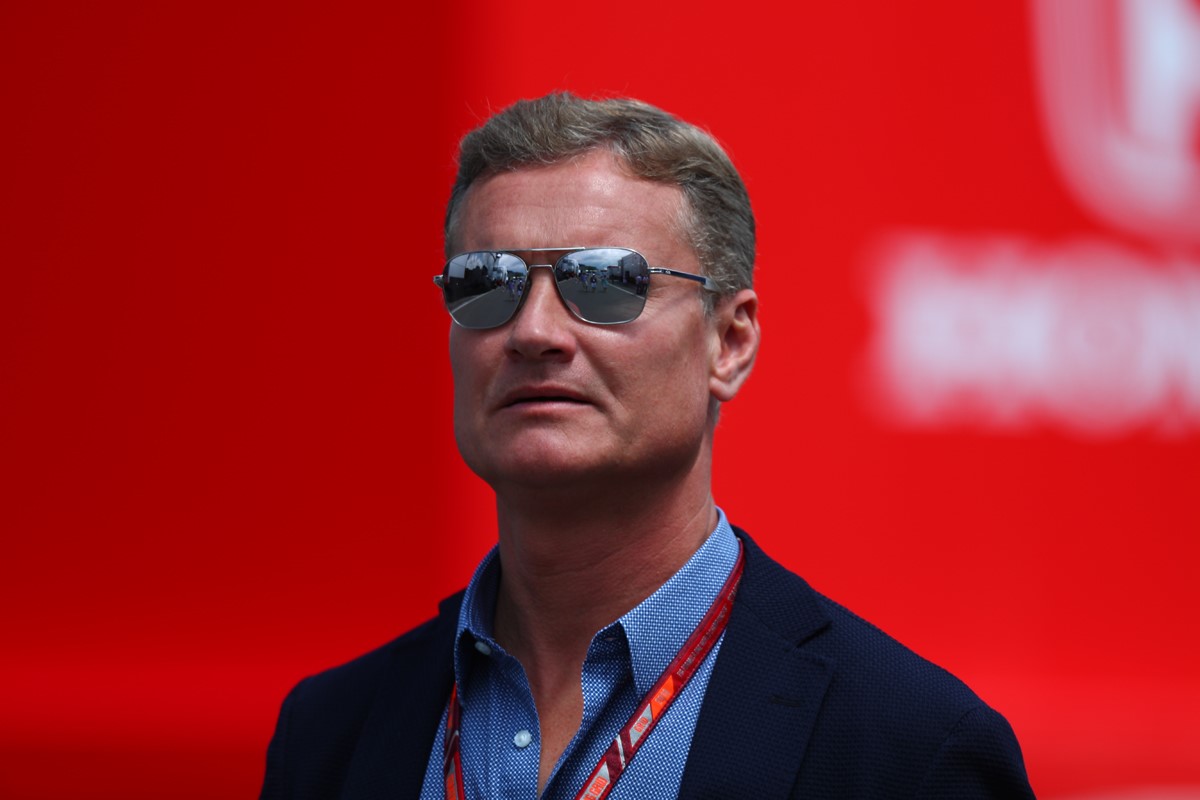 David Coulthard
Ex-Formula 1 driver David Coulthard says he sees no downside for his former team Red Bull following its decision to switch to Honda power from 2019.
Red Bull will take on Honda engines next season after deciding to end its 12-year association with Renault, a collaboration which helped the team secure four consecutive drivers' and teams' world championship titles between 2010 and 2013.
But following years of frustration throughout the V6 hybrid era and a lack of significant gains in performance from the French engine manufacturer, the Milton Keynes-based squad opted to cut its ties with Renault in favor of Honda power units once its current deal expires at the end of the season.
"Renault have a great history in Formula 1 but whilst they try to build up their team to be a Renault-Renault world championship, are they really going to be happy to be winning in the back of a Red Bull?
"Nobody knows what the future holds but if you use all the same ingredients all the time you get the same cake. If you want a different outcome you've got to change something in the process."
Coulthard believes Red Bull is taking a calculated risk in its decision, considering it has valuable data at its disposal from Toro Rosso, with its sister team beginning a partnership with the Japanese engine manufacturer at the start of this season.
Honda has made solid progress in both performance and reliability with Toro Rosso following a disastrous three-year tenure supplying McLaren, with fourth and sixth place finishes scored by Pierre Gasly in Bahrain and Hungary acting as standout results so far this campaign.
"I think it's less of a risk now that they have the information from Toro Rosso because when you are looking at sound analysis of your competitors, there's unknowns that give you that data," Coulthard explained.
"With Toro Rosso they will know the top data, so they will know what power is travelling out to the wheels of the car and they'll know what they've got from the Renault.
"No-one will know how the Renault will develop, no-one will know how the Honda will develop but you look at the development plans, you look at the budgets that have been spend and you assume that if continue along the profile that they have in the past, it will get you to a certain point."
And the 13-time grand prix winner is hopeful of a successful partnership, warning that Red Bull boss Dietrich Mateschitz would be willing to pull the plug on the energy drinks company's involvement in F1 if he was no longer satisfied.
"They've made that decision, they've got all the data they can possibly have from the sister team and it represents ultimately a decision that has been supported by Dietrich [Mateschitz]," he added.
"I hope it returns success for them because they are a major player in Formula 1. A lot of people benefit from Red Bull's investment and I don't think anyone should underestimate Mr. Mateschitz's ability to just switch everything off if he just doesn't find it enjoyable anymore."
What if Gasly ends up being another Kvyat?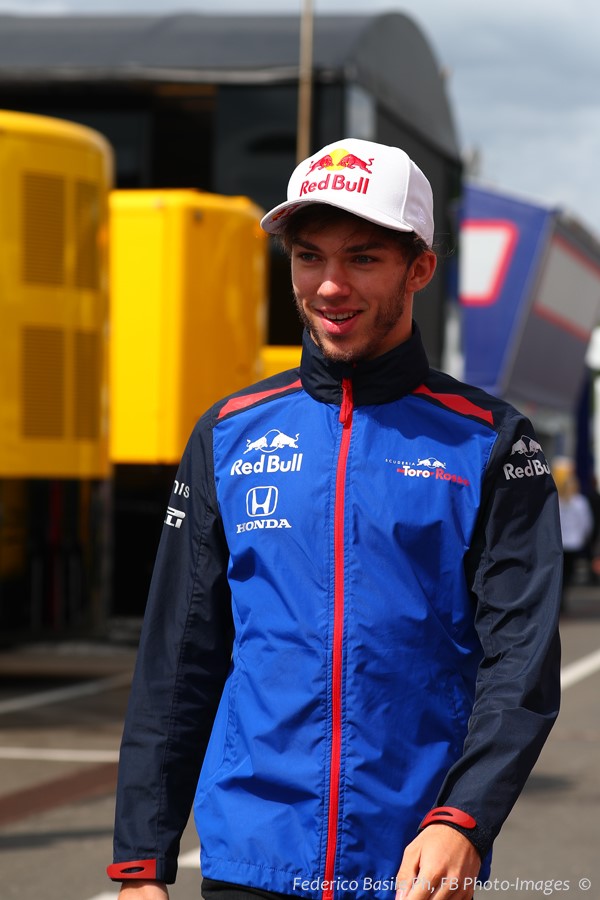 Pierre Gasly
Pierre Gasly insists he will not end up like Daniil Kvyat in case he gets a chance to step up to the race seat at Red Bull for 2019.
Daniel Ricciardo will leave Red Bull at the end of the current season to join Renault F1 team. So Max Verstappen will need a new partner.
Carlos Sainz Jr. and Pierre Gasly are the two most viable choices available to Red Bull next year.
Gasly is currently driving for Red Bull's junior team Toro Rosso and has given a few impressive races in the first half of the season. There is an undercurrent of tension between Verstappen and Sainz. And the Spaniard will not be a willing 'wingman' to the Dutchman. So the chances of Gasly getting the second seat at Red Bull are quite high.
Speaking with Spanish daily Marca, Gasly said he would love to go to Red Bull, but no decision has been taken on the issue yet.
"Yes, I would like that but I'm not thinking about it too much," said Gasly.
"I am happy with my season so far at Toro Rosso, I'm happy to be here. At the moment, nothing is decided, I think."
"It's a similar situation to Carlos. We're both waiting to see what happens."
The situation is not new for Red Bull. In 2014, after Sebastian Vettel's departure, his seat was filled by Daniil Kvyat. But within a few months, the Russian was dropped back into the junior squad to make way for Verstappen.
Gasly does not think the same thing happen with him.
"No. If I'm fast, I'll have my chance," he insisted.
"I need to focus, make sure I'm fast and the rest will come.
"It depends how you see things. Look at Red Bull and all the drivers who did not reach the first team, or look at Verstappen, Vettel, Ricciardo and the others who were successful."
"I don't care what teammate I have next season, because if I want to be the best, I have to fight against the best.
"It's my first season in F1 and I'm 22, so I am happy to stay at Toro Rosso if they need me. But of course, I want to fight for the championship as soon as possible."