Brett Moffitt uses last lap pass to win the Corrigan Oil 200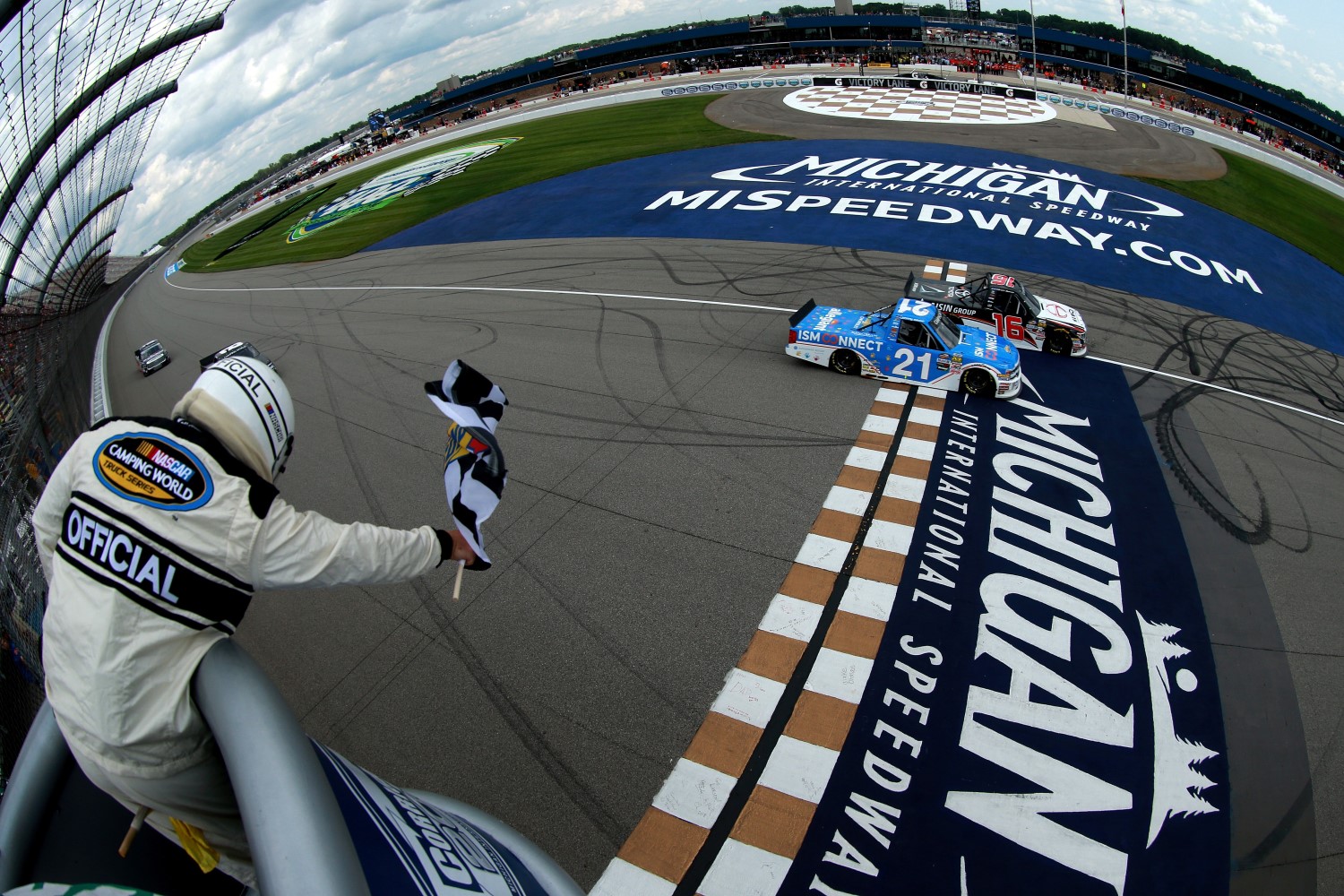 Moffitt at the line
The racing in the NASCAR Camping World Truck series at Michigan International Speedway is known for its exciting action and late race passes for the lead. The Corrigan Oil 200 lived up to expectations as Brett Moffitt used a last-lap pass to earn the victory.
Moffitt trailed Johnny Sauter with five laps remaining, but used a unique strategy to pull off the win. He backed up to the third-place truck. The trucks were able to use the draft to their advantage today and Moffitt used it to perfection at the end of the race. Moffitt used a push from John Hunter Nemechek to gain the momentum to track Sauter back down.
"The whole last however many laps that I was behind him, I was running wide open and I would push him with that air bubble between our bumpers so I tried to back up (turn) one and let him get out there a little bit," Moffitt said. "I knew the 8 (John Hunter Nemechek) was behind us and I was hoping he would get to us and be able to push us. I was able to plan it right and play it right – it's just great to get here."
As Sauter and Moffitt took the white flag, it was Sauter still out front. Sauter led all the through turn three. In turn four, Moffitt stuck the nose of his truck under Sauter and from there it was a drag race to the finish. At the finish line, it was Moffitt by 0.025 seconds.
The victory was the second win for Moffitt at Michigan International Speedway. In 2016, Moffitt went three-wide into Turn 1 on the last lap in order to capture the top spot and his first-ever win in the NASCAR Camping World Truck Series. He used a similar move Saturday to return to Gatorade Victory Lane.
Nemechek started on the pole position for the Corrigan Oil 200 after posting a speed of 184.044 MPH during qualifying earlier in the day. He garnered the top starting position by 0.004 MPH over Todd Gilliland who rolled off second.
Nemechek grabbed the early lead and paced the field for the first four laps. The 20-lap first stage saw four leaders in the early going as the drivers battled for the front. But Stewart Friesen showed his mettle by leading the final seven laps of the stage. He took the checkered green and white flag to claim the stage.
The second stage had more side-by-side racing as the intensity continued to increase throughout. Matt Mills brought out the caution when he got loose and hit the wall. Then Justin Fontaine scraped the wall to set up a one-lap shootout. It was teammates Grant Enfinger and Myatt Snider battling to earn the stage win. Enfinger got the front of his truck to the line first to win the second stage.
Denny Hamlin will lead the field to the green flag for the Monster Energy NASCAR Cup Series Consumers Energy 400 on Sunday. Hamlin swept all three stages in qualifying to win his first pole at Michigan International Speedway. Michigan natives Erik Jones and Brad Keselowski will start fourth and 18th, respectively. Hamlin will go for his third career Michigan win on Sunday while Keselowski and Jones are looking for their first victory at MIS.
Quotes
BRETT MOFFITT, No. 16 Hino Toyota Tundra, Hattori Racing Enterprises
Finishing Position: 1st
What does it mean to get the win on a last lap pass?
"I knew Johnny (Sauter) was fast and our Toyota engine, we were lacking a little bit of raw speed today with that, but I was just really waiting to time it. Aisin Group, Toyota and TRD – everything they do for us, they give us the right tools to get the job done. Pretty amazing that this little team has gone to victory lane four times now this year. I can't thank Shige Hattori (team owner) and all these guys enough."
How were you able to make the move on Johnny Sauter?
"The whole last however many laps that I was behind him, I was running wide open and I would push him with that air bubble between our bumpers so I tried to back up (turn) one and let him get out there a little bit. I knew the 8 (John Hunter Nemechek) was behind us and I was hoping he would get to us and be able to push us. I was able to plan it right and play it right – it's just great to get here."
How were you able to see where to make the move on Johnny Sauter?
"We were running wide open the whole last stint there, once Johnny (Sauter) got out front and I knew his truck was really fast. I was making sure that if I was going to pass him, don't give him enough time to get back by. I was able to time it right and side draft him to the line there and get off of him and pull away by a fender."
Were you surprised Sauter gave you the low groove?
"Normally the top momentum is better and I had been running behind him lap after lap and I wasn't able to get to his quarter panel – laying off of him in one there, I was able to get to his quarter and side draft him and then it was just a race to the line."
Did you think this team would be here with four victories a few months ago when sponsorship was in question?
"Certainly not, that's just a testament to Shige Hattori (team owner) and all these guys on this team. We work hard, we never give up. Can't thank Hino and Toyota Industrial and Aisin Group for being on board this week – that's another piece to the puzzle, we have great partners. The more success we have on track, the more success off the track. We still have a few races that we need to get filled, but hopefully this was a step in the right direction."
Where do you see your team going into the Playoffs?
"A lot better now. We had a rough little patch there where we still had really fast Tundras and everyone was working hard, but we just didn't have things go our way and we didn't execute the races like we needed to. It's good to have one work out. I wouldn't say we had the most speed today, but we had a really good handling truck and that was what was key. We've had good trucks all year long and it's just an honor to go drive them. We get a lot of momentum going into the Playoffs now and have some more Playoff points today. That's a positive feeling."
Is it important to beat Johnny Sauter like that knowing you will battle him in the Playoffs?
"Certainly, I already see that unless something weird happens, he's (Sauter) going to be one of the final four at Homestead and he's the only other guy to win four races this year and it's good to be able to join him on that level and get some points back on him. We're tough competitors and we don't like losing to each other. It's good to go out on top."
Is there something special that you're able to win these races on the final lap?
"I'm a better hunter than hunted I guess. It seems to be if the money's on the line, I can grab that extra gear and get aggressive. You don't need to lead all of them."
Do you think you could have beaten Sauter on the outside groove?
"I had momentum so I don't know, that's a good question. It probably would have been easier for him (Sauter) to slide up and block if he was on the bottom and then slid up to the outside. I don't know, we were really good center to entry of three and I was able to hold it wide open and get a good run down in there and then once I got to his quarter panel, that was kind of the nail in the coffin, but it's still a drag race back and I was trying not to get too far ahead of him to where he could come back and side draft me back. It was close, it was good racing and just glad we were able to come out on top."
Do you feel you can go to Bristol and win and are you the championship team to beat?
"As far as Bristol goes, yes certainly – me and Scott (Zipadelli, crew chief) ran second there two years ago at Red Horse Racing and we have fast trucks every week. Our short track program at Iowa and Gateway was really strong and that puts some more confidence in me, but Bristol is always a little bit of a survival race and it seems like at the end things start to go haywire and if we can survive and stay up front and have decent speed, I think we'll be having a good shot at victory lane again. As far as a championship team goes, I've felt all year long that we're a potential champion team. We just need to cross all our 'T's' and dot all our 'I's' and the biggest thing is execution. We've had the speed all year and we've worked well together all year and we've made out trucks better throughout the race in minimal, minimal time so the biggest thing is just going to be executing on the Playoffs and when we get to Homestead, go have a perfect day."
What does it mean to be where you are currently with this team focused on a championship run?
"It's great. Running for a championship is obviously mentally more difficult than running one-off races here and there. When I ran here two years ago and won, I didn't even know if I would be in the car the next week. It was just aggressive, lay it all on the line and now you have the whole points equation coming into it and obviously with the new style points it's not as big of a deal as long as you have wins in the bank. It's great to have this opportunity that Shige Hattori has given me, it's fun when we can be aggressive and we have fast trucks. I don't feel like we're ever on defense in a race, we're always on the attack. That makes my job a lot easier and more fun and it's just fun working with all these guys here."
Has your phone been ringing with other potential offers for 2019?
"It has not, but this seems like a good weekend to hang around and try. This seems like a good place to win after everything that's come out. No, nothing yet."
SCOTT ZIPADELLI, crew chief, No. 16 Hino Toyota Tundra, Hattori Racing Enterprises
Did you make any significant changes to the car before the race based on your qualifying position?
"No, we didn't. It's pretty much a product of the two engines that the Camping World Truck Series allows us to race – the NT1 and the OEM engine. It's been something that's kind of gone on all year with our team is our qualifying hasn't been as good as it was last year, as you could see – we sat on a few poles last year and didn't win any races and we haven't sat on any poles and we've won four races. We knew coming here that qualifying would be an issue, but we worked on our game plan and stuck to it and this engine has a lot of advantages to it and it prevailed today."
How has moral changed on the team with Brett Moffitt as the driver?
"The moral on the team has always been good. There's three of us that have worked together before and it's just like putting an old pair of shoes on, it works – you still like the shoes, they still feel good and we still enjoy what we do. We're all very, very serious and we don't take anything for granted. Right now, how could the moral be bad, right? Pretty much how I approach it and the boys have kind of followed suit, there's a lot of things in this world that can really mess you up so to race cars for a living is a pretty huge privilege and winning is a huge privilege and it's a major bonus to work with people you really like, to be successful and to win is just a huge gift actually. Very thankful."
Is there any race in the Playoffs where the OEM engine could hurt the team?
"I would say Talladega is huge. As you can see if you look back at the speeds in Daytona, we were at a major deficit. NASCAR made some changes to the plate that the NT1 engine is going to run, which they think they're going to be even. I don't think it's going to be even, but we can't cry about it. It is what it is, but Talladega is kind of a crap shoot in itself so I don't expect to have blistering speed in qualifying with single truck. We'll do what we always do, we'll stick to the plan and get our truck driving as best we can and like Brett (Moffitt) says, just execute."
How big of a challenge is it to prepare the truck for Bristol after racing at Michigan?
"That's probably the easiest challenge that we have really. It's not a problem for us, we're well prepared for Bristol. The truck has been put together, we started setting it up before we left on Thursday and looking forward to getting back to the shop and finishing that truck. That's easy, we know what we have to do. The biggest thing is reviewing the races and having a good game plan and watch the race unfold with the PJ1 down on the surface, that's probably the biggest obstacle of Bristol."
Results
| | | | | | | |
| --- | --- | --- | --- | --- | --- | --- |
| Fin | Str | Trk | Driver | Team | Laps | Status |
| 1 | 21 | 16 | Brett Moffitt | Hino Toyota | 100 | Running |
| 2 | 7 | 21 | Johnny Sauter | ISM Connect Chevrolet | 100 | Running |
| 3 | 1 | 8 | John Hunter Nemechek(i) | BMC/D.A.B. Constructors Chevrolet | 100 | Running |
| 4 | 3 | 18 | Noah Gragson | Safelite AutoGlass Toyota | 100 | Running |
| 5 | 2 | 4 | Todd Gilliland # | Mobil 1 Toyota | 100 | Running |
| 6 | 17 | 41 | Ben Rhodes | The Carolina Nut Co. Ford | 100 | Running |
| 7 | 6 | 98 | Grant Enfinger | Champion Power Equipment/Curb Records Ford | 100 | Running |
| 8 | 5 | 52 | Stewart Friesen | We Build America Chevrolet | 100 | Running |
| 9 | 22 | 24 | Justin Haley | Fraternal Order of Eagles Chevrolet | 100 | Running |
| 10 | 11 | 88 | Matt Crafton | Hormel/Menards Ford | 100 | Running |
| 11 | 20 | 22 | Austin Self | GO TEXAN Chevrolet | 100 | Running |
| 12 | 16 | 25 | Dalton Sargeant # | Performance Plus Motor Oil Chevrolet | 100 | Running |
| 13 | 18 | 3 | Jordan Anderson | SponsorJordan.com Chevrolet | 100 | Running |
| 14 | 9 | 2 | Cody Coughlin | JEGS.com Chevrolet | 100 | Running |
| 15 | 14 | 20 | Tate Fogleman | Randco Chevrolet | 100 | Running |
| 16 | 23 | 49 | Wendell Chavous | SobrietyNation Chevrolet | 100 | Running |
| 17 | 13 | 17 | Bo LeMastus # | Crosley Brands Toyota | 100 | Running |
| 18 | 8 | 13 | Myatt Snider # | Century Container Ford | 99 | Running |
| 19 | 10 | 02 | Austin Hill | Young's Building Systems/Randco Chevrolet | 99 | Running |
| 20 | 30 | 33 | Josh Reaume | Lodestar Guidance Chevrolet | 99 | Running |
| 21 | 31 | 6 | Norm Benning | Zomongo/H&H Transport Chevrolet | 97 | Running |
| 22 | 12 | 51 | Spencer Davis | JBL/SiriusXM Toyota | 95 | Running |
| 23 | 26 | 10 | Jennifer Jo Cobb | Driven2Honor Chevrolet | 95 | Running |
| 24 | 24 | 7 | Korbin Forrister | Now Matters More Toyota | 94 | Electrical |
| 25 | 19 | 45 | Justin Fontaine # | ProMATIC Automation/Superior Essex Chevrolet | 94 | Running |
| 26 | 29 | 15 | Todd Peck | VIPracingexperience.com Chevrolet | 56 | Overheating |
| 27 | 32 | 83 | Bayley Currey | nutriblade Chevrolet | 49 | Electrical |
| 28 | 28 | 50 | Reed Sorenson(i) | SobrietyNation Chevrolet | 47 | Electrical |
| 29 | 27 | 34 | BJ McLeod(i) | Reaume Brothers Racing Inc. Chevrolet | 41 | Fuel Pump |
| 30 | 15 | 87 | Joe Nemechek | Petron Plus Chevrolet | 33 | Ignition |
| 31 | 4 | 54 | Matt Mills(i) | J.F. Electric/Crosley Brands Toyota | 27 | Accident |
| 32 | 25 | 63 | Timmy Hill(i) | Fr8Auctions.com Chevrolet | 7 | Suspension |