Paul Fix and Rafa Matos on Pole for Trans Am Races at Mid-Ohio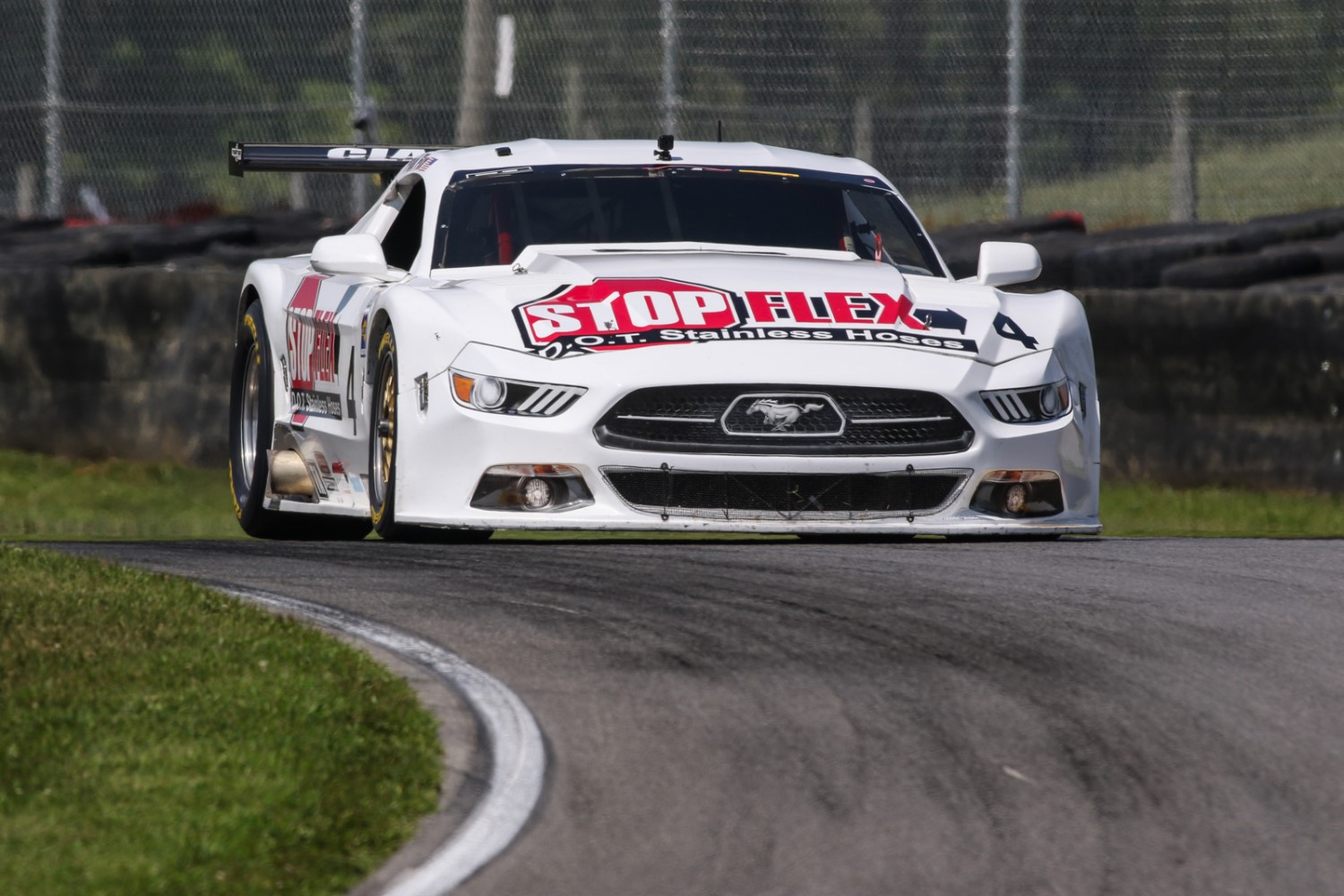 Paul Fix
Paul Fix and Rafa Matos emerged atop their respective qualifying sessions as the Trans Am Series presented by Pirelli held preparations for tomorrow's FirstEnergy Trans Am 100 and FirstEnergy Muscle Car Challenge at Mid-Ohio Sports Car Course. Mark Bowden and Warren Dexter also secured their respective class poles in TA3 and TA4 qualifying.
For Fix, the pole, a 1:21.499, marked his third of the season 16th of his career, coming on a 13-turn, 2.258 mile circuit he knows very well and captured a Trans Am victory on in 2015.
Come tomorrow Fix and the No. 4 Stop Flex/ The Car Coach/ Ave Racing Ford Mustang, will look to repeat that victory-clinching effort as he takes the 13-car TA class field past the green flag for the FirstEnergy Muscle Car Challenge, a multi-class competition alongside the TA, TA3 and TA4 classes.
"Mid-Ohio is a busy track, and the top five guys in qualifying are really tight," said Fix. "It's going to be a tough race. We'll be racing early in the morning; the track's going to be cold so there might be some strategy there. It's a really technical track; we're going to focus on being consistent and go from there."
Fix has been fast throughout his three appearances this season, always qualifying in the top two and contending for the lead throughout the early stages of competition; however, the No. 4 has been kept just short of the winner's circle by mechanical gremlins. Now Fix and the No. 4 will go in search of the victory that they have been denied despite their efforts.
"We've had some mechanical issues," said Fix. "We've had a couple of poles and have run really well, but those gremlins have caught up with us unfortunately. The guys at Tony Ave Motorsports have worked really hard on getting this car ready and have gone through all the systems. I have confidence the car is ready, and I'm ready to go— we'll have a great race tomorrow."
Starting alongside Fix will be the 2002 Trans Am champ Boris Said, in the No. 21 SRI Performance/ Weaver Concepts Dodge Challenger, who turned a 1:21.636 lap of his own. Tomorrow's competition is only Said's second Trans Am start since 2005, the first came at Indianapolis Motor Speedway earlier this season with the No. 21 retiring early with mechanical issues.
Lawrence Loshak, in the No. 2 Pennzoil/ ETE/ GoShare Chevrolet Camaro, was third quick in qualifying with a 1:21.715, set on his second lap of the session, while Burtin Racing teammate Tomy Drissi, in the No. 8 GoShare Chevrolet Camaro, was fourth quick with a time of 1:22.188.
Current points runner-up Chris Dyson, in the No. 20 @PlaidCrafts/CD Racing Ford Mustang, completed the TA class qualifying top five with a time of 1:22.188.
Qualifying within the TA class top ten, in order, were David Pintaric, Ernie Francis, Jr., Simon Gregg, Kerry Hitt and Ryan McManus.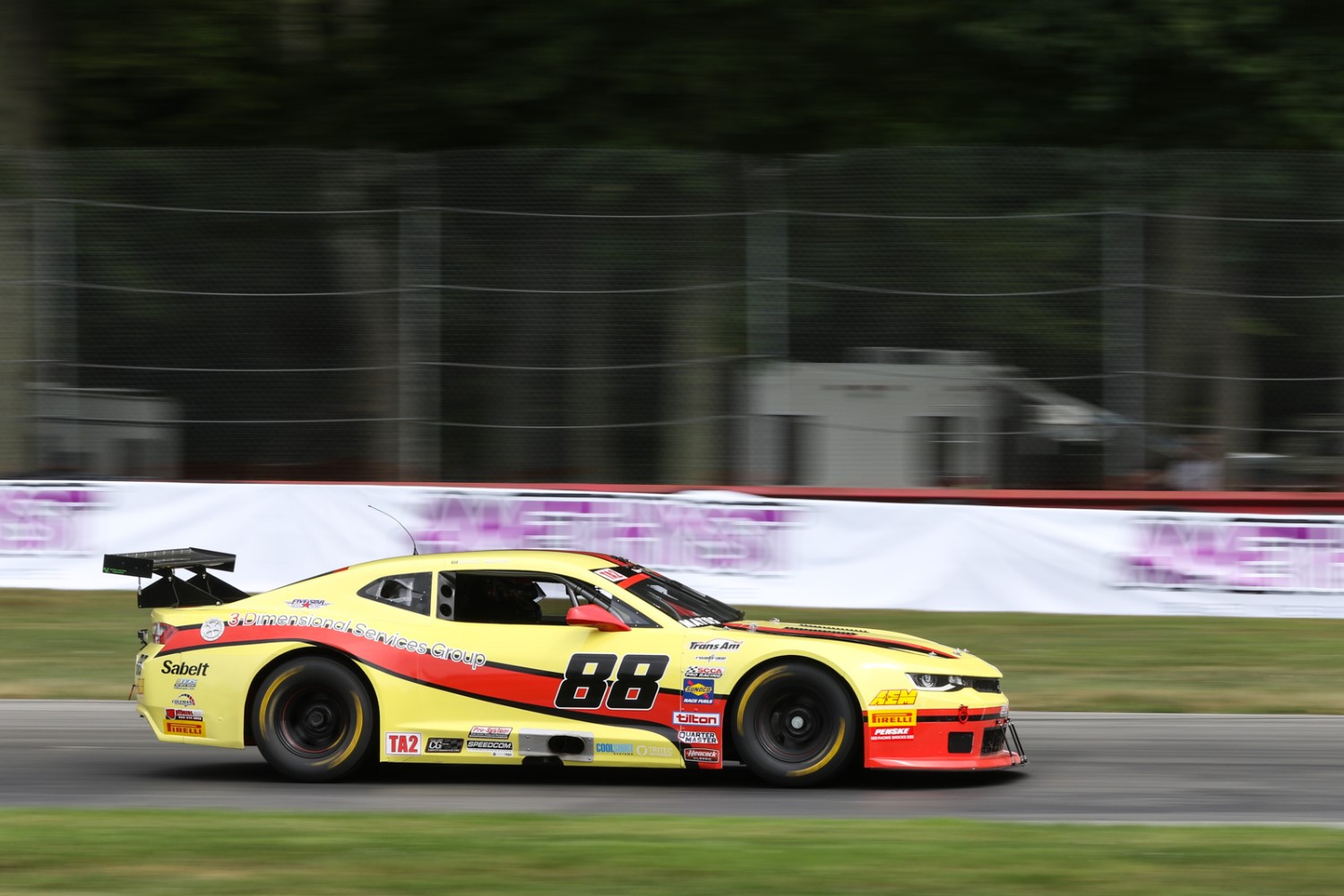 Matos
In a separate session, Rafa Matos captured his third TA2 class pole of the year and will start at the head of the 22-car TA2 field for the FirstEnergy Muscle Car Challenge.
With what started as a damp circuit, the 19 TA2 competitors that elected to qualify were faced with the prospect of changing track conditions and the potential for more rain that never came to fruition. However, as the session progressed and the surface dried, lap times began to dwindle and Rafa Matos and the No. 88 3-Dimensional Services Chevrolet Camaro came into their own.
Midway through the session Matos and the No. 88 were in the pit lane holding the then fast lap, only to see Tony Buffomante, in the No. 34 Mike Cope Racing Ford Mustang take the top spot. Matos would return to the course and several laps later produce a new qualifying record 1:24.748, nearly a half second ahead of the eventual 1:25.187 turned by Scott Lagasse, in the No. 95 SLR/Fields Racing/ M1 Fastrack Chassis Chevrolet Camaro, for second quick in session.
"It ended up a fantastic session for us," said Matos. "As the track was drying out they [the team] called me in at the wrong time as the track was getting faster and faster, and Tony [Buffomante] got me. I wanted to go out immediately and not lose any more time in the pits. We were able to go out and put a couple laps together; it was one of the toughest qualifying sessions all year. I'm just really proud of the whole team, really proud of my teammate Doug Peterson for qualifying in sixth place. I'm happy over all; and, hopefully, the car will stay consistent tomorrow for another win."
Buffomante will start in third position come tomorrow, his lap a 1:25.287. Qualifying fourth was NASCAR Xfinity driver Chase Briscoe, in the No. 00 Newman Wachs Racing Ford Mustang, as he made his Trans Am debut to the tune of a 1:25.410. Briscoe was followed by his fellow NASCAR competitors with Brandon Jones, in the No. 24 Mike Cope Racing Ford Mustang, and Christopher Bell, in the No. 28 Mike Cope Racing Ford Mustang, qualifying fifth and sixth with times of 1:25.563 and 1:25.621, respectively.
Doug Peterson would set his best qualifying mark of the year in the No. 87 3-Dimensional Services Chevrolet Camaro with a 1:26.138, while Jordan Bupp, in the No. 80 Marshall Goldman Motorsales Ford Mustang, will start eighth after a 1:26.378 mark. Tom Sheehan, in the No. 97 LTK Insulation Technologies Chevrolet Camaro, and Ernie Francis, Jr., in the No. 44 ECC Anchor Bolt and Screw Chevrolet Camaro, completed the class' top five with times of 1:26.395 and 1:26.424, respectively.
In TA3 class action, also making preparations for the First Energy Trans Am 100, Mark Boden continued his domination of the class as he and the No. 46 Fall-Line Motorsports Porsche 991 GT3 Cup have led every session. The No. 46 would turn a new qualifying track record 1:27.369 during the session and seems primed for a repeat victory at Mid-Ohio following his 2017 win.
Fall-Line's qualifying success continued thanks to Trans Am debutant Joe Koenig, in the No. 70 Trim-Tex/ Fall-Line Motorsports BMW E46 M3, who turned a 1:28.266 lap to earn a front row placement in his first career Trans Am start. Tom Herb, in the No. 16 Fall-Line Motorsports/ Porsche 991 GT3 Cup, completed the Fall-Line sweep of the TA3 top three with a 1:28.384 to setup an inter-team battle for Trans Am silverware.
Alline Cipriani, in the No. 60 Ginetta USA Ginetta G55, was fourth quick in the TA3 class with a time of 1:28.431 while Marko Radisic, debuting his No. 22 Precision Driving BMW M4, completed the class top five with a time of 1:29.343.
Qualifying track records continued to fall in the TA4 class as well with Warren Dexter, in the No. 61 Joe's Hand Cleaner/ Dexter Racing Ginetta G55, turning a 1:28.900 lap, easily ousting the previous mark of 1:30.219. Tomorrow Dexter will go in pursuit of his third consecutive TA4 victory in his third career Trans Am start.
Todd Napieralski, making his second start of the season in the No. 39 Chevrolet Performance/SKF/BSP Chevrolet Camaro, will start alongside Dexter after a 1:30.031 lap and will be tasked with chasing down the No. 60. Steven Davison, in the No. 33 DaVinci Plastic Surgery Chevrolet Camaro, who qualified third with a distant 1:37.762.
The FirstEnergy Trans Am 100, featuring the TA, TA3 and TA4 classes will take the green flag at 9:00 AM ET, while the FirstEnergy Muscle Car Challenge will commence at 12:40 PM ET.
Both races will be streamed live on Motor Trend On Demand and showcased in a one-hour highlight show on CBS Sports Network on August 26th at 2:00 PM ET.
Trans Am is joined on the weekend by NASCAR Xfinity holding the Rock N Roll Tequila 170 as well as the Formula 3 Championship Powered by Honda.