DENSO Renews its Title Sponsorship of the NHRA Las Vegas Four-Wide Nationals for 3 Years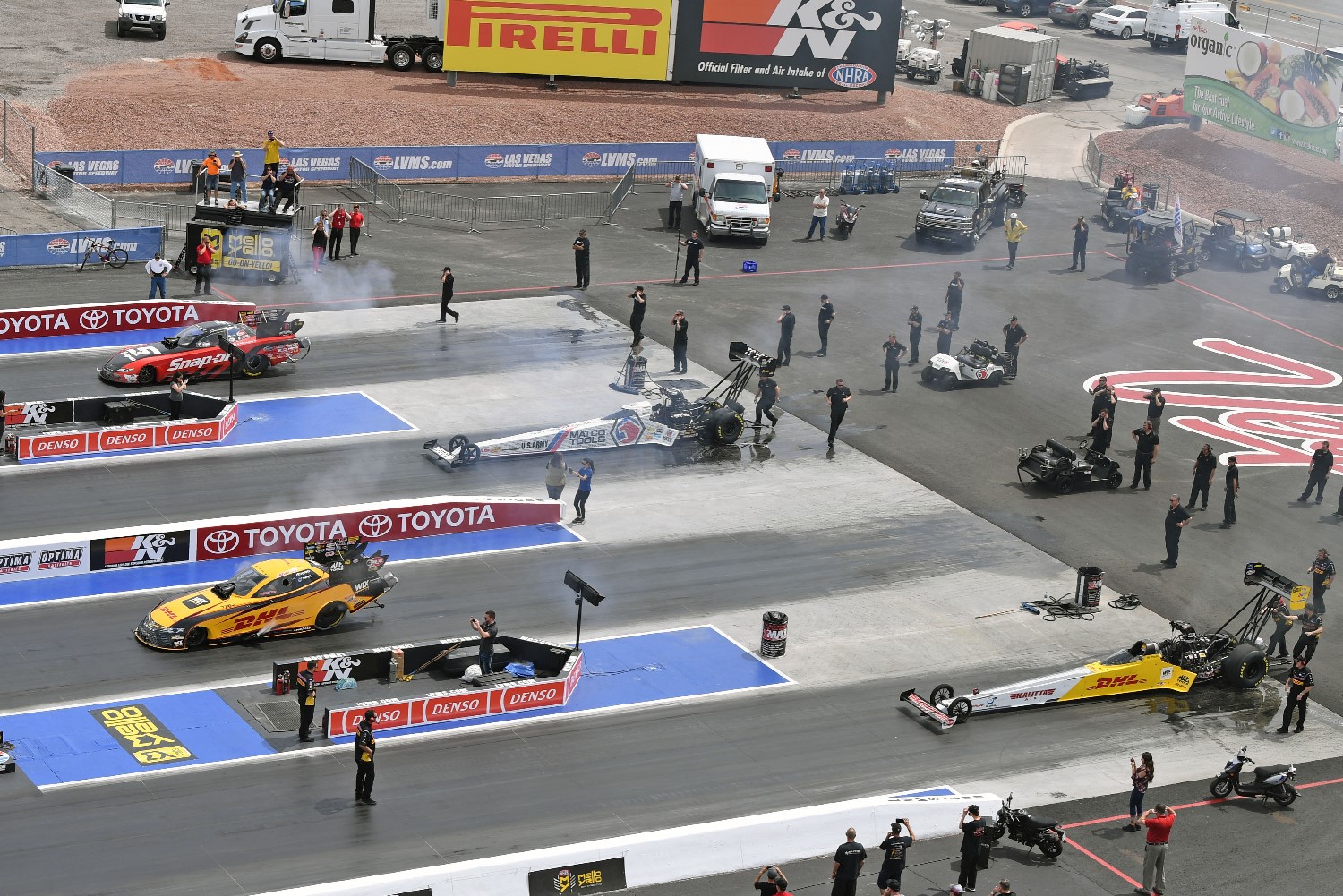 Vegas 4-wide
For the next three years, DENSO Products and Services Americas, Inc., an affiliate of leading DENSO automotive supplier DENSO Corp., will serve as the title sponsor of the DENSO Spark Plugs NHRA Four-Wide Nationals. The weekend event is held at The Strip at Las Vegas Motor Speedway, with the next competition scheduled for April 5-7, 2019.
"DENSO's three-year commitment celebrates the tremendous relationship we have with the NHRA, the competitors and the fans," said Joseph Mejaly, senior vice president of Operations, Sales, Strategic Planning and Marketing at DENSO Products and Services Americas. "Every contest is an electrifying display of skill, talent and grit, the same forces that drive DENSO's commitment to excellence in our products."
Teams riding on DENSO Iridium spark plugs dominate the Pro Stock class in which 14 of the highest ranked 16 drivers ride on DENSO spark plugs, including the top three in overall points: Greg Anderson (No. 1), Tanner Gray (No. 2) and Erica Enders (No. 3).
In Pro Stock Motorcycle, DENSO is the main sponsor of Angie Smith and an associate sponsor of her teammate and husband, Matt Smith. DENSO also sponsors the DENSO Spark Plugs 200-mph Club, which offers bonuses to the first four racers in the two-wheel division to break the 200-mph barrier. Additionally, DENSO rewards the first four racers to exceed 200 mph using DENSO spark plugs. DENSO Iridium spark plugs power four of the top 10 competitors in Pro Stock Motorcycle: Andrew Hines (No. 1), Eddie Krawiec (No. 2), Matt Smith (No. 6), and Angie Smith (No. 8).
In Top Fuel, DENSO is a supporting sponsor of Clay Millican and Blake Alexander. Millican holds the No. 3 position in his class. With four races to go before the Countdown to the Championship, Alexander, ranked No. 12 in overall points, has a shot at cracking the top 10 to compete in the last six races.
In addition to spark plugs, alternators radiators and engine management systems are among DENSO's precision original equipment and replacement auto parts that professional drivers and pit crews count on for the best performance under the most competitive conditions and motorists depend on every day.