Power & Dixon test tires and aero tweaks for 2019 Indy 500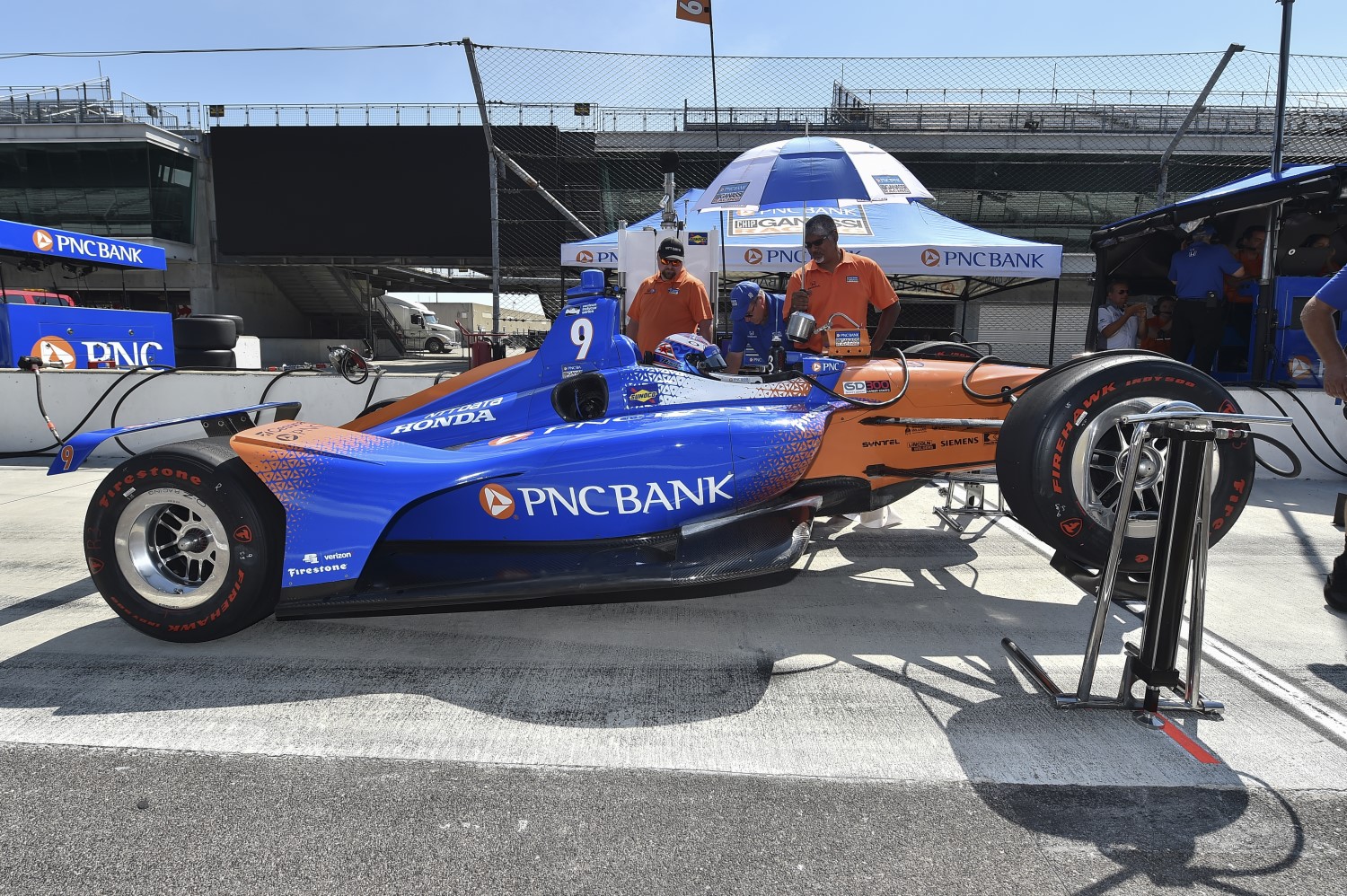 Scott Dixon waiting to go back out
Chris Owens Photos
The universal aero kit may be nearing the close of its first season of Verizon IndyCar Series competition, but the development and learning continues.
That was in evidence Monday when reigning Indianapolis 500 champion Will Power and current points leader Scott Dixon took part in a Firestone tire test at Indianapolis Motor Speedway that included time testing parts for INDYCAR that could be added to the superspeedway kit configuration for the 2019 Indy 500.
The 102nd Indianapolis 500 on May 27, run in near-record heat, featured 30 lead changes among 15 drivers. Some drivers, though, expressed concern over difficulty being able to close on and overtake cars when running in large groups during the race.
The general driver criticism, said Bill Pappas, INDYCAR vice president of competition, engineering, was the car understeering exiting turns when following traffic. Following post-race data analysis and gathering feedback from drivers and team engineers, INDYCAR developed prototype parts including a front wing endplate and underwing panel to address the stability issue.
Power, in the No. 12 Verizon Team Penske Chevrolet, and Dixon, in the No. 9 PNC Bank Chip Ganassi Racing Honda, spent Monday morning turning laps with the added parts and running together around the 2.5-mile oval to feel their effect.
"We did some CFD (computational fluid dynamics) and some wind tunnel stuff that we thought would address that," Pappas explained. "We put it to the test here and are getting feedback from both drivers now.
"We're trying to come up with some solutions that don't force teams to go out and scrap a whole lot of parts. From our perspective, it wasn't a horrible race. It's just fine-tuning to give the guys a little more consistency in traffic.
"The whole purpose is just to see if there are ways to improve upon the race that we had this year."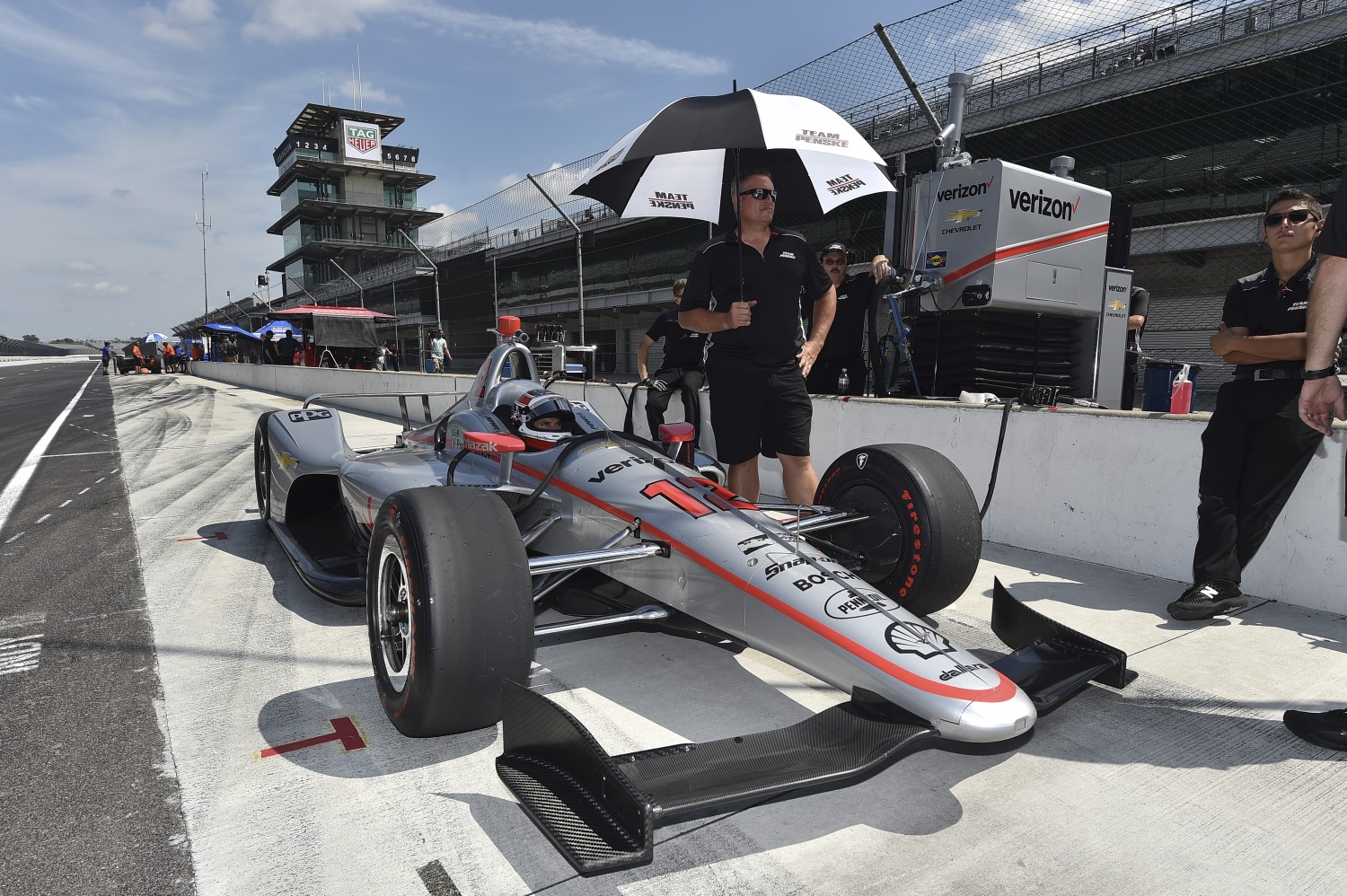 Will Power
Dixon, the 2008 Indy 500 winner who finished third this year, believed INDYCAR may be on the right track with the changes. He is reserving final judgment until more cars can run on track together – tentatively at another IMS test in October.
"I think a lot of (the changes) seem to be heading in the direction, one, where I think we kind of knew it would be, but also in a positive one," Dixon said. "So far it seems a little easier to follow closer, which is good.
"For us in the race this year, it was hard to follow closely. … There were a few aero pieces that teams and engineers understood to maybe be issues that we could rectify and make the racing that little bit better for next year."
Power admitted he had a smile on his face driving into IMS as the reigning race winner for the first time since his victory 10 weeks ago. The 2014 Verizon IndyCar Series champion said teams will be better prepared for the 2019 race just because they'll have a year's experience with the new car when they return next May.
"I think everyone will turn up with better cars, for sure, more of an understanding," Power said. "The chance of it being almost the hottest day in history here again is probably (small). If it's 10 degrees cooler, it's a different race. The temperature makes a big difference. If it's overcast, it's a different race with bringing the track temp down.
"I think you saw the worst-case scenario of the track condition at this last race. I think just that, weather, and development from teams will make the racing better."
Tire development is another key component. Dixon and Power spent the afternoon testing experimental tire specifications under the watchful eyes of Firestone Racing engineers and chemists in 90-degree temperatures that mirrored race day.
"I think what they want to do is just make that front tire work a bit better; that's the plan," Power said. "That may be what will fix it. You will be able to follow closer if your front tire hangs on."
The 103rd Indianapolis 500 is scheduled for May 26, 2018. Ticket information is available at IMS.com.
The next race on the 2018 Verizon IndyCar Series schedule is the other 500-mile event on the calendar. The ABC Supply 500 at Pocono Raceway takes place Sunday, Aug. 19 and airs live at 1:30 p.m. ET on NBCSN and the Advance Auto Parts INDYCAR Radio Network. Ticket and race information is available at PoconoRaceway.com. Mark Robinson/IndyCar