Scott Speed Wins ARX Of Canada, Sweeping The Weekend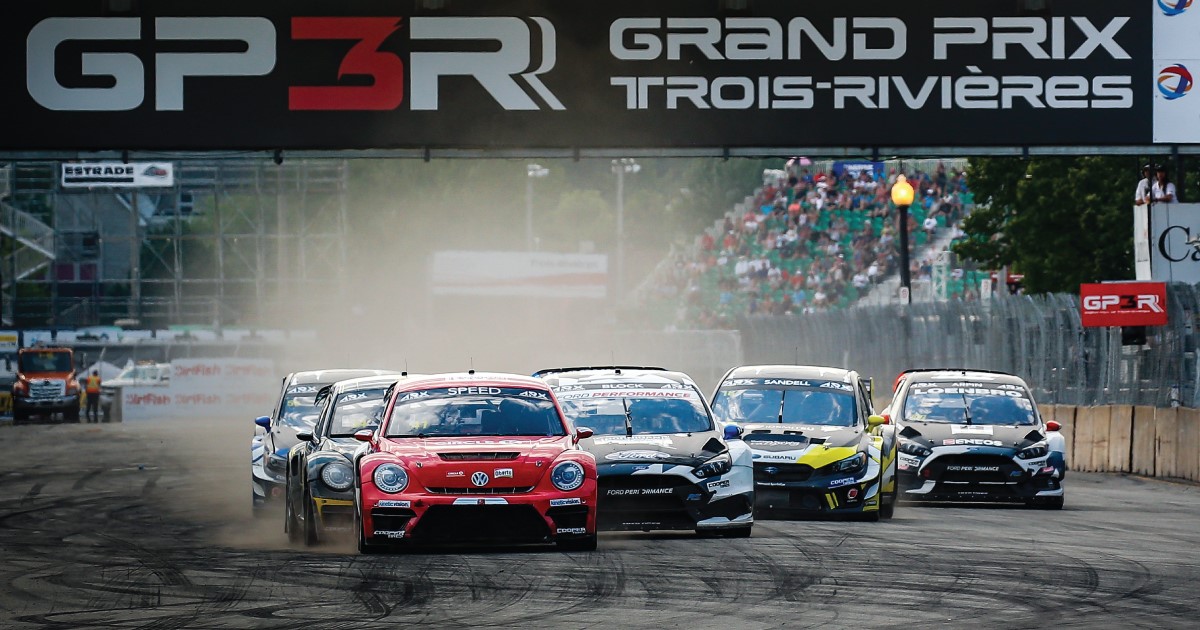 Speed grabs lead at start
Volkswagen Andretti Rallycross' (VARX) Scott Speed took a clean sweep in the third round of Americas Rallycross (ARX) at the Grand Prix de Trois-Rivieres to win in his Volkswagen Beetle Supercar.
Speed led his VARX teammate Tanner Foust for every lap in the semi and final to take all available points in Canada. Foust was second, and Ken Block came in third. Foust started on the second row of the grid in the final and passed Hoonigan / Loenbro Motorsports driver Block in the run to the first turn. Subaru Rally Team USA's Chris Atkinson passed teammate Patrik Sandell for fourth position in turn one before the Australian driver, Atkinson, took his joker lap on the first lap, in front of Block's teammate, Steve Arpin.
Block and Foust ran close on the first lap before Sandell closed in on Block and pushed for a podium position. Sandell took the joker on lap three and Block went into his joker one lap later, but the positions didn't change while Foust challenged Speed for the lead. Foust closed on Speed and tried to overhaul the championship leader by taking his joker on lap five, but Speed held on to win his second round in a row. STARD's Rene Munnich almost made the final but was fourth in semi-final one. 1995 Indianapolis 500 winner and 1997 Formula One World Champion Jacques Villeneuve – making his ARX debut in Subaru's third WRX STI – retired from semi-final two.
"This weekend was amazing. At a track that didn't suit me at all, winning the first two sessions was a real help because I wasn't 100% there yet. I was able to sleep on it overnight and looked at some stuff and made some small changes this morning," said Speed. "We really nailed it and laid it down. From then on I could kind of manage it. I had to be a bit strategic with how hard to push and I was able to manage that – it really was a dream scenario."
In round three of ARX2, the official support series to ARX, DirtFish Motorsport's Conner Martell made it three wins in-a-row by passing Dreyer & Reinbold Racing's Christian Brooks late in the fifth lap. Brooks finished second and Buhl Sport Detroit's Alex Keyes finished third, his first ARX2 podium finish.
ARX and ARX2 will return to Circuit of The Americas for the final round of the championship, competing alongside the FIA World Rallycross Championship at the inaugural World Rallycross USA, September 29-30. Along with some of the most exciting racing in motorsports, hip-hop icon Ludacris will also provide the fans in Austin with world-class entertainment.CBS Sports Network will air a one-hour highlights show featuring ARX and ARX2 of Canada on Wednesday, August 15 at 8:00 p.m. ET.
Final Results
| | | | | | | | |
| --- | --- | --- | --- | --- | --- | --- | --- |
| Pos. | Driver No. Competitor/Entrant | Nat. Car | Q1 Q2 Q3 Q4 Q Sum | Int. Pt. | SF1 | SF2 Final | Ch. Pt. |
| 1 | Scott Speed 41 Volkswagen Andretti RallyCross | USA Volkswagen Beetle | 50 (1.) 50 (1.) 50 (1.) 50 (1.) 3:28.274 3:28.471 3:23.439 3:30.172 200 | 16 | 6 (1.) 5:06.688 | 8 (1.) 5:04.030 | 30 |
| 2 | Tanner Foust 34 Volkswagen Andretti RallyCross | USA Volkswagen Beetle | 42 (3.) 34 (8.) 45 (2.) 34 (8.) 3:29.388 DNF 3:24.995 DNF 155 | 12 | 5 (2.) 5:07.641 | 5 (2.) 5:06.699 | 22 |
| 3 | 43 Ken Block Loenbro Motorsport | USA Ford Focus RS RX | 45 (2.) 45 (2.) 42 (3.) 42 (3.) 3:28.600 3:30.463 3:26.754 3:31.596 174 | 15 | 6 (1.) 5:08.795 | 4 (3.) 5:08.364 | 25 |
| 4 | 18 Patrik Sandell Subaru Rally Team USA | SWE Subaru WRX STI | 39 (5.) 34 (9.) 40 (4.) 40 (4.) 3:31.228 DNF 3:28.055 3:34.059 153 | 11 | 5 (2.) 5:10.129 | 3 (4.) 5:09.209 | 19 |
| 5 | 55 Chris Atkinson Subaru Rally Team USA | AUS Subaru WRX STI | 40 (4.) 40 (4.) 37 (7.) 45 (2.) 3:29.685 3:31.612 3:29.757 3:30.919 162 | 14 | 4 (3.) 5:10.244 | 2 (5.) 5:10.145 | 20 |
| 6 | 100 Steve Arpin Loenbro Motorsport | CAN Ford Focus RS RX | 38 (6.) 42 (3.) 39 (5.) 39 (5.) 3:33.122 3:30.627 3:28.961 3:34.323 158 | 13 | 4 (3.) 5:11.902 | 1 (6.) 5:12.631 | 18 |
| 7 | 77 Rene Munnich STARD | DEU Ford Fiesta | 35 (9.) 38 (6.) 38 (6.) 37 (7.) 3:40.550 3:50.454 3:29.318 3:36.205 148 | 10 | 3 (4.) 5:13.087 | | 13 |
| 8 | 12 Jacques Villeneuve Subaru Rally Team USA | CAN Subaru WRX STI | 37 (7.) 34 (7.) 36 (8.) 38 (6.) 3:33.599 DNF 3:31.197 3:35.275 145 | 9 | 3 (4.) +3 LAP | | 12 |
| 9 | 42 Oliver Bennett Oliver Bennett | GBR BMW Mini Cooper | 36 (8.) 39 (5.) 35 (9.) 0 (9.) 3:34.910 3:32.935 3:36.249 DNS 110 | 8 | 2 (5.) +3 LAP | | 10 |