Latest F1 news in brief – Monday
Prognosis good for Lauda

Doctor 'satisfied' with Lauda condition

Todt tells world to leave Schumacher alone
No 'blank check' for Spain GP – minister
Carey hopes Mick Schumacher enters F1
Renault's Hulkenberg backs Ricciardo signing
Renault concerned about F1 'super teams'
Haas to consider Grosjean seat 'after summer'
Giovinazzi keeping eye on Sauber seat
Carey: There's nothing wrong or right about it
Where is Sainz on McLaren's list?
Mercedes gearbox option still on the table at Williams
Doctor 'satisfied' with Lauda condition
(GMM) Niki Lauda looks to be on the road to recovery.
The F1 world was in shock last week when it emerged that the Mercedes team chairman had a lung transplant and was in a coma.
But his doctor, Dr Walter Klepetko, told Bild newspaper that the 69-year-old F1 legend is now awake, in a stable condition, and with his respirator switched off.
He said the new lung is working well.
"We are very, very satisfied with this development," Klepetko said.
"It's hard to imagine a stronger fighter than Niki," he added.
Todt tells world to leave Schumacher alone
Schumacher likely remains in a vegetative state
(GMM) Jean Todt has called for the world to leave F1 legend Michael Schumacher "in peace".
The condition of the seven time world champion is basically unknown, after he sustained brain injuries in a late 2013 skiing fall.
FIA president Todt, who was Schumacher's Ferrari team boss and is still a close family friend, told the Argentine daily La Nacion: "He is surrounded by his family and relatives.
"I feel blessed to have frequent access, but his health is a private matter and I think it's time for us to let Michael live his life in peace," Todt added.
"I repeat, it's time for us to let Michael live his life in peace."
No 'blank check' for Spain GP – minister
(GMM) The Catalan government is not willing to pay just "any price" to keep the Spanish grand prix.
Minister of enterprise Angels Chacon says Barcelona wants to keep the race beyond 2019, as negotiations with Liberty Media continue.
"The government is wanting to extend the contract, but obviously not at any price," she told EFE news agency.
"F1 cannot be a blank check."
Carey hopes Mick Schumacher enters F1
Potential F1 drivers are winning regularly at this age and dominating their competitors. Not so with Mick
(GMM) F1 boss Chase Carey says he hopes Michael Schumacher's son makes it to formula one.
Mick Schumacher, 19, is in his second season of European F3. He is currently placed eighth overall, having won the most recent race at Spa.
Asked if it would be good if Schumacher makes it all the way to F1, Carey told Bild am Sonntag newspaper: "It would be a great story, of course.
"Michael Schumacher still plays a unique role in formula one as a world champion, as he is and will remain an icon of our sport.
"But regardless of that, we want to try to make it easier for good young drivers to make the transition to formula one. And Mick in formula one would be special, of course.
"It would touch the hearts of many fans in a very unique way," Carey added.
Renault's Hulkenberg backs Ricciardo signing
Hulkenberg had better be prepared to be destroyed by Ricciardo
(GMM) The hiring of Daniel Ricciardo demonstrates the seriousness of Renault's ambitions.
That is the view of Ricciardo's new Renault teammate for 2019, Nico Hulkenberg.
News that Ricciardo will leave Red Bull at the end of the year shocked the F1 world late last week, and even caught the energy drink-owned team by surprise.
"Ricciardo called me on Thursday to tell me the decision," Dr Helmut Marko said.
"He has spent almost all of his career at Red Bull and told me that he wanted a change.
"Now we will think about who will be the teammate for Max Verstappen," Marko added.
It is believed that Carlos Sainz's chances have shrunk, after Dutchman Verstappen reportedly vetoed the move. The pair were once together at Toro Rosso.
Spaniard Sainz could instead move to McLaren.
Sainz's departure means Hulkenberg gets a new teammate for 2019, and the German fully backed Renault's signing.
Referring to Ricciardo joining the team, Hulkenberg told Bild newspaper: "It shows how serious Renault is about attacking Mercedes, Ferrari and Red Bull."
Renault concerned about F1 'super teams'
Paddy Lowe needs all the help Mercedes can give his hapless car
(GMM) Paddy Lowe has admitted Williams could start using Mercedes' gearbox and rear suspension in 2019.
It comes as the rise of 'super teams' with satellite outfits becomes ever more commonplace in F1.
Ferrari has Haas and Sauber, Red Bull and Honda have Toro Rosso, Renault is tipped to move closer to McLaren, and now Mercedes could expand its relationship with Force India and Williams.
"It's an option we don't want to dismiss," Lowe, the technical boss at Williams, told France's Auto Hebdo.
"Given the changes that are happening in F1, we must keep an eye on all the ways of operating a team in order to maximize performance."
It is believed the rise of 'super teams' is the reason Renault is opposed to Mercedes' involvement in the resurrection of financially embattled Force India.
"We have nothing against Force India," boss Cyril Abiteboul told Auto Motor und Sport. "But this topic must finally be on the agenda.
"We have been talking for months and no one is listening. This is our chance to publicize it," he added.
As for speculation McLaren could be a Renault 'B team', Abiteboul insisted: "McLaren will continue to build its own cars and will not become a B team."
But even the FIA is worried.
"Formula one could soon be dominated by two or three super teams," admitted Charlie Whiting.
Haas to consider Grosjean seat 'after summer'
Are Grosjean's F1 days numbered?
(GMM) Haas is still giving little away about the future of Romain Grosjean.
It is believed Kevin Magnussen, at least, has done enough to stay with the American team for 2019.
Boss Gunther Steiner admits Haas has done a better job than McLaren and Renault of creating an environment for the Dane to thrive in.
"For this we must thank Gene Haas," he told France's Auto Hebdo.
"Gene likes to give people space to act and think, which helps Kevin."
But Frenchman Grosjean has had a bad 2018 season so far, just as Haas is thinking about its drivers for 2019.
Sergio Perez and others have been linked with Grosjean's seat.
"I don't want to talk about the future," Steiner insisted. "We will study this question after the summer break.
"I have a lot of respect for Romain on a human level. Who would have taken the risk of joining us three years ago? He believed in us and our project," he added.
Giovinazzi keeping eye on Sauber seat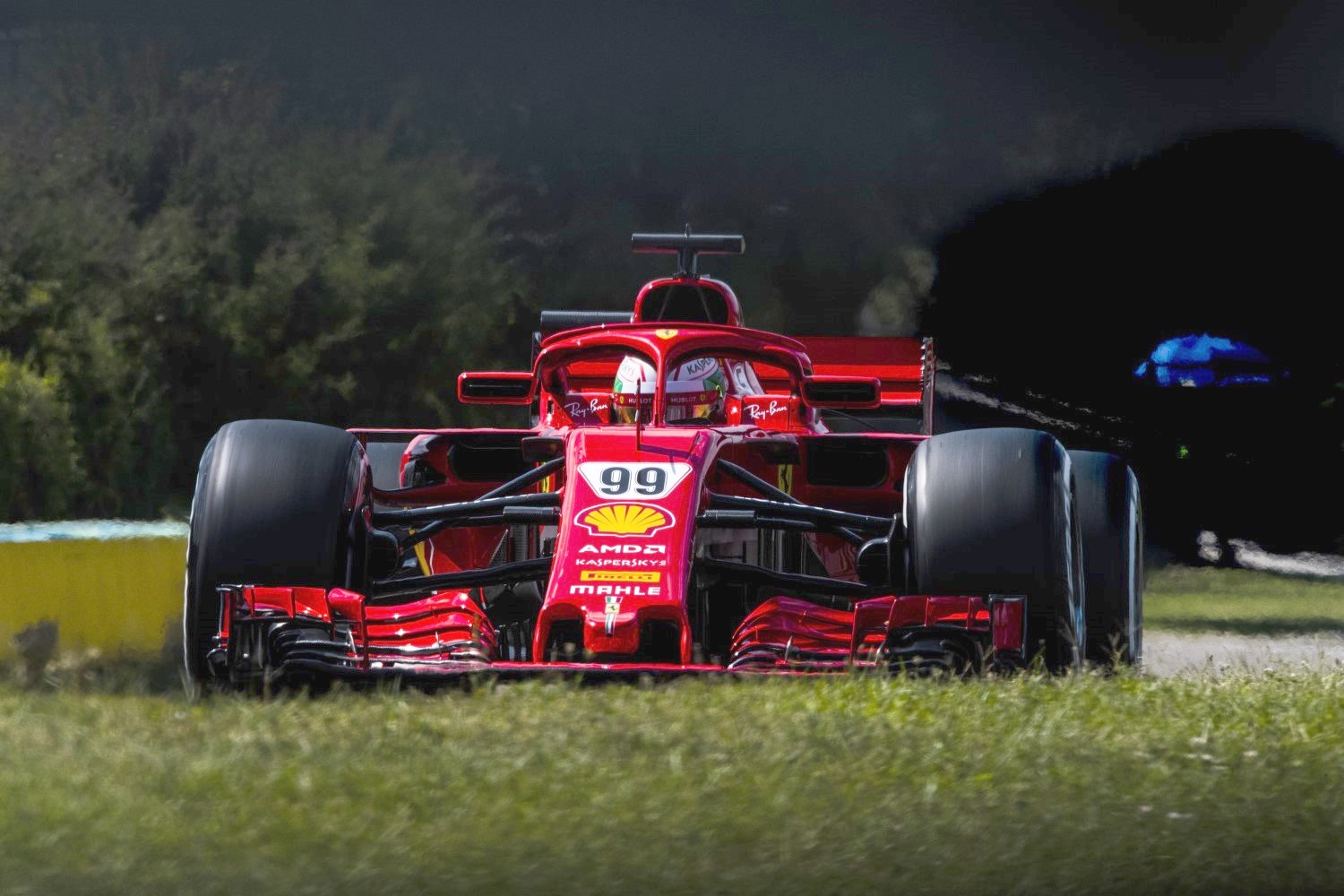 Giovinazzi showed speed at last week's Hungary test for Ferrari
(GMM) Antonio Giovinazzi admits he has an eye on a Sauber seat for 2019.
Ferrari's other protege, Charles Leclerc, is linked with a move to the Maranello team for next year.
That would open up a place at Sauber for Italian Giovinazzi.
The 24-year-old tested both the Ferrari and Sauber cars in the post-Hungary test, declaring to Blick newspaper: "Both teams have improved since the tests in Barcelona."
He admitted he wants to race for Sauber in 2019.
"I'll run for Alfa Sauber four more times on Friday mornings in 2018," he revealed.
"I then hope to get the seat that I want."
Although slowest in 2017, Sauber is now on the rise, thanks in part to Ferrari's field-leading 2018 power unit.
Sauber is currently behind Toro Rosso in the constructors' championship, but Toro Rosso boss Franz Tost is worried.
"At Spa and Monza, we expect Sauber to be very strong with the new Ferrari engine," Tost said.
Carey: There's nothing wrong or right about it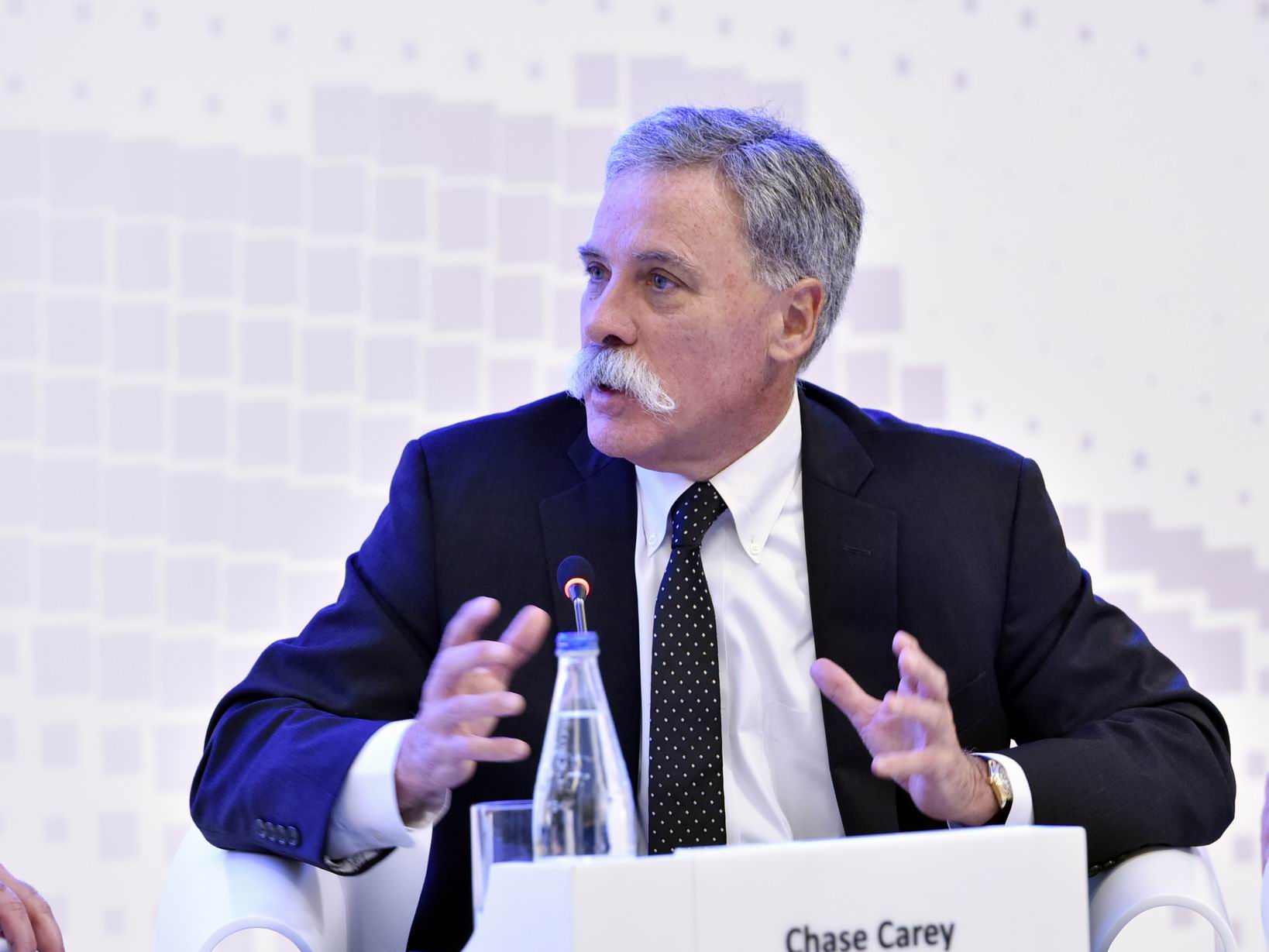 Chase Carey trying hard to improve on what Ecclestone built
In London, Mark Hughes wrote F1 is trying to "find new, younger fans without alienating the older ones and improve the spectacle on the track" — all as CEO Chase Carey "tries to steer a safe passage through the tricky course" of getting teams with "very different agendas and interests signed up to a new commercial agreement" from '21.
The "outward changes" to F1 since Liberty acquired it from CVC Capital at the beginning of '17 "are subtle." Carey's "composure is total, his style uncontroversial."
But "the steel is in there." How could "it not be, given his corporate career?"
Carey: "I meant it when I said I give Bernie [Ecclestone] credit for the sport he built. There's nothing wrong or right about it. We're different people and have different views on how you build and run a business. He didn't believe in marketing, digital and event spectacles but I do. We want the events to be unique while keeping his mystique and glamour, but still make it exciting."
He added, "We feel pretty good about the momentum of the business. We've had good crowds. Recently they've all been up significantly. … Although it's only anecdotal, it was nice in Germany that people were saying how much more exciting and enjoyable the racing was compared with two years before when it was last there. They said it had a different feel, a different energy, an openness and more of a fun atmosphere for the fans" SUNDAY TIMES
Where is Sainz Jr. on McLaren's list?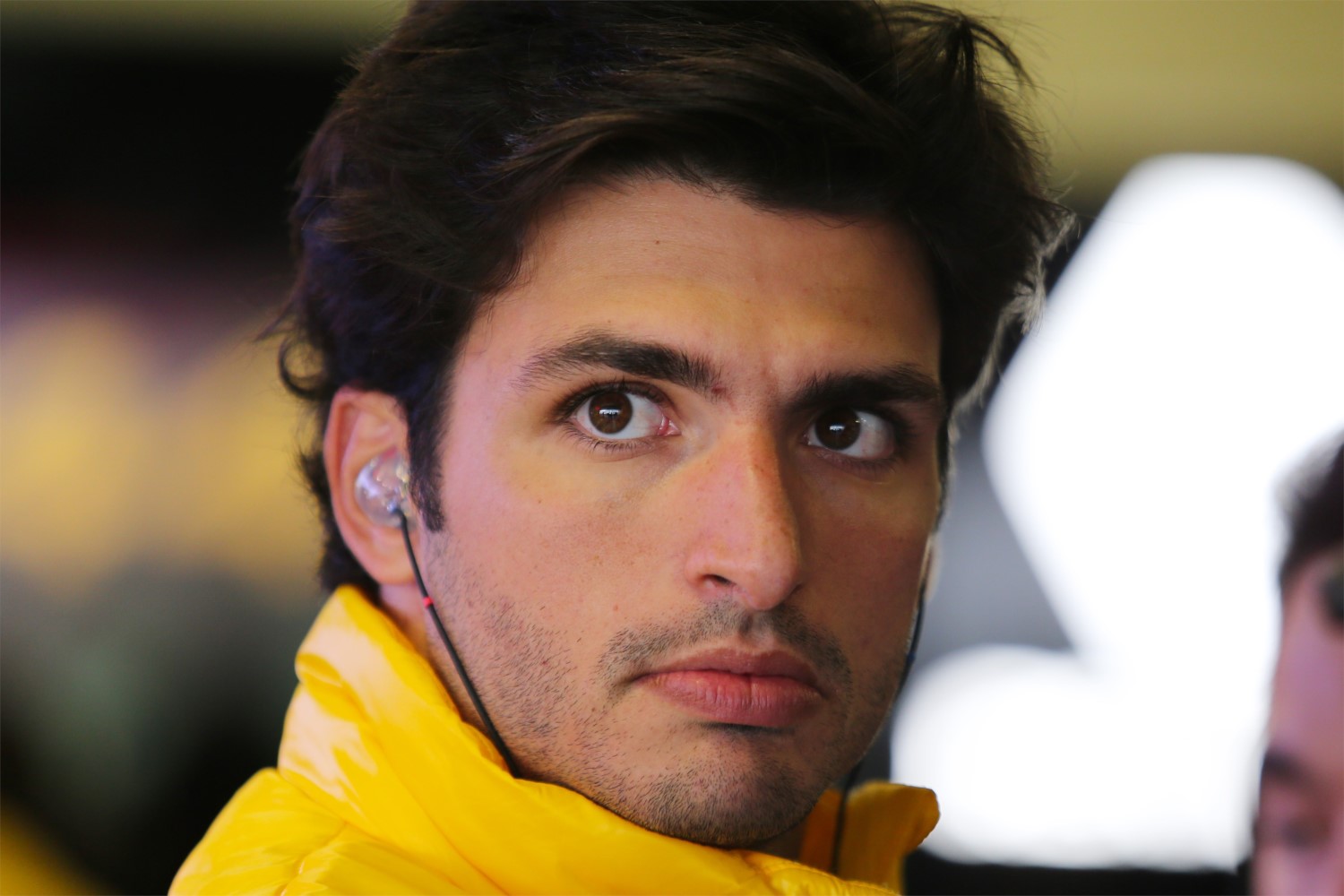 Carlos Sainz Jr. to McLaren?
If Carlos Sainz Jr. is a free agent for 2019, he would be at the top of McLaren's drivers' list, says team boss Zak Brown.
The Woking outfit is yet to finalize its 2019 driver line-up. Its current driver Fernando Alonso and Stoffel Vandoorne are at the end of their contract period and Alonso is yet to decide what he will do from next year.
Sainz was on loan from Red Bull to Renault and may be recalled to take Daniel Ricciardo's place in the Milton Keynes outfit. But due to a potential clash between Max Verstappen and Sainz, Red Bull is said to be looking at other options.
If Red Bull allows their option on Sainz to expire at the end of September, he could be in the market for a new team.
Talking about Sainz's potential before Ricciardo's surprise Renault move, Brown said the Spaniard is a great driver.
He said: "We think Carlos is an excellent race car driver,"
"Of course Carlos is potentially on the market, we don't know his exact situation at Renault and Red Bull, but he's certainly someone that as you go down the shortlist of drivers you'd consider putting in a race car.
"If he was free, and if we had a seat, he would certainly be high up on the consideration set."
In case Sainz is unavailable, either Vandoorne or McLaren junior driver Lando Norris will team up with Alonso for the next season.
But what would the British outfit do in case Alonso retires from F1? No one knows.
"We do have a long-term agreement in place with Stoffel and Fernando, but as you can imagine in these contracts, there's a variety of elements to them," said Brown.
"We will make our driver decision ultimately when we're ready. I anticipate that being sometime after the summer break.
"We're still reviewing, analyzing what's ultimately the best combination for McLaren moving forward. Stoffel is very much a part of that consideration set."
It is understood that McLaren has a 'use him or lose him' option with Norris for next year. That means they may lose a potential champion if they do not place him in a race seat in 2019.
But Norris has signaled he is willing to wait for a year on sidelines if it means he gets a guaranteed McLaren seat in 2020.
Speaking of the options in front of the Woking outfit, Brown said: "We think Lando is obviously a future star,"
"We're going through our whole driver scenario, and when you have a talent like Lando, you want to keep them in the family.
"I wouldn't say it was as black and white to what's been reported."
Mercedes gearbox option still on the table at Williams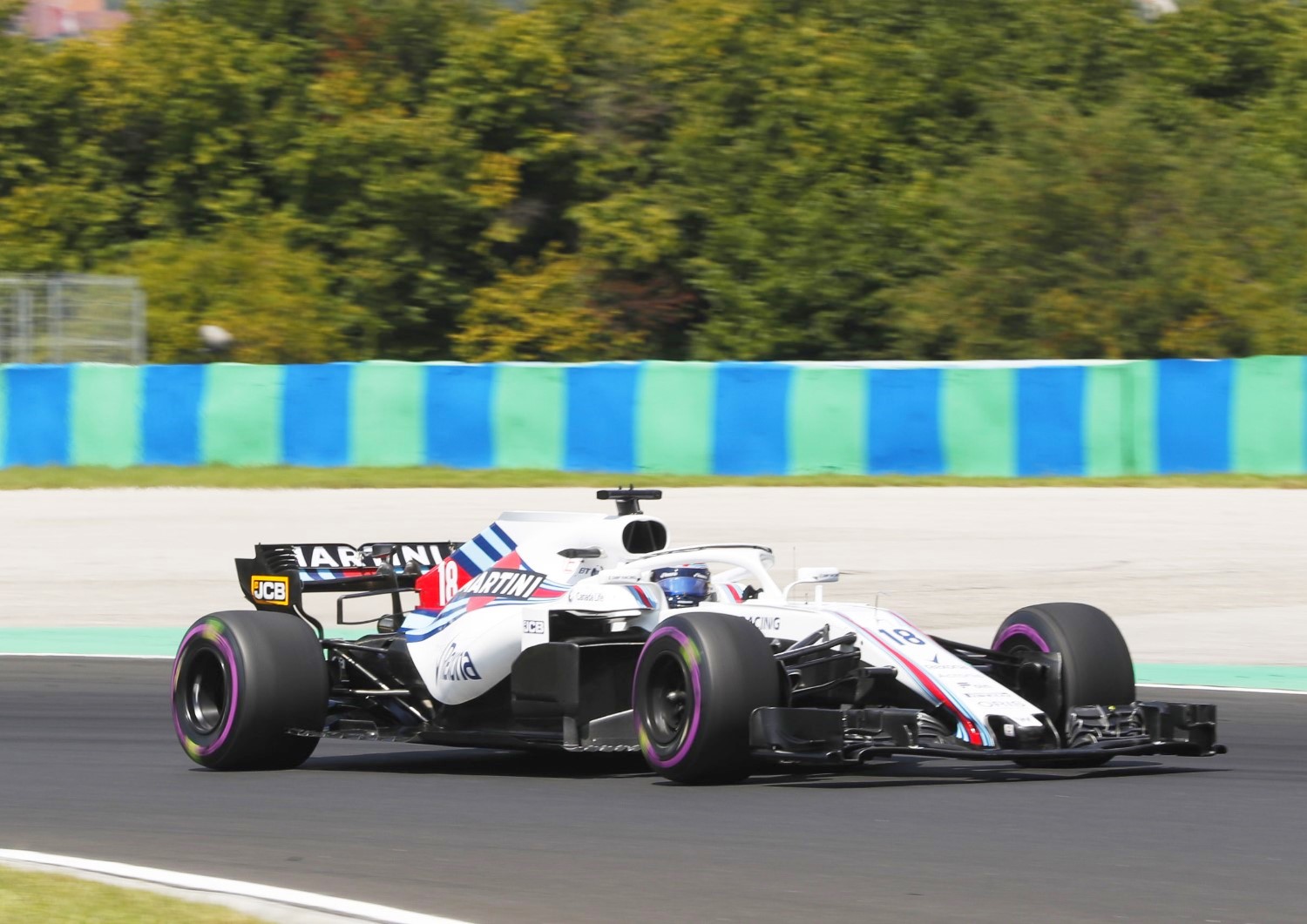 Lance Stroll in the WIlliams
Williams is still considering extending its technical supply deal with Mercedes next season, adding a gearbox package to its current power unit agreement with the German manufacturer.
The Grove-based outfit, a fierce proponent of independence when it comes to being a constructor in F1, has traditionally built its own transmissions, but following a collaboration model similar what Force India enjoys with Mercedes is an option that Williams is looking at for 2019.
"We are in discussions about doing that," confirmed Mercedes boss Toto Wolff.
"They are an engine client of ours. It's not a huge thing to increase that to a gearbox.
"Nothing is signed, nothing is done and we need to decide in the next few weeks because the chassis design is at an advanced stage for Williams, so we'll see how that pans out."
While a gearbox deal would perhaps erode a bit of Williams' independence, technical director and team partner Paddy Lowe insists the relationship would not take extend in the short term to a non-listed part approach such as the one that successfully governs the relationship between Haas and Ferrari.
"Formula 1 is changing. Force India were one of the early ones to abandon the full constructor definition that teams had historically followed of essentially making everything except an engine," Lowe told Formula1.com.
"We've seen more and more teams adopting gearboxes from elsewhere. Now we have the Haas model where you adopt everything that is not listed.
"We have our eyes open to all of those possibilities because we owe it to ourselves. You've got to move with the times and do the best thing for the performance of the team," added the British engineer.
"But having said that, Williams has a strong culture of being an independent, being a constructor, not only in the parts we are responsible for but also we are making them in-house.
"We have a capacity of manufacturing on our own site and we've prided ourselves on that. I don't see us moving drastically away from that. But we remain open."